This Couscous Broccolini Salad with Olives and Feta is a quick recipe that is perfect as a main or side dish! It's vegetarian too!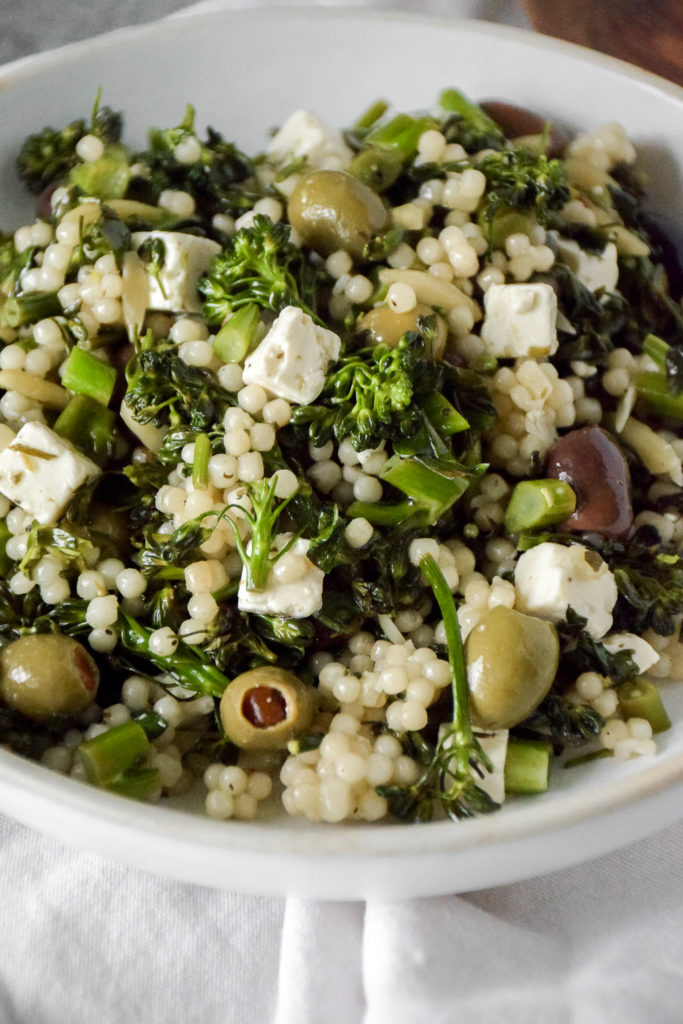 We've been making this quick and easy couscous recipe on repeat lately! It's so easy and I love how it comes together so quickly. It's perfect for lunches or dinners or even a quick snack in the afternoon. It's keeps well in the fridge so it's perfect for meal prep. You can enjoy this one hot or cold!
This post contains affiliate links. If you purchase a product through these links I may earn a few pennies. Thanks for keeping this free blog going!
Broccolini Couscous Salad with Olives and Feta
I've always loved a good couscous salad! I will say that I prefer the pearl
, or sometimes called Israeli, version of couscous to the other stuff. This version of couscous is bigger and rounder and eats somewhere between a pasta and a traditional couscous. 
This couscous salad, it's kinda like a salad, right? In a pasta salad sorta way? It's great because you can enjoy it warm or cold. It's perfect for picnics, lunches and we love it at dinner time too. It comes together super quick and is great paired with sandwiches or a protein like chicken or fish. 
Easy Vegetarian Side Dish 
This dish is vegetarian on it's own! I love the salty feta crumbles in it but if you wanted to leave them out then you could make this dish vegan. I find the marinated feta and olive mix in the deli section at my grocery store and it's a nice little flavor bomb on it's own! It takes all the guesswork out of seasoning this dish. I've seen something similar at most grocery stores so I don't think you will have too much trouble finding one.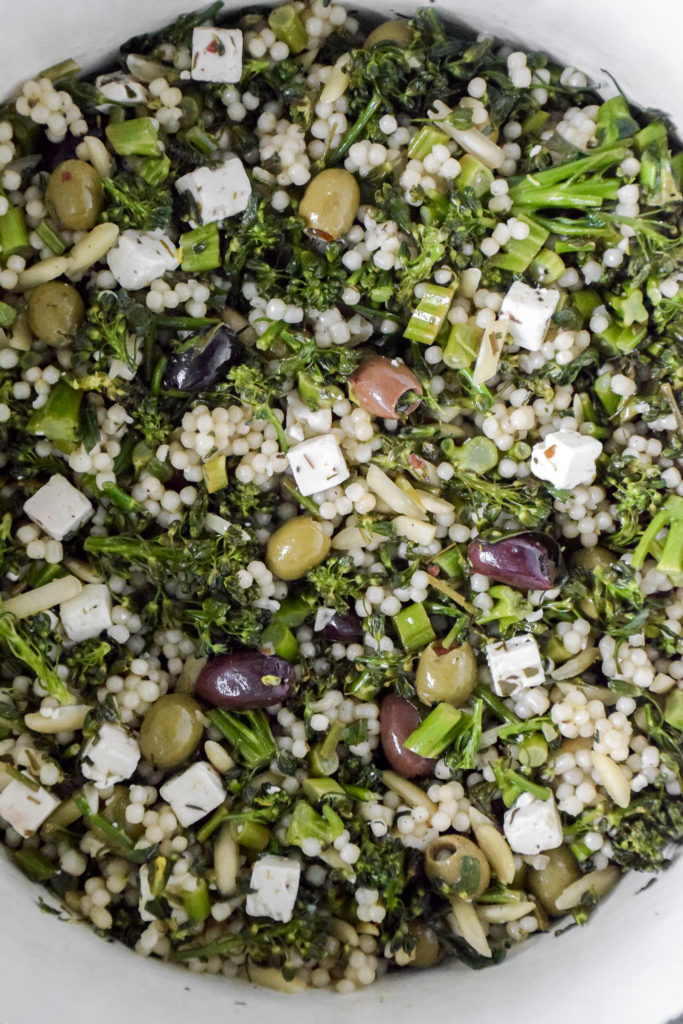 Easy Recipe with Pearl Couscous 
The broccolini really shines in this recipe! Because it is so delicate, compared to regular broccoli, it cooks quickly. I like to let it get just lightly charred which adds another layer of flavor and texture. I've done this recipe with both sliced and silvered almonds and they add a nice crunch to the dish. I know y'all will enjoy this one as much as we do!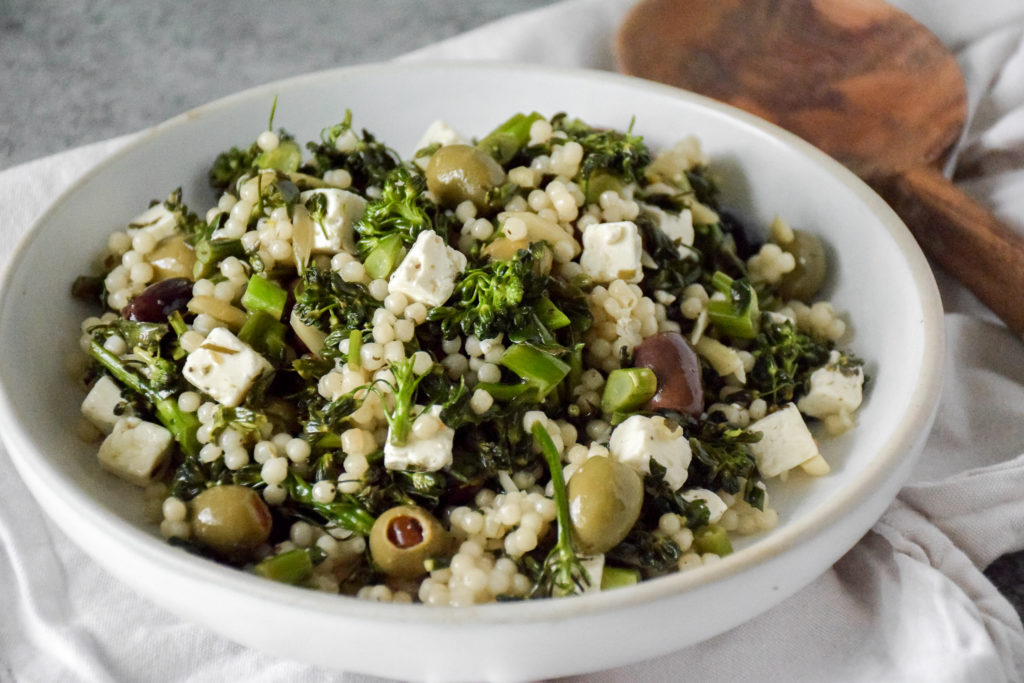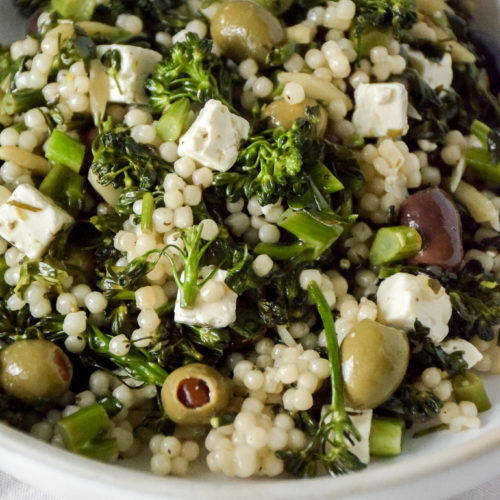 Couscous Broccolini Salad with Olives and Feta
Ingredients
1

cup

pearl couscous

8 oz

1 1/4

cup

water

for boiling

1/4

cup

sliced or silvered almonds

2 oz

2

cups

pitted olives and feta

usually found in deli section
Broccolini
3

bunches

broccolini

stems and tops chopped

1

tsp

kosher salt

reduce by half if using table salt

1/2

tsp

black pepper

1/2

juice from 1/2 a lemon

1

tsp

olive oil
Instructions
Begin by preheating the oven to 350° and preparing a baking sheet.

Wash and pat dry broccolini. Chop it and tossing with olive oil, salt, pepper and lemon juice. Spread evenly over baking sheet and roast for 10-12 minutes until tender and slightly charred. Remove from oven and set aside.

While the broccolini is cooking, bring the water to a boil in a large pot. Once water comes to a rolling boil, stir in couscous. Cover and turn off heat. Let sit, covered, for 10 minutes until all water is absorbed.

Once couscous is finished, fluff with a fork or spatula. Add broccolini, almonds and olive & feta mix (add brine from packaging if desired) to pot or large bowl and combine everything together. Serve warm or cover and refrigerate for up to a week. Enjoy hot or cold! Perfect for picnics, lunches or dinners with protein of choice.
Notes
Nutrition values are approximate and can vary. 
You can reserve the brine from the olives & feta mix and use it as a dressing if desired. 
Nutrition
Calories:
205
kcal
Carbohydrates:
25
g
Protein:
7
g
Fat:
9
g
Saturated Fat:
1
g
Trans Fat:
1
g
Sodium:
840
mg
Potassium:
113
mg
Fiber:
4
g
Sugar:
2
g
Vitamin A:
1260
IU
Vitamin C:
62
mg
Calcium:
92
mg
Iron:
1
mg