Almost Vegan Laab Moo is a delicious take on the classic Thai street food dish! Loaded with herbs and spices and a vegan twist!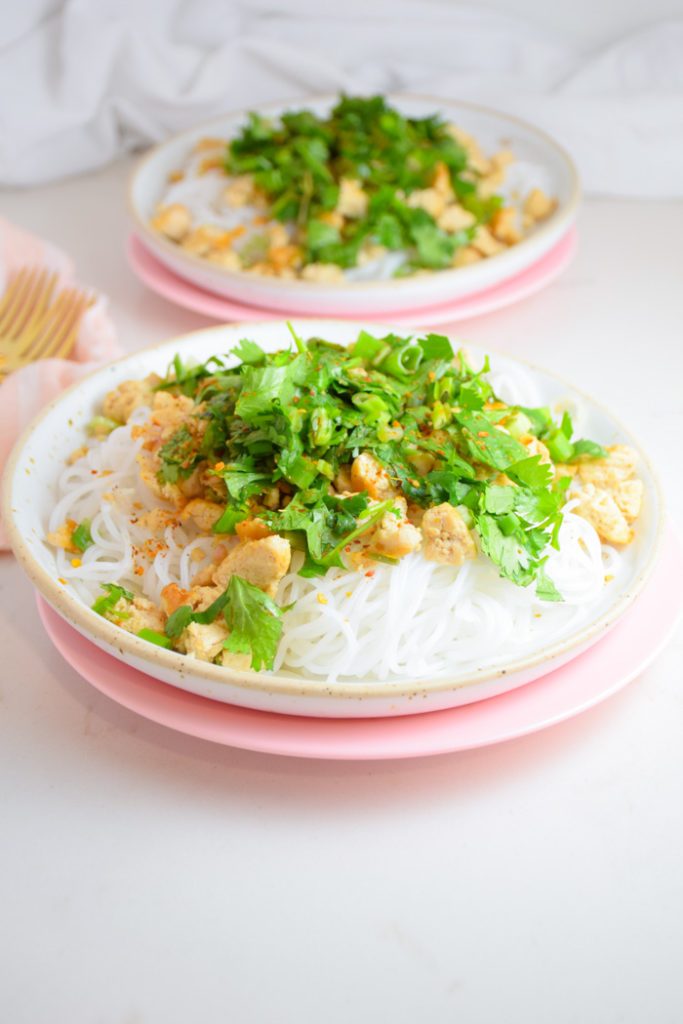 I am constantly inspired by our trip to Thailand when I am in the kitchen. There are so many flavors and fresh ingredients often found in Thai food dishes and there is so just so much room to create delicious recipes! I have made a more traditional version of this same recipe before but this time around I wanted to give it a vegan twist!
This post contains affiliate links. If you purchase a product through these links, I may earn a few pennies. Thanks for keeping this free blog going!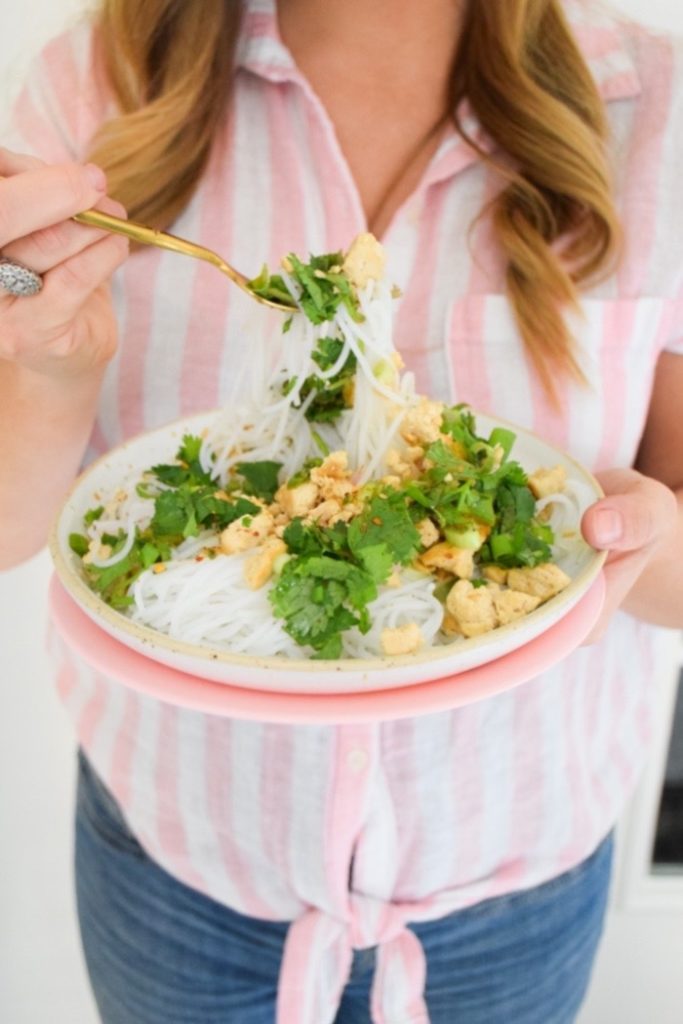 Vegan Thai Street Food
It is really common to eat street food in Thailand and based on my experience, the street food is often way more flavorful and delicious than the fancy restaurant food. Whether you find yourself wandering through a maze of market stalls or just walking down the street, there are street food carts everywhere.
Like anywhere, there are vendors that have become famous for certain dishes. Laab Moo is a common dish, almost as common as green curry or pad thai. It's a "noodle salad" which consists of rice noodles topped with fragrant fresh herbs, sour punchy vinegar and fish sauce (the only ingredient that makes this not 100% vegan) and usually ground pork or the "moo."
After making this dish several times at home, I realized that this would be just as delicious with tofu in place of the pork. The flavor in this dish really comes from the herbs and sauces, so why not switch it out?! So that is exactly what I did here.
Watch the Full Recipe Video Here!
Do you have any favorite street food dishes from your travels? You know those meals that always take you back to that special place and time? Tell me in the comments!
You Might Also Love
Grilled Chicken Vermicelli Bowls
Spicy + Funky Grilled Pok Pok Wings
Almost Vegan Laab Moo
Makes 4 servings
Ingredients: 
1lb extra firm tofu
4 nests of thai rice noodles
1 teaspoon coriander
1/2 teaspoon salt
2 tablespoons shallots, sliced
1 tablespoon vegetable oil
1 teaspoon granulated sugar
1 teaspoon fish sauce
1/4 cup cilantro, chopped
1/4 cup green onions, chopped
1/8 cup mint, chopped
1 lime, juice and zest
1/8 teaspoon Thai red pepper flakes
Directions: 
Crumble the tofu into a skillet with the vegetable oil, coriander and salt. Brown the tofu as you would ground meat, about five minutes, over medium high heat until most of the moisture has been absorbed.
Add the shallots and and white parts of the green onion to the skillet and cook until fragrant, about two more minutes, stirring frequently. Remove from heat.
In a separate bowl, toss chopped herbs with lime juice.
Boil the rice noodles according the package instructions, drain and set aside.
Toss tofu with fish sauce and sugar, until well combined.
Divide noodles onto plates, top with tofu then herb salad and red pepper if desired. Eat immediately or store in an air tight container, up to three days.