This Spicy Thai Basil Beef is so delicious you'll hardly believe how easy it is to make! Pair it with lemongrass coconut rice for the ultimate flavor combo!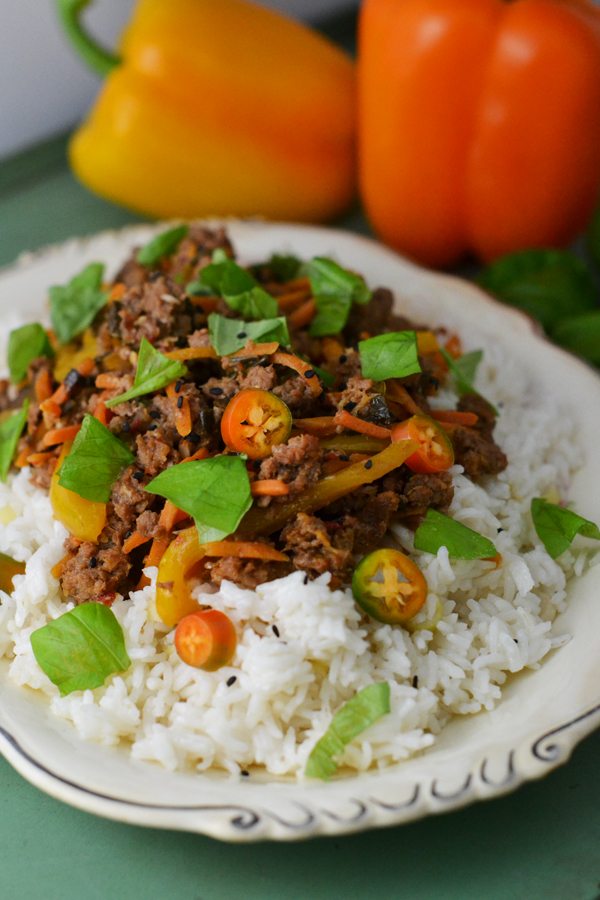 It's hard to believe there can be this much flavor in a recipe that is so easy to make! Also, have I mentioned how much I like Thai food? Ok good, so at least you know! This recipe is inspired by the bold flavors of Thai food. These flavors really take this dish to the next level without making you do all the extra work. Just put all the ingredients into the pot and let them come together. Now that is a week night meal I can get behind!
This post contains affiliate links. If you purchase a product through these links I may earn a few pennies. Thanks for keeping this free blog going!
Make Ahead Meals
I know we are all trying to save a little extra time on dinner each night and that's where this meal comes in. Just prep a few ingredients and throw them all into a pot, then it's mostly hands off until it's done! You can double this recipe if you're going to feed a crowd or have leftovers for another night. PS- this freezers really well! Or if you're cooking for one or two, this makes the perfect leftovers for lunches or dinners.
I'm a big fan of making the most of your cooking time i.e. getting the most meals out of your time spent in the kitchen and this recipes lends itself incredibly well to just that!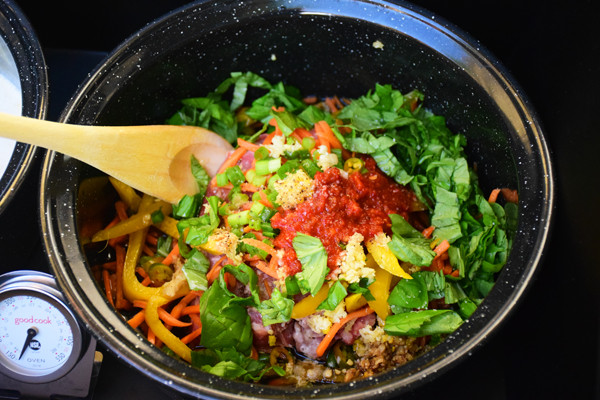 You Might Also Love 
Grilled Chicken Vermicelli Bowls 

Spicy Thai Basil Beef
Serves 4-6
Ingredients: 
For the beef:
1 lb lean ground beef
2 cups fresh chopped basil (sweet or Thai will work) + more for serving
5 cloves garlic, grated or pressed
2 tablespoons fresh ginger, minced or grated
juice of 1 lime
1 bell pepper, cut into strips
2 green onions, chopped
1/2 cup matchstick carrots
1 serrano pepper, thinly cut
1 teaspoon honey
2 tablespoons garlic chili
paste
2 tablespoons reduced sodium soy sauce
1 tablespoon toasted sesame seed oil
1 tablespoon fish sauce
1 teaspoon black pepper
Sprinkle of sesame seeds for garnish, optional
For the rice:
1 cup long grain white rice
1 can (13.5oz) full fat coconut milk
1/4 chopped fresh lemongrass
1 tablespoon toasted sesame seed oil
Directions:
In a slow cooker or large heavy bottom pot on the stove, combine the ground beef with the basil, garlic, ginger, lime juice, bell pepper, green onions, carrots, serrano pepper (optional), honey, garlic chili paste, soy sauce, sesame oil, fish sauce and black pepper.
Cook on low heat in the slow cooker  until vegetables are tender and beef is browned, 1-2 hours. For stove top: cover and cook on lowest setting for 1 hour, stirring every 10-15 minutes to check for doneness.
In a separate pot on the stove, combine rice with coconut milk, lemongrass and sesame oil and cover. Bring to a boil, then reduce to a simmer for 15 minutes. Turn off heat and let remaining coconut milk absorb, about 15-20 minutes more. Salt to taste.
Serve beef and vegetables over the coconut rice and top with fresh basil and sesame seeds.