Sweet Summer time! Which means I had a lot of watermelon leftover from those Watermelon Jalapeño Martinis. The watermelon that I picked up was super juicy and sweet and cool. Well that's probably because I had it in the fridge but the coolness was a great compliment to the greens. This is a super simple salad, so eat up!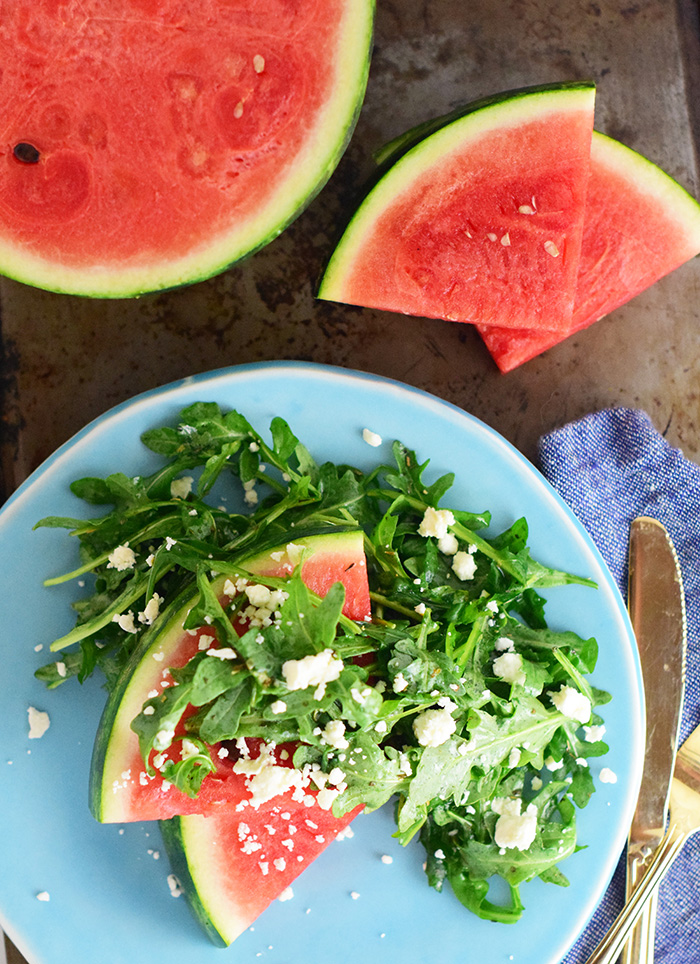 This salad is super special to me because it was not only featured in the Austin Food Bloggers Alliance Cookbook but it also was the very first recipe I ever demoed on tv waaaaay back in 2012! Can you believe that? Oh how have the times (and I!) have changed. Do you ever look back on things and think man I thought I looked SO cute in that denim skirt (lols) or thought that an old photo you took was really great but then you see how far you've come? I mean there is nothing like a blog to show you just how much things have changed over the year! One thing that hasn't changed? My love for fruit in salads. And simple salads at that! Hope you enjoy this one!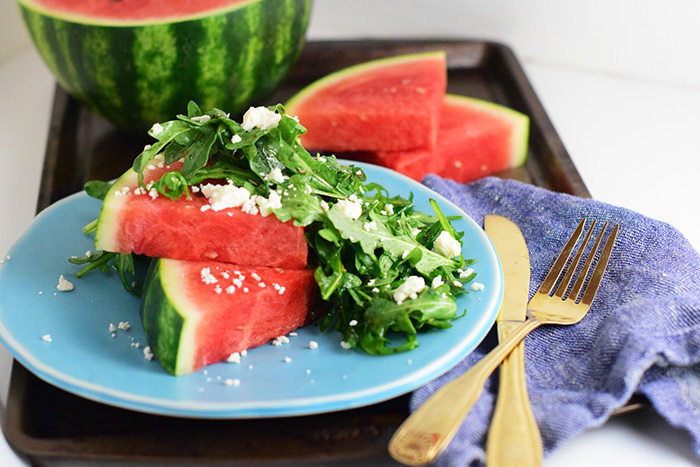 I gave this recipe a much needed facelift with some new photos and an easier to read recipe below for Austin Woman in their August 2017 issue!
Watermelon Wedge Salad
Serves 2
¼ small, personal, seedless watermelon
2 cups arugula
¼ cup crumbled feta *originally this recipe called for gorgonzola which is still delicious in place of the feta. It's really whichever you prefer or have on hand in the kitchen!
1 tablespoon olive oil
1 teaspoon Italian herbs
1 teaspoon fresh lemon juice
½ teaspoon kosher salt
Slice watermelon into 1 ½ inch thick wedges.
Toss arugula with olive oil, herbs, salt and lemon juice.
Place two watermelon wedges on each plate and divide arugula evenly. Sprinkle with feta and serve.