Summer Mint and Pea Pesto Pasta is a quick, easy and healthy recipe that shows off all the fresh veggies and herbs that the farms have to offer!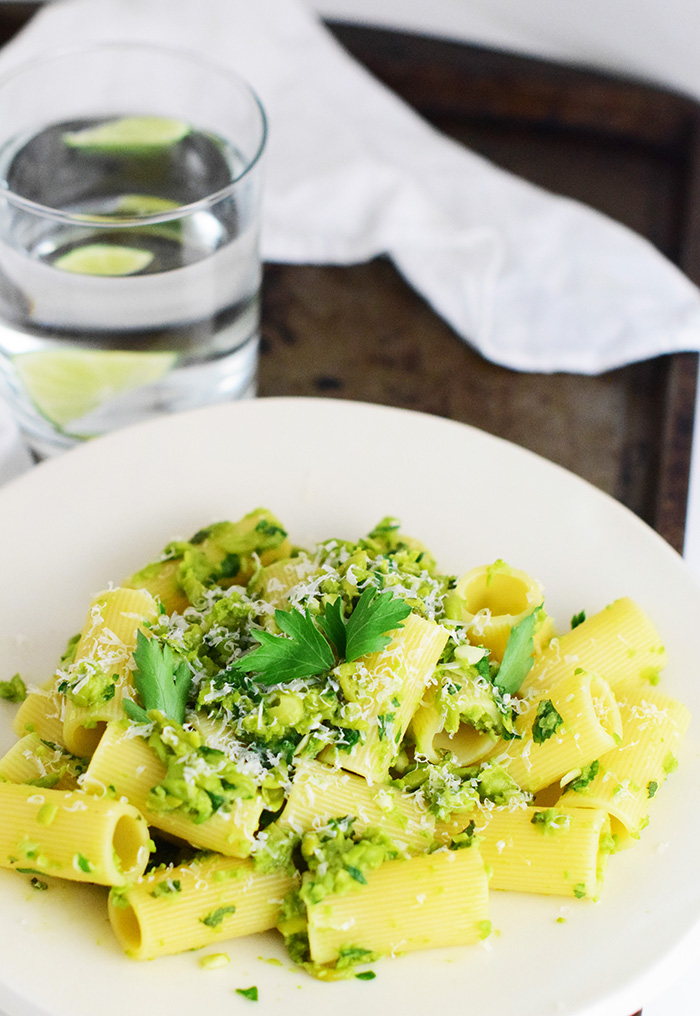 Summer time in most places means lots and lots of fresh herbs! And in Austin, that was the case for me until we left for China during twelve of the hottest days this summer– ack! I came home to what looked the scorched earth. I'm sorry Mr. Purple Jalapeño Plant! Lucky for you, the local farms are much better at tending their herb gardens than I am and you can still find lots of fresh and fragrant bunches of herbs on stands. I even picked up a load of basil two days ago! While I have my, lets call it, lack of enthusiasm for summer, its just too dang hot for me y'all, there are still plenty of good things to behold! Like fresh mint! And fresh peas! And this lovely, flavorful pesto! 
My goal is to show off the best the farms have to offer plus keeping the cooking very minimal because you know that suffocating heat! See my Watermelon Wedge Salad! Find a pasta and quickly boil it and then pulse together this pesto in a food processor and voila! Dinner! This also goes great on toast for lunch. If you're into protein, chicken would pair nicely with this pesto.
Summer Mint and Pea Pesto
Serves 2
½ pound tubular pasta like rigatoni
1 ½ cup fresh peas (frozen can be used)
3-4 small cloves of garlic
¼ cup fresh mint, packed
¼ cup fresh flat leaf parsley, packed
1/8 cup fresh lemon juice
½ teaspoon kosher salt
2 tablespoon olive oil
¼ cup grated parmesan
Directions:
Boil pasta until al dente, then toss with cool water and set aside.
In a food processor, pulse mint, parsley, garlic, lemon juice, salt and olive oil on low speed until just combined. It should be a little chunky.
Toss pesto with pasta and top with parmesan.