Sweet, refreshing and little bit spicy, this Watermelon Jalapeño Martini is the perfect cocktail cooler!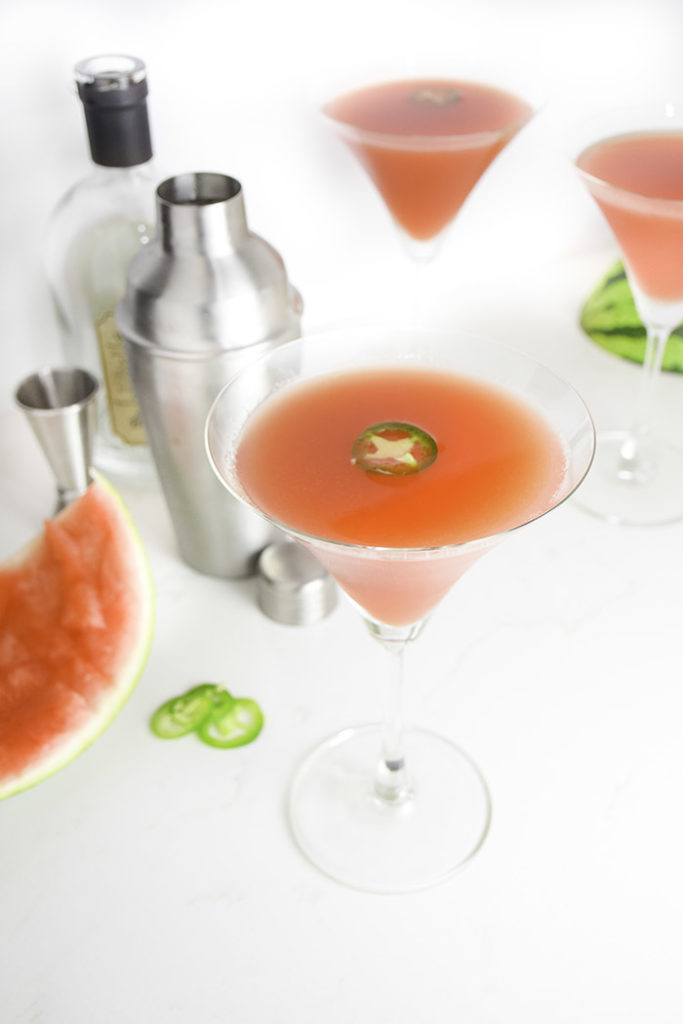 Can you believe that this Watermelon Jalapeño Martini was one of the first cocktail recipes on my blog!?! It's long been one of the most popular posts on my blog, second only to Homemade Beet Pasta. I revisited this recipe and I am proud to say that it still holds up even after all these years. It was originally posted in July of 2012! I updated the photos and added in some details that I've learned over the years (strain! strain! strain!) and this recipe is still refreshing. I hope you can enjoy it as much as I do!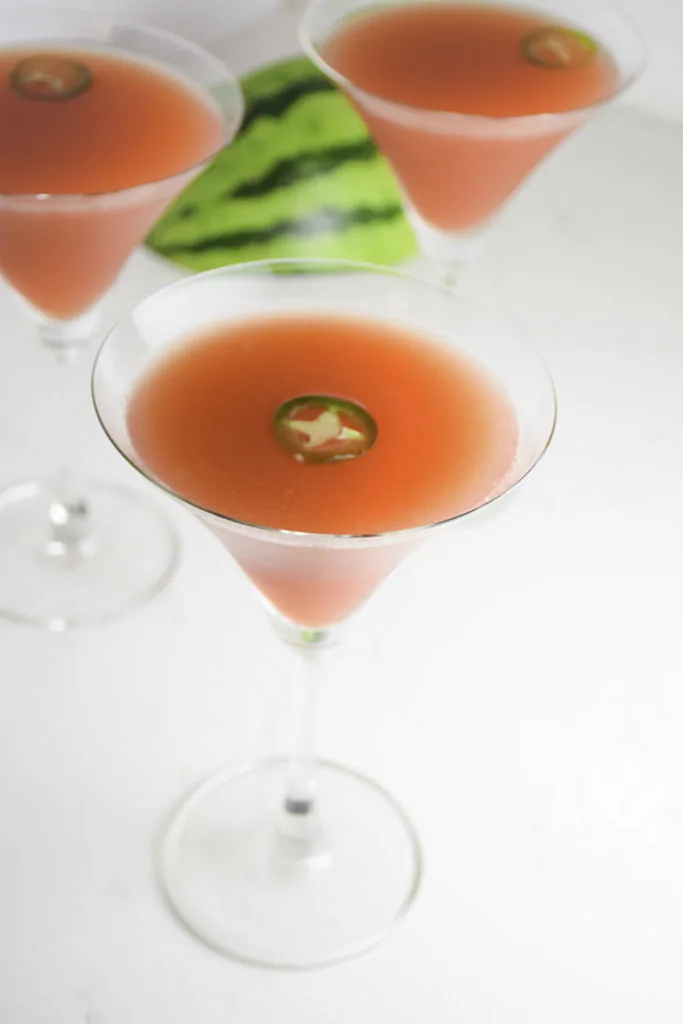 Should a Martini be Made with Vodka or Gin?
Traditionally, martinis are made with gin. The floral and herby notes of gin are what gives martini their signature taste. These days, there are lots of great vodka options out there and vodka martinis have become more popular.
I have made this Watermelon Jalapeño Martini with both vodka (Tito's) and gin (Waterloo) and I prefer gin. The gin really plays well with the fresh watermelon and jalapeño in this recipe in my opinion. Of course, the best thing to use, is the one you think tastes the best! It's your cocktail after all!
For gins, if I am drinking local, I choose Waterloo Gin. If my local favorite is not available, I enjoy Hendrick's Gin. Both are excellent options and really well made.
How To Get Super Smooth Martinis
See that pulp? That is what we want to avoid getting into the glass of our martinis! Martinis are meant to be soooo smooth. Like drinking silk. If you want to use the freshest ingredients, like watermelon and jalapeño in our case, and still achieve the clean, smooth mouthfeel of a martini, you want to strain all that pulp out.
Pro Tip: If you want a super smooth martini drinking experience, be sure to double strain the watermelon juice! That is how those famous bartenders do it so well. After I blend the fresh watermelon and jalapeño, I strain the juice through a fine mesh sieve into a jar or measuring cup. Then after I shake everything together, I strain it one last time through the fine mesh sieve as it's being poured into the glass.
This is the fine mesh sieve, aka mesh strainer (affiliate link), I use and it is well worth the couple bucks! I use it in my kitchen for all sorts of things. I think it is crucial to get super smooth cocktails, so go on ahead and pick one up!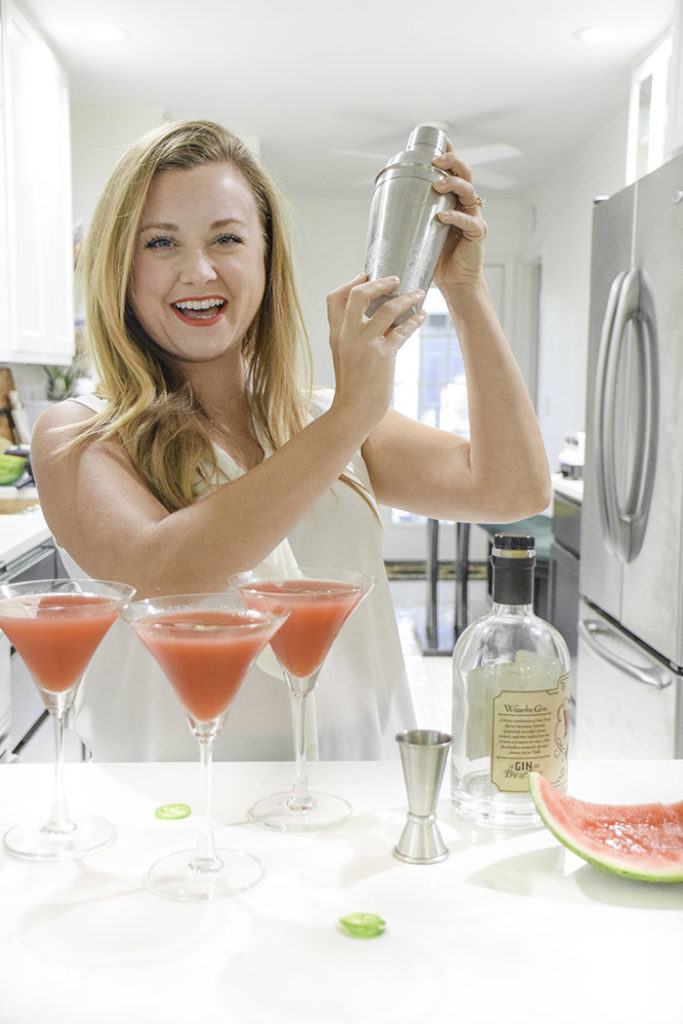 Should a Martini be Shaken or Stirred?
Martinis should be shaken! If you don't trust me, just ask 007. I mean, you could stir, but really that is for Old Fashioneds. Shaking the gin and juice (quite literally in this case) over the ice and then pouring into the glass is what gets the martini icy cold without watering it down too much.
Yes, as you shake the martini, some of the ice melts a tad and inevitably gets into the mix. If you have filtered ice available, I definitely recommend using that. I pour filtered water into these ice cube trays (affiliate link) and keep them in the freezer so that I always have filtered ice for cocktails on hand.
How Long Should You Shake a Martini?
You should shake a martini for about 15 seconds in a metal shaker. Moving at an angle, like 45ish degrees, up and down. Then pour the martini (through a fine mesh sieve, always!) into the martini glass and serve immediately! This part is important. The temperature of a martini is crucial to its taste. So don't let these babies sit around for too long.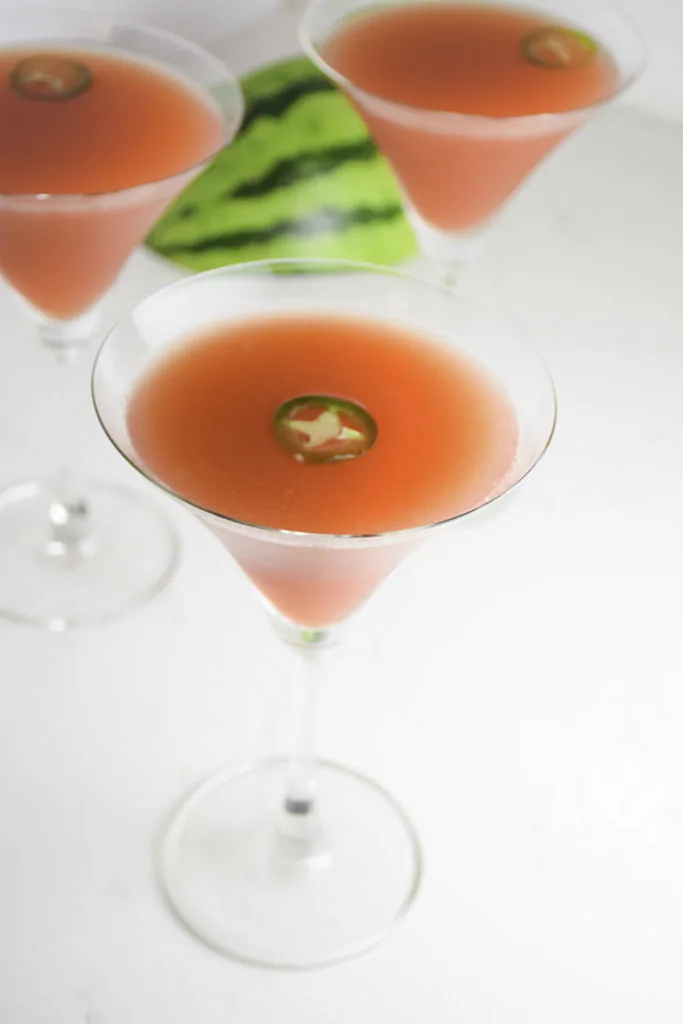 Watermelon Jalapeño Martini
Makes 4 martinis
Equipment: 
High-powered blender
Fine mesh sieve
Metal cocktail shaker
Ingredients: 
2 cups of fresh watermelon chunks
1/2 small jalapeño (can add more if want more spice) + paper thin slices for garnish
1/4 teaspoon salt
8oz of gin
Directions: 
Blend watermelon, jalapeño (I used it seeds and all!), and salt together until smooth. I like to let it blend an extra 30 seconds or so on the highest speed to get it as mixed and finely processed as possible.
Strain juice through a fine mesh sieve into a jar or cup, set aside.
Get your glassware ready and fill a cocktail shaker with ice.
Using a jigger or other measuring device, pour 2 ounces of gin and 4 ounces of watermelon juice into the shaker. Close and shake for 15 seconds moving the shaker up and down at a 45 degree angle.
Pour into martini glass, through a fine mesh sieve, and garnish with a paper thin slice of fresh jalapeño.
Repeat for each martini, changing ice as needed between cocktails. I found I can make two martinis with the same ice, then I need to dump it and start fresh so the drinks don't get watered down.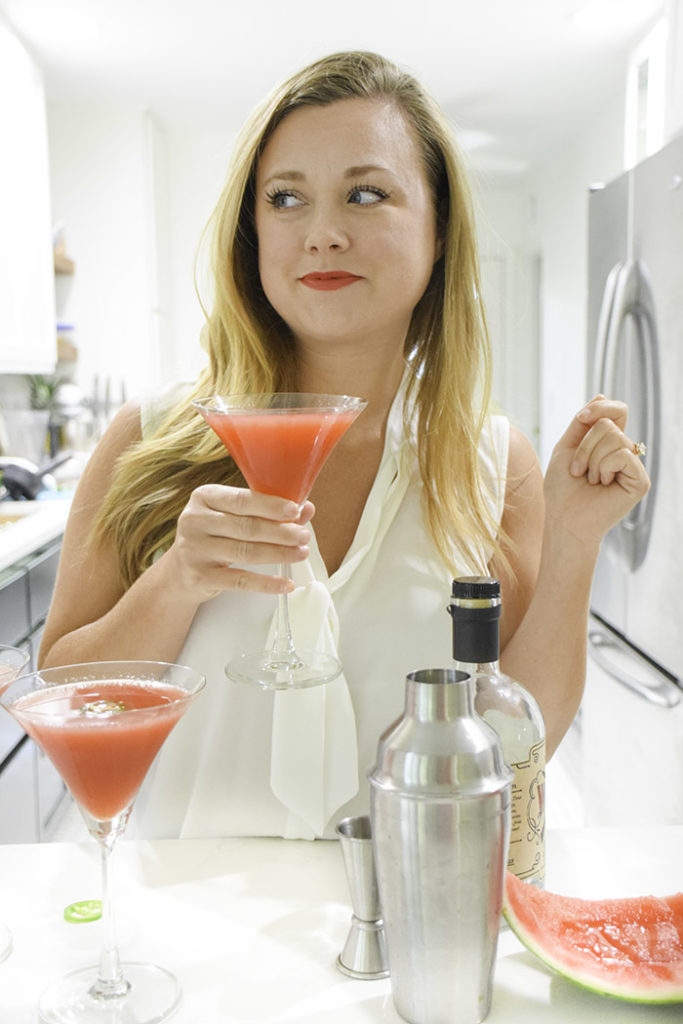 Do you have any burning martini questions? What's your favorite type of martini? Drop me a note in the comments!