These Valentine's Day Sugar Cookie Hearts with Lavender Blueberry Icing are easy to make and turn out beautifully!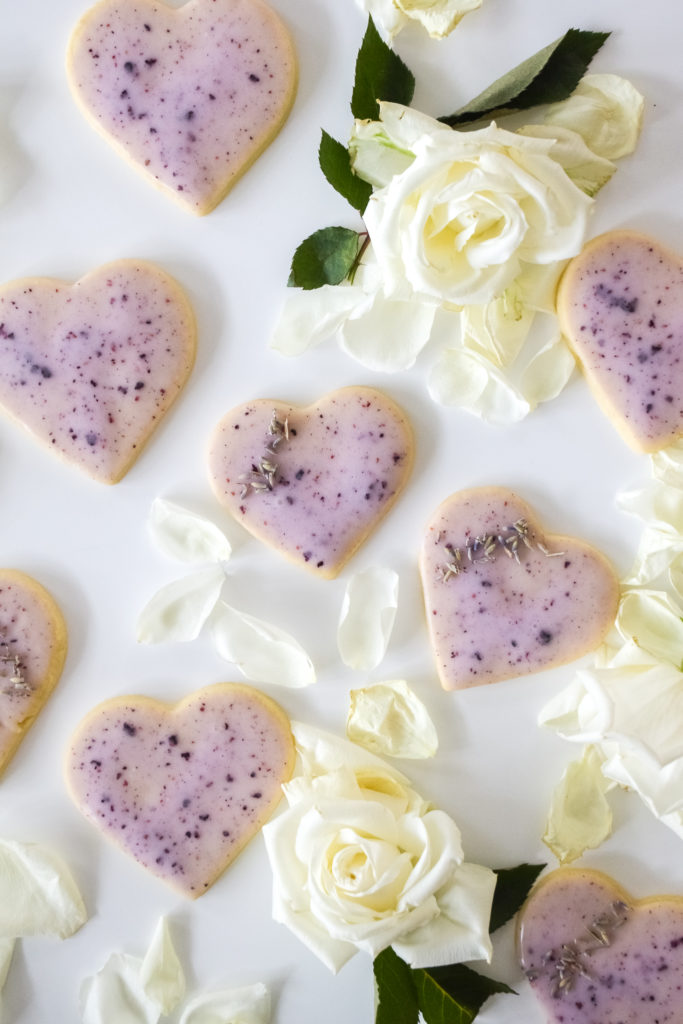 This Valentine's Day I wanted to do something just a little different! That's where I got the idea for these cookies. They are my Thick, Soft Sugar Cookies and I made a special Lavender Blueberry Icing. The icing is what really makes these cookies special. The icing is a a beautiful purple color thanks to the freeze dried blueberries and just a touch sweet and a nice floral note from the dried lavender.
This post contains affiliate links. If you purchase a product through these links I may earn a few pennies. Thanks for keeping this free blog going!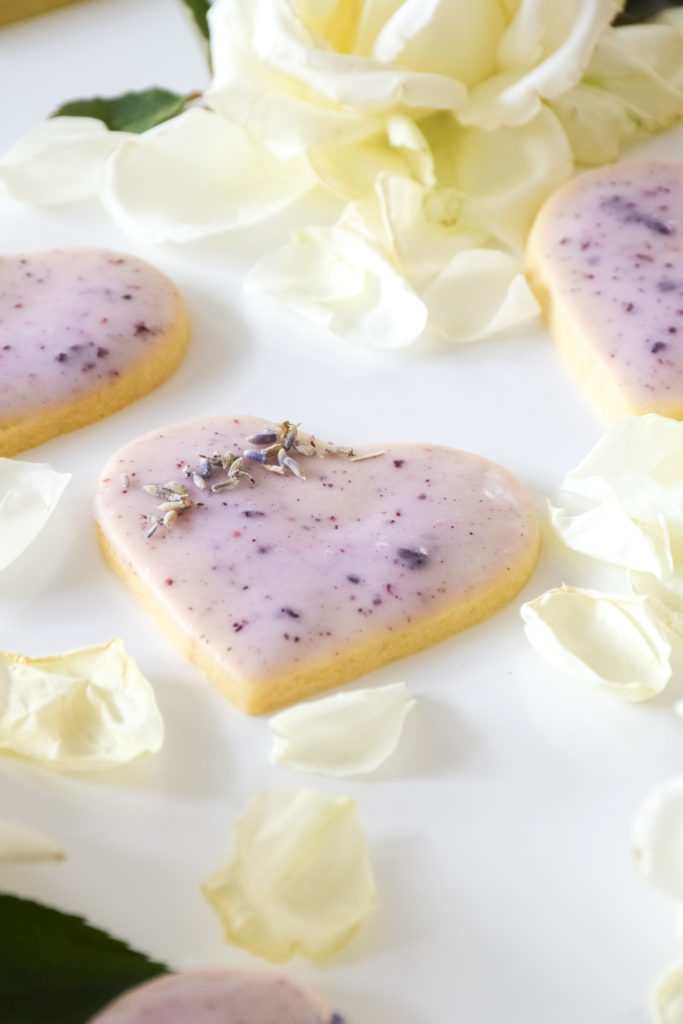 Valentine's Day Sugar Cookie Hearts with Lavender Blueberry Icing
This icing is so easy to make! Just whisk up a few ingredients and done. With the help of a little meringue powder
these dry hard enough to stack and so that any decorations will stay put. The best part is that the icing doesn't dry too hard either. It just the perfect amount of "set." I love how simple yet beautiful these cookies turned out! Sometimes the simple things really are the best.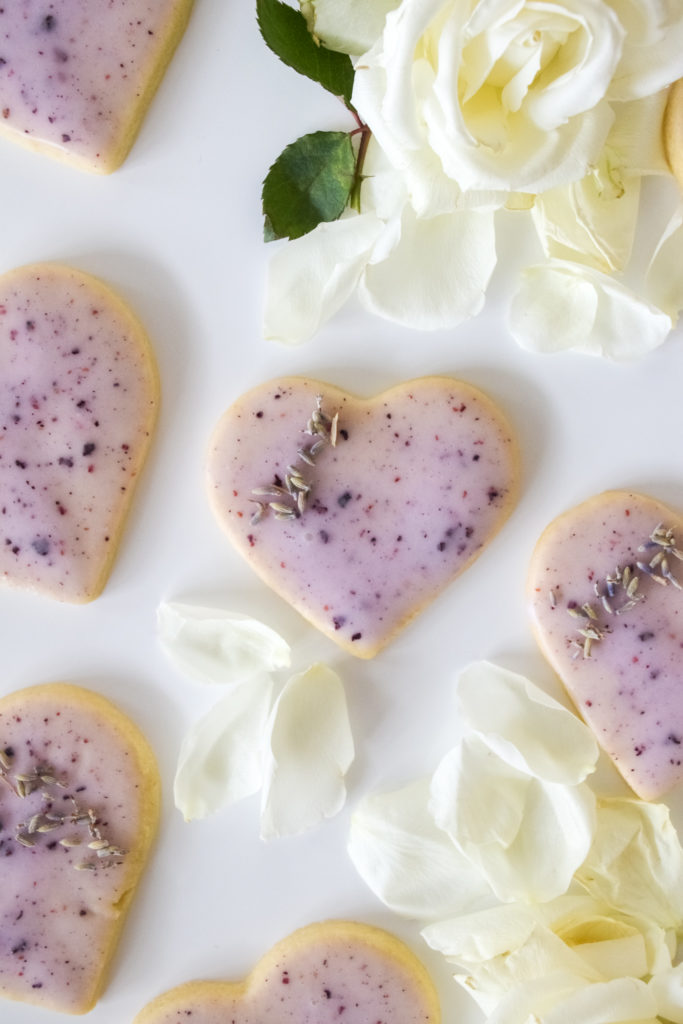 All Natural Valentine's Day Cookies
These icing these cookies uses mostly natural ingredients like freeze dried blueberries
! These frozen berries give the icing the nice purple color and a hint of sweet and tart blueberries. I use dried lavender as sprinkles if you will. If you want, you can mix the lavender into the icing for a stronger flavor but I prefer this lighter version. Speaking of substitutions, freeze dried strawberries would work really too! Pretty much any freeze dried berry that can be crushed into flakes and stirred into the powdered sugar mixture.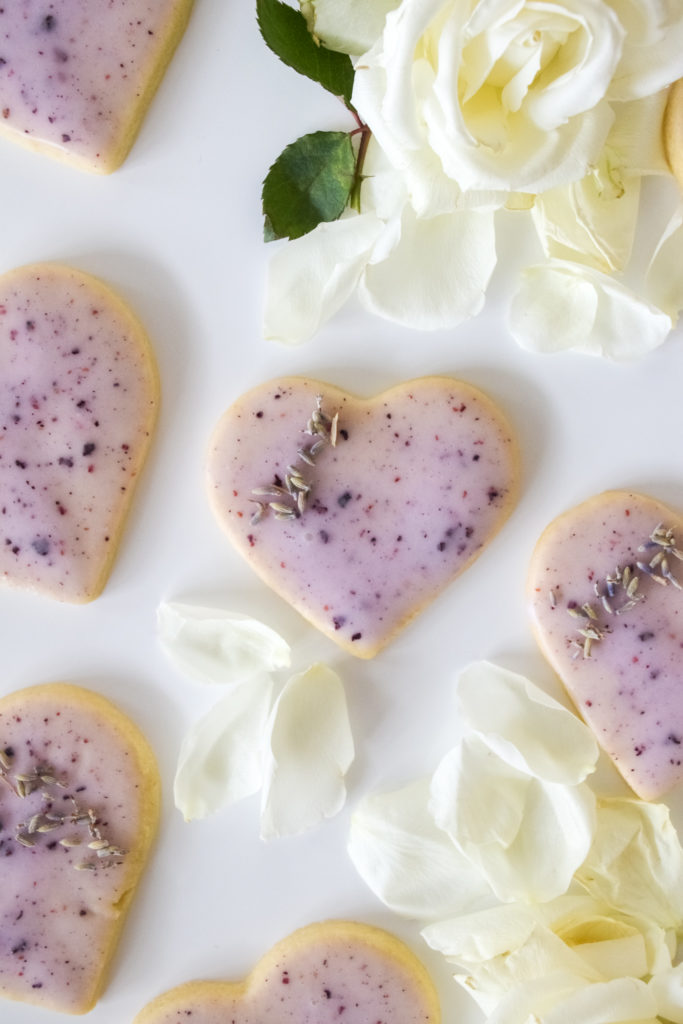 Heart Shaped Sugar Cookies
These Thick Soft Sugar Cookies are perfect for pretty any holiday or just when you want a nice cookie. They have a very delicate flavor that pairs well with almost any cookie combination you could come up with! I love how these cookies stay soft and tender for days as long as you keep them in an air tight container. That makes them perfect for holidays like Christmas or Valentine's Day. You can easily make them a few days ahead of time and they will still be perfect whenever you need them!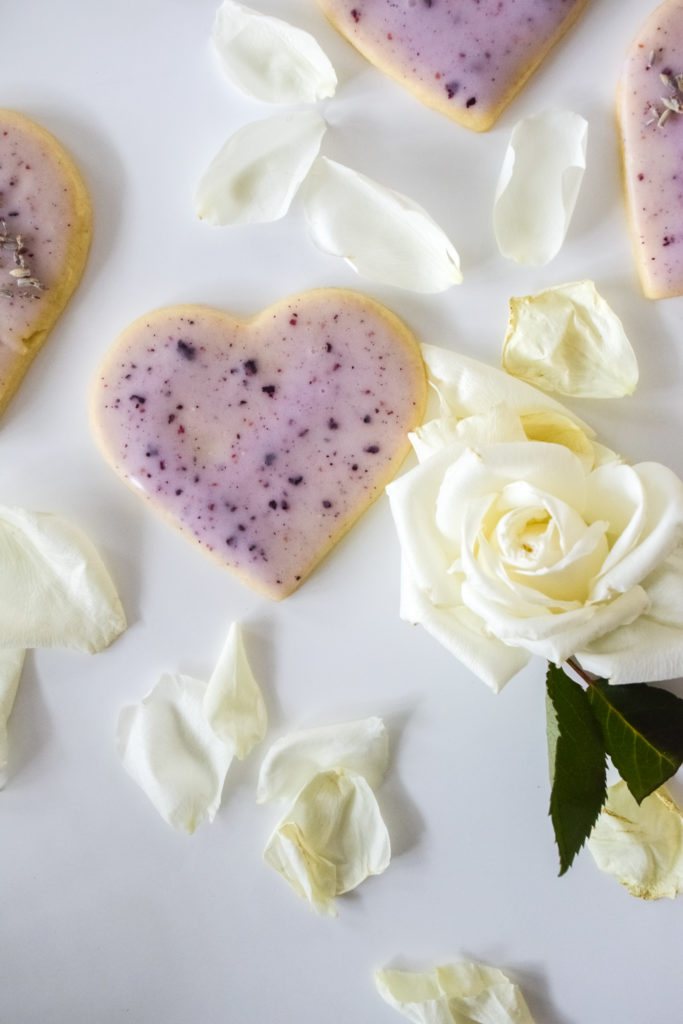 You Might Also Love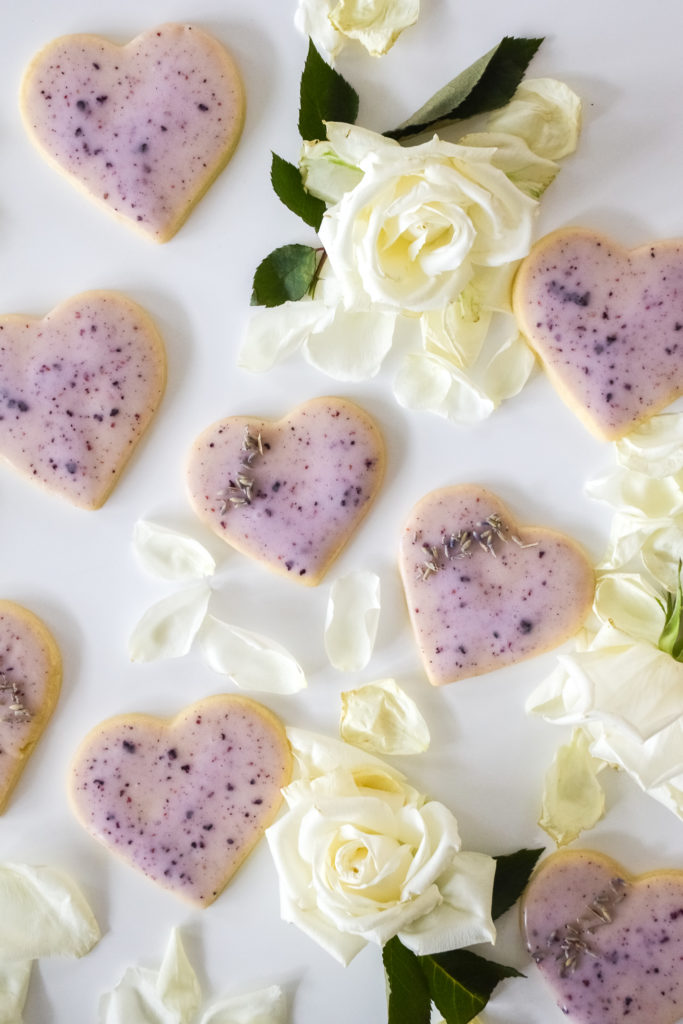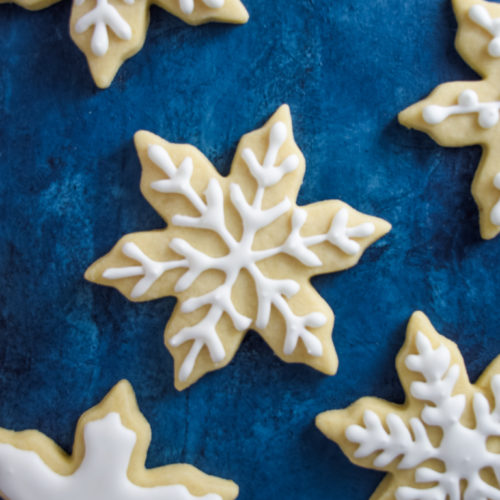 Thick Soft Sugar Cookies for Decorating
These are the best Thick Soft Sugar Cookies for Decorating! They hold their shape and are delicious and tender.
Ingredients
1 1/2

cups

All Purpose Flour

281 grams

1/2

tsp

baking powder

1/4

tsp

kosher salt

12

tbsp

unsalted butter

170 grams, softened to room temperature

3/4

cup

granulated sugar

1

large

egg

room temperature

2

tsp

vanilla extract
Instructions
In a large bowl, whisk together the flour, baking powder and salt and set aside.

In a stand mixer using the paddle attachment or a hand mixer, cream the butter and sugar together. About 2-3 minutes on medium speed until it is fluffy looking.

Reduce speed to low and add in egg and vanilla extract, mixing until incorporated, stopping to scrape down sides of bowl as needed. Add flour mixture slowly, incorporating on low speed until combined and no flour pockets remain.

On a lightly floured surface, roll dough into a flatted ball/disc shape, cover well in plastic wrap and chill for 1 hour or up to overnight in the fridge. You can also freeze the dough, or a portion of the dough, at this point if saving for future.

Once ready to bake, remove dough from fridge or freezer and let come to just below room temperature. Usually about 20-30 minutes. Dough should be pliable but cool to the touch. Pre-heat oven to 350° and prepare a baking sheet with parchment paper or a silicone baking mat.

Working in batches to keep dough chilled, roll out dough on a floured surface to 1/4 inch thick. Use cookie cutters with edges dusted with flour to get desired shape. *the flour keeps the dough from sticking to the cutters to get clean sides. If dough becomes too warm, place dough shapes into the fridge to chill for 20 minutes. You can leave them right on the baking sheet. Chilled dough spreads less when baking than warm dough thus helping cookies to hold their shape.

Bake cookies for 10-11 minutes, rotating baking sheet once about halfway through. Do not let cookie edges get brown. These cookies should be uniform in color. If edges begin to brown, remove cookies from oven.

Let cookies cool for 5 minutes on baking sheet then move them to a wire rack to cool completely before decorating.
Nutrition
Calories:
108
kcal
Carbohydrates:
12
g
Protein:
1
g
Fat:
6
g
Saturated Fat:
4
g
Cholesterol:
23
mg
Sodium:
38
mg
Potassium:
13
mg
Fiber:
1
g
Sugar:
6
g
Vitamin A:
189
IU
Calcium:
10
mg
Iron:
1
mg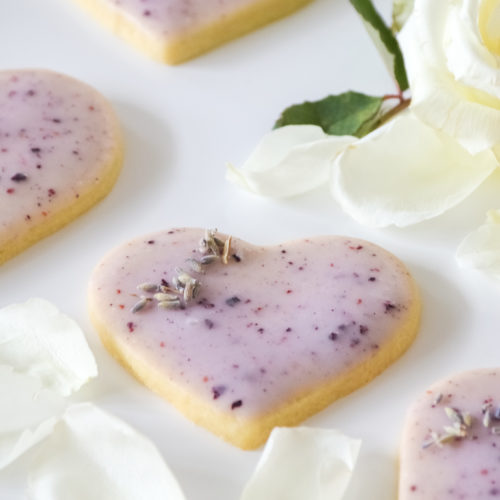 Lavender Blueberry Icing
This Lavender Blueberry Icing is perfect for icing cookies! It's a delightfully floral and light icing that is a beautiful way to naturally decorate cookies!
Ingredients
1/2

cup

powdered sugar

1

tbsp

milk

1/2

tsp

meringue powder

1

tsp

freeze dried blueberries

crushed

1

tsp

dried lavender
Instructions
In a ziploc bag, crushed freeze dried blueberries.

In a small bowl, whisk together powdered sugar, milk, meringue powder and freeze dried blueberries until all sugar is dissolved and well combined.

Dip cookies or drizzle icing onto cookies, cakes, etc. Let dry 5 minutes. Then sprinkle with lavender or other decorating accoutrements. Let dry 2 full hours before stacking.