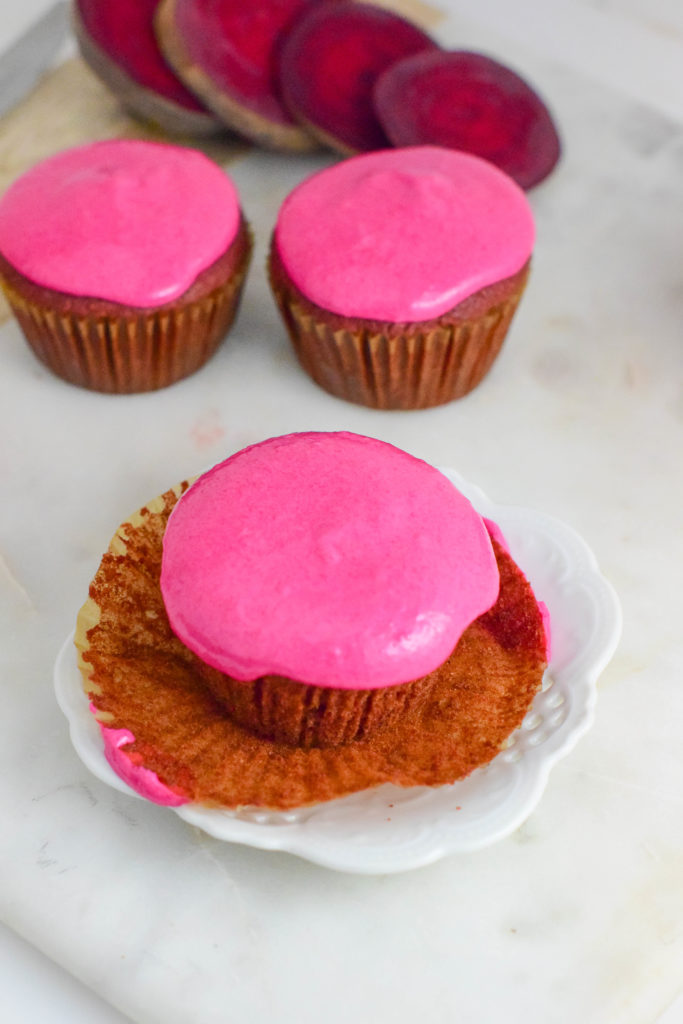 Dark Chocolate Beet Cupcakes are the cupcakes you didn't even know you needed! They are sweet but not overly so with a slightly bitterness from the dark chocolate and rich moistness from the fresh beet purée. The bright pink cream cheese frosting is eye catching and will have you licking the bowl! Or at least that is what happened when I made them! Just writing this is making me want to make these all over again! 
Dark Chocolate Beet Cupcakes
I originally wrote this recipe for Austin Woman Magazine as part of their February 2018 issue. We did a whole piece about how to make a great Date Night-In. Whether it's your bestie, your bf or even just a nice treat yo'self meal, I've always been a fan of cooking a nice dinner at home.
These Dark Chocolate Beet Cupcakes are great as a cake or a treat to take to your office party or ya know just a whole bunch of cupcakes for yourself! If you want to make a whole date night meal out it, these pair well with my Strawberry and Spinach Salad and a great steak! I've written up my tips for how to cook the perfect steak at home!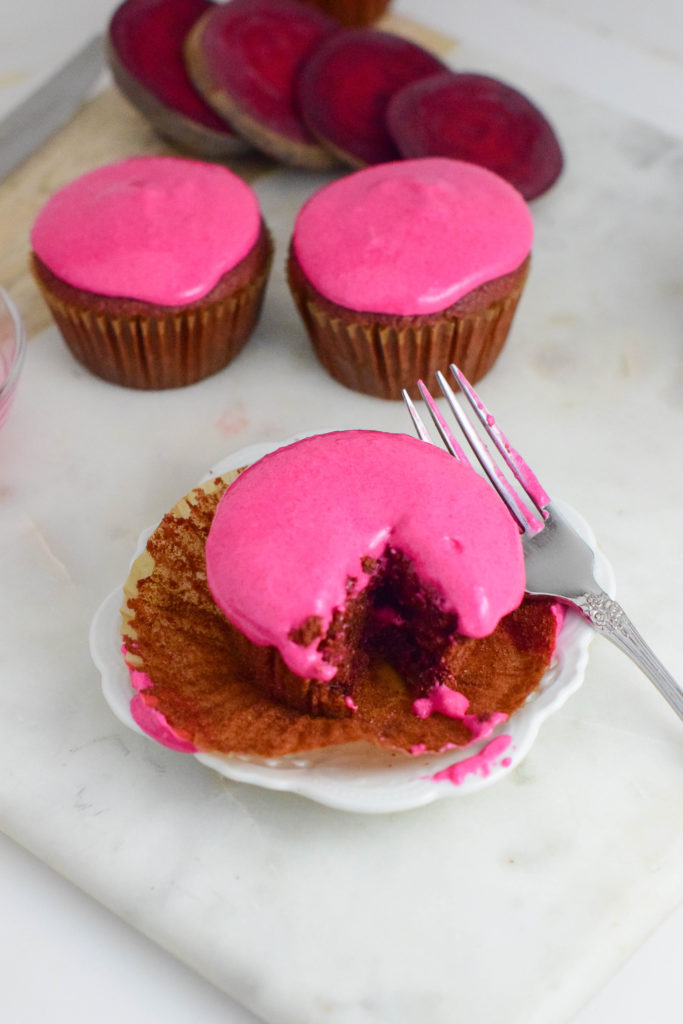 Dark Chocolate Beet Cupcakes
Makes about 24 cupcakes
Cupcakes:
1 cup of beet root puree (about 2-3 small beets)
¾ cup of dark chocolate chips (highest cocoa percentage you can find)
¼ cup hot coffee
11 tablespoons of unsalted butter
1 cup + 2 tablespoons of all-purpose flour
1 ¼ teaspoons baking powder
3 tablespoons cocoa powder
5 eggs
1 cup sugar
Frosting:
2 tablespoons beet root puree
8 ounces of cream cheese
2 cups of powdered sugar
2 teaspoons vanilla extract
Directions:
Line cupcake pans with cupcake papers and pre-heat oven to 350 degrees.
Boil beets, whole and unpeeled, until fork tender. About 30 minutes. Drain and when cool enough to touch, slide skins off.
In a blender, process beets until smooth.
Melt chocolate in a small bowl. Cut butter into small cubes and gently stir into melted chocolate until well combined.
Add hot coffee and stir until just combined.
Sift together flour, baking powder and cocoa. Separate the eggs whites and yolks. Whip the eggs whites until stiff peaks form.
Combine egg yolks with chocolate, then gently fold beets. Next stir in sugar. Then gently stir in egg whites.
Lastly, add flour and cocoa until well combined. Transfer to cupcake pan and bake for about 25 minutes until cake is moist but set.
For the frosting, let cream cheese soften at room temperature then beat until fluffy. Add in beet root puree and vanilla until combined. Then add powdered sugar one cup at a time until smooth. Let frosting chill in the refrigerator for 30 minutes.
Let cupcakes cool then frost.