This is The Best Cookie Recipe for Holiday Cookie Decorating! These cookies are so easy to make and bake up perfect for all those holiday decorations!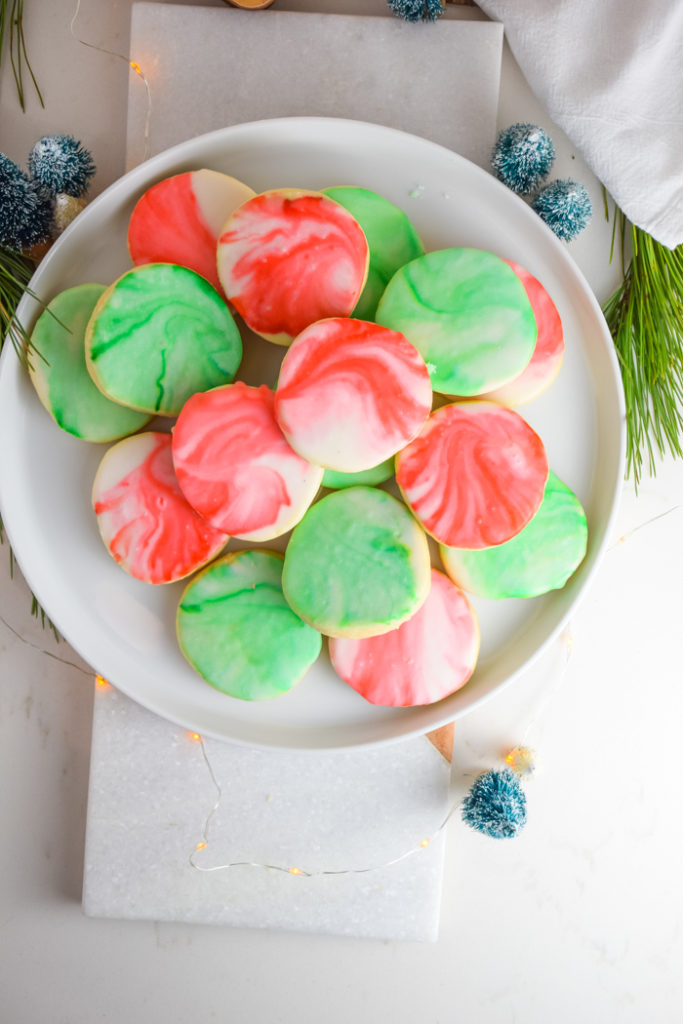 Growing up we always had cookie decorating parties at my house around the holidays. It was always so much fun. Now that I'm all grown up, my girlfriends and I still love to get together and decorate cookies this time of year! This year, one of my friends even brought her 3 yr old and oh what fun! The tradition continues!
This post contains affiliate links. If you purchase a product through these links I may earn a few pennies. Thanks for keeping this free blog going!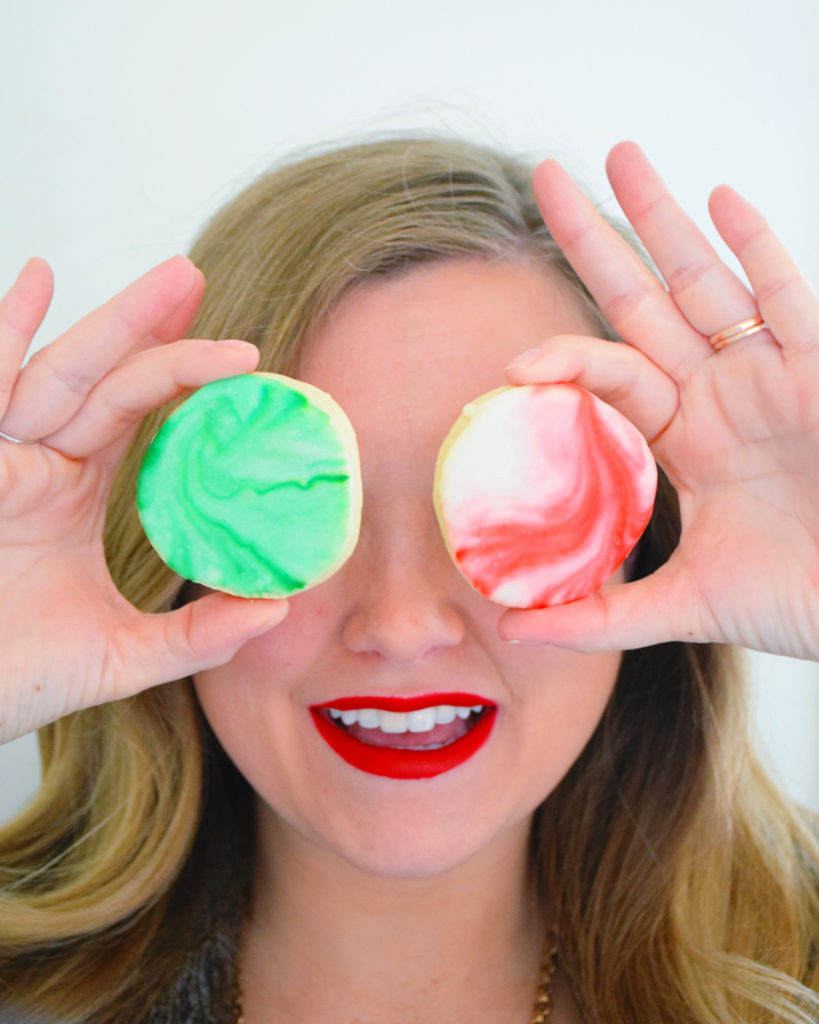 Butter Cookies are the Best Cookies for Decorating
Growing up, I'm pretty sure we always used Pillsbury sugar cookie dough for our cookie decorating parties. I must say, in a pinch, I think it's still a good option! But now that I'm a food blogger and all, I wanted to create a recipe that was perfect for holiday decorating. I tested our several different types of recipes, most of them sugar cookies and none of them were what I was hoping for. I soon realized that it wasn't a sugar cookie that I needed for decorating… it was a butter cookie!
What's a butter cookie you ask? Well, it's a simple cookie that only has a few ingredients, one being butter! These cookies hold their shape well, especially when you take the extra time to chill the dough. This prevents the cookies from spreading while baking. This recipe and process also allows the cookies to bake up flat on top, making them perfect for decorating!
You can use any kind of frosting or icing you like. I included a recipe for homemade icing that is a perfect base for decorating! You can dip these into the frosting and let icing dry, then you can add additional lines, sprinkles, you name it!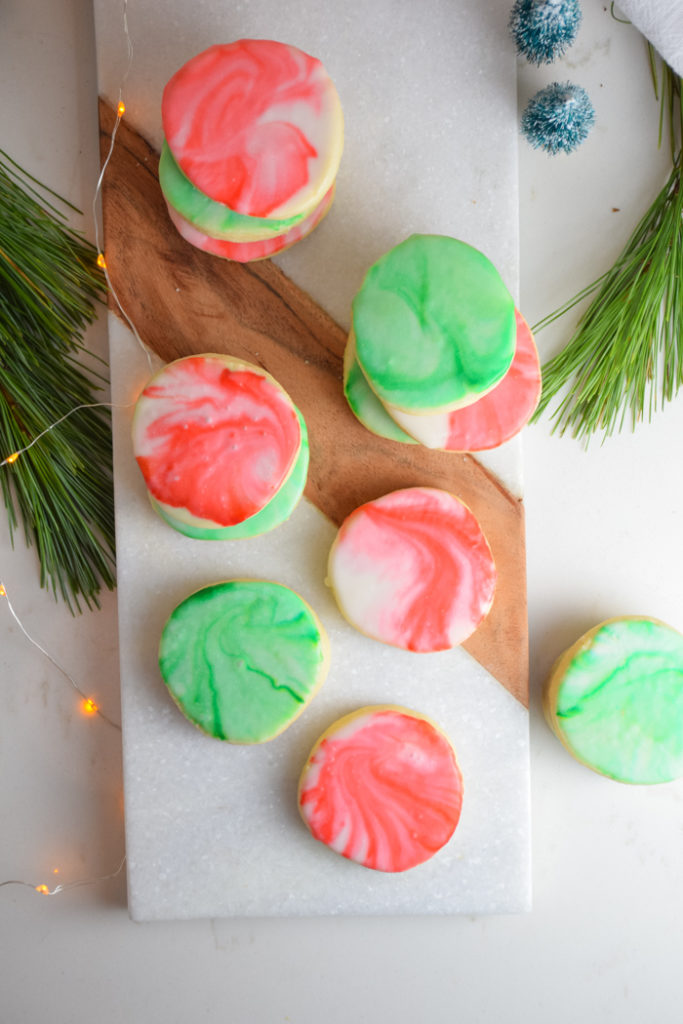 Best Cookie Recipe for Holiday Decorating
Makes about 36 cookies
Ingredients: 
Cookies:
2 1/4 cups all purpose flour
1 cup butter, room temperature
3/4 cup granulated sugar
1 tablespoon vanilla extract
1 egg yolk
1/4 teaspoon salt
Icing:
2 cups powdered sugar
6 tablespoons milk
2 drops of red food coloring
2 drops of green food coloring
Directions: 
Beat butter and sugar until creamy. 2-3 minutes on medium speed if using a mixer.
Add salt, vanilla, and yolk, scraping down sides of bowl to incorporate.
Add flour and mix until just combined.
Shape dough into 2 logs about 15 inches long each. Wrap with plastic wrap and chill in fridge for 1-2 hours or until firm. * See note if using cookie cutters*
Pre-heat oven to 350 degrees. Line a baking sheet with parchment paper. Cut cookies about 1/2 inch thick. Bake for 10-12 minutes or until just starting to get golden. Do not over bake.
Let cookies cool completely. While cooling, make icing. Divide powdered sugar into two bowls. Add 3 tablespoons milk to each bowl and whisk until there are no clumps. Add drops of food coloring to each bowl, with a toothpick or fork gently swirl the food coloring but not completely mixing.
Dip cooled cookie into icing then let icing completely dry, about 30 minutes.
Store iced cookies in air tight container up to 4 days. Cookie dough can be made ahead of time and stored tightly wrapped in fridge up to 3 days and freezer up to six months.
*Note: If you want to use cookie cutters to make different shapes, then roll out dough about 1/8inch thick. Then use cutters to make the shapes. Place onto baking sheet lined with parchment paper and let chill for 30 minutes or until firm. Then bake 10-12 minutes.
Tell me your favorite holiday cookie in the comments!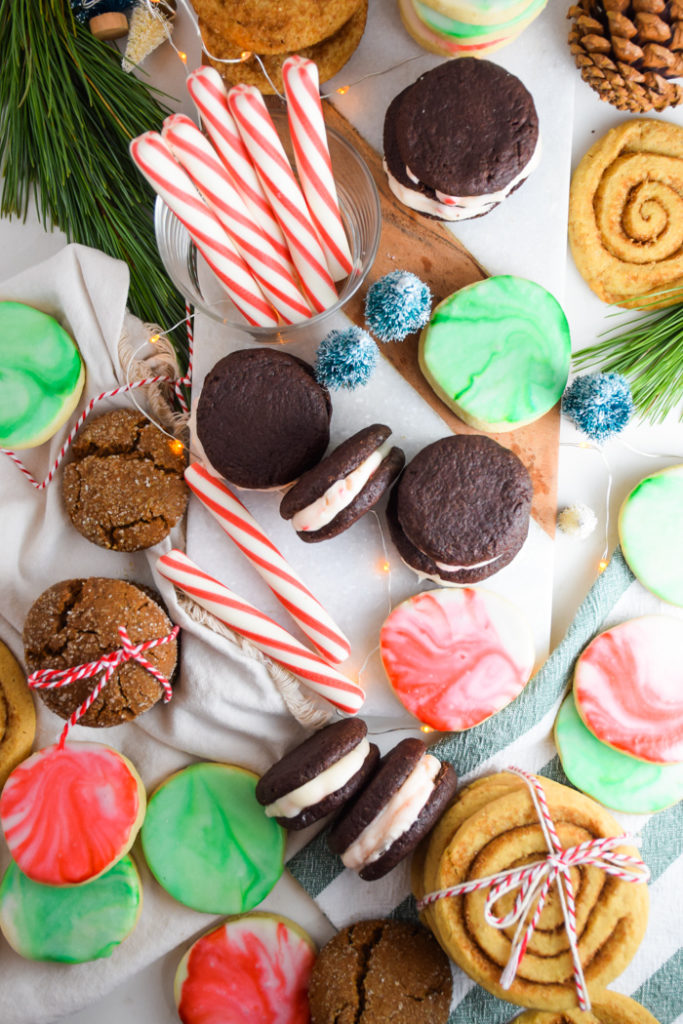 You Might Also Love 
Dark Chocolate Créme de Candy Canes