This Quick Vegan Spaghetti Aglio e Olio takes about 15 minutes to make and is flavorful, satisfying pasta dish!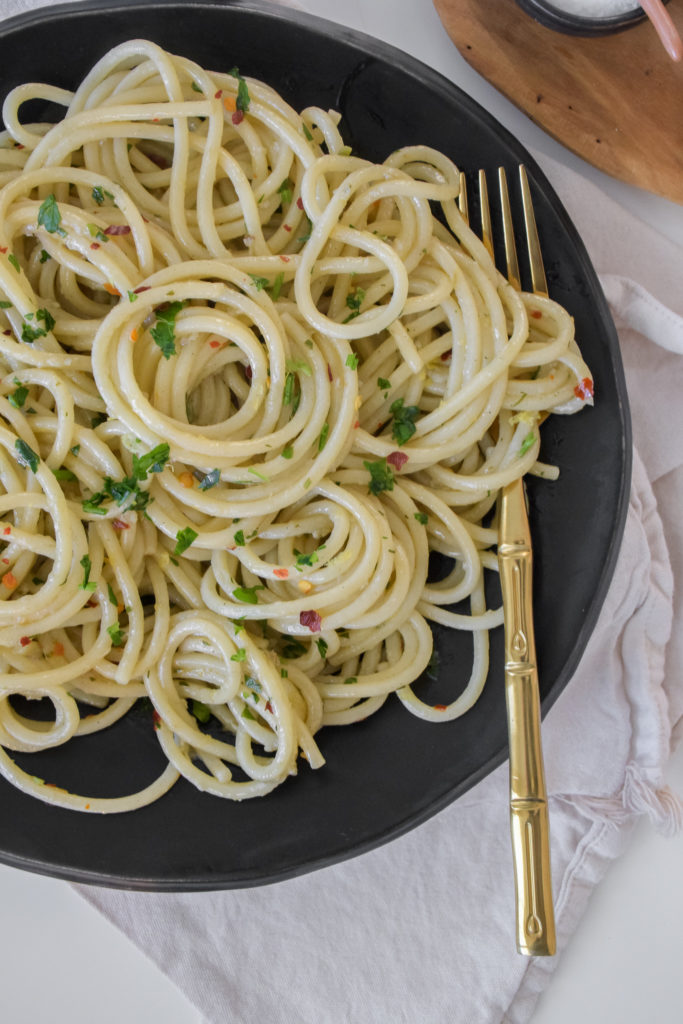 I've been on a roll this week sharing several of our go-to recipes that we make all the time. All these meals, like this Spaghetti Aglio e Olio are some of our favorite meals because they are quick, easy and always hit the spot. This easy pasta is no different. It's loaded with one of my fav ingredients, garlic, and with a little red pepper and some good olive oil, you've got an easy no-fuss meal that takes about 20 minutes or less to make. Can't go wrong with that!
This post contains affiliate links. If you purchase a product through these links then I may earn a few pennies. Thanks for keeping this free blog going!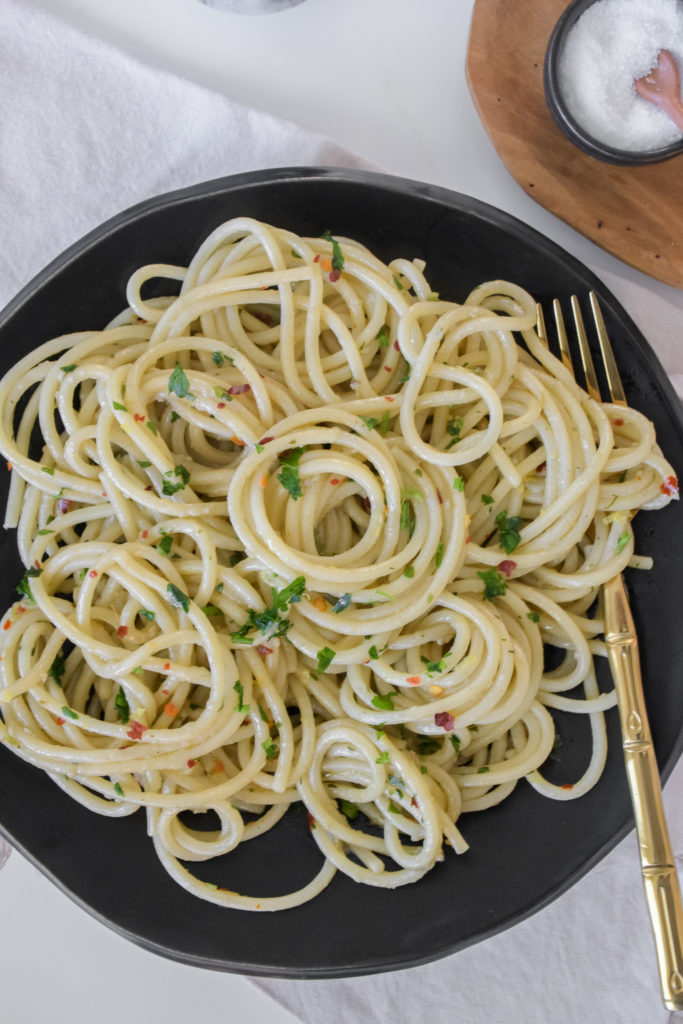 Quick Vegan Spaghetti Aglio e Olio
I've always been a pasta girl. There is nothing I love more than a big bowl of noodles. So comforting and for me they always hit the spot. The thing I love about this pasta dish is that it is laded with one of my favorite ingredients garlic! I just love the pungent garlic flavor. Maybe that's why I love Italian food so much?!
Speaking of Italian food, that is where I first discovered Spaghetti Aglio e Olio. I first tried on a trip to Italy. I remember sitting on a piazza and tried this version of spaghetti. It was such a simple dish but oh so delicious. This is one of those meals where the actual ingredients are really important. Since there are so few ingredients, it's important to use good quality ingredients. It definitely one of those a little bit goes a long way type things. A few quality ingredients is all you need to make this meal!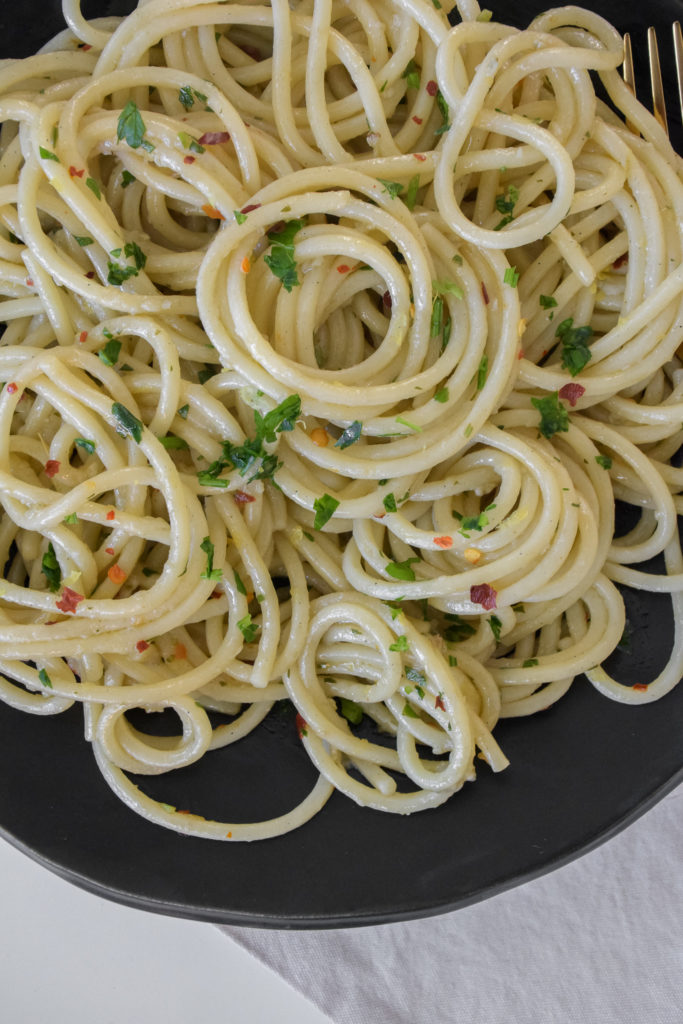 Garlic and Oil Spaghetti
To make this meal, you only need 6 ingredients. First you will want to get a good quality spaghetti noodle. For this dish, you want a dried noodle, like spaghetti alla chitarra, that is cooked slightly under al dente so that it won't fall apart when you toss it with the sauce.
The sauce for this pasta is made up of pasta water, garlic, a bit of lemon and olive oil. So that means you will want a good quality olive oil
since it is one of the main components. A nice olive oil will impart a slightly bright, fruity flavor to balance the garlic.
When you begin making the sauce, you will only want to heat the skillet to about medium heat. This will help prevent the delicate olive oil and garlic from burning and going rancid. We simply just want to heat it a little bit to infuse the olive oil with the garlic and red pepper flavors. This only takes about a minute, which is great for a quick cooking dish! I add a good amount of red pepper which gives this dish a little kick. You can adjust the heat to your preference.
Quick Pasta Dinner
After the olive oil, garlic and red pepper are slightly heated, you can add the noodles! Toss them up and add a little pasta water to help everything come together. From there, if the noodles start to get sticky, you will want to some pasta water. You will most likely need at least 1/4 cup but reserve an additional 1/4 cup just in case. Depending on the humidity and how much water gets transferred to the pan with the noodles, you may need the additional pasta water. You can add that one tablespoon at a time until a slick, glossy sauce forms. It should coat the noodles nicely.
Then add the lemon juice and zest and parsley. Toss all together until everything is well combined. Taste test and add additional salt or red pepper as needed. If you want, a nice sprinkle of freshly grated parmesan would be nice! But honestly, this dish is great without it!
If you want to modify this dish, spinach or lacinto kale would be a great additional. You can toss it in when you add the noodles. If you want to add protein, a shredded chicken or ground pork would be good. I would cook the protein separately and then add in after the pasta water step and before the addition of the lemon and parsley.
You Might Also Love
Spicy Garlic Chili Ramen Noodles with Bok Choy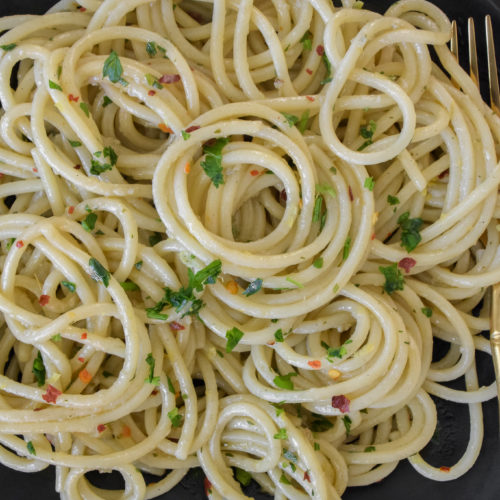 Quick Vegan Spaghetti Aglio e Olio
This Quick Vegan Spaghetti Aglio e Olio takes about 15 minutes to make and is flavorful, satisfying pasta dish!
Ingredients
1/2

lb

spaghetti

4

tbsp

olive oil

6

cloves

garlic

minced or pressed

1

tsp

red pepper flakes

1

lemon

juice and zest

2

tbsp

flat leaf parsley

very finely chopped

1/2

tsp

kosher salt

plus more for salting water

1/4

cup

reserved pasta water

plus more if needed
Instructions
Begin by bringing a pot of salted water to boil. Meanwhile, prepare the ingredients by mincing or pressing the garlic, mincing the parsley and zesting and juicing the lemon.

Boil the noodles until slightly less than al dente. They will continue to cook in the pan.

In a high sided skillet, heat the olive oil, garlic and red pepper over medium heat for about one minute stirring frequently. Be careful to not burn the garlic.

Transfer the boiled noodles to the skillet along with 1/4 cup pasta water. Reserve an additional 1/4 cup just in case. Stir frequently until liquid is absorbed. If pasta begins to get sticky, add pasta water 1 tablespoon at a time until a light slick sauce forms.

Reduce heat to low and add lemon juice and zest and parsley. Toss together until well combined. Add additional salt and red pepper to taste. Plate and serve hot!
Nutrition
Calories:
702
kcal
Carbohydrates:
93
g
Protein:
16
g
Fat:
30
g
Saturated Fat:
4
g
Sodium:
610
mg
Potassium:
406
mg
Fiber:
6
g
Sugar:
5
g
Vitamin A:
646
IU
Vitamin C:
37
mg
Calcium:
64
mg
Iron:
3
mg