This easy Healthy Sheet Pan Salmon with Basil Pesto and Broccolini and Sweet Potatoes is a great weeknight meal!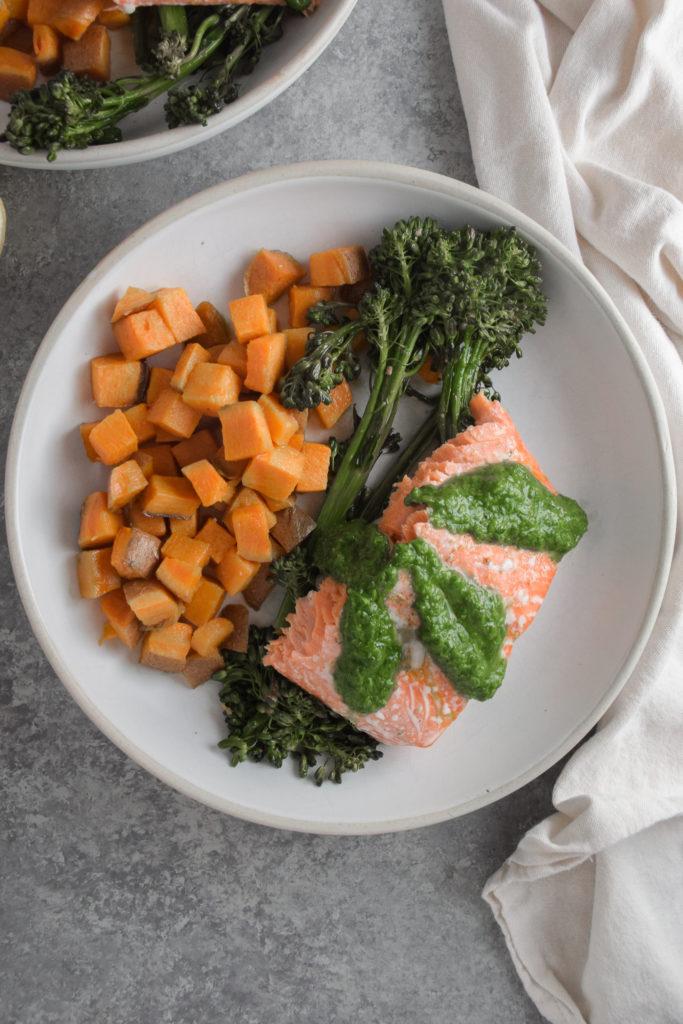 This week I am all about healthy recipes that make me feel good. I've been sharing some of my recipes that I make over and over again. To be honest, a lot of these recipes are things that I never even thought about sharing because to me they are the meals that I just sort of throw together when I don't feel like cooking or coming up with something creative. Kind of like those boring meals that I never thought anyone would be very interested in. But then it hit me that if these are types of meals that I make over and over again, then it's probably something that y'all might actually love! Funny how sometimes those things that are the most simple are the best. Anyways, here is one of my healthy go-to sheet pan meals! 
This post contains affiliate links. If you purchase a product through these links I may earn a few pennies. Thanks for keeping this free blog going!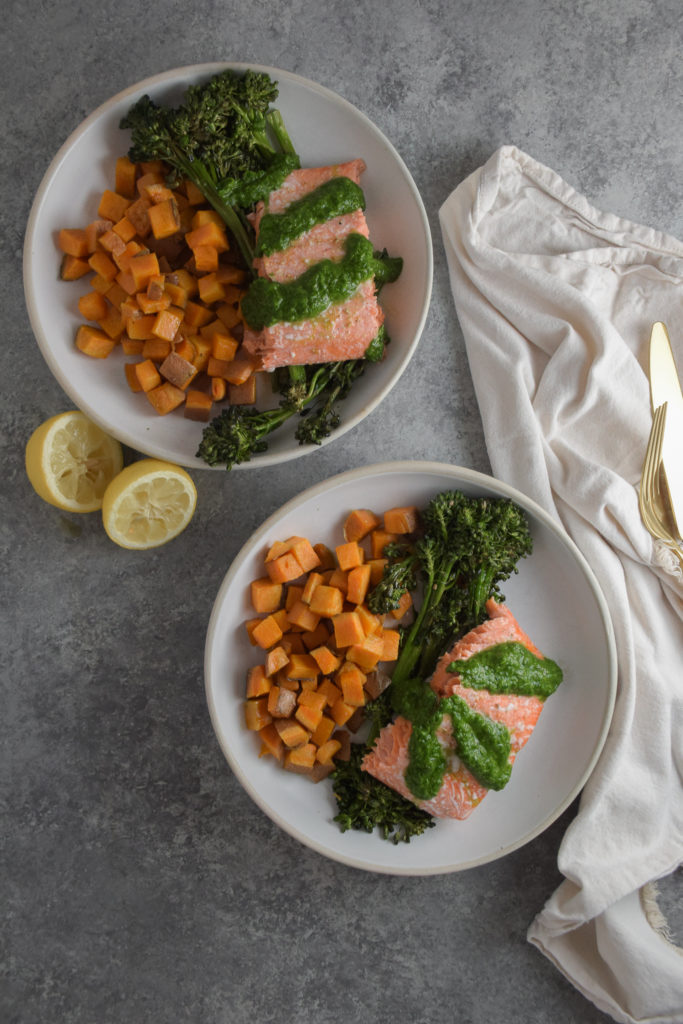 Healthy Sheet Pan Salmon with Basil Pesto and Broccolini and Sweet Potatoes
This is a meal that we make often, usually on Sunday or Monday nights when we are feeling like our bodies need a meal that is full of nutrition but our minds want something that is quick and easy to clean up! We also usually do our fish or seafood meals at the beginning of the week when we go to the grocery store or on a Friday or Saturday when we head out specifically to pick up whatever is looking freshest. 
I really enjoy salmon because it's got a lot of flavor on it's own so you don't need much to make it a great meal! I love Basil Pesto because it's a simple flavorful sauce that goes great on everything. If we don't do a pesto, we love a good mustard
with the fish and sometimes nothing else at all. But I love a good sauce!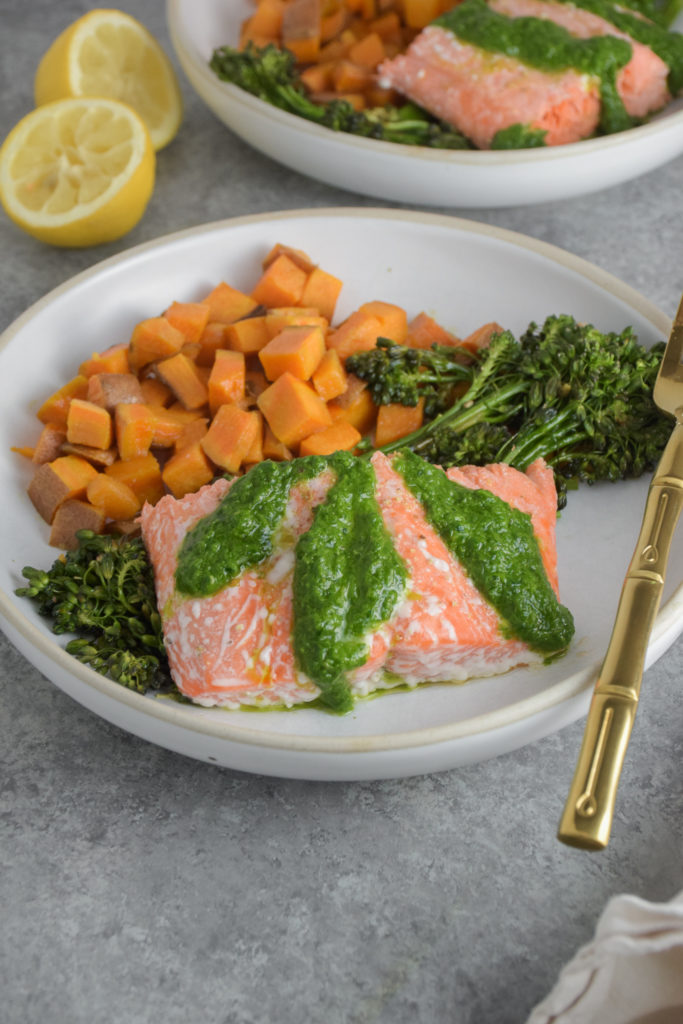 Easy Healthy Dinner 
This dinner is great because everything, except for the pesto of course, cooks on one sheet pan! The key to getting everything done at the same time is to get the sweet potatoes in first. They take longer to cook than the fish or broccolini. The smaller you dice up the potatoes the faster they will cook. I usually dice them into about 1 inch cubes. Any size works but just know that the larger the pieces are the longer you will need to bake them before adding the broccolini and salmon. 
After about 15 minutes with the 1 inch sized sweet potatoes in oven, pull out the sheet pan and give the potatoes a toss. Then add the broccolini and salmon and finish cooking everything, usually about another 15 minutes or so.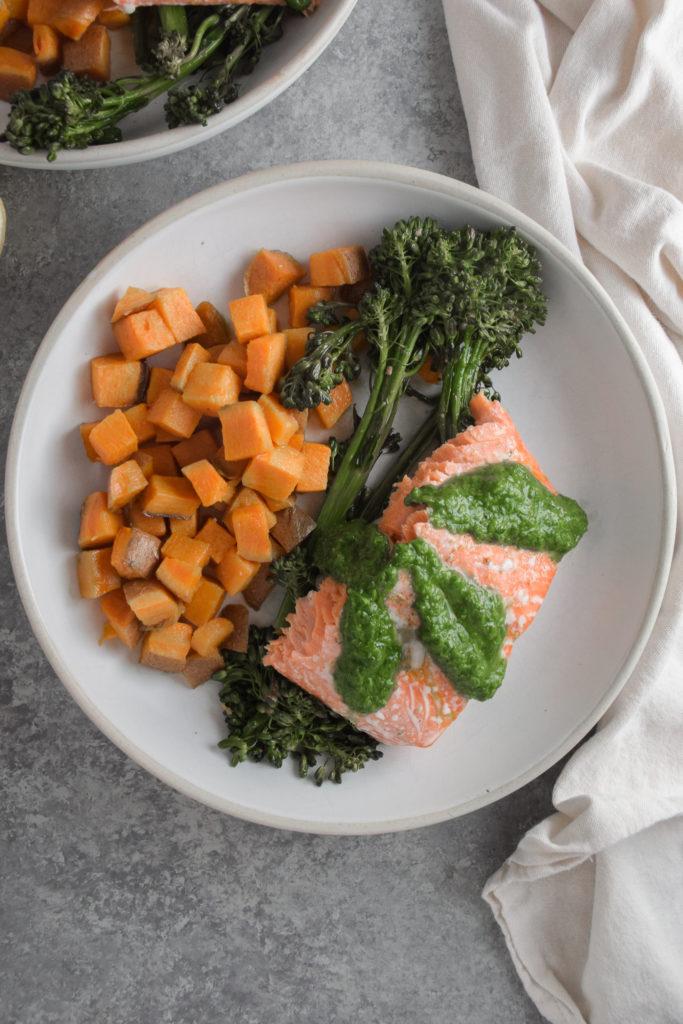 Easy Sheet Pan Meal 
I hope you all love this sheet pan meal as much as we do! Tell me in the comments some of your favorite sheet pan dinner hacks!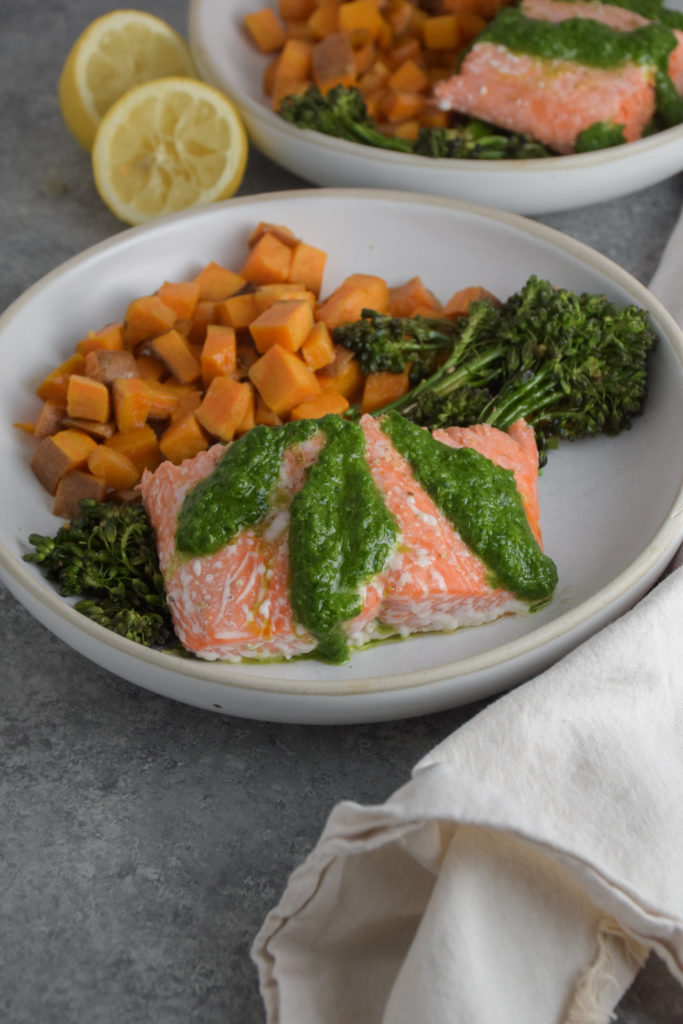 You Might Also Love
Blackened Shrimp Salad with Corn and Avocado 
Creamy Chicken and Veggie Soup 
Roasted Salmon Bowls with Lemony Dill Sauce
Healthy Sheet Pan Salmon with Basil Pesto and Broccolini and Sweet Potatoes
This easy Healthy Sheet Pan Salmon with Basil Pesto and Broccolini and Sweet Potatoes is a great weeknight meal!
Ingredients
1/2

lb

salmon filet

1

bunch

broccolini

1

sweet potato

diced, about 2 cups

1

lemon

about 2 oz lemon juice

1

tbsp

olive oil

divided

1

tsp

kosher salt

divided

1/2

tsp

pepper

2

tbsp

Basil Pesto
Instructions
Pre-heat oven to 375° and prepare a large sheet with a silicone baking mat or parchment paper.

Toss diced sweet potatoes with half the olive oil and oil. Spread across about 1/3 of the baking sheet and bake for 15 minutes.

While sweet potatoes are baking, wash and dry broccolini. Make Bail Pistou.

Remove sweet potatoes from oven after 15 minutes. Add salmon and broccolini to pan. Drizzle salmon and broccolini with remaining olive oil, salt, pepper and lemon juice. Leave lemon on pan as an aromatic. Bake for an additional 15 minutes or until potatoes are tender and salmon is cooked through.

Remove from oven and transfer to plates. Drizzle salmon with Basil Pesto and enjoy!
Nutrition
Calories:
372
kcal
|
Carbohydrates:
34
g
|
Protein:
28
g
|
Fat:
14
g
|
Saturated Fat:
2
g
|
Cholesterol:
62
mg
|
Sodium:
1301
mg
|
Potassium:
1018
mg
|
Fiber:
6
g
|
Sugar:
8
g
|
Vitamin A:
17591
IU
|
Vitamin C:
109
mg
|
Calcium:
125
mg
|
Iron:
3
mg
Basil Pistou
This Basil Pistou is very similar to a pesto sauce. It is made with fresh basil, garlic, lemon, olive oil and salt. It's versatile and can used on pasta, with meats and fish, as a dip for bread and sauce for eggs!
Ingredients
4

oz

fresh sweet basil

about 2 cups basil leaves, large stems removed

3

cloves

garlic

6

tbsp

olive oil

1

tsp

kosher salt

reduce by half if using table salt

2

oz

lemon juice

approximately juice from one small lemon
Instructions
Pour olive oil into blender or food processor. Add basil, lemon juice, salt. I recommend mincing or pressing garlic before adding to blender to ensure even distribution.

Blend on medium speed until thick, pasty sauce forms. Store in air tight container for up to one week in the fridge.
Nutrition
Calories:
79
kcal
|
Carbohydrates:
1
g
|
Protein:
1
g
|
Fat:
8
g
|
Saturated Fat:
1
g
|
Sodium:
233
mg
|
Potassium:
43
mg
|
Fiber:
1
g
|
Sugar:
1
g
|
Vitamin A:
599
IU
|
Vitamin C:
5
mg
|
Calcium:
22
mg
|
Iron:
1
mg