Creamy Basil Pesto Pasta is an elevated pasta recipe that is perfect for anytime of year! Showing you how I turn fresh herbs into a decadent sauce!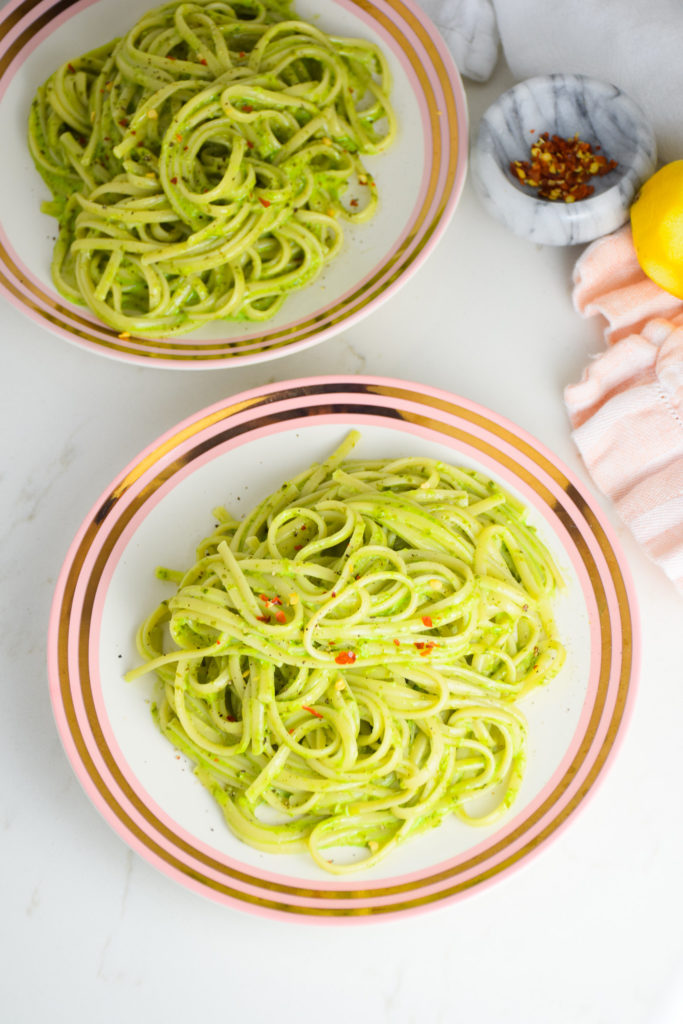 If there were ever a meal I could eat over and over again it would be this one. A big bowl of pasta with a creamy, fresh herb sauce is something I can never say no to! It's comforting, delicious and this sauce has a decadent richness to it that charms my tastebuds every time. What makes this Creamy Basil Pesto Pasta even better is that you can combine the noodles and sauce all together in one pot. It takes less than 30 minutes from start to finish and is the perfect date night in meal!
This post contains affiliate links. If you purchase a product through these links I may earn a few pennies. Thanks for keeping this free blog going!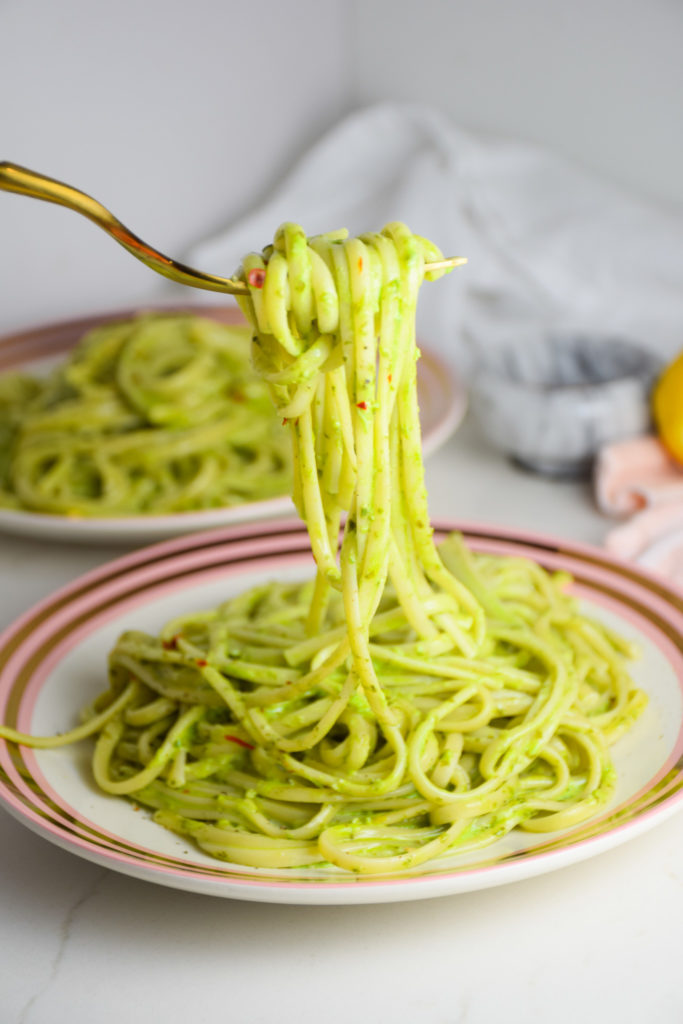 Easy, Decadent Meals
If I could describe the way I like to cook in one sentence, it might go something like this: "I love when food tastes and looks fancy but is simple to make." I always like to tell people who don't cook very often, you only need to know how to make a few things, but know how to make them well. That's really all you need. Have a go to salad, soup and pasta dish. Then maybe one or two other things that you can execute well like an appetizer or dessert to share and possibly something more filling like a chicken dish. And that's it!
This dish is definitely a contender for that essential list if you ask me. Mainly because the ingredients are simple so you can make this anytime and it's just such a crowd pleaser. You can easily make this meal for one or two or make enough to feed a crowd!
Watch the Full Recipe Video Here!
You Might Also Love 
BMW's Spicy Red Wine Spaghetti Sauce 
Creamy Basil Pesto Pasta
Makes 4-6 servings
Ingredients: 
1 lb linguine
8 ounces basil pesto
2 tablespoons kosher salt
, divided, plus more to taste
1 lemon for zest
1 cup heavy cream
Optional: grated parmesan and fresh basil leaves for topping
Directions: 
In a large pot, bring water to a boil with 1 tablespoon salt. Add linguine and cook for about 5 minutes or until slightly undercooked. Reserve one cup pasta water.
In a food processor, combine basil pesto with parsley and remaining salt. Pulse until chunky paste forms. Taste test and add more salt if needed. Set aside.
Transfer noodles to a sauté pan with high sides over medium heat. Add pesto and zest of lemon, toss together. Add pasta water, tossing together until mostly absorbed.
Turn off heat and add cream. Toss together. Add additional cream or pasta water if needed. Taste test and add more salt if desired.
Serve hot topped with fresh basil and parmesan if you'd like!