Our Visit to Ballet Austin's The Nutcracker! We had such a fun time creating a new holiday tradition as a family.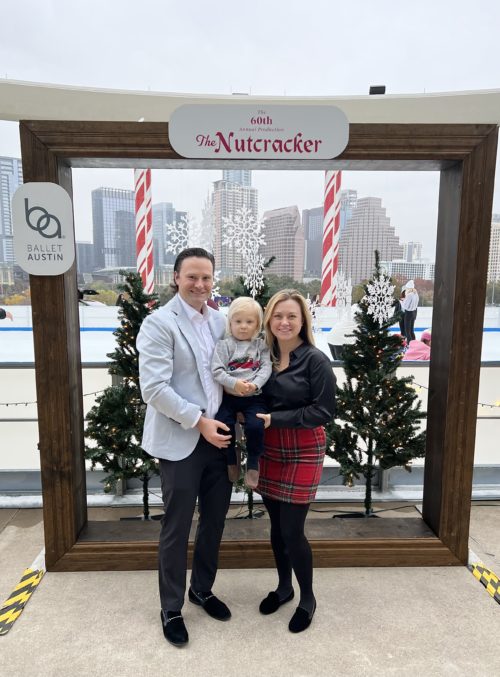 We had so much fun attending Ballet Austin's performance of The Nutcracker this past weekend! It takes place at The Long Center during the month of December. I had attended in previous years but this was my first to go with BMW and we brought Warren along too! Warren is 2.5 years old so I wasn't quite sure how it would go but I was pleasantly surprised and sharing all about our experience.
I was gifted tickets to the The Nutcracker by Ballet Austin in exchange for my unbiased review of our experience.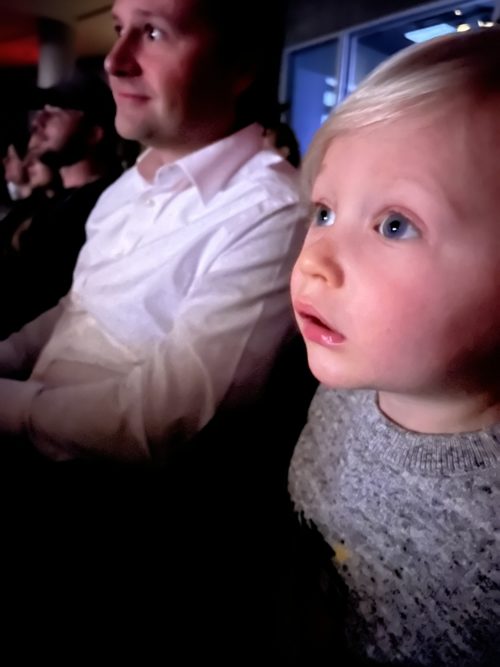 Ballet Austin's The Nutcracker
I love making holiday memories and traditions especially now that Warren is a toddler. It's fun to do fun things with him at this age. I had attended The Nutcracker before so I knew it was a family-friendly show, especially the Sunday afternoon performance. We went to the 2pm performance. I definitely recommend getting there at minimum 30 minutes early. There is valet parking and a parking garage located at The Long Center. However, the lines were pretty long for both so we opted to park across the street at RiverSouth Garage. It was a quick walk across the street and we didn't have to wait to enter or exit the garage. I believe we paid $15 for parking there.
Before the performance, there are plenty of things to do! On the upper level, you can visit the Ballet-O-Mania pop-up museum which has costumes, shoes, costumes and other items from previous performances. It changes every performance so there is always something to see. There are also bars open where you can purchase drinks and snacks.
The Long Center also has an ice skating rink on the terrace that could be fun to do after the show! We didn't have time to check it out during our visit but we might try and go back sometime.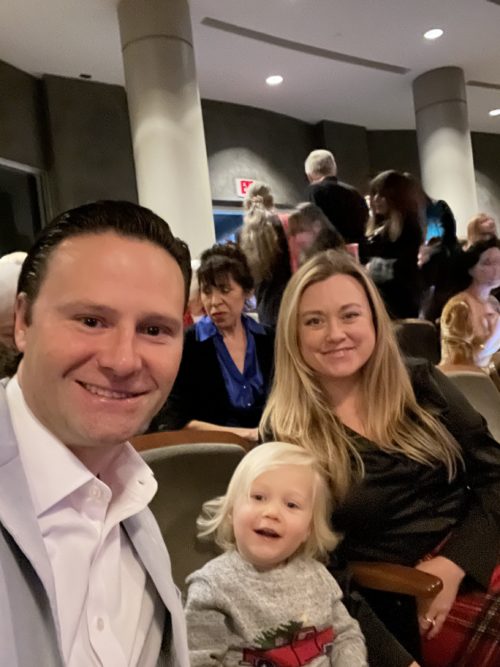 What It's Like Taking A Young Child To The Nutcracker
We intentionally chose to attend the Sunday afternoon performance because I knew that showing would have lots of families and young children versus the evening shows. Honestly, all The Nutcracker performances are family-friendly but with a young toddler I wanted to make sure we wouldn't be ruining someone's experience should we have to excuse ourselves.
Ballet Austin's performance is broken into two 50-minute acts. Warren made it through the first act without too much fuss. We were able to get a booster seat at the bar that helped him sit up and see. He did talk and whisper a bit, asking us questions, but for the most part during the first act he stayed in his seat and enjoyed watching all the lights and stage changes. I did bring toy small wooden toy trains that he loves to keep his hands busy and I think that helped a lot.
During the intermission, we took a bathroom break and then visited the hospitality lounge for a quick snack and water for Warren and some prosecco for mom and dad.
During the second act, Warren was a little busier let's call it. He switched between my lap and BMW's and his own booster a few times. He still enjoyed a large portion of the show though. We wound up having to leave about 15 minutes early from the second act but around the same time I noticed several other families with young kids leaving as well. I guess the little children had had their by that point!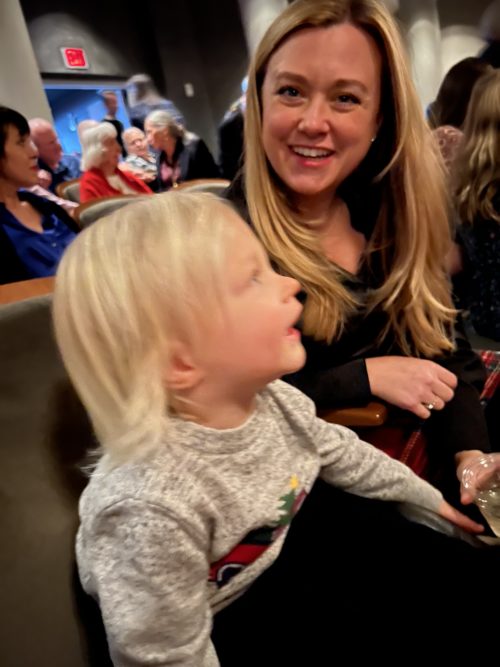 The Nutcracker Holiday Tradition
All in all, BMW and I both agreed that we had so much fun and would call it a successful family outing! We would definitely attend again next year. Even though we had to step out a few minutes early, we were both so impressed with how long Warren was able to sit still and enjoy the performance. He really loved all the lights and scene changes. He is still talking about the Mouse King!
You Might Also Love