The Classic Espresso Martini is so easy to make! There are a few tips for getting that perfect foamy head and how you can make it at home!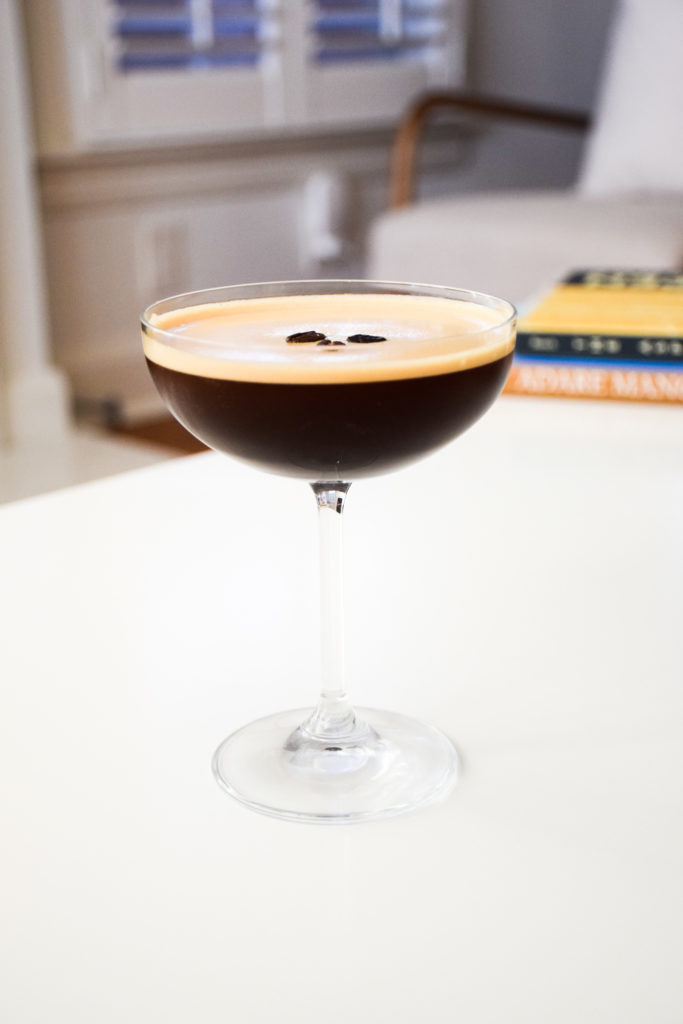 Over the past few months I have become quite the barista and mixologist! Spending so much time at home and not being able to enjoy our favorite watering holes, I've been recreating bar-worthy cocktails at home. With a little planning and prepping you can easily enjoy cocktails that are just as delicious, if not more so even, as the ones from your favorite bars. I had been missing one of my bar favorites an Espresso Martini. I tried to recreate this at home over the summer without success but now I've learned the secret to making this velvety smooth drink!
This post contains affiliate links. If you purchase a product through these links I may earn a few pennies. Thanks for keeping this free blog going!
Classic Espresso Martini
I love, love, love enjoying a good espresso! So much so that BMW got me this espresso machine
for my birthday and Christmas this year! It is so easy to use and looks great in our kitchen. It been really durable and easy to clean, which is important to me. I need my appliances to be workhorses since I am constantly cooking. But also I love when things looks pretty. Finding all those qualities in one piece can be tough and this espresso machine definitely meets all those!
Why am I digressing about our espresso machine? Well, because after much trial and error over the summer (i.e. pre-espresso machine time) I learned that you must have freshly brewed espresso in order to pour a proper espresso martini. I tried several different types of coldbrew and it just doesn't work.
Freshly brewed espresso has a nice foamy head. Well, only if you pull it correctly, but our espresso machine makes it really easy to do that! That foamy head is the result of fresh espresso beans and proper pressure and heat when the the espresso is pulled, or made, from the machine.
That foamy head translates into a proper Espresso Martini. The foam grows when shaken vigorously and then poured into the coupe. That's how you get that foamy looking top on the glass where the coffee beans float on top. If your Espresso Martini has that head and floating coffee beans then you know it was pulled, shaken and poured properly. And a martini of any is nothing but proper, am I right? Martinis just feel so sophisticated to me!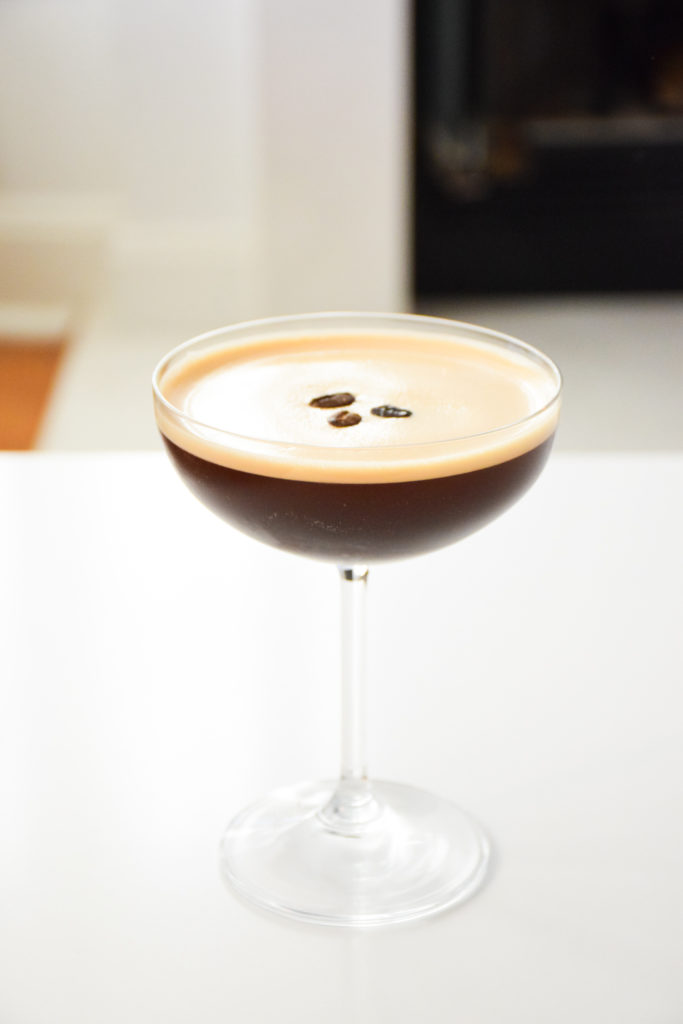 Easy Espresso Martini
Even though martinis feel so prim and proper they are surprisingly easy to make! Especially the Espresso Martini! You only need a few simple ingredients: fresh espresso, vodka, coffee liqueur and simple syrup. Because it is impossible for me to not do anything that isn't over the top I made my simple syrup infused with vanilla bean because why not!
The Vanilla Bean Simple Syrup is quick to make and goes great in coffee, lattes and of course Espresso Martinis! It adds just a touch of depth and flavor to the Espresso Martini that makes it extra special. You must use a fresh vanilla bean pod
and not vanilla extract because it does not impart the same flavor. I love using the vanilla bean seeds in ice cream and baked goods. You only need the scraped vanilla bean pod for this simple syrup. Its a great way to use every piece of the ingredient!
Tips for Making Espresso Martinis
Be sure to shake the cocktail for the full 60 seconds. That will ensure you get a nice fluffy foamy head that Espresso Martinis are known for. Not shaking long enough may mean a smaller head that doesn't fill the entire circumference of the coupe– tragic!
Hack This Recipe: If you don't have an espresso machine at home, pick up an espresso from your local coffee shop! It will have just enough time to cool by the time you get home. Be sure not to let it sit for too long or it'll "die" aka the foam on top will disappear. You will be able to see it and if notice there is no foam then you will know it's been too long. So grab your espresso from the shop and head home to make your martini right away!
You Might Also Love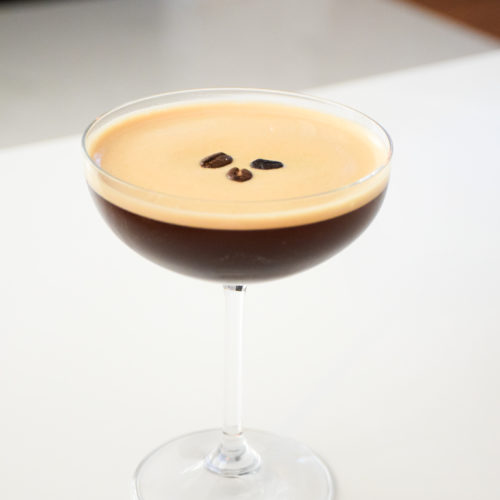 Classic Espresso Martini
The Classic Espresso Martini is so easy to make! There are a few tips for getting that perfect foamy head and how you can make it at home!
Ingredients
1

oz

freshly brewed espresso

slightly cooled

1.5

oz

vodka

1

oz

coffee liqueur

like Kahlua

0.5

oz

vanilla bean syrup

or simple syrup
Vanilla Bean Syrup
1

cup

Granulated Sugar

1

cup

water

1

vanilla bean pod

that has been scraped -- use the vanilla bean seeds for something else!
Instructions
Brew espresso and let cool for 2 minutes while you gather up the other ingredients.

Fill a cocktail shaker with ice. Add vodka, coffee liqueur, vanilla bean simple syrup and espresso to shaker.

Shake for 60 seconds. Be sure to shake for the full 60 seconds, set a timer if you need to. If you do not shake long enough the foamy head will not form.

Strain and pour into a coup or martini glass. Top with three whole coffee beans. Enjoy immediately.
Vanilla Bean Syrup
In a small pot, combine water and sugar together over medium heat. Stir frequently until dissolved.

Once sugar is dissolved, add scraped vanilla bean pod to pot. Let steep for 20 minutes. Remove pod and transfer simple syrup to air tight bottle and keep in fridge for 2 weeks. Use in coffee, cocktails and anything that needs a little sweetness!
Nutrition
Calories:
236
kcal
Carbohydrates:
24
g
Protein:
1
g
Fat:
1
g
Saturated Fat:
1
g
Sodium:
15
mg
Sugar:
24
g
Iron:
1
mg