My favorite recipes for this year's Holiday Cookie Box 2022! Everything you need for this year's Christmas Cookies!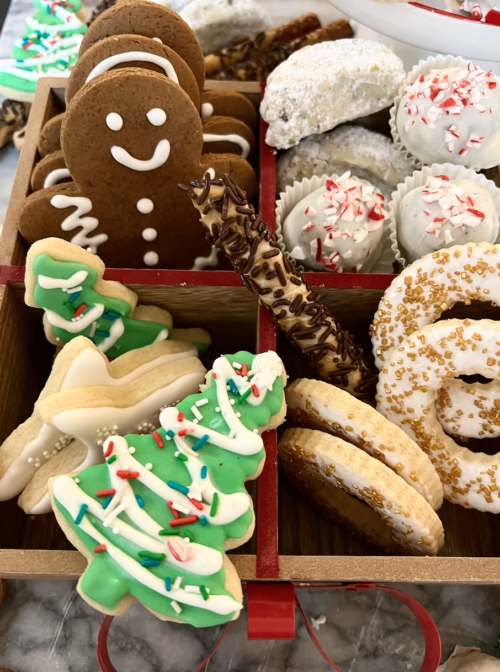 I am so excited for this year's cookie box! All of these cookies and treats are easy to make and super delicious. Not to mention they travel well so they are perfect for shipping or delivering to friends and family. I had a lot of fun making these and I know you will too! This year I also made recipes that are completely Gluten-Free!
This post contains affiliate links. If you purchase a product through these links I may earn a few pennies. Thank you for keeping this free blog going!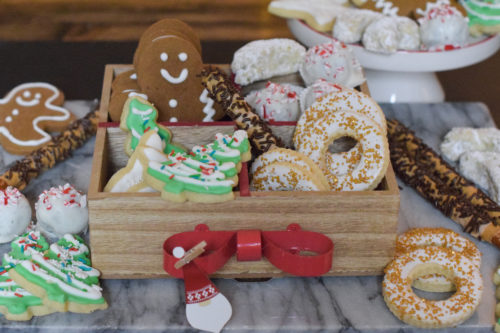 Holiday Cookie Box 2022
A few things to make your holiday baking a little easier this year, be sure and read this post! I give out all my tips and tricks for holiday baking. I definitely recommend this adjustable rolling pin
so that all your cookies will bake evenly. These are my favorite baking sheets
and I like to use these wire racks
for cooling. Transferring cookies is a breeze if you use a fish spatula
, fyi.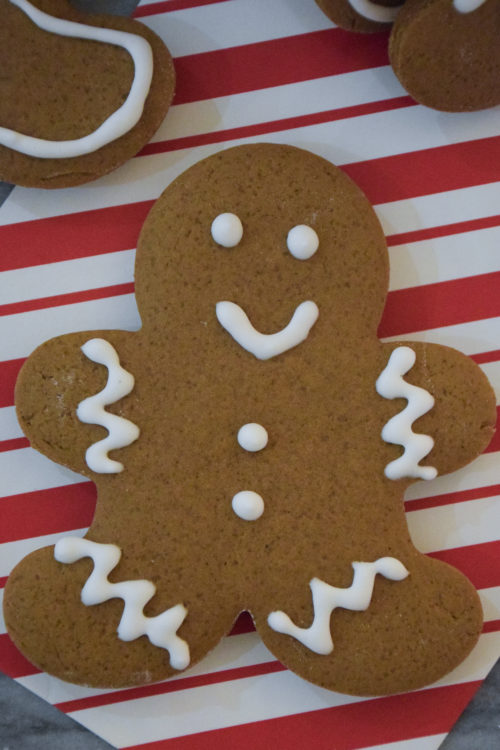 Soft Gingerbread Cookies – I have always wanted to make a gingerbread cookie and this was finally the year! These are such a holiday classic and nothing says Christmas quite like a gingerbread cookie! These cookies are soft and moist and I would not use them for making or constructing a gingerbread house. They are much better for eating or leaving out for Santa!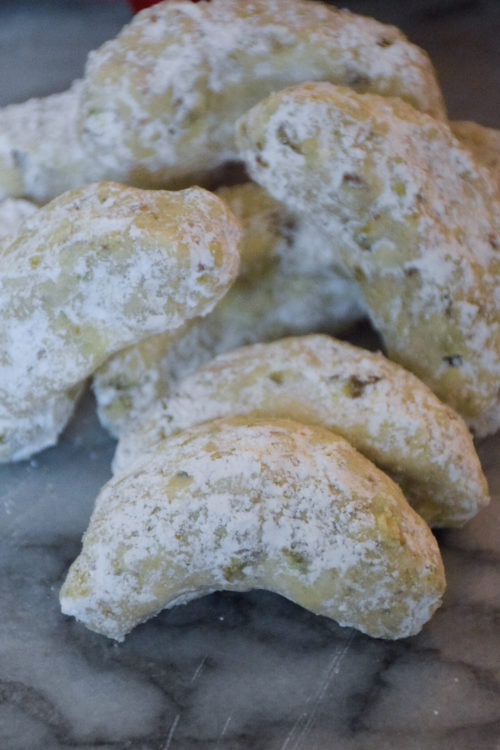 2. Pistachio Crescents – aka Pistachio Wedding Cookies or Pistachio Sandies. These cookies are based off of my mother-in-laws recipe she makes every year for Pecan Sandies. BMW loves his mom's cookies but he also loves anything pistachio so I decided to put my own spin on this family classic. These cookies are tender and crumbly and so good!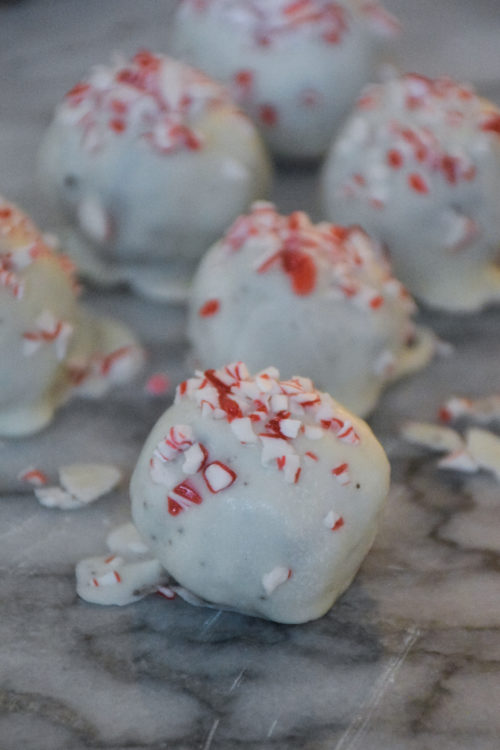 3. White Chocolate Oreo Peppermint Balls – Ok these were definitely for me! Growing up we used to make Oreos dipped in white chocolate. Then one year Oreo started selling their own white chocolate covered cookies. My family would stock up on dozens and dozens of boxes and hide these from each other haha. I absolutely love Oreos and I honestly just wanted an easy, no-bake addition to this year's cookie line up and these Oreo balls are SO GOOD. Every time I bite one, I give myself a little pat on the back.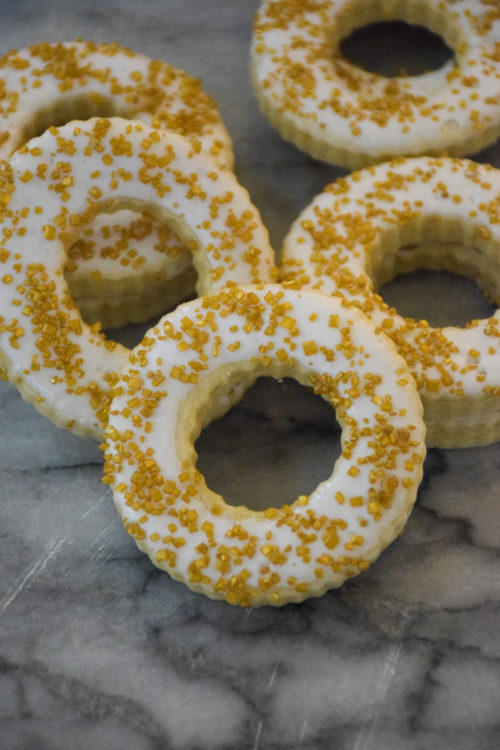 4. Iced Lemon Cookie Wreaths– If you've been following along this blog long enough then you know that I am obsessed with lemon desserts and like to include lemon cookies in my box each year. This love of lemon was definitely passed down to me from my Grandma who always made lemon sweets growing up. She sadly passed away this year, so these Iced Lemon Cookie Wreaths are for her.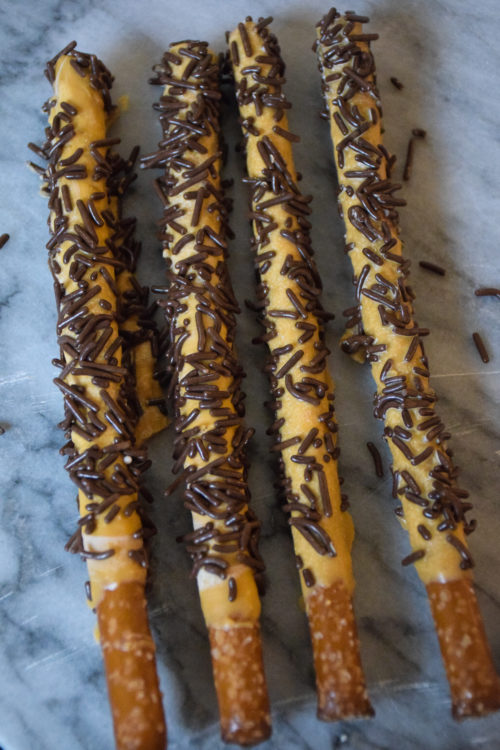 5. Butterscotch Dipped Pretzel Rods with Chocolate Sprinkles – I love a good salty sweet combo and these pretzel rods were just the thing! They are so easy to make and also don't require any oven space which makes them a real winner. I know pretzel rods aren't anything brand new but I like to always put my spin on things and the butterscotch really does it for me in these! If you can't find chocolate sprinkles, you can drizzle with melted chocolate. The salty crunch of the pretzel plus the butterscotch and chocolate almost gives these treats the flavor profile of a candy bar without all the fuss!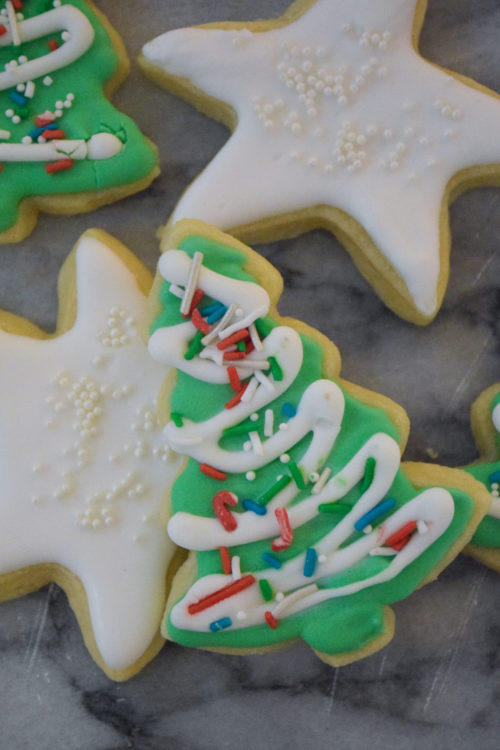 6. Soft Thick Sugar Cookies for Decorating and Royal Icing– Every holiday party needs a tried and true sugar cookie for decorating! The trick to these cookies is to be sure and chill the dough before baking so that the cookies hold their shape. If the dough gets too soft before baking the cookies will loose their shape. They will taste great though! Break out the sprinkles and the food coloring and have some fun this season!