Sharing all our House Before and Afters! We are updating our 1950s charmer in the heart of Austin, TX. We've updated every room so far!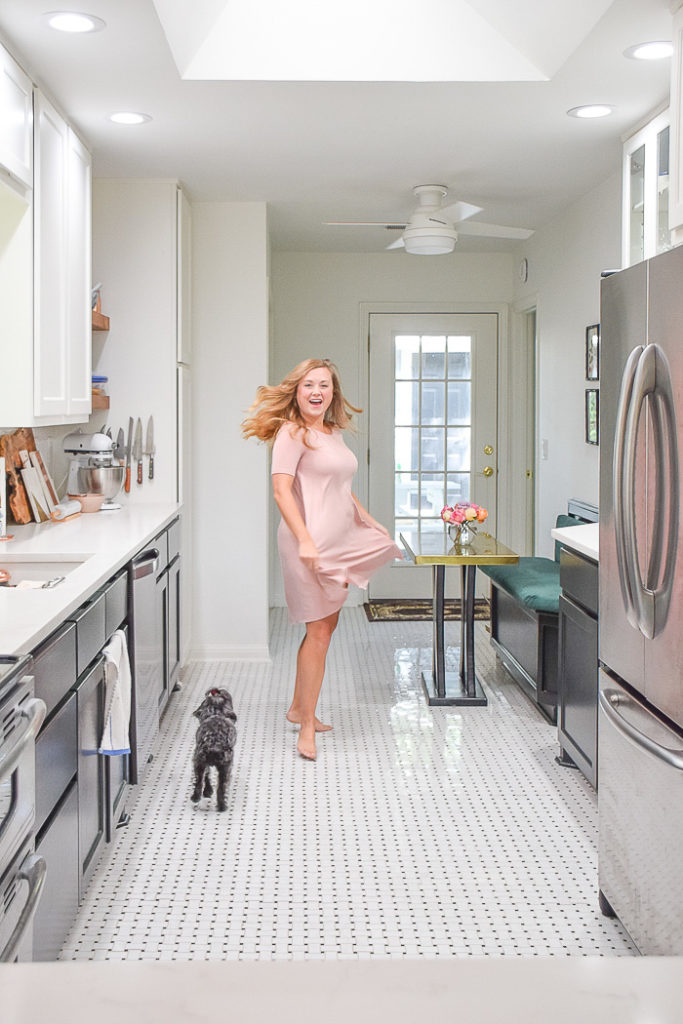 I've been wanting to write this post for so long! Somehow it never seems like the right time. Mostly because unlike a recipe, our house never seems finished. There is always something I still want to update or change but after living in our house for almost two years, I figure it's time to share. We still have several rooms and projects that we are working on currently and I've been sharing about those in real time on Instagram stories. We've done a lot of work to the house so far and I'm excited to share our progress!
This post contains affiliate links. If you purchase a product through these links I may earn a few pennies. Thanks for keeping this free blog going!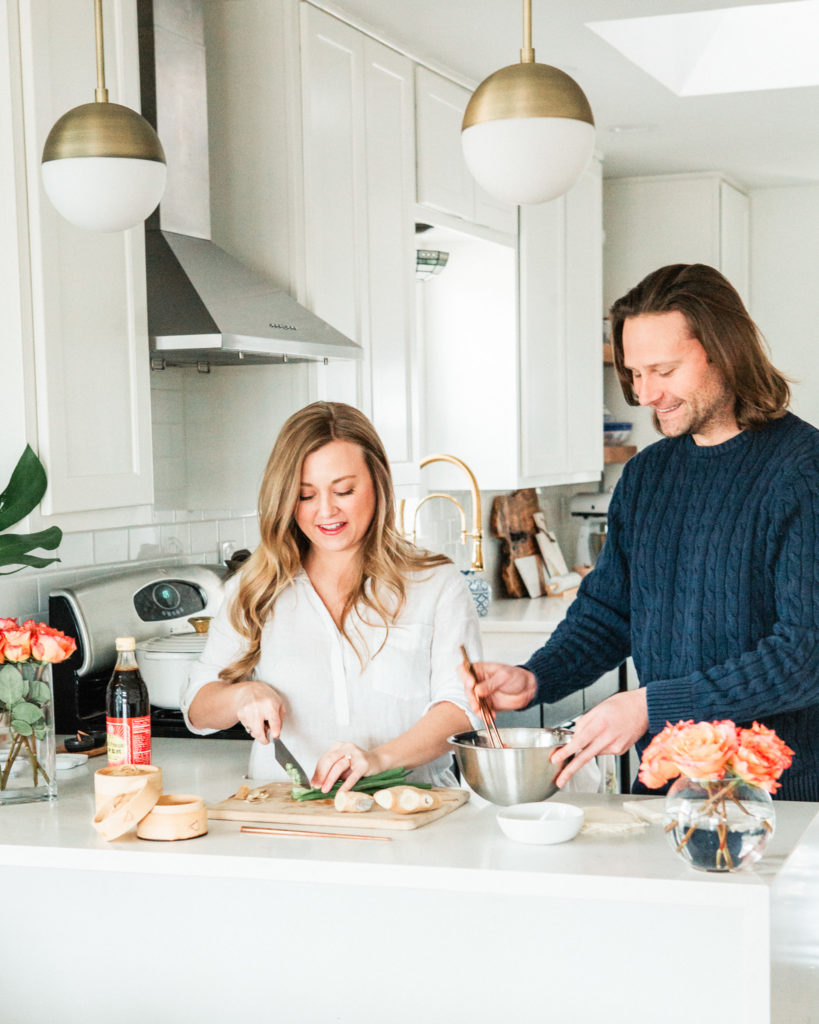 Kitchen peninsula
Our House Before and Afters
Here we are in our light, bright kitchen, doing our favorite thing, cooking! Our kitchen wasn't always this bright. From the moment we walked into this house, I knew it had great bones. Original hardwood floors, lots of windows and what we wanted most — two bathrooms!
After we closed on the house, we hired a contractor to do quite a bit of work. We removed the wall between the living room and kitchen and made a little peninsula bar area that could be used for extra prep space and eating of course. Not to mention it really opened things up and let a lot of light into the kitchen.
One of the most impactful things we did in our house was to smooth all the walls and paint them a bright white. Every room in the house was painted a different color and had a different texture on the wall, so we wanted to streamline things. The smooth white walls immediately gave the house a fresh look.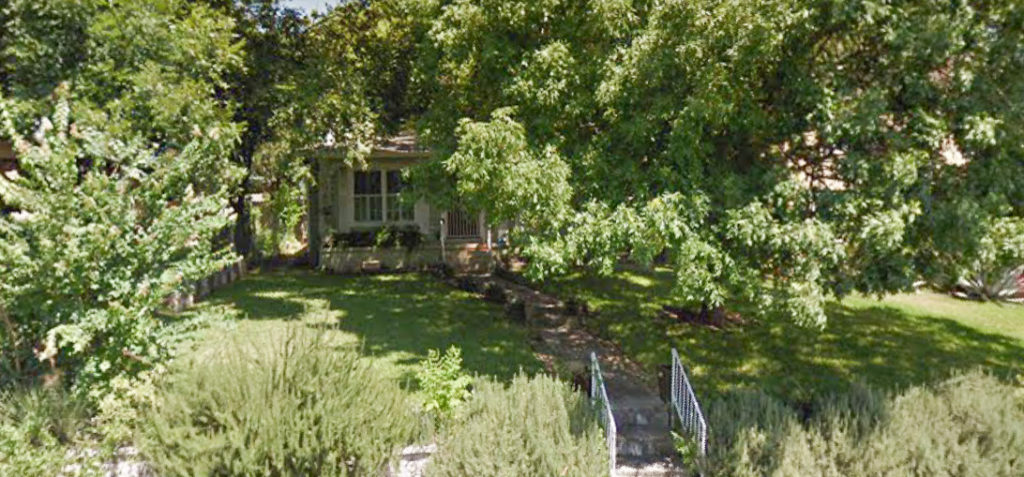 Outside before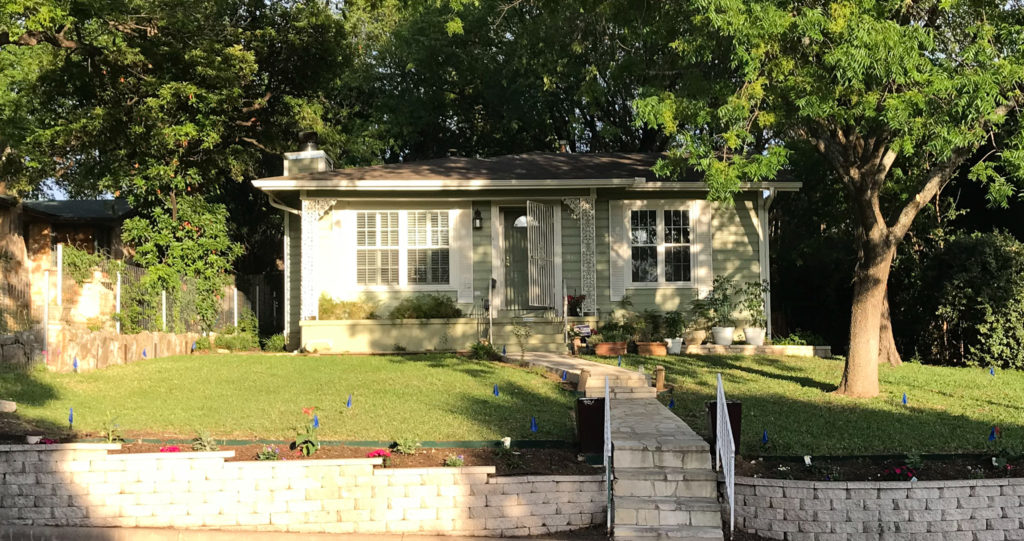 Outside after
Outside Before & Afters
This might be the most dramatic transformation! Our house was literally hidden behind lots of overgrown bushes and trees. We didn't even realize there was a retaining wall under there! We did all of this work ourselves. You can check out the progress in my post about our Front Yard Makeover!
Later, we went on to repaint the house and steps. You can check out how we painted our cement steps to look like tile here!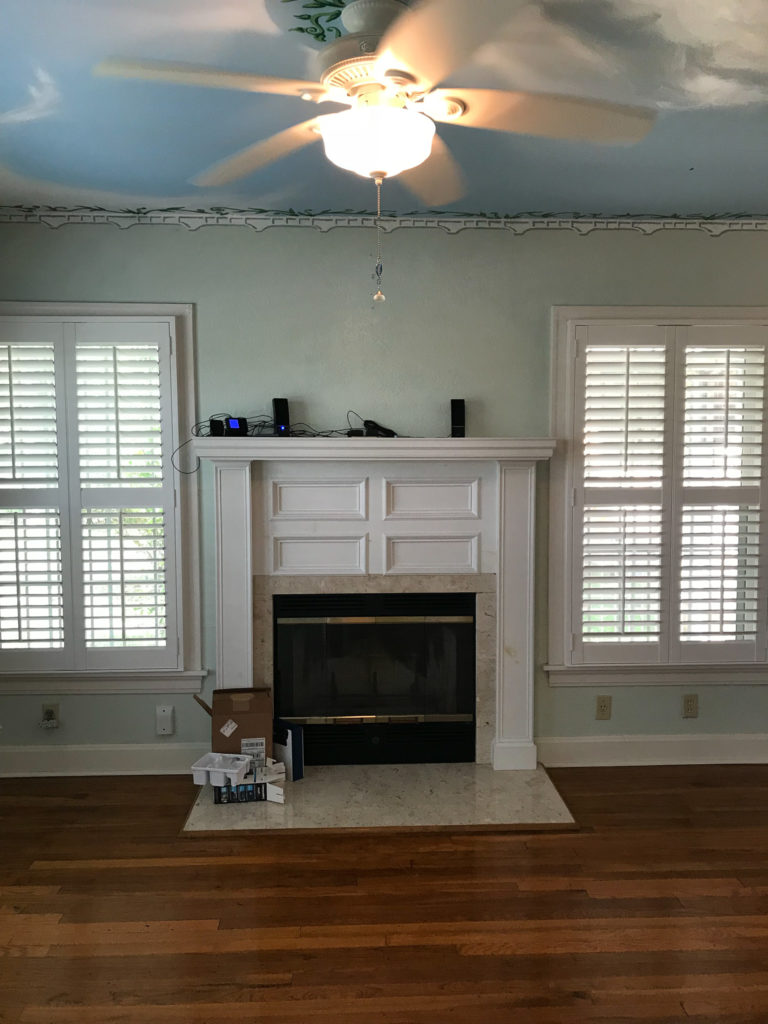 Living room before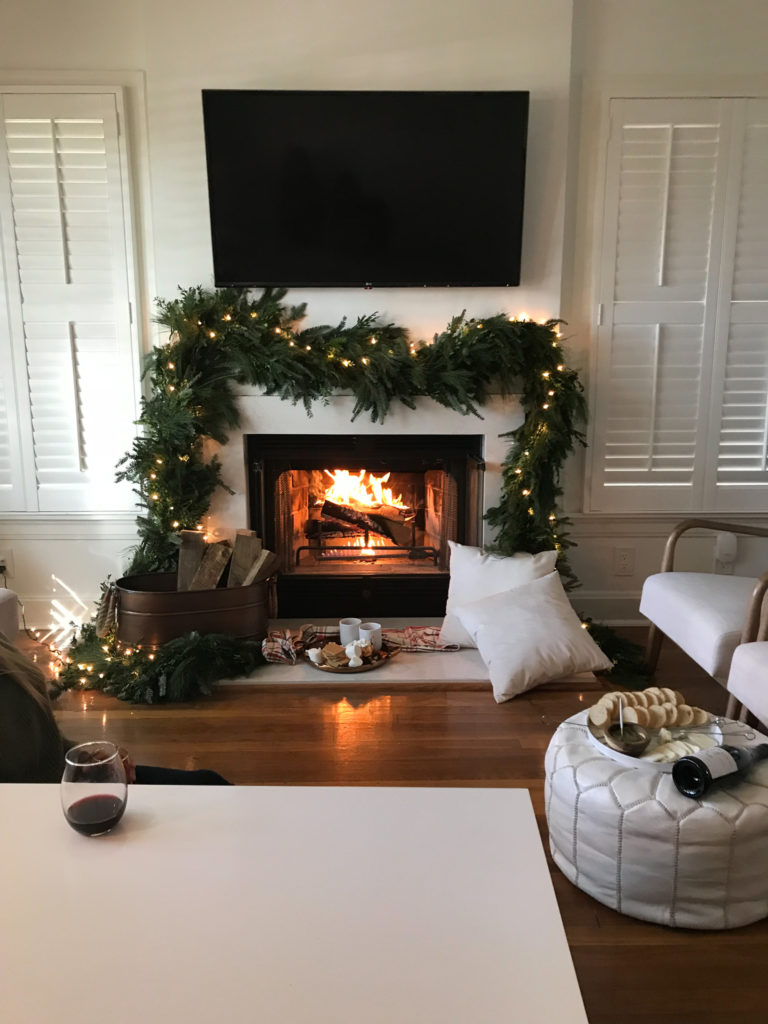 Living room after
Living Room Before & Afters
This is the view right when you walk into the house. Originally, the ceiling of the living room was painted with a sky, clouds, vines and birds. We kept the floors and window shutters, which were all in great condition. We removed the mantel and replaced it with a smaller one that matches the kitchen counter tops which you can now see from the living area since we removed the wall between the two rooms.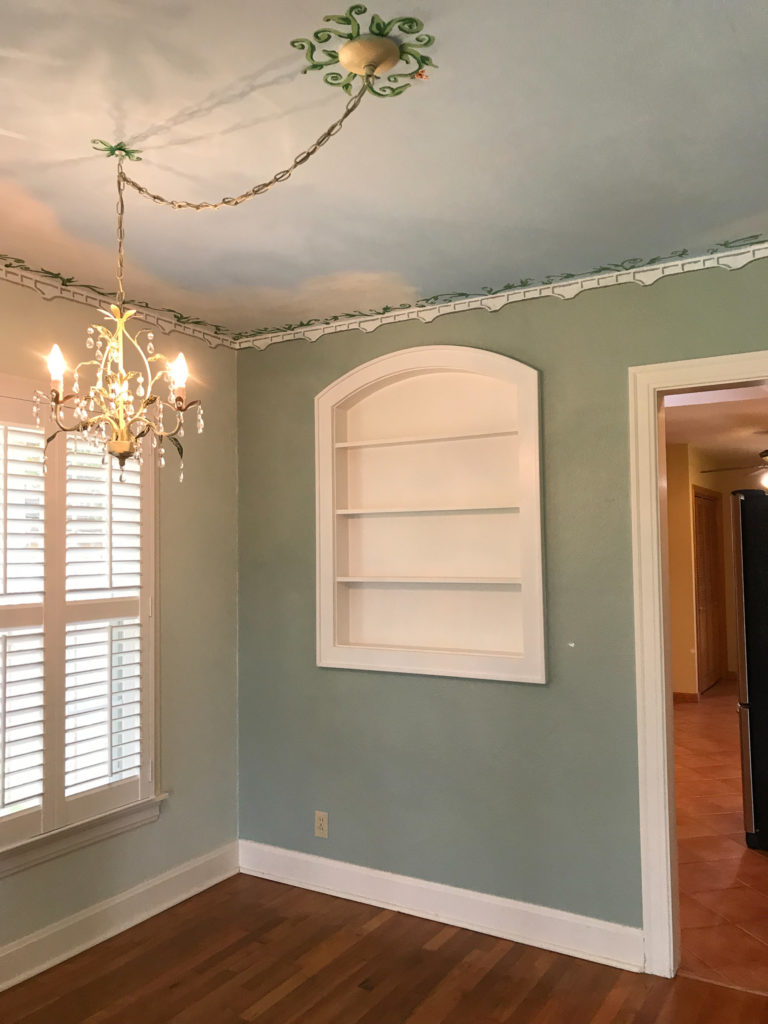 Wall between kitchen and living where peninsula is now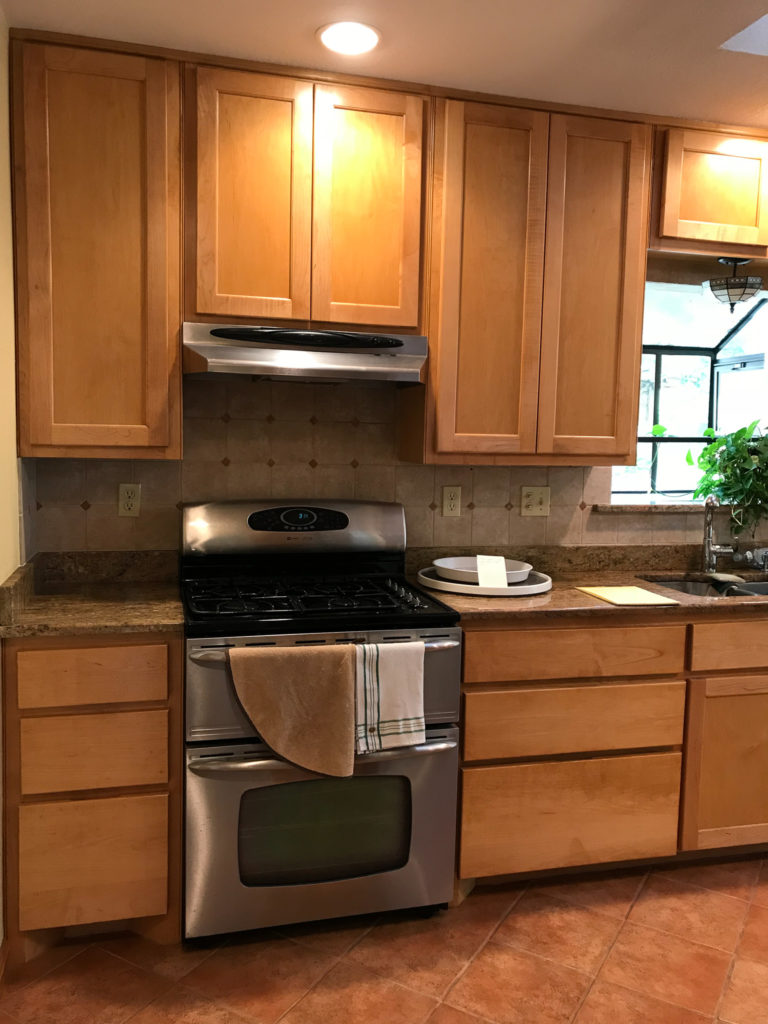 Kitchen stove area before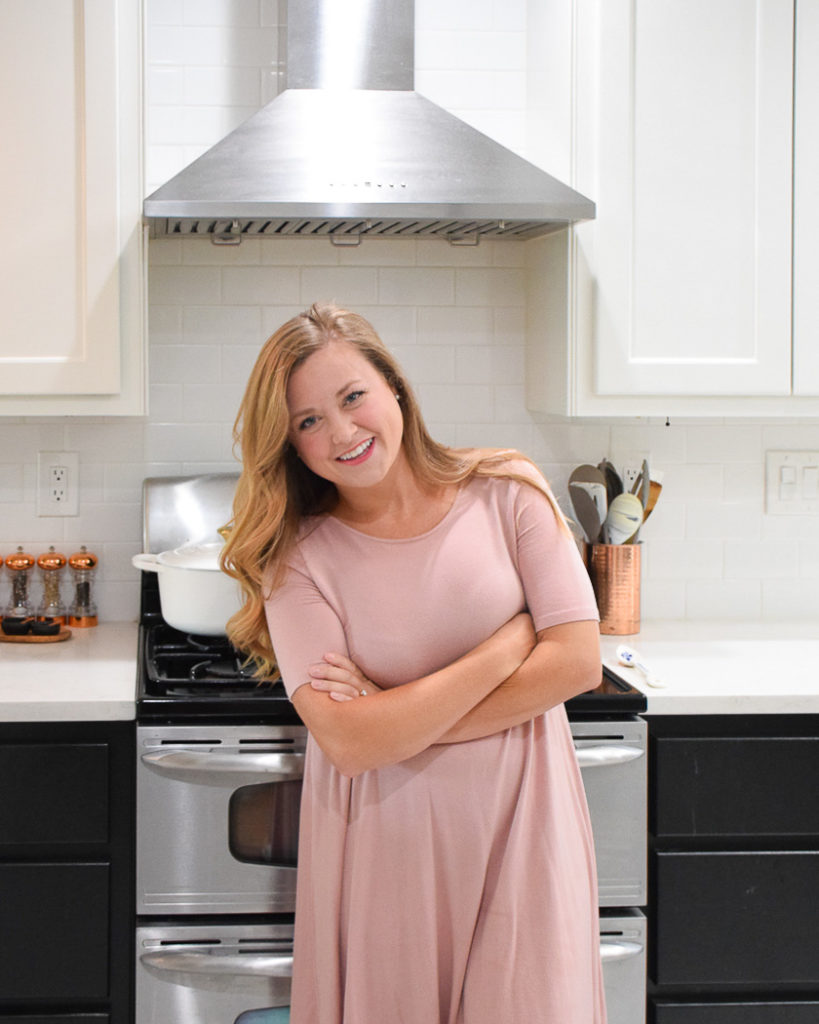 Kitchen stove area after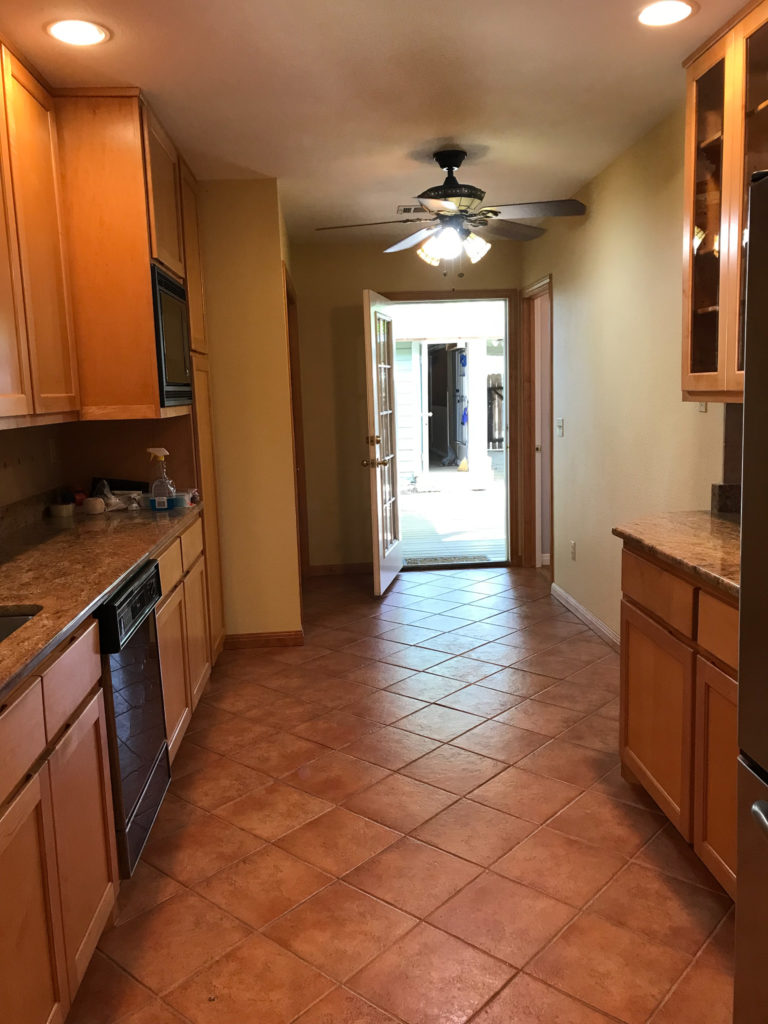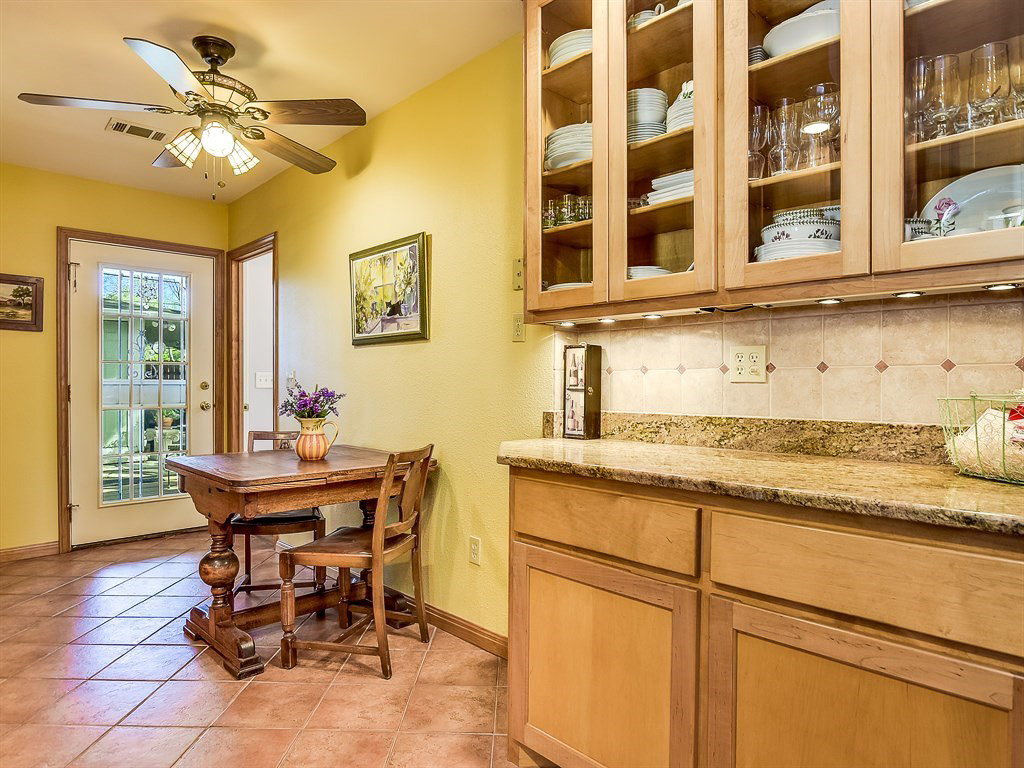 Eat in kitchen area before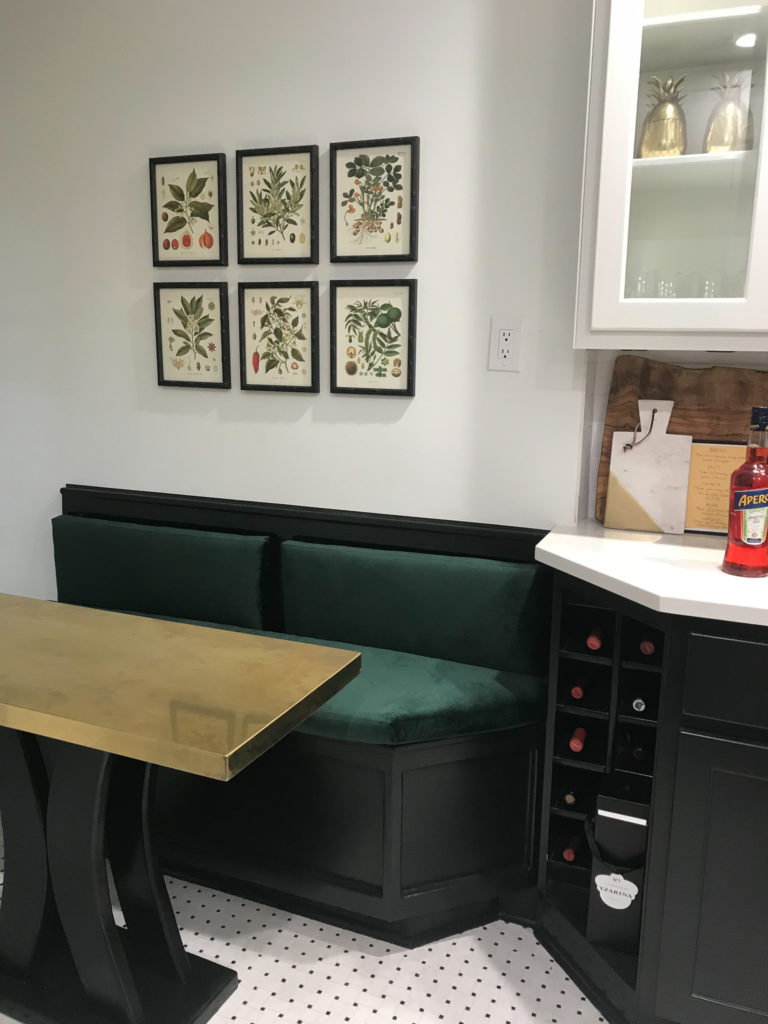 Eat in kitchen area after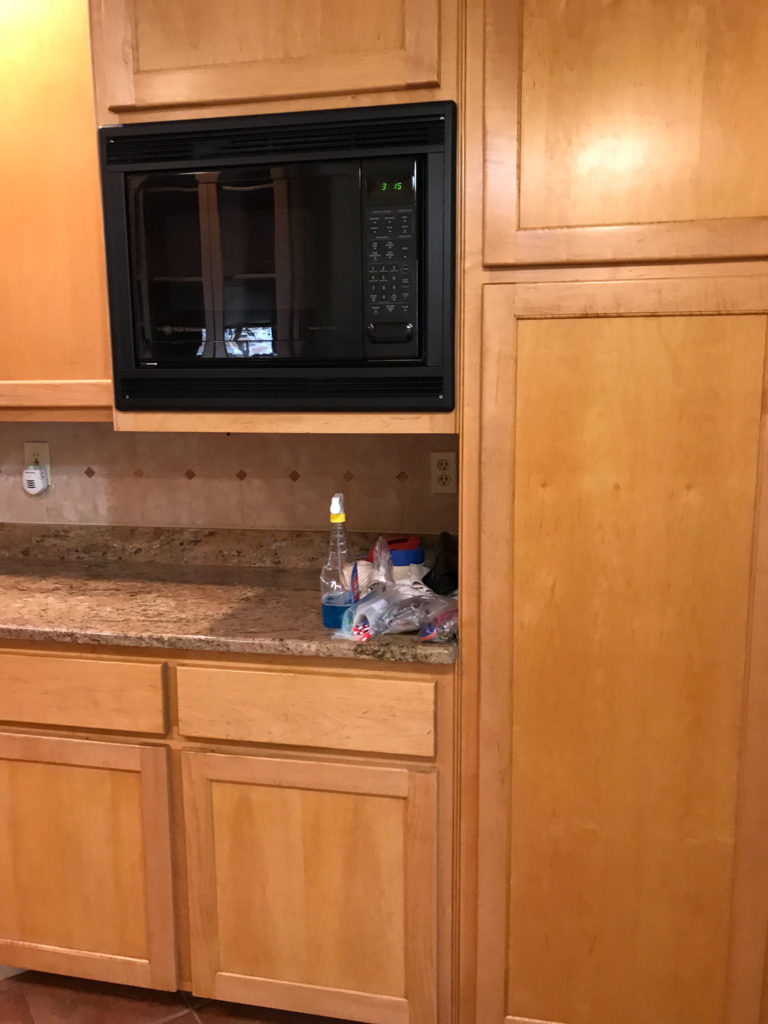 Kitchen shelves before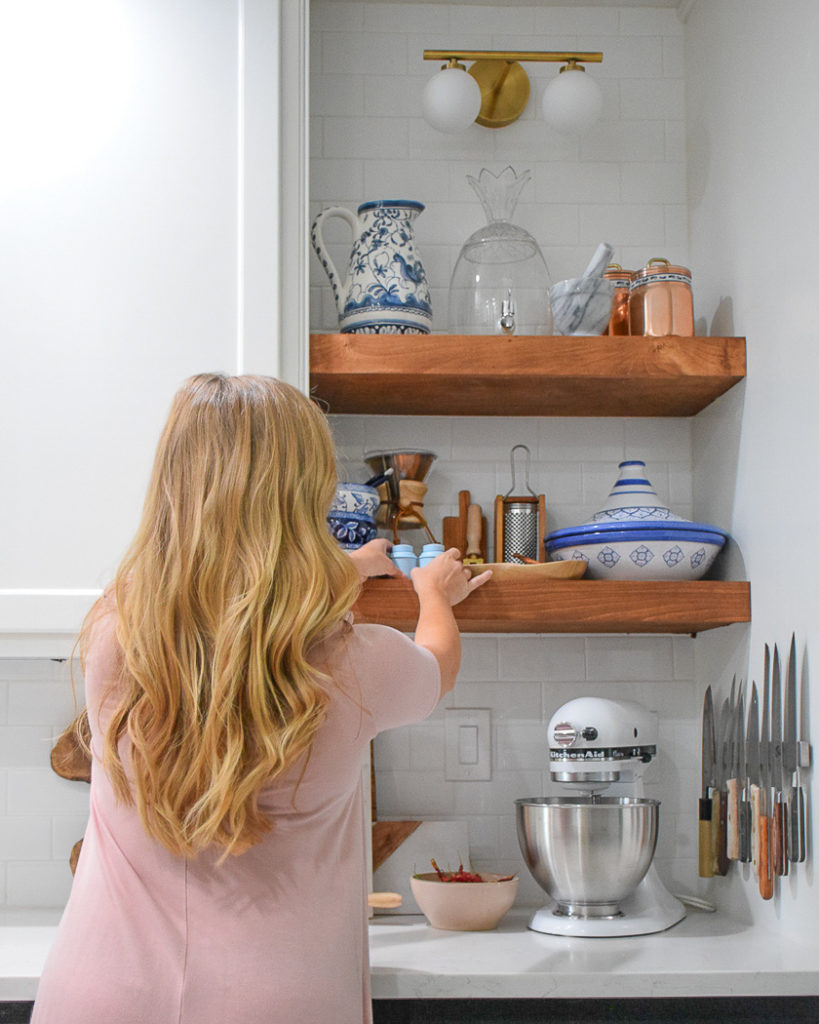 Kitchen shelves after 
Kitchen Before & Afters
Our kitchen is a long kitchen, almost like a wide shotgun kitchen. We didn't change the footprint at all. The custom cabinets were in great shape so we had them painted black on the bottom and white on the top. We replaced the tile with this marble-look basketweave tile! It took us forever to find a tile that was marble looking and could hold up to high traffic. We found it at The Tile Shop and picked it up locally.
We kept the stove and fridge but replaced the venthood with a more powerful one for all that cooking we do! We swapped out the brown marble countertops for white, marble-looking quartz ones. It was important to us to have counter tops that wouldn't stain and since we cook so often, our kitchen needed to stand up to our daily messes! The dishwasher was old, so we got a new one in black stainless steel.
The backsplash was switched out for white subway tile. We removed a ginormous microwave (literally the thing could fit a turkey) and put in custom open shelves that our contractor built. We also added a built in bench and custom table made to fit where there used to be a small table. The contractor and I designed the bench, which has outlets inside so we can charge appliances if needed and lots of extra storage. We also designed the table so that it's slim but useful. I love how the brass sheet metal patinas with use. I got the idea for the brass top from all the beautiful sidewalk cafes in Paris. The cushions for the bench were custom made at The Upholstery Shop in Austin.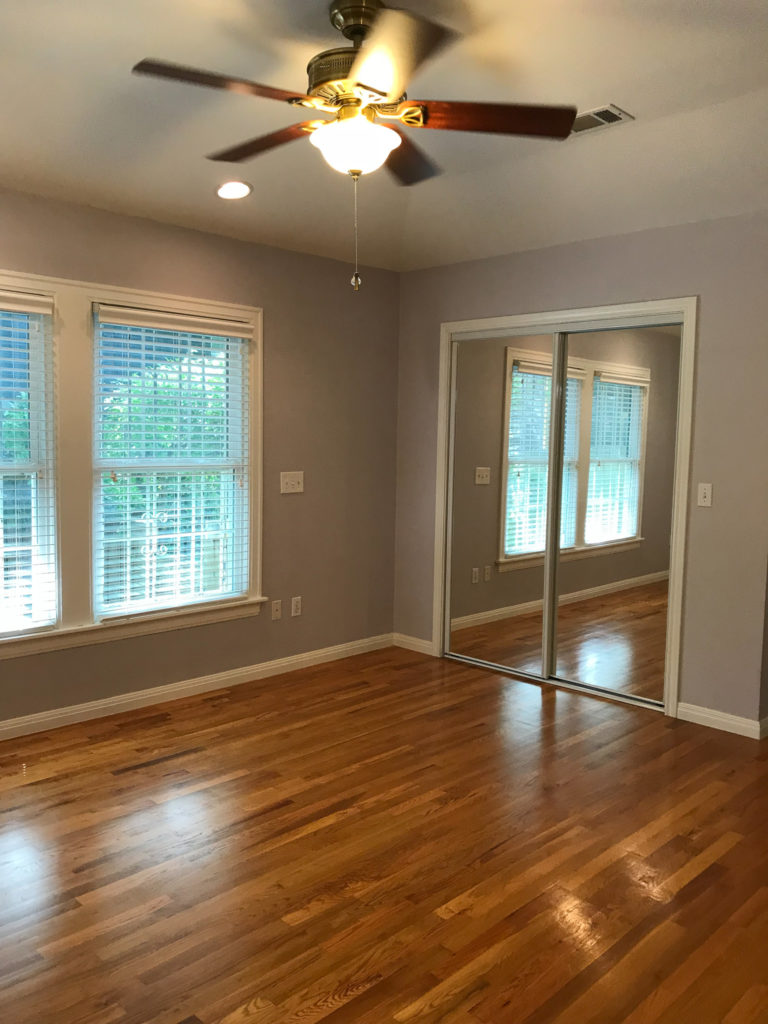 Master bedroom before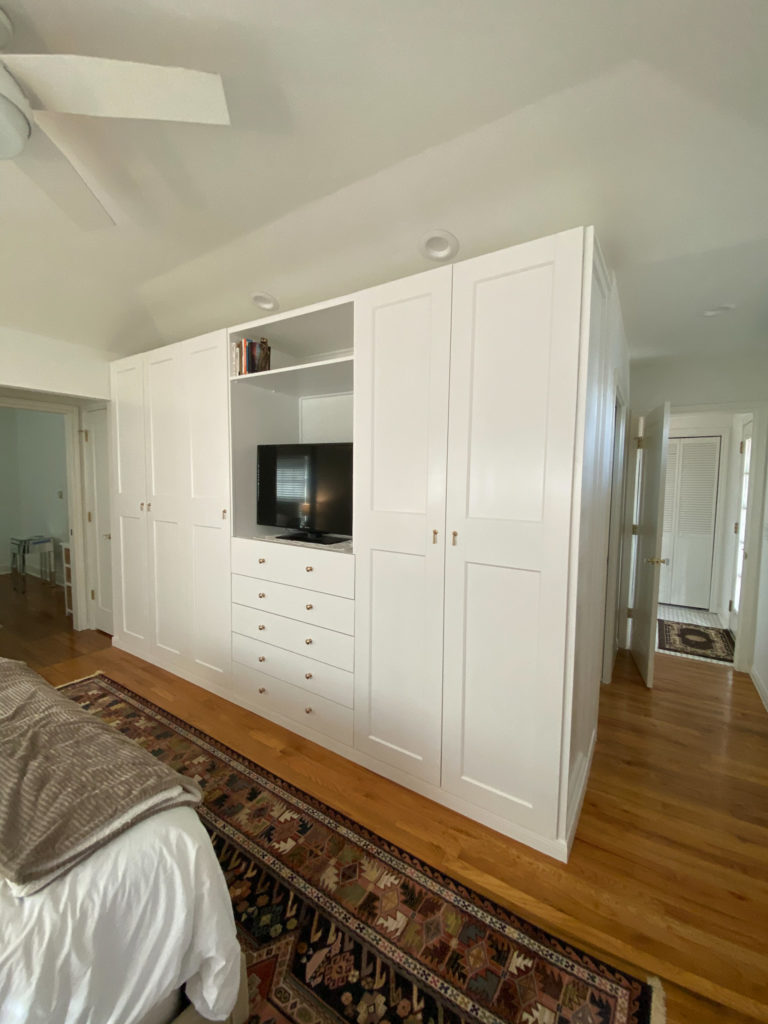 Master bedroom after 
Master Bedroom Before & Afters
The master bedroom was actually a pretty decent size but was filled with big furniture that made it feel crowded. Once that was out we felt it was a pretty good space. It only had one small closet though, so we eventually decided to add a massive built-in that provided a ton of storage without taking up too much floor space.
Otherwise, all that changed in the master was that the walls were smoothed and painted white.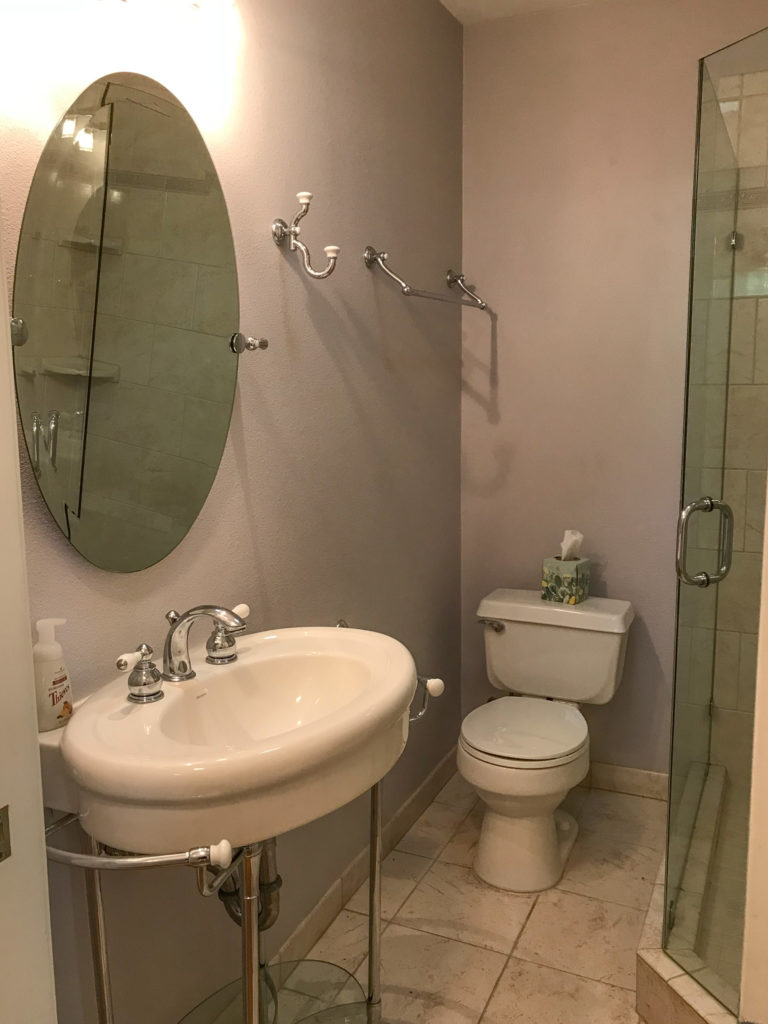 Master bathroom before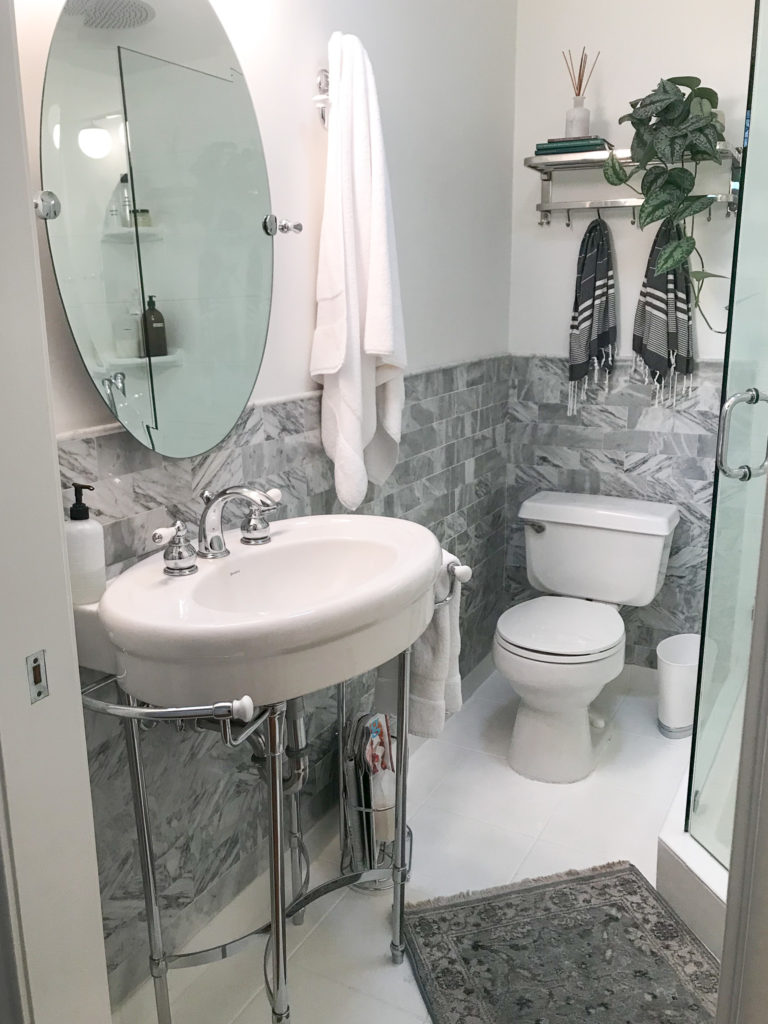 Master bath after 
Master Bathroom Before & Afters
Attached to the master bedroom is a small master bathroom. One day we hope to totally overhaul our master bedroom and bathroom into a master suite with walk-in closet and a big tub for me! However, in the meantime, we've been taking on DIY projects to bring the spaces up to our taste but on a budget. Our Master Bathroom Renovation is probably one of my favorite transformations of the whole house. I wrote all about it here.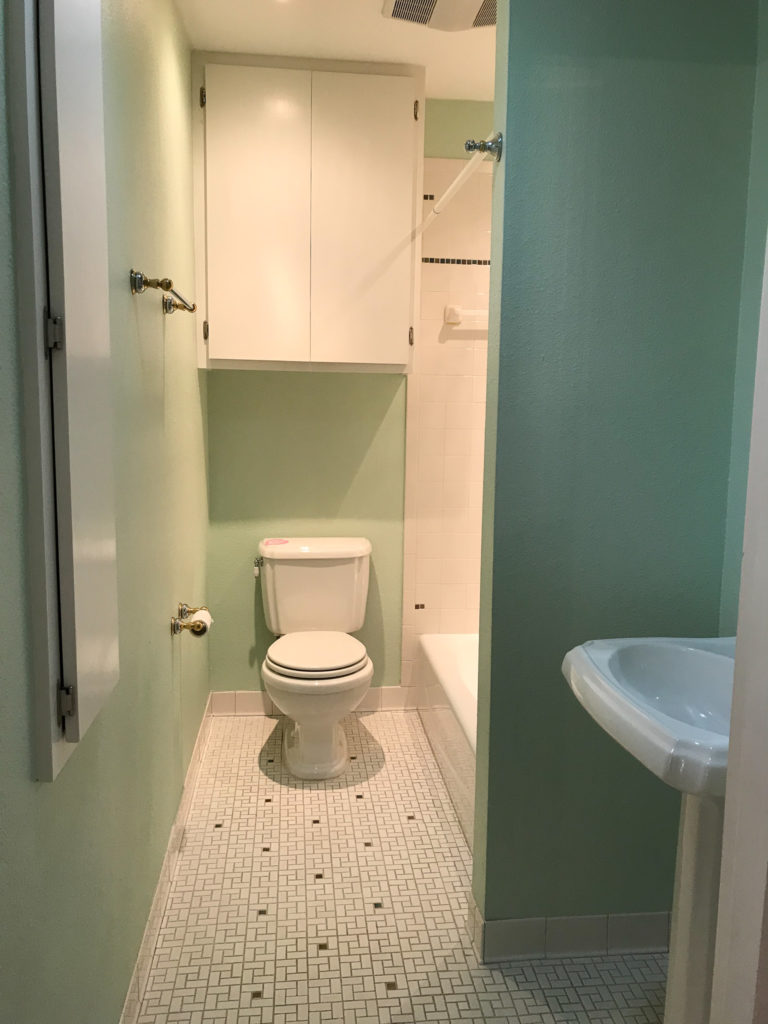 Guest bath before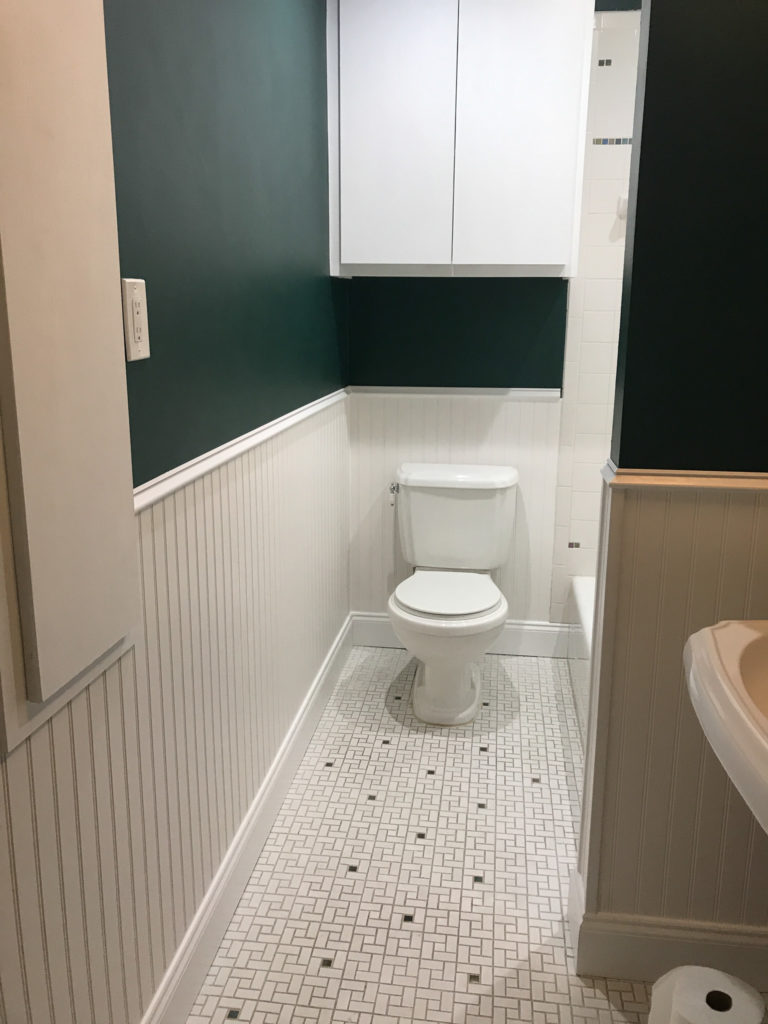 Guest bath after
Guest Bathroom Before & Afters
I still need to write up the DIY transformation of this bathroom! It was much simpler than our master bathroom update but made a huge difference! We added bead board and painted the walls a deep green inspired by the luxe colors we saw all over Ireland during our trips there for our wedding. I added some personal touches and fixtures that I am excited to share about soon!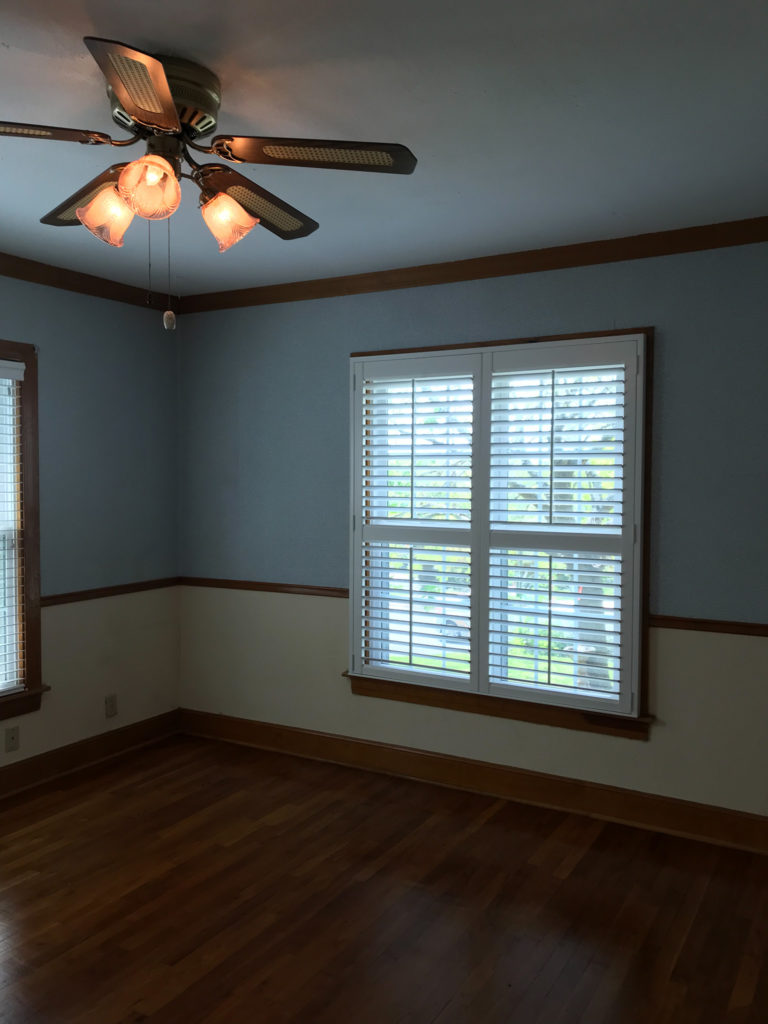 Office before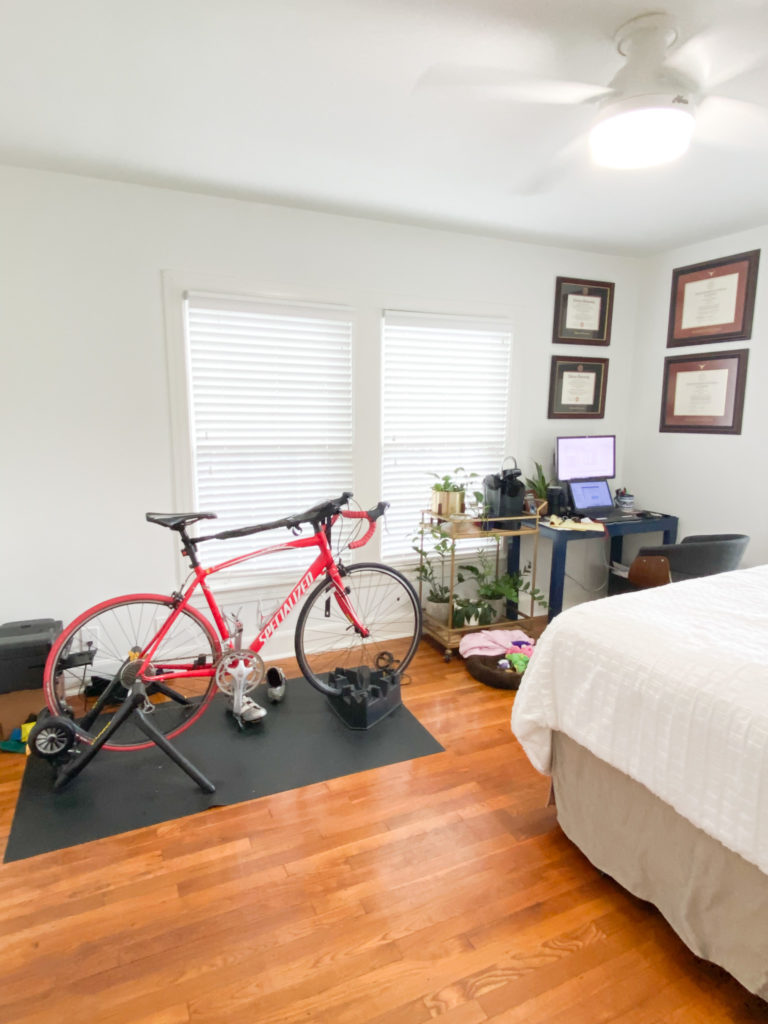 Office after 
Office Before & Afters
We are currently using what is considered the second bedroom as our office and guest room. We haven't done much with this room besides making the walls smooth and white. We set up a desk area for BMW and he has his bike set up in here for working out. We have big plans for overhauling this room into a work space for BMW, a playroom and a guest room with a murphy bed. I will keep you posted on progress!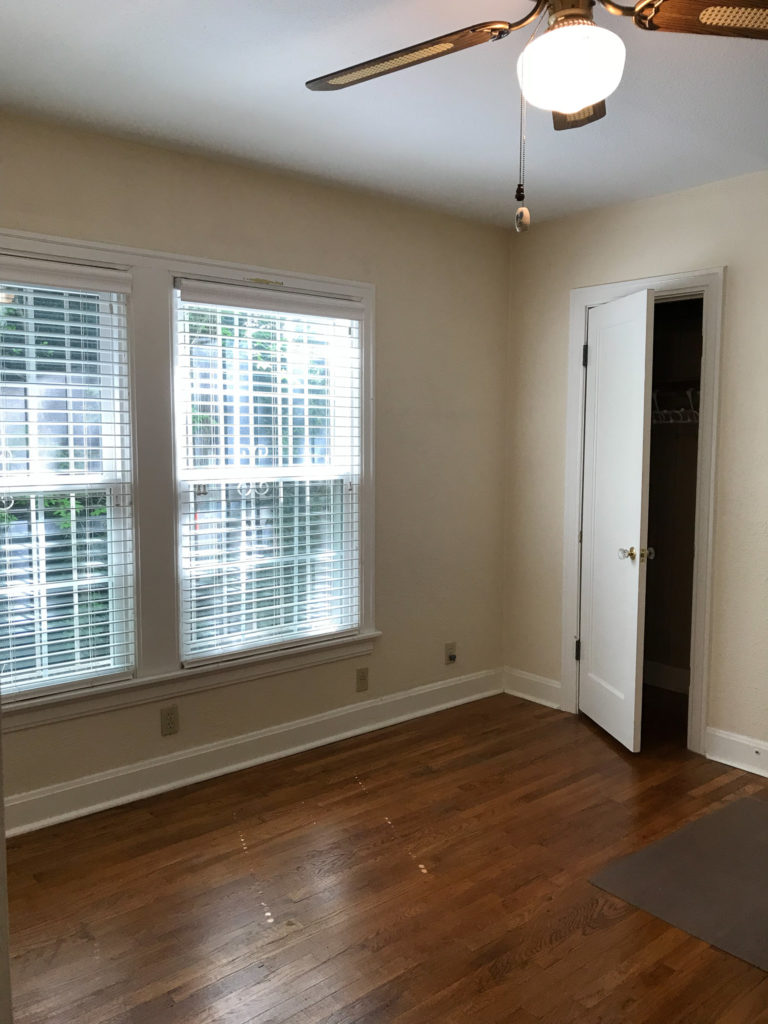 Nursery before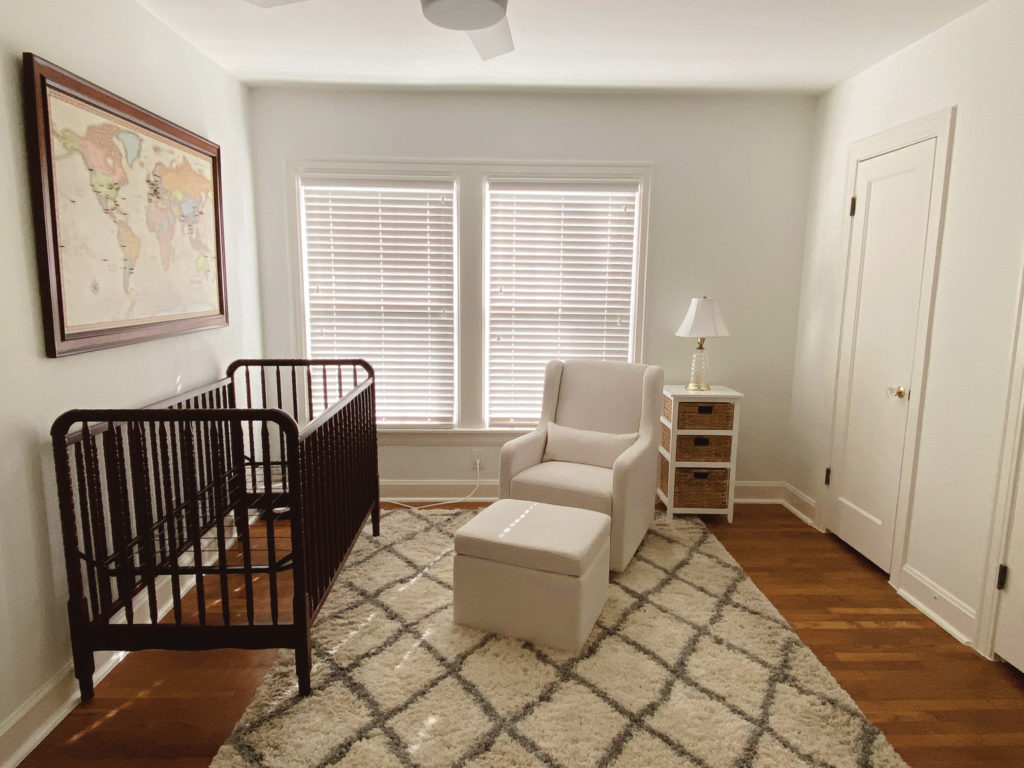 Nursery after 
Nursery Before & After
This is the smallest of the bedrooms but has a great closet! We are still in the process of updating this for Bébé Wilder's arrival this spring but here is a sneak peek! Prior to the baby, this was our guest room, which is now in the office. We are waiting on the last few things to arrive for this room and I can't wait to share this room with you!

Backyard before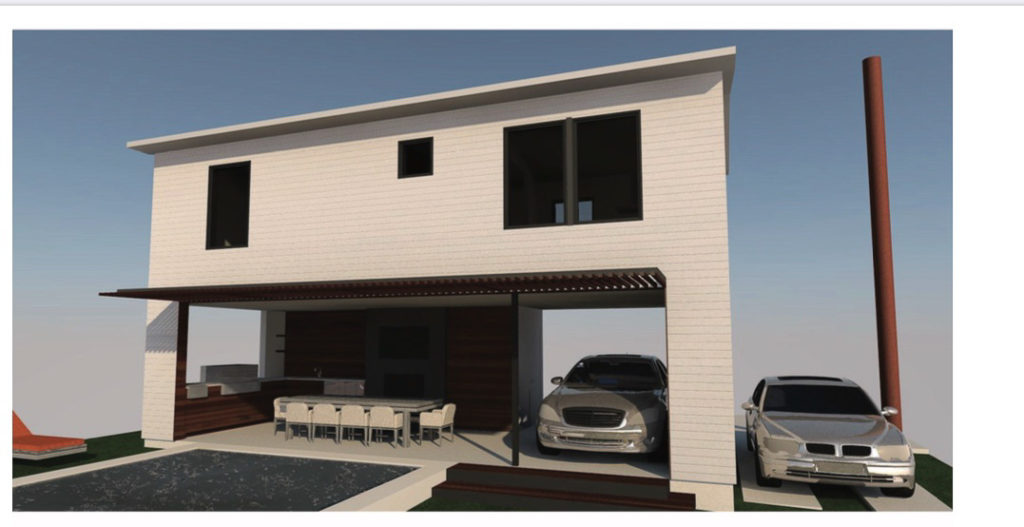 Backyard rendering
Backyard Makeover
Like I said earlier, this house is one never ending project! Which is both simultaneously exciting and exhausting. We are in the process of overhauling our backyard and adding a backhouse with a one bedroom apartment upstairs, an outdoor kitchen, bath and parking downstairs as well as a pool and redoing all the landscaping.
I am documenting the backyard progress on my Instagram stories so you can follow along in real time!
Are you planning a big house project? I want to hear about it!