We created this Built In Primary Closet Renovation (IKEA Pax Closet hack) and now we have so much storage and it looks beautiful!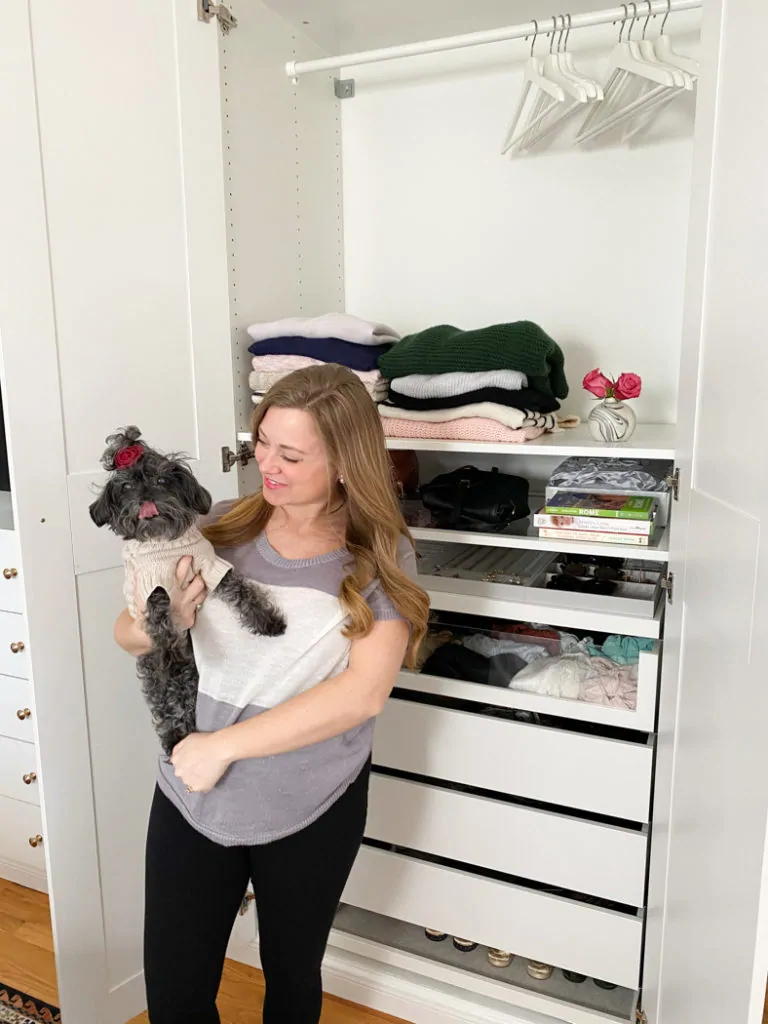 I am so excited to share this project with you! Besides purchasing and renovating our home, which we used a contractor for most of the big renovations, this is BMW's and my biggest DIY project to date! We had a weird alcove-type space in our primary suite that I just couldn't figure out what to do with.
Once we found out we were expecting, I knew that we needed to maximize storage in our house… and get BMW things out of the guest room closet. Despite having a primary suite, our home only had one basic closet in the primary bedroom, which was definitely not big enough for all our clothes and shoes. So we decided to install and customize the IKEA Pax closet system and make it look like custom built ins! We are so happy with the results and honestly have more storage than we know what to do with! I am sharing every detail of our step by step project so that you can recreate this look in your home! Hang tight– this is a long post!
This post contains affiliate links. If you purchase a product through these links, I may earn a few pennies. Thanks for keeping this free blog going! 
Built In Primary Closet Renovation (IKEA Pax Closet Hack)
First things first, let's start with the before and afters of our built in closet renovation!

You can see how we had a weird alcove space. It was about 18 inches deep, thus perfectly fitting the IKEA Pax wardrobe! This was much to our advantage because the install would have the built in closet sitting flush with the doorway on the far left. The IKEA Pax system will sit flush with a flat 8ft ceiling, which is a pretty standard ceiling height. Our Primary has lofted ceilings, which we love, but decided not to close off on the top. We just couldn't find a great solution for that. However if you have flat ceilings but say they are 10 or 12 feet, you can easily build a box with custom trim work or add shelves on top of the Pax closet to close yours to the top of the ceiling. We actually like the way our dimmable can lights bounce of the top of the closets, so it was a win-win!
Watch the Full Video of my Primary Built In Closet Walk Through!
Now that you've seen where we ended, let's go back to the beginning and I'll walk you through all the steps for installing the IKEA Pax closet system and how to customize it to make it look like a beautiful built in wardrobe!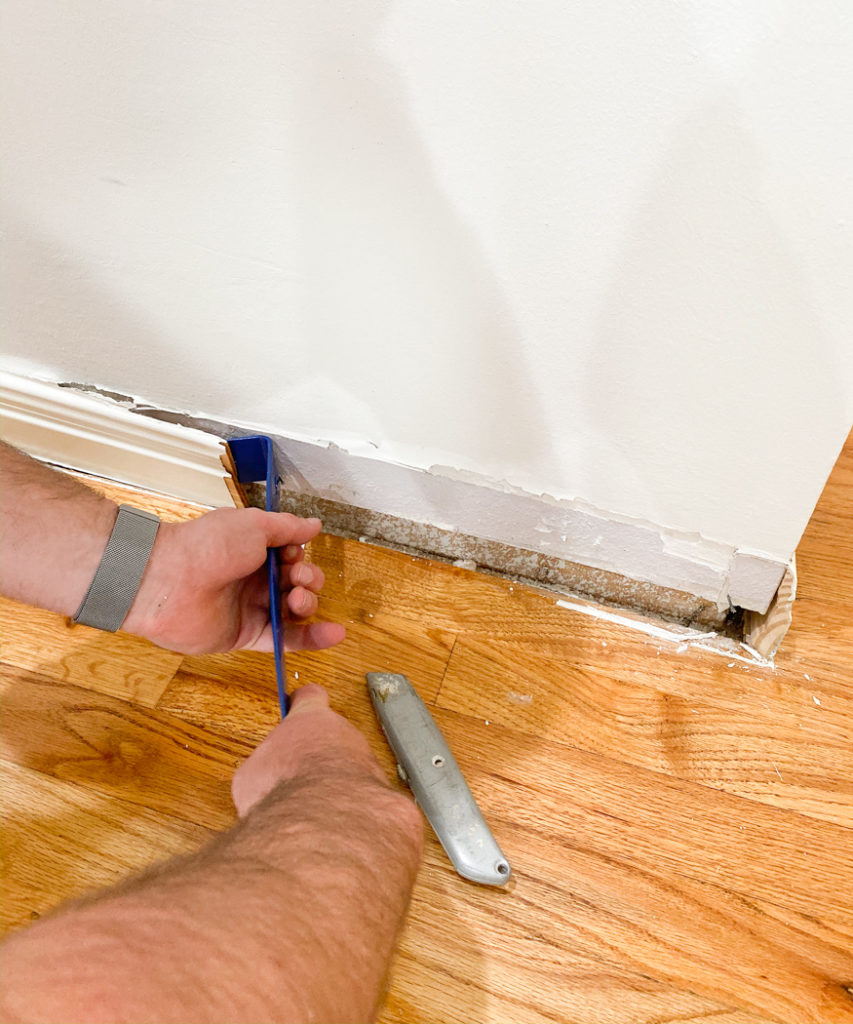 Built In Primary Closet Renovation (IKEA Pax Closet Hack)
Step 1: Remove trim and anything else that will prevent the cabinets from sitting flush with the wall. This tool
came in really handy for us. You will want to make sure they can sit flush, so that you can properly secure the cabinets to the wall ensuring that they don't tip or fall over. The IKEA Pax comes with a mounting fastener, so this is really easy to do in a later step.
This pic makes me chuckle because I remember when we first moved in the primary had purple textured walls!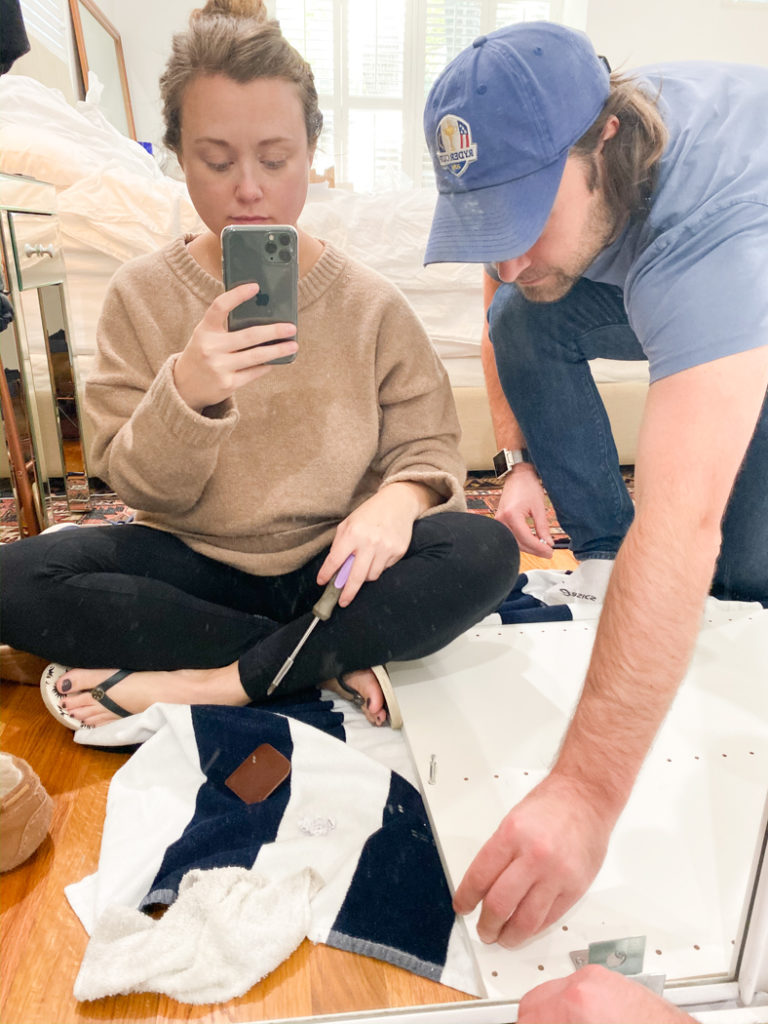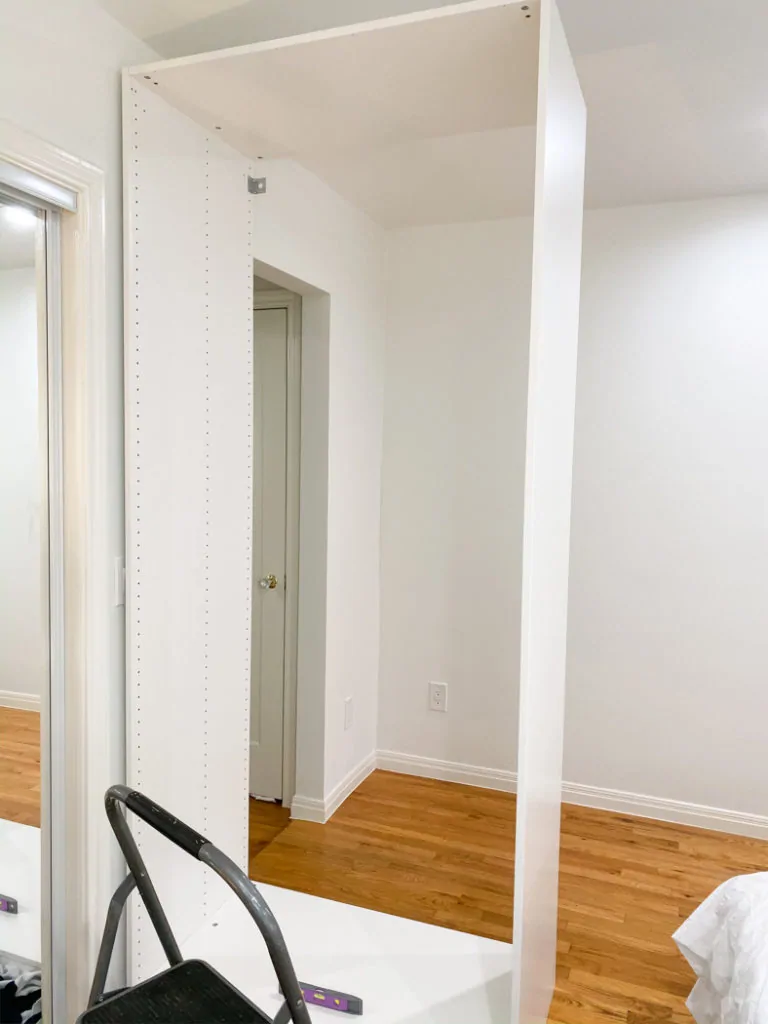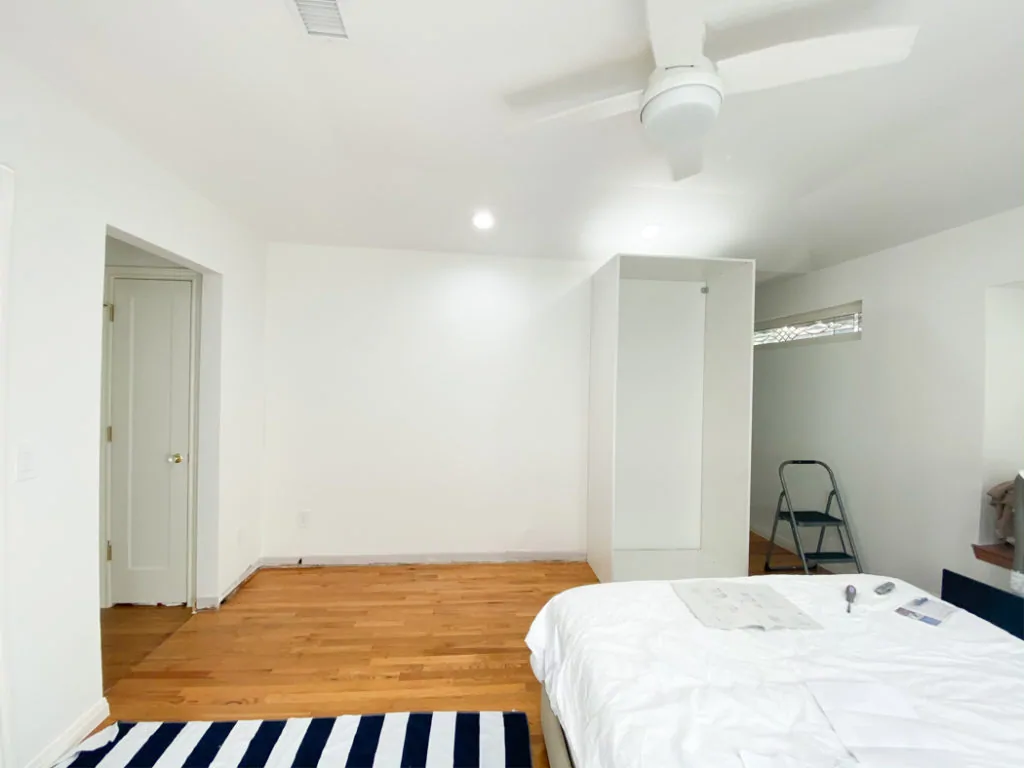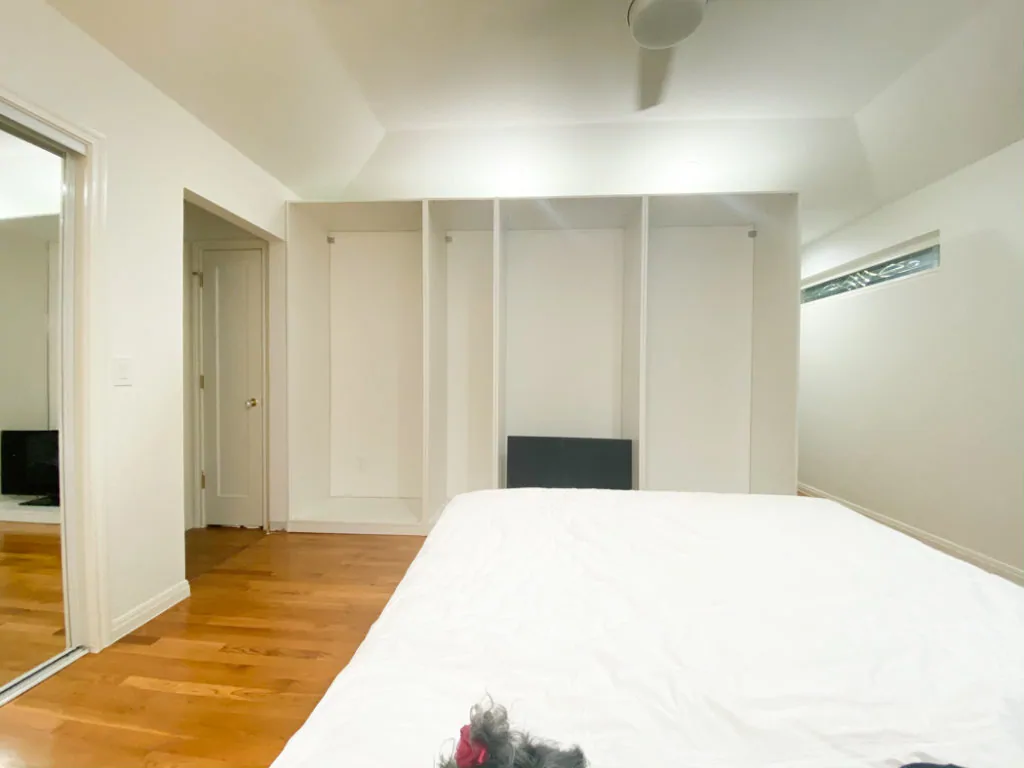 Step 2: Build the outer frame of the closets. This was not particularly difficult but I think would be hard to do with one person. We built these face down on the floor, then lifted them up and slid them into position. Do not step inside the cabinet, the "floor" or bottom of the cabinet isn't designed to hold that kind of weight.
After we knocked out the first one, we got the hang of things and it started to flow. We made sure everything fit along the wall before securing anything and make holes in the walls. You can spy Mimi at the bottom of the photo, she really worked hard haha!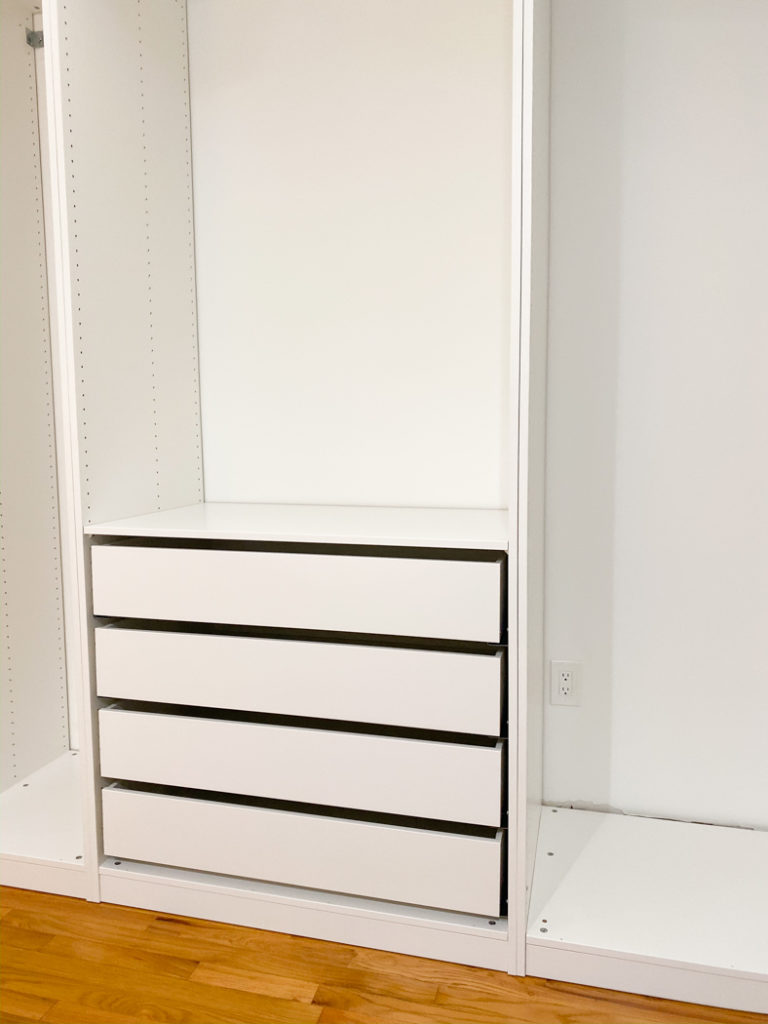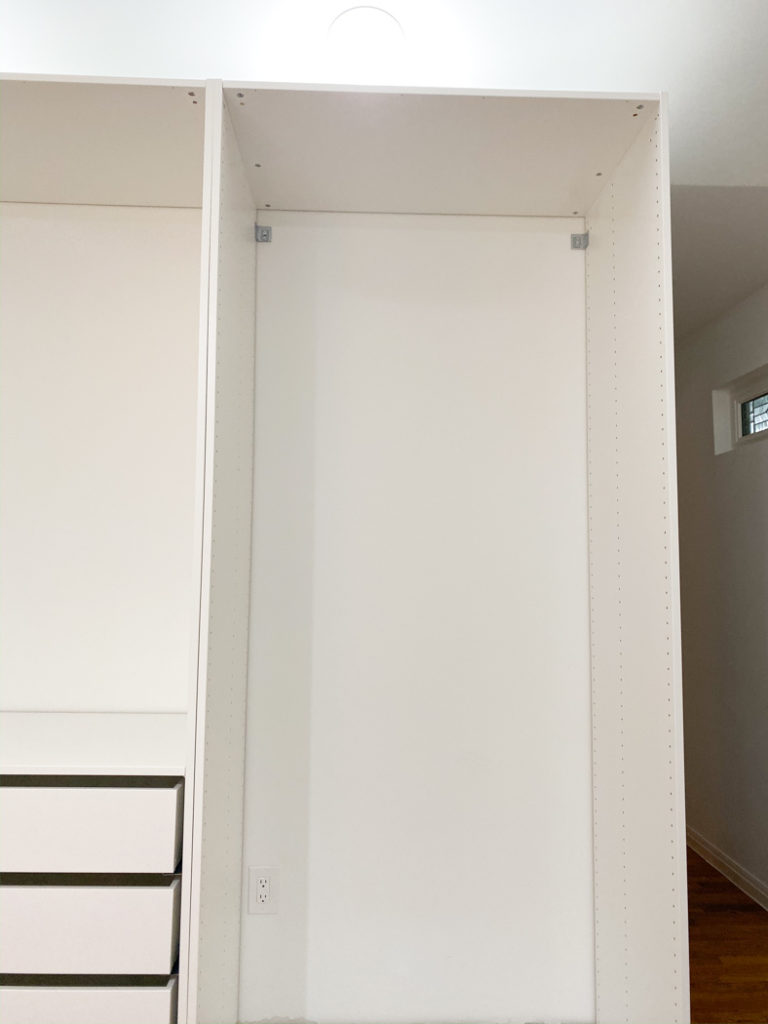 Step 3: Once everything was snug in place, we added the drawers in the center console, which we will customize later. We also secured the closet frames to the wall. There are little feet on the bottom of the closets that are adjustable, so you can use a level
to make sure everything is flat.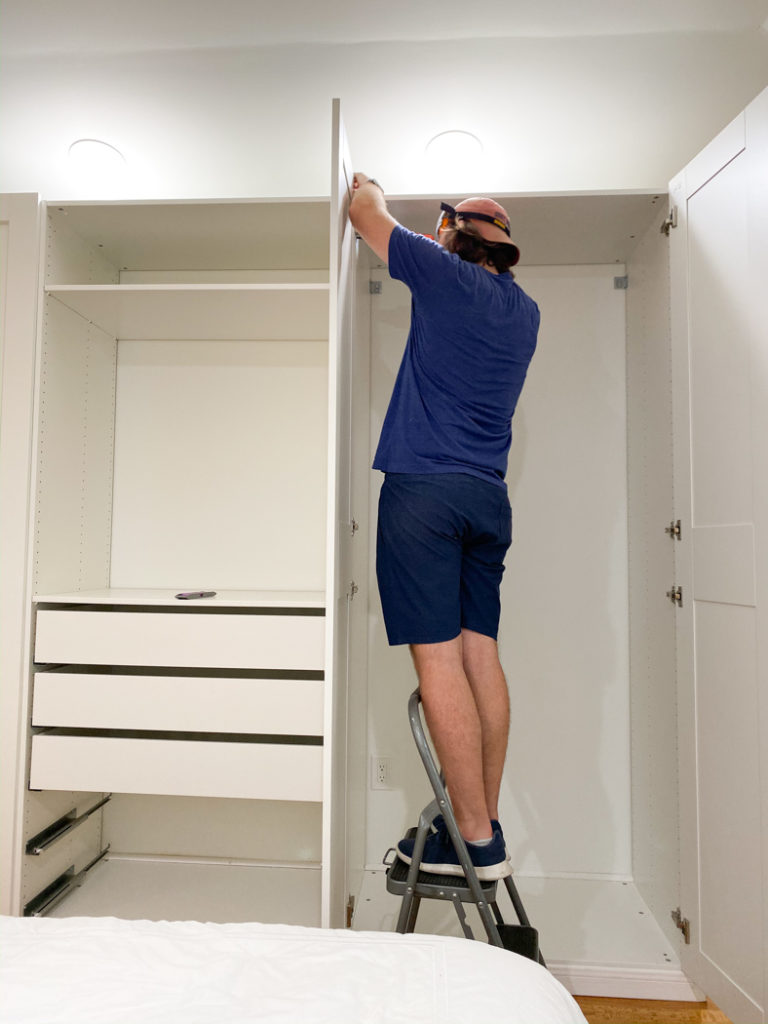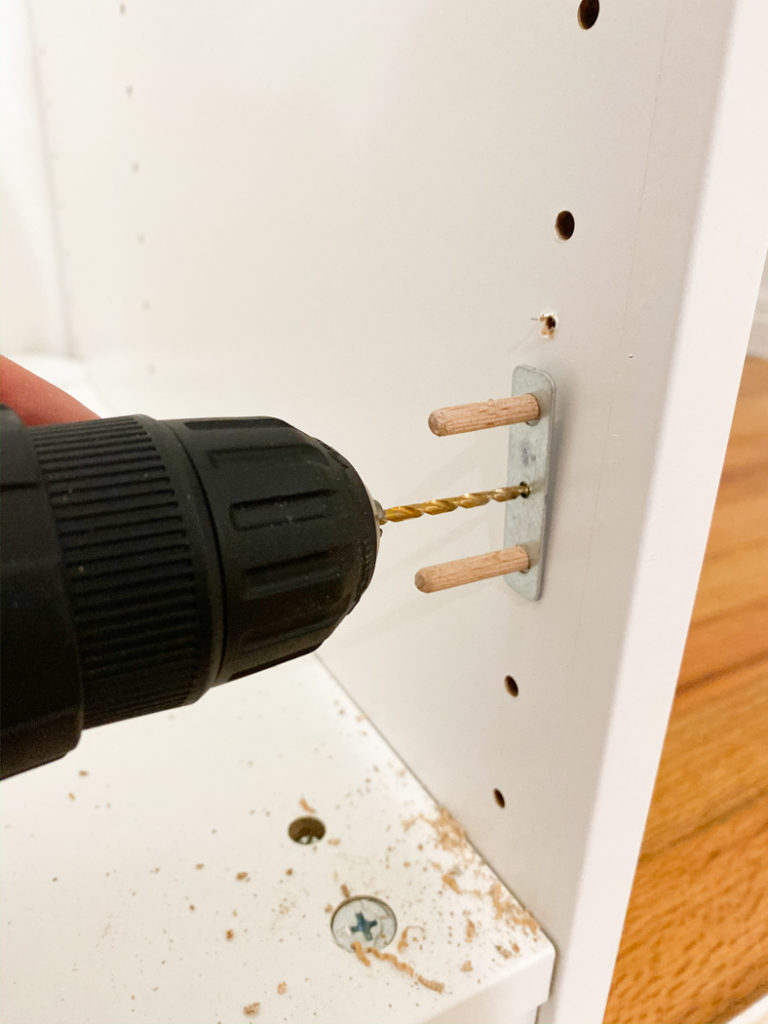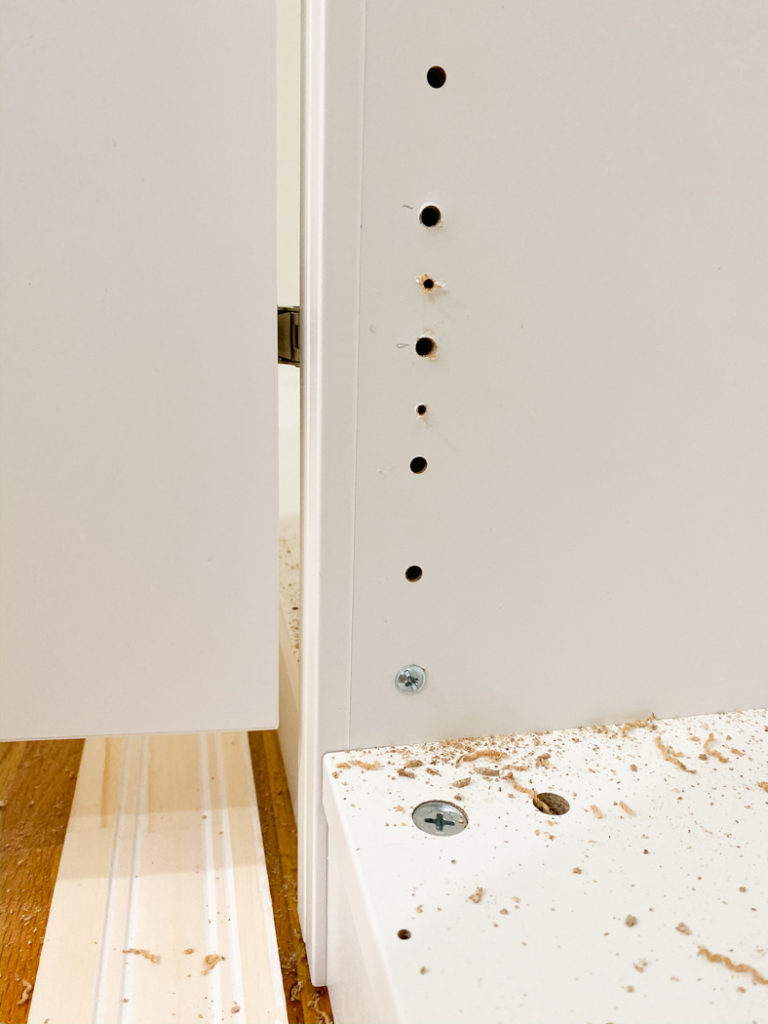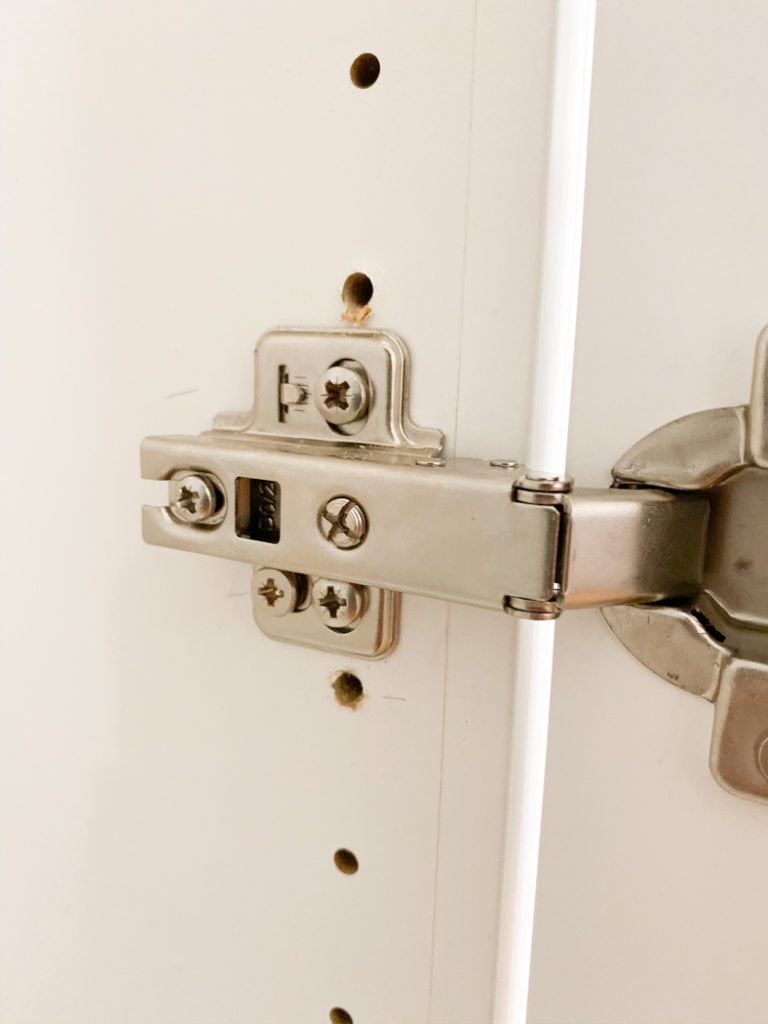 Step 4: We needed to adjust the door height since we were using trim along the bottom to make the whole thing look built in. We temporarily secured the trim to measure. Unfortunately, the holes in the IKEA Pax weren't exactly where we needed them to be. So we made a template using a flat piece of metal so that the holes were exactly the correct size on each door. BMW drilled a hole in the center of the metal piece and then used it to drill additional holes in each of the four hinge attachments for each door. PS- this little metal piece is actually an IKEA piece used to install some of the drawers but it totally worked for this hack!
Just be sure to note that if you do this, it can affect where you can install drawers and pull outs later. We were still able to get lots of drawers in ours but you'll want to do some extra measuring just to be sure.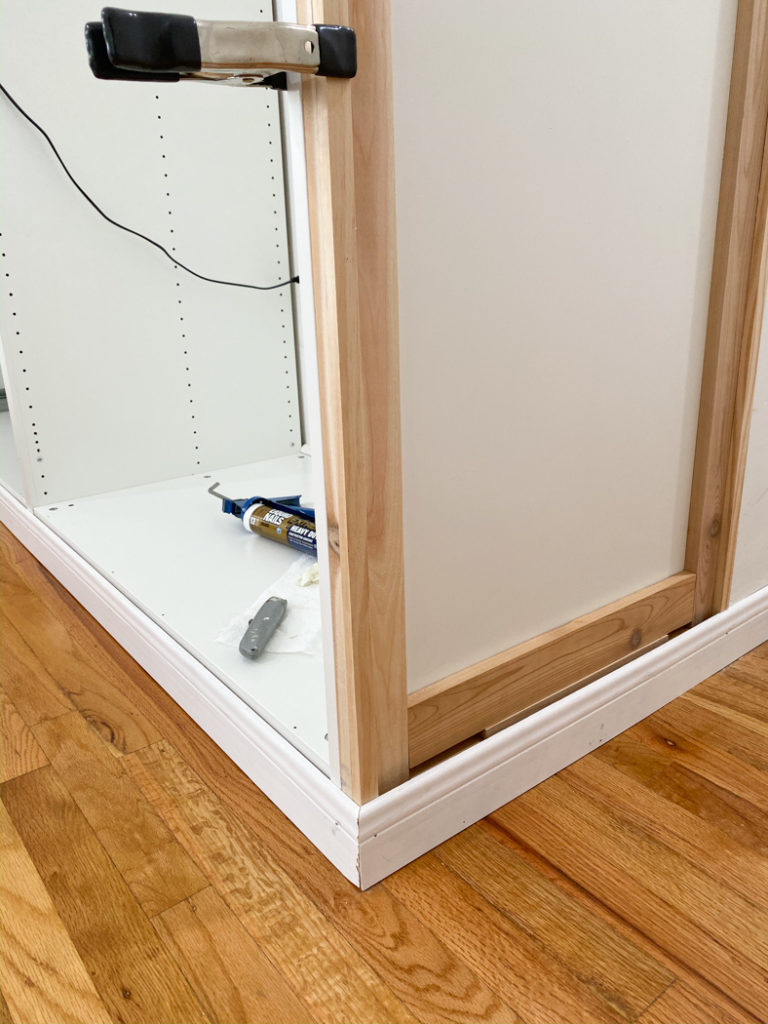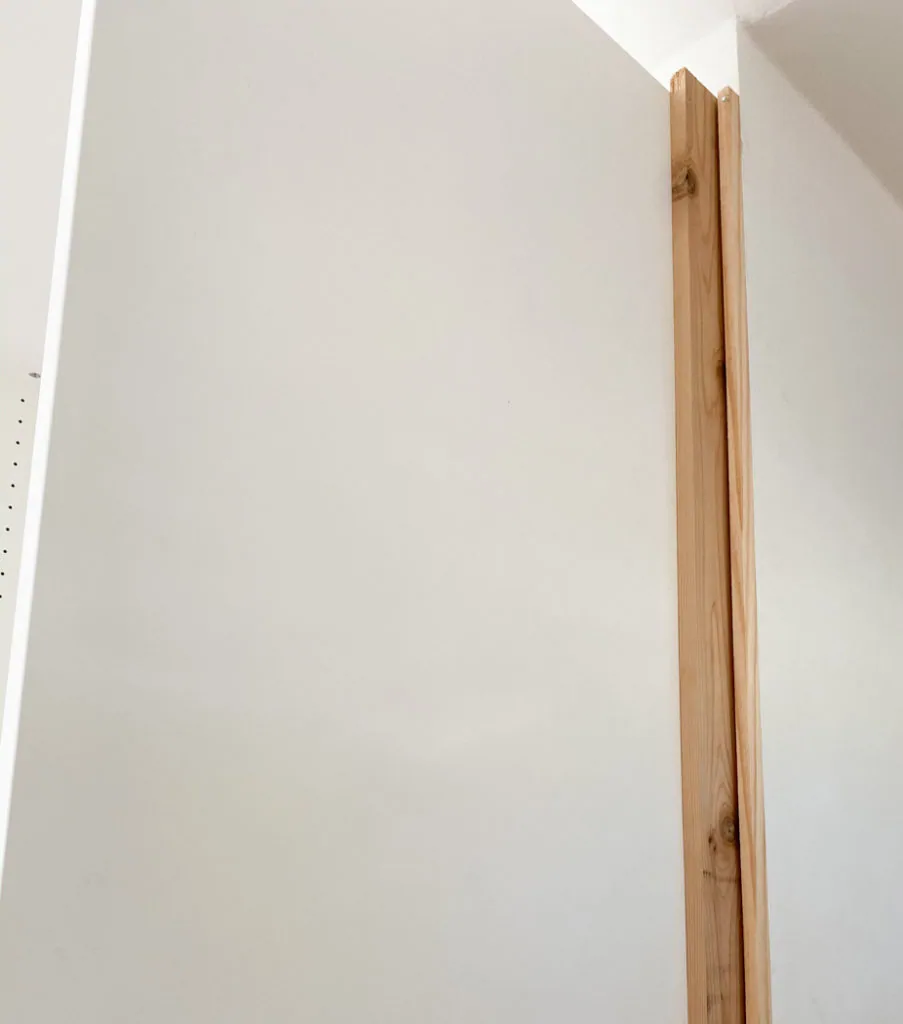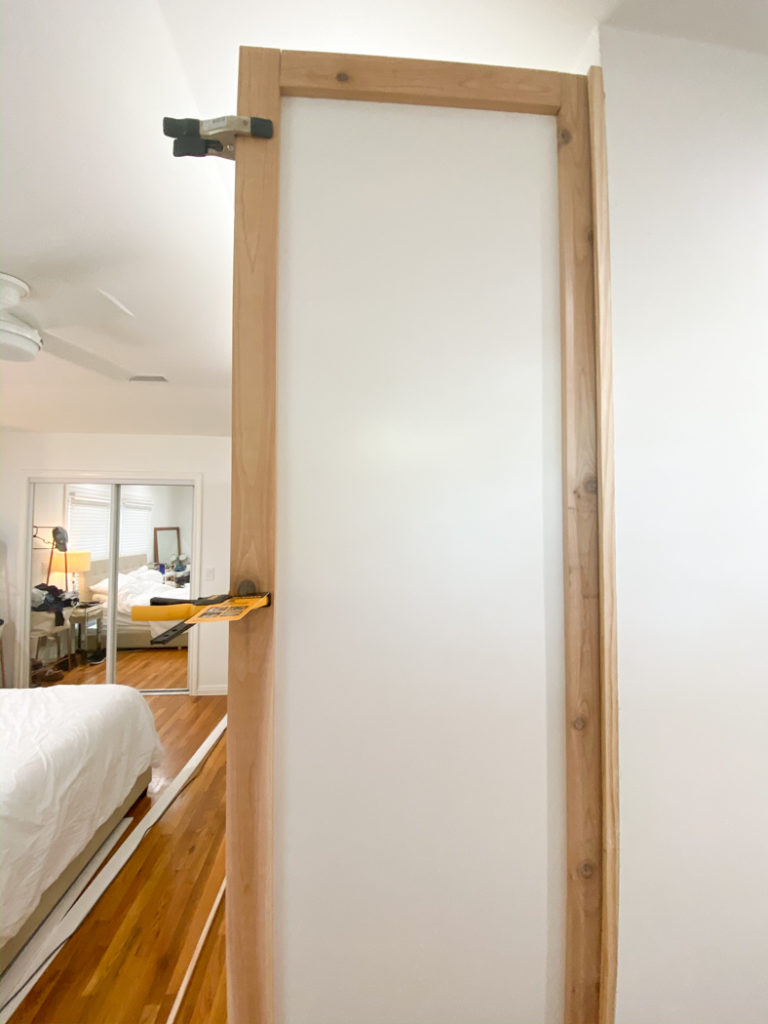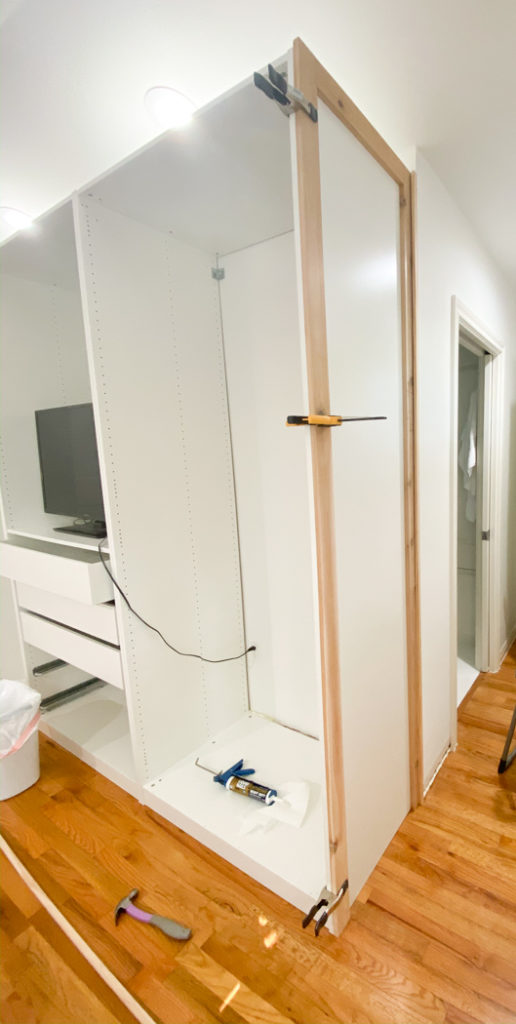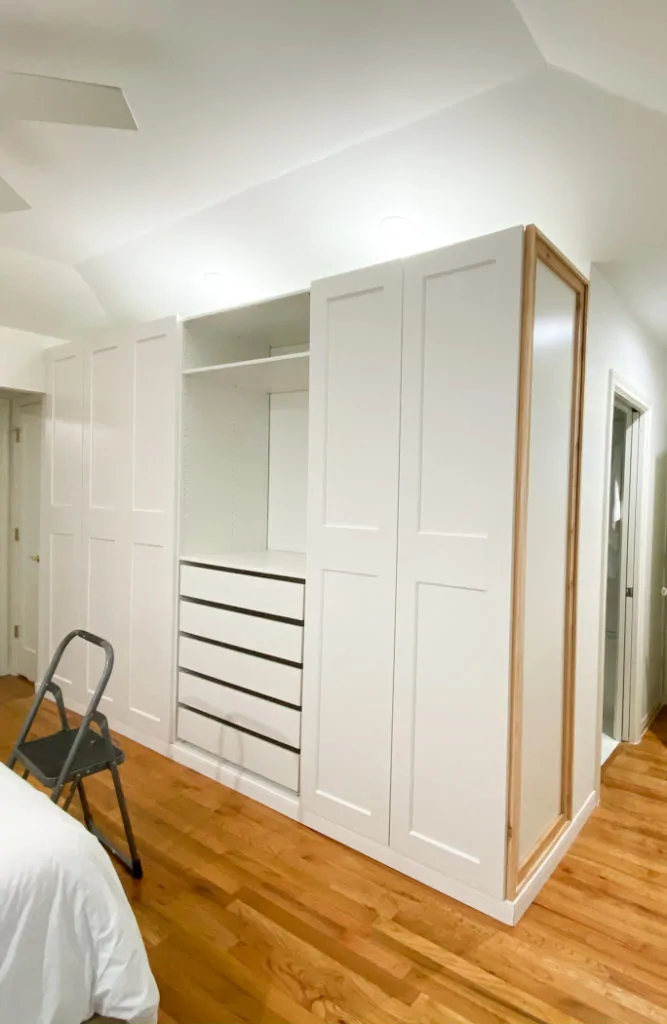 Step 5: Next we added the custom trim! This is really where things started to take shape. We used trim from Home Depot, then secured it will wood glue
and nails and clamps
to hold everything while nailing and drying. We held up everything first to make sure it all fit and was flush, etc. before we started gluing and nailing things.
There was some space between two of the pieces of trim near the wall. We were able to fill that gap with caulk, which made a HUGE difference. Caulk will become your best friend in making this project have a super smooth finish. Pro-tip: make sure you buy caulk that is made to be painted
, not the caulk for the bathroom or finishes that are meant for water protection. Make sure you caulk everything BEFORE you paint. This way it will all look seamless and flow together.
We made a sorta of step down pattern around the edge of our built in. I am so happy with the way it turned out! You can get really fancy and detailed with trim work, so it's totally up to your preference! We went with simple, clean lines since that is what is most common throughout the rest of our house.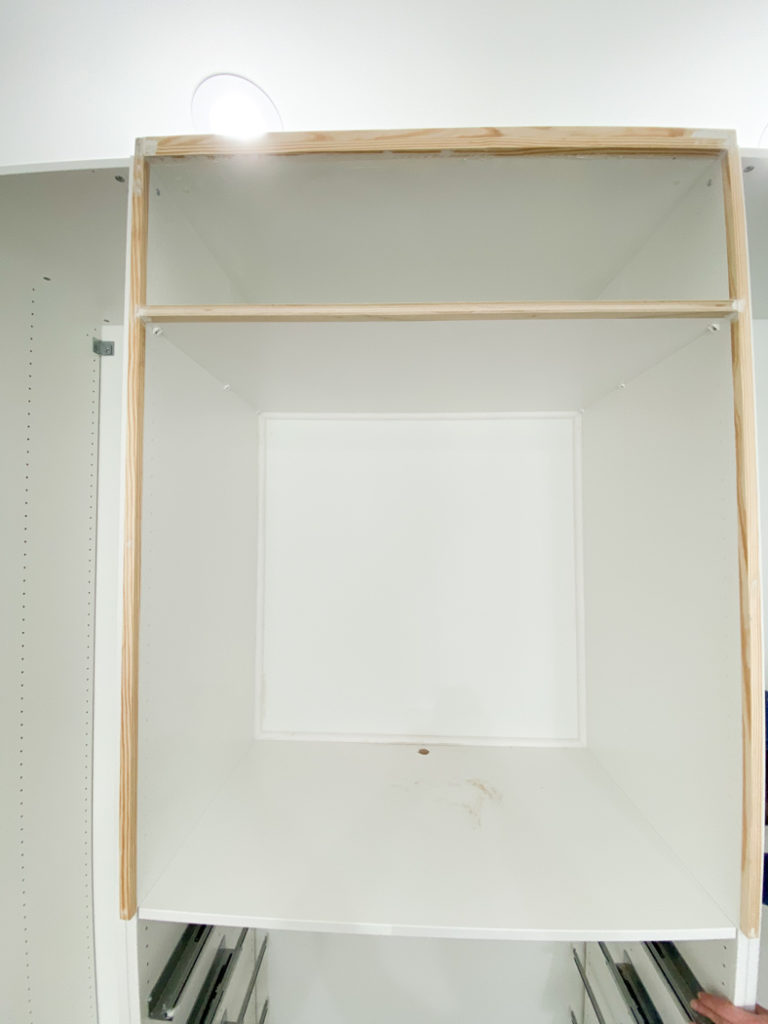 Step 6: We added a little extra additional trim around the center console where there were not doors. We used these 3/4 x 3/4 pieces of wood trim from Home Depot because they are the exact same depth as the IKEA doors. These fit perfectly and gave the center that extra thickness so that it is flush with the doors when they are closed. This really helps things look finished and custom.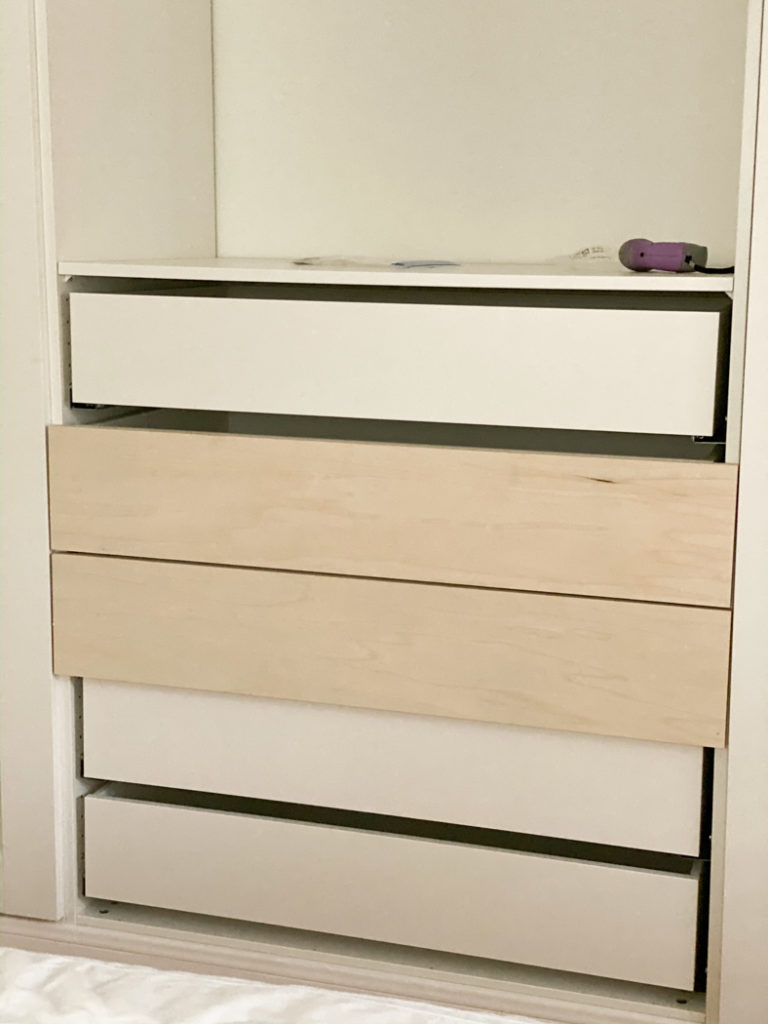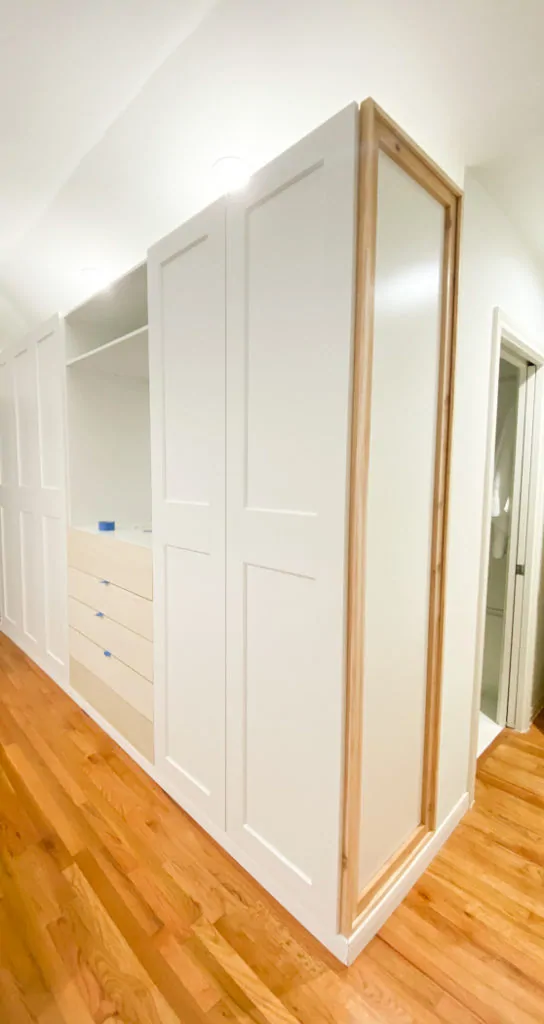 Step 7: We added the custom woodwork to the drawers that would not be hidden behind doors. We snagged this idea from this great blog post! We were able to easily order the custom wood pieces online from Home Depot. The dimensions of the custom cut drawer fronts we used are:
Middle Boards (3): 7 3/8 x 39 1/8 in
Bottom Board: 7 7/8 x 39 1/8 in
Top Board: 9 1/8 x 39 1/8 in 
Then we secured them to the drawers using 8 x 1-1/4 in flat head phillips screws
. By using these screws from the inside of the drawers, we were able to securely fasten the wood to the drawers without drilling through the face, so that the drawers would have a super smooth finish.
Make sure you do extra measuring before ordering your wood for the drawers. Take into account the trim along the bottom and top. Our top drawer wound up having a larger face than the other drawers. This will differ depending on what kind of trim you use.
Be sure not to use the screws right where you will want your knobs to go. That will impede you from using the knobs on the outside of the drawer later on. Just make a mental note to screw from the inside a few inches away from where you want the knobs on the outside.
We then made sure the drawers were level and even spaced. Make any adjustments needed at this point to make sure everything is lining up perfectly.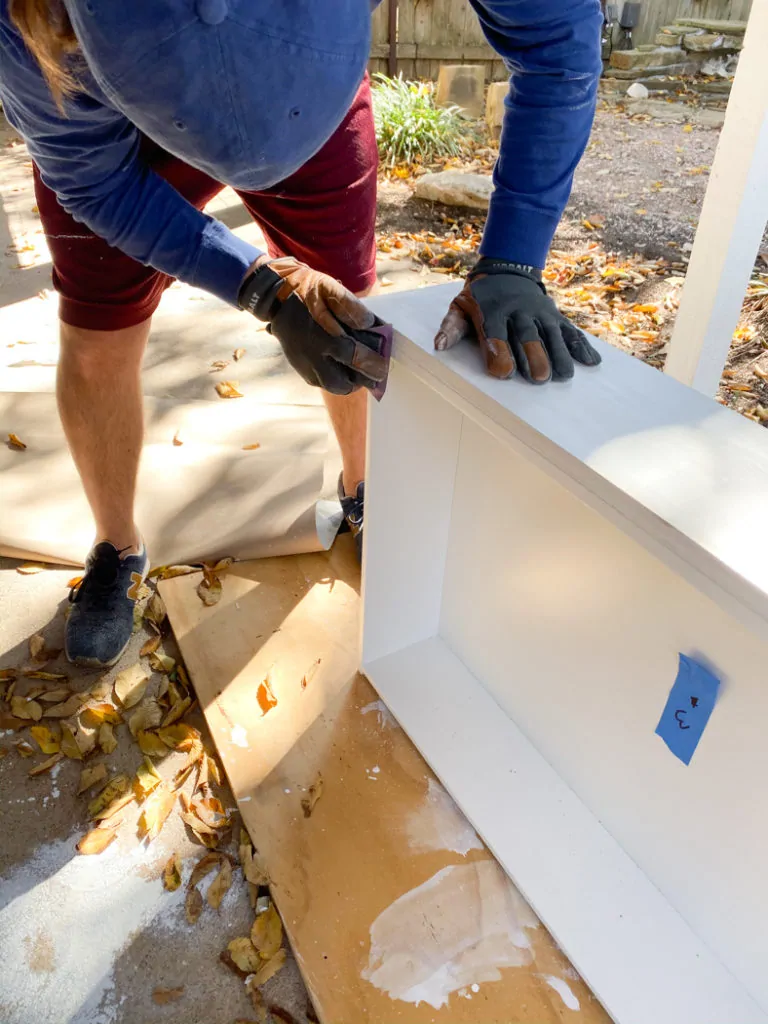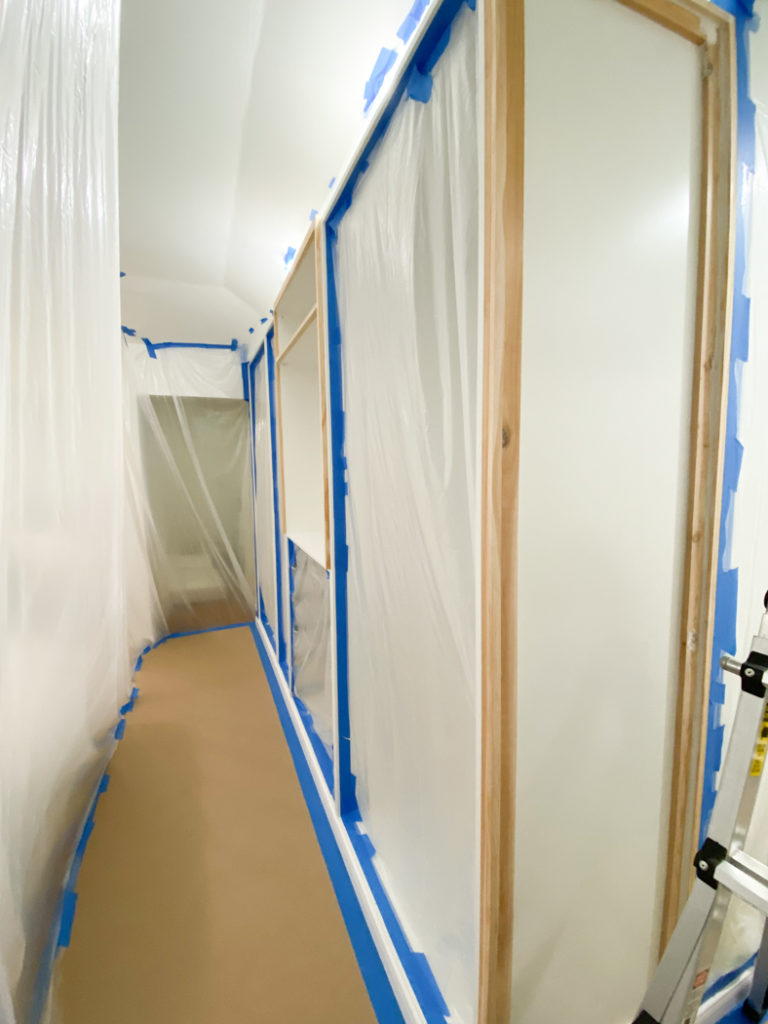 Step 8: Prime, prime, sand, paint, paint. Here is the fun part. Well, kinda fun. We took all the doors and drawers off and primed and painted those in our garage. It made things a lot easier rather than having everything swinging this way and that, it would be easy to bump things before they dried and harder to get an even finish.
Best Primer to Use When Painting IKEA Furniture
For IKEA products, you will need a really good primer since they use particle board. This is the primer
we used. It works great on the wood pieces too! The tip for getting a super smooth finish, is prime, let it dry, then prime again and let dry. Then using a fine sand paper
, sand to finish. Ours was SO smooth. Then dust everything off really well and use a tack cloth
.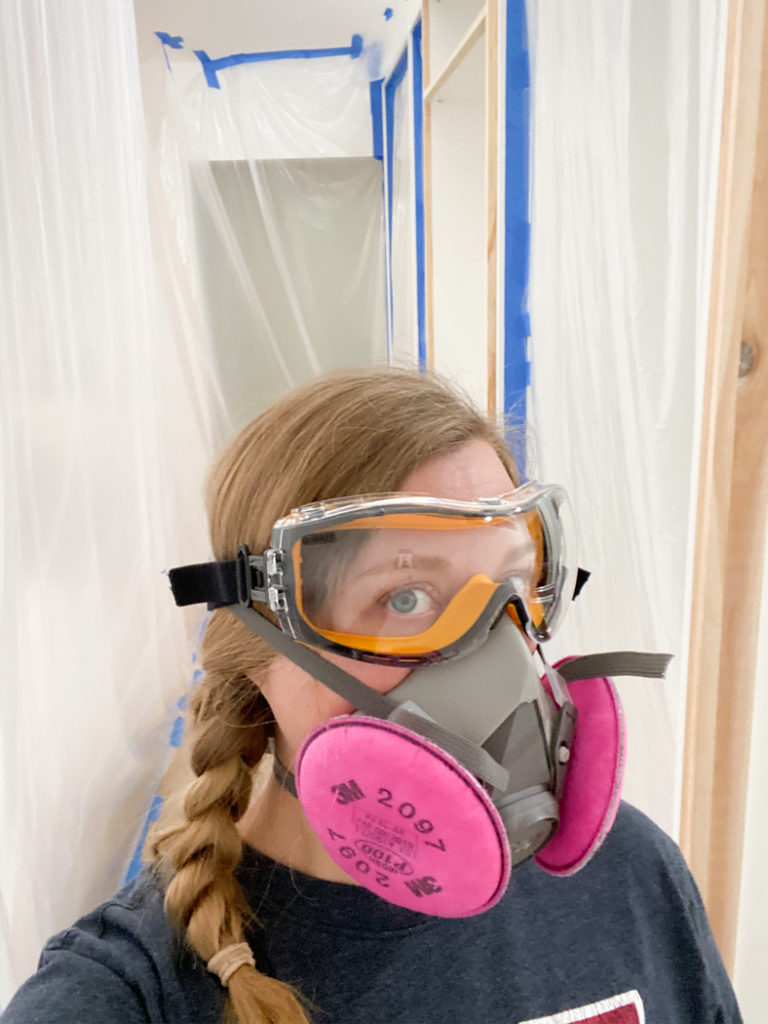 Now it's time to paint the doors and drawers. We used this paint sprayer
and it was so worth the money. It gave a smooth finish. (Be sure to use a respirator
and wear googles
anytime you are spray painting. Those little particles hang in the air and you don't want that stuff in your lungs.) The trick to a smooth paint finish is to make sure you clean the sprayer often while using it. This will prevent any splatter. Try to paint everything and give it at least 7 days to dry and cure.
We taped off everything on the built in pieces in our room and then used plastic sheets
to make sure no overspray got into our room. Yes, it looks like a scene from Dexter lol. You will need to prime and sand everything in here as well before painting. Be sure to dust and tack cloth everything to ensure a smooth paint finish.
Drying Time vs. Curing Time
Drying is different than curing. A good example is you when you get your nails painted and they feel dry to the touch so you leave the salon… only to dig something out of your pocket an hour later and the paint gets all messed up. But two days later you can dig whatever out of your pocket and your nail polish stays put. You see what I mean? There's a difference between drying time and curing time. For walls, which typically don't see a lot of action, over night drying will work for most cases. But on high traffic pieces like say doors or drawers or tables, where you will often be pulling on things or setting things on them, you will want to give these as much time as possible to cure. Some furniture professionals recommend up to 30 days for tables! You'll never find this information on a paint can because if people saw that, then they'd never buy paint. We found this information while searching for tips about how to refinish furniture.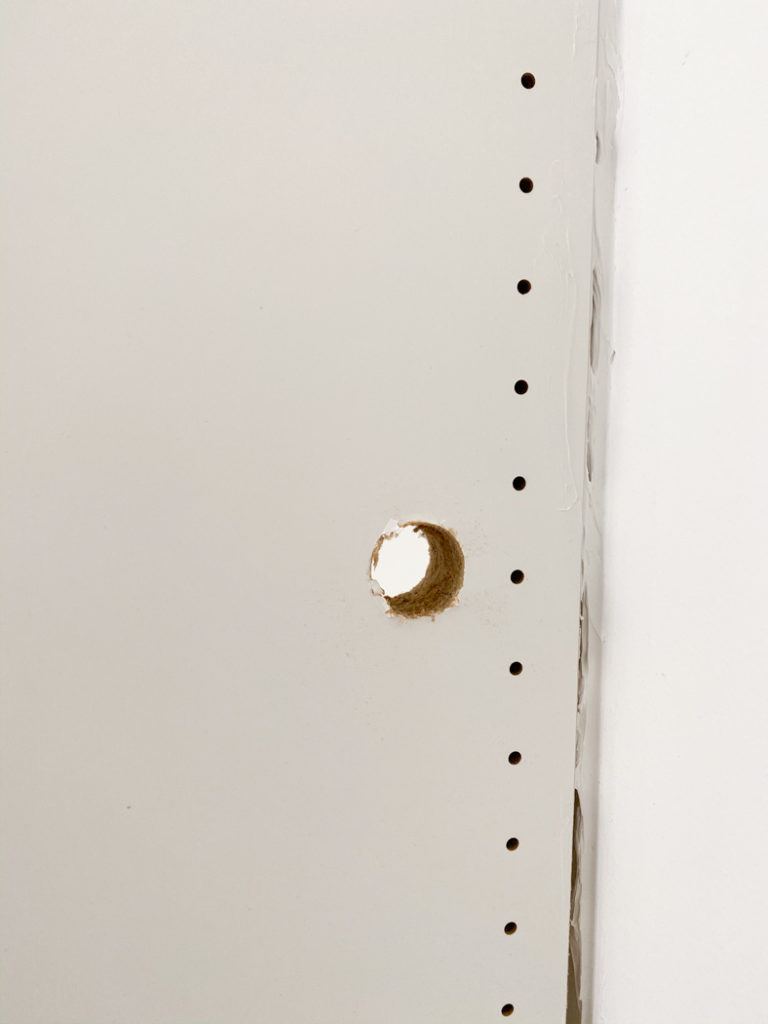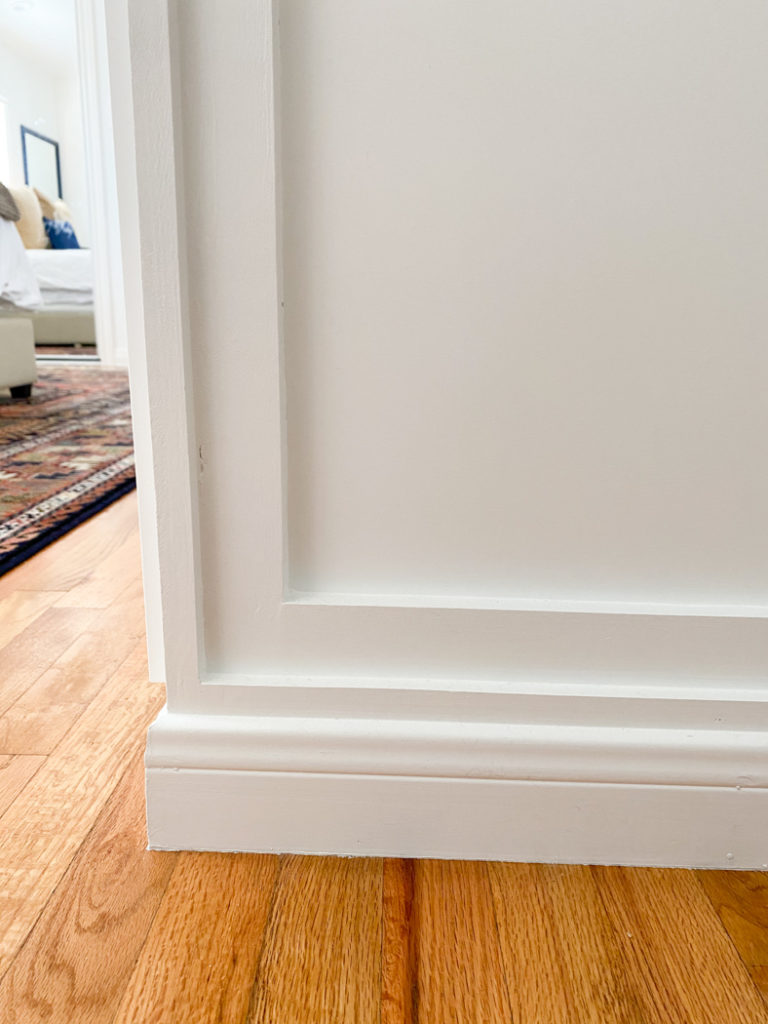 Step 9: Reinstall the drawers and doors once you have let them dry and cure. We drilled a hole on the bottom of the center console and then another through the adjoining wall between the sides of the closet so that we could fish the power cord to the tv through it and pull it into the wall outlet before reinstalling the drawers.
Now you can take a step back and admire all the beautifully painted trim work and closet built ins!
PS- This is the drill
that BMW uses and we use it all the time around the house. It comes in especially handy when you're screwing in what seems like a million pieces or drilling holes.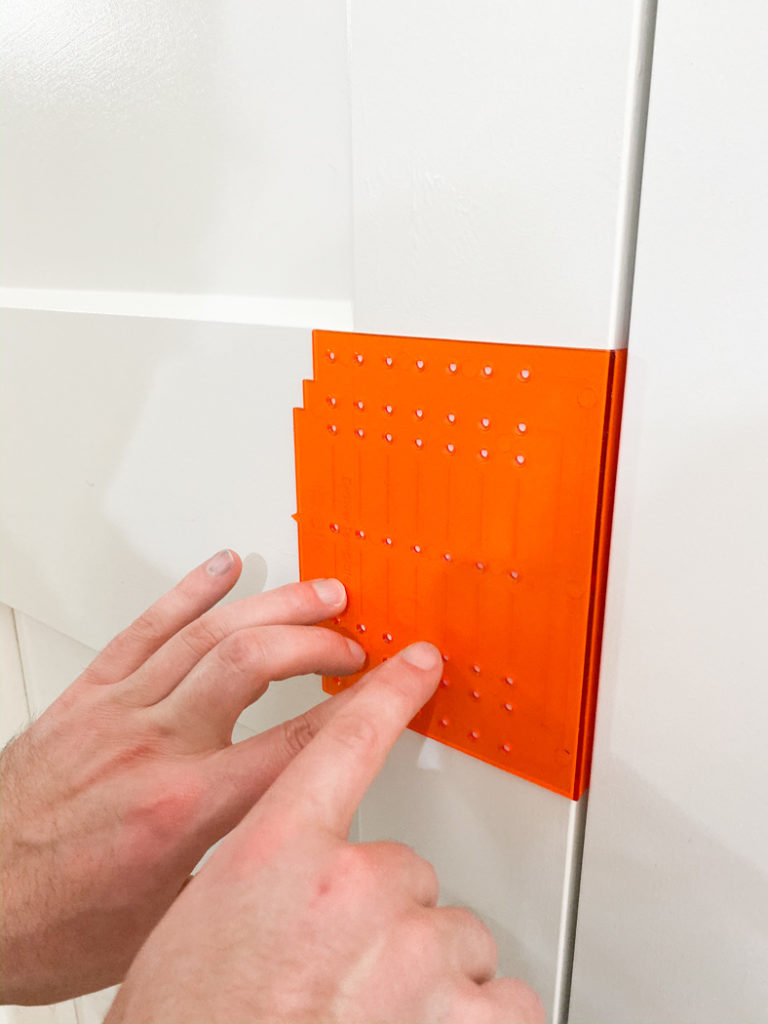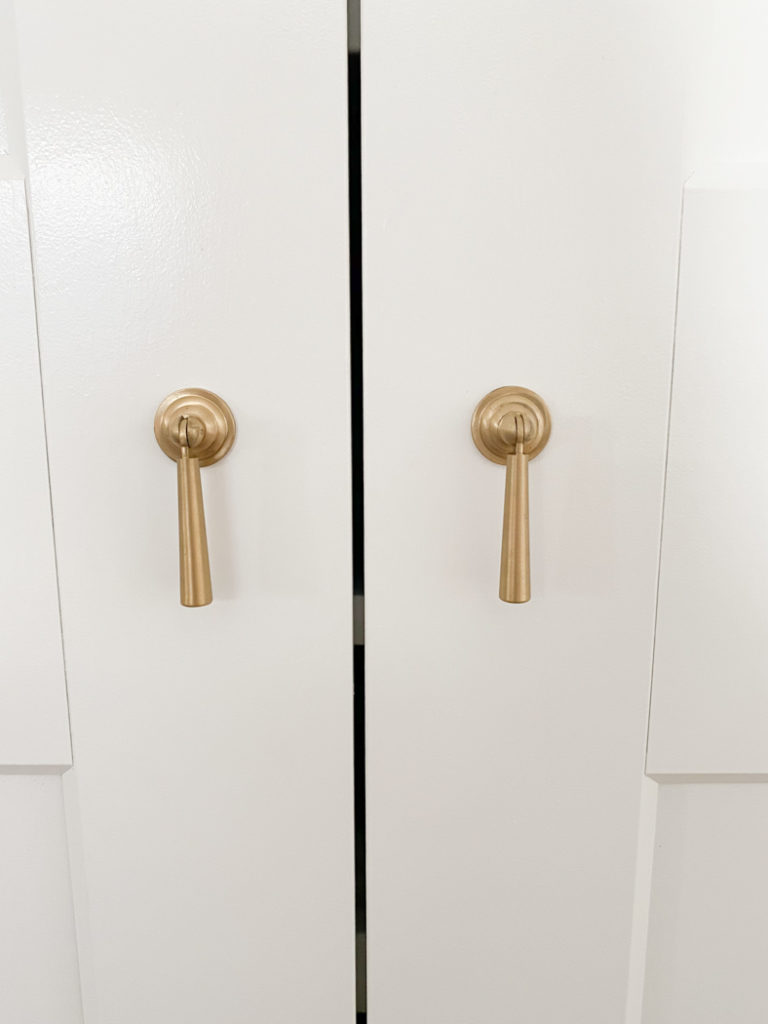 Step 10: Install the knobs and pulls on the doors and drawers. You can use whatever you like but I loved the look of these modern brass knocker pulls and these matching knobs. I even purchased extras and installed them on our night stands so that everything in our room really flowed together! I am so happy with the quality of these pieces, it's always a risk when purchasing on Etsy, but these have a great heavy feel to them, which I love.
We used this measuring tool
to make sure everything lined up perfectly before drilling any holes. Always measure twice and cut once! Or in our experience, measure 4 times, then fret about, then measure again then finally drill the hole, lol!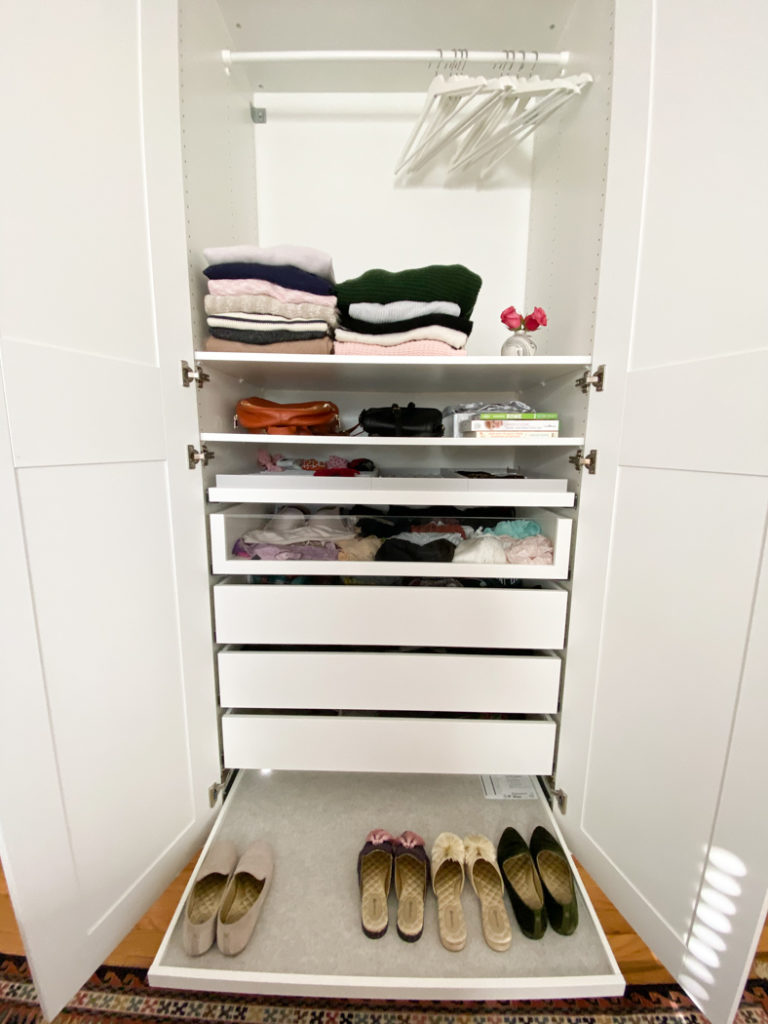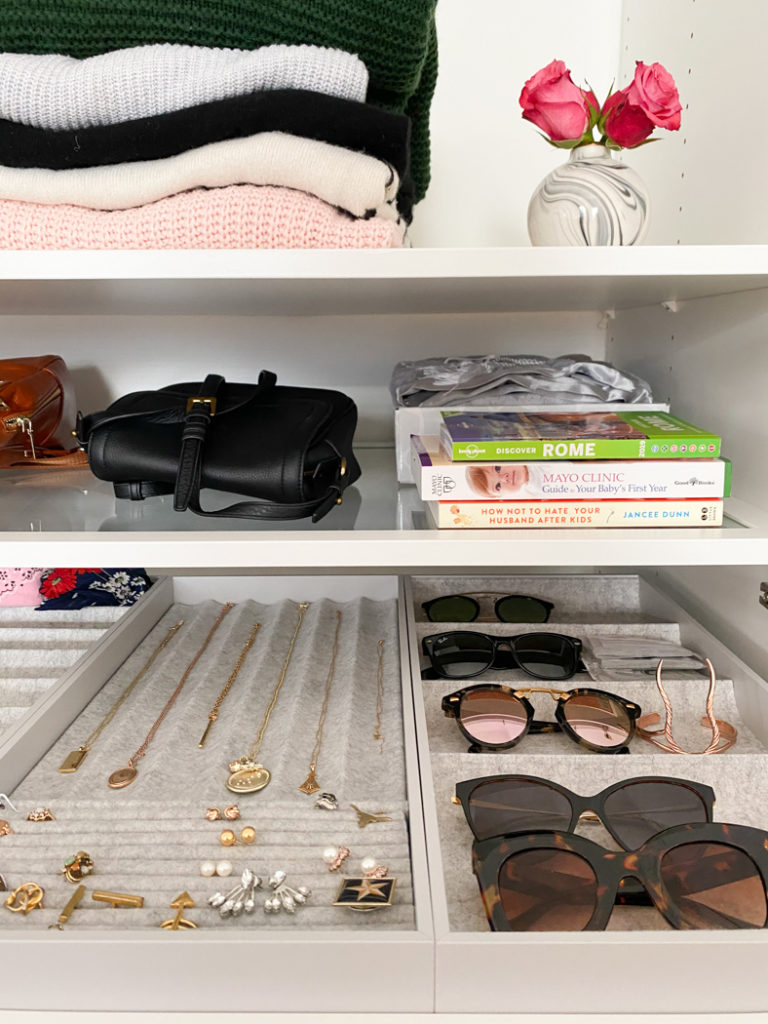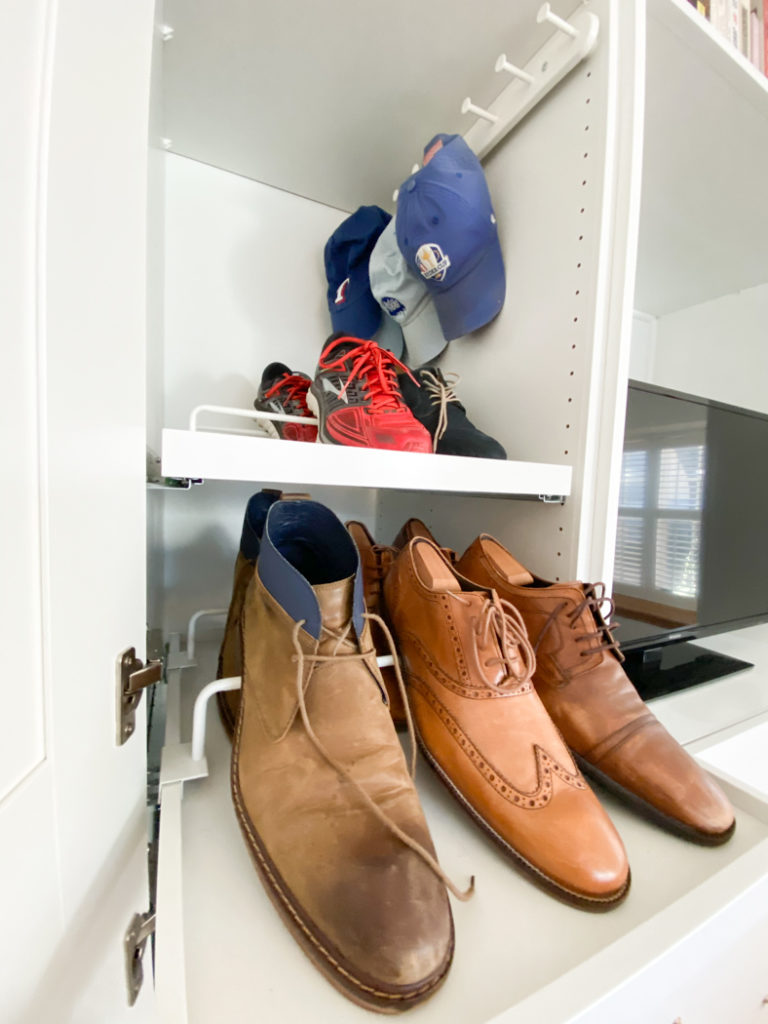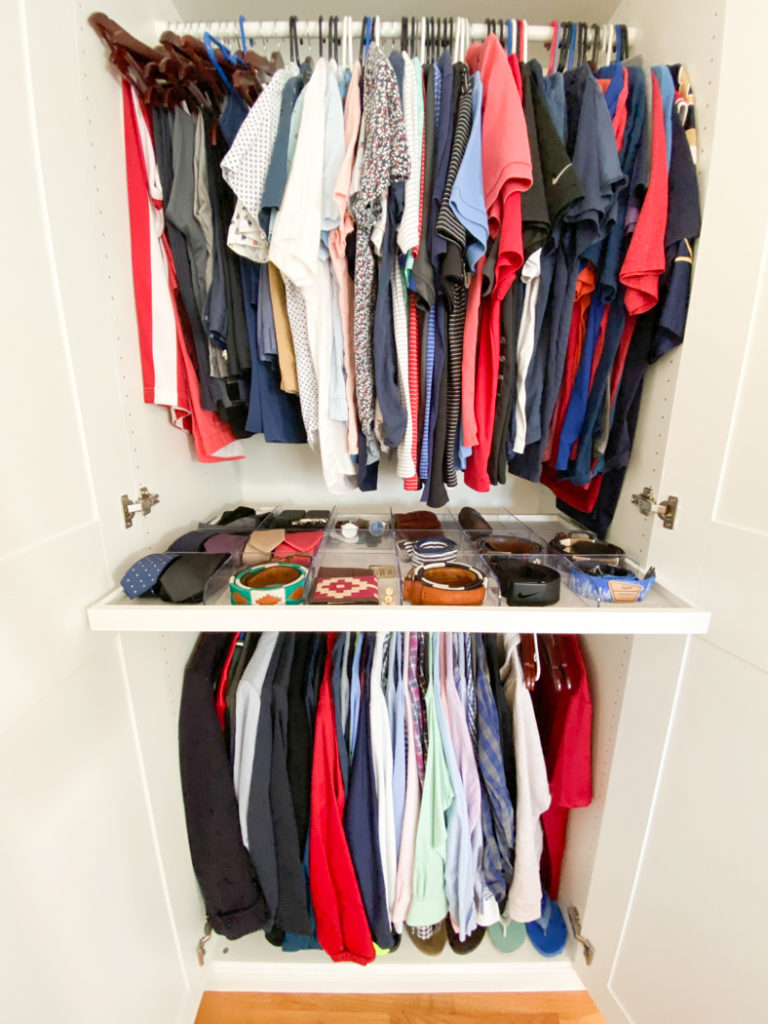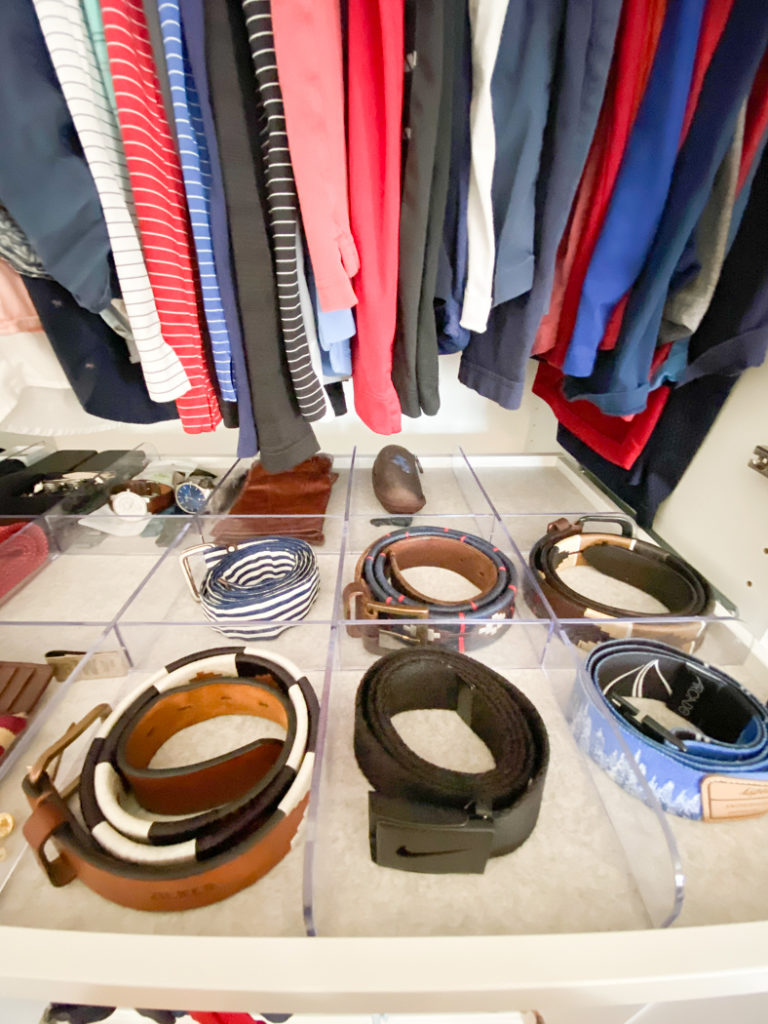 Step 11: You've made it! The last step! Ok now is actually the fun part! Move in day, haha! We used all IKEA inserts here. It just made our lives easier and everything fits perfectly together. I absolutely love my glass shelf and jewelry pull out. BMW loves that he can see all his belts and the laundry pull out is clutch.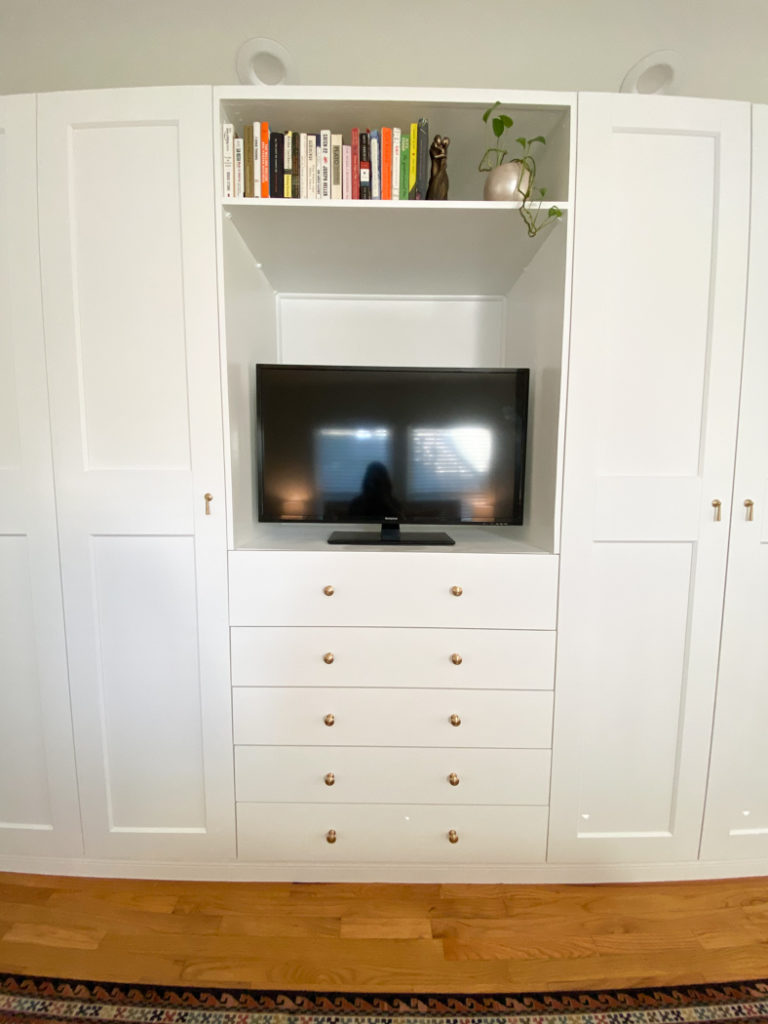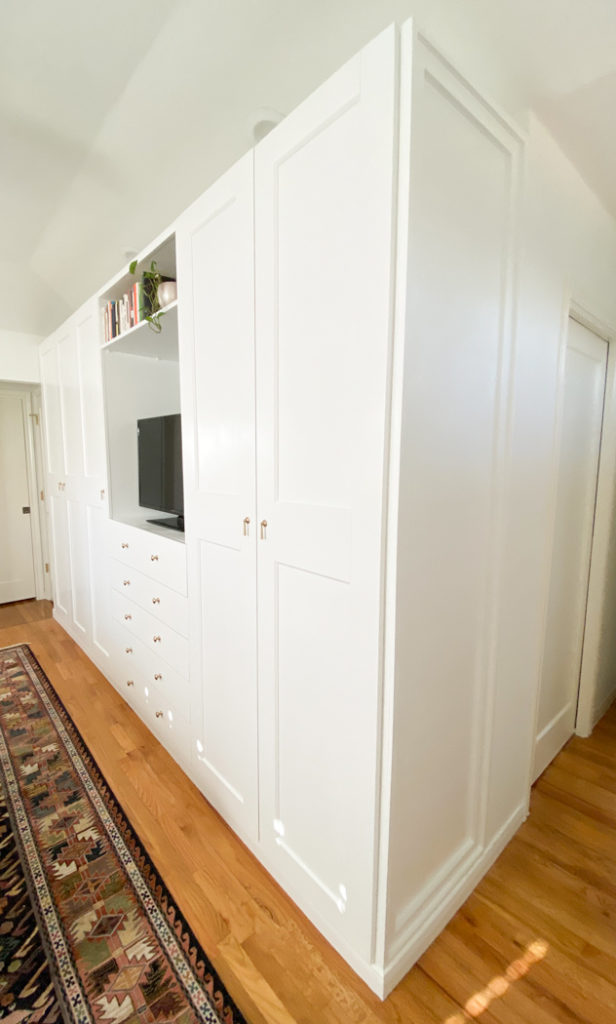 Built In Primary Closet Renovation (IKEA Pax Closet Hack)
We could not be happier with the way this turned out! Yes, it was a lot of work, but it was so worth it! We both now see why custom closets cost so much. However, we are so happy with the way all our customizations came together and it was worth all the weekend hours we put in.
Have you ever done a built in project before? What comments or questions do you have for me? Chat with me in the comments!
All Of The Ikea Pax Closet System Links
When looking at our set up from left to right, we used a 39′ inch Pax wardrobe with two doors, then a 19′ inch Pax wardrobe for the shoes, & laundry, then two more 39′ inch Pax wardrobes one without doors for the TV and drawers portion then a second with doors for the shelves, drawers and hanging clothes. Hope this helps!
Unfortunately, at the time I am writing this, IKEA is no longer carrying the laundry hamper and shoe inserts we used. The show insert was a Komplement pull out tray with a metal show holder but IKEA does now offer this shoe tray instead.