We had the most enchanting engagement photos at The Cliffs of Moher! I couldn't be more pleased with how they turned out! Sharing all the details for shooting in a tricky location and all about our amazing photographer!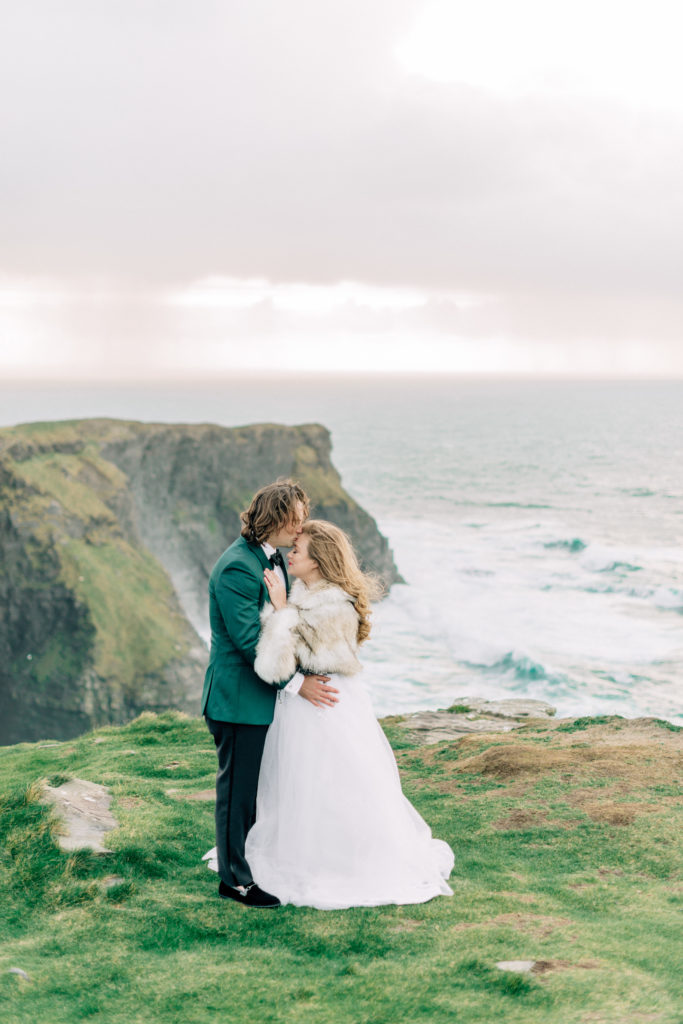 I am so excited to share the photos from our engagement session at The Cliffs of Moher in Ireland! It is such a unique and stunning location and I am thrilled with how the photos turned out. I am so glad we took advantage of the scenery and had these photos taken before the wedding! We had visited The Cliffs of Moher on one of our previous trips because we knew we wanted to take our wedding guests on an excursion there, so it was so nice to visit again and have these photos to commemorate the moment! This post is all about the photos, so scroll on!
This post contains affiliate links. If you purchase a product through these links I may earn a few pennies. Thanks for keeping this free blog going! 
Engagement Photos at The Cliffs of Moher
One of the most common questions I get asked when people see our engagement photos is, "is the rainbow real!?!" And the answer is YES. We actually had a double rainbow appear during our photo session, how lucky is that! If you've been thinking about taking engagement photos or any kind of photos before your wedding, I would say that I cherish these memories and think it is totally worth it!
Lucky for us, our actual engagement went much more smoothly than our actual engagement photos, haha! The whole day it was raining off and on which isn't all that uncommon for Ireland but the hour before we were supposed to start shooting, it was pouring sideways rain. Nevertheless, we had been in touch with our photographer who was driving in from Dublin and we were going to try and make the shoot happen!
Minutes before we were supposed to start shooting, BMW and I were sitting in our rental car all dressed up with our moms in the back seat while the rain poured down. We saw another car pull up to our meeting spot and knew that was the photographer. Within minutes, the rain started to slow down so we decided we were going to do it! The shoot was on.
A few minutes later, the rain stopped and the sun peeked out. I literally think the words "run" were yelled by at least one of us as we walked towards the Cliffs. Once we got to a good spot, we just immediately began shooting. For the next hour, we got the prettiest pink and gold skies, and then a rainbow and then ANOTHER rainbow appeared! We truly felt the luck of the Irish during our photo shoot!
The Best Wedding Photographer in Ireland
I am so happy with the photographer we chose! Claire Brown created photo magic for us during our engagement photo session and again on our wedding day. I have swooned over every image so many times. She truly has a unique skill and really captured the beauty of the scenery despite some stressful circumstances like the long drive she had that day and all the rain. I am so thankful we chose her to be our photographer!
I had pinned images of what I was hoping to capture during our session and sent them to our wedding planner. She then sent me a list of photographers that she thought would be a good fit and after checking our Claire's website and Instagram, I knew I wanted to work with her. Lucky for us, the wedding planner reached out and Claire was available the weekend of our wedding!
We knew we had this wedding planning trip on the books and we reached out to Claire and she was willing to drive all the way across Ireland (seriously it's like 2.5 hours) from Dublin to The Cliffs of Moher to do this shoot with us. I am so thankful she was willing to do that! She even had chosen an off the beat spot on The Cliffs that was away from all the tourists so we were able to get these  serene images.
If you're planning a wedding in Ireland, or anywhere really Claire is quite the traveler, I can highly recommend her to shoot your photos!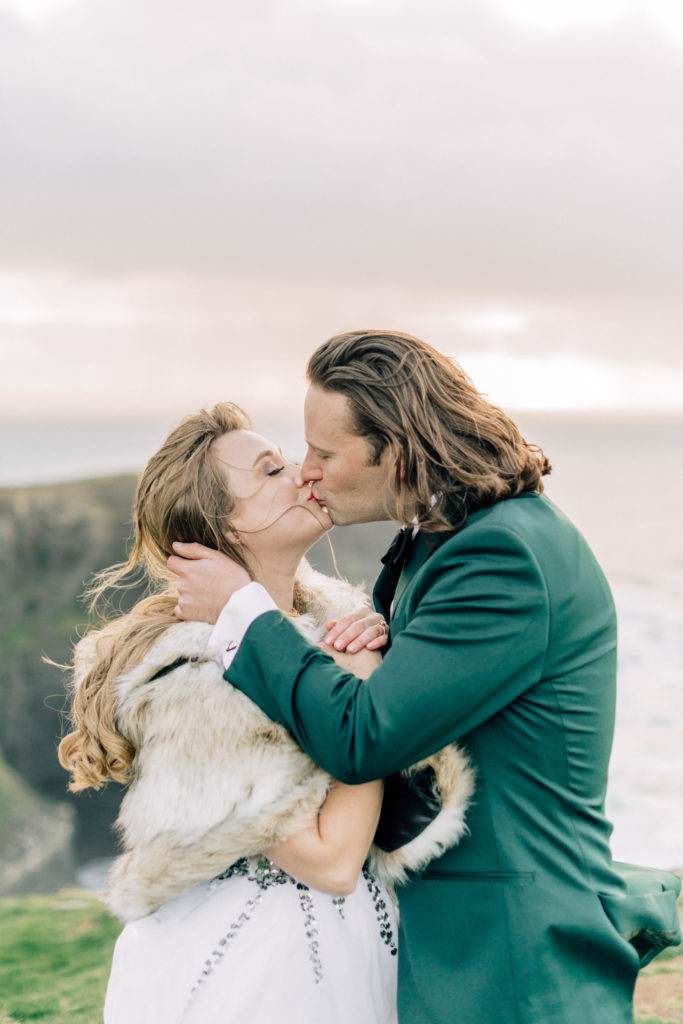 Tips for Taking Engagement Photos in Tricky Locations
The Cliffs of Moher are known to be very steep and very windy. Like very windy. See photos below. There are signs everywhere that say "at your own risk" and the drop is quite literally hundreds of feet should you lose your footing. That all being said, I am so glad we did these photos! Having previously visited The Cliffs of Moher, I knew there were a few things I needed to keep in mind. So whether you are shooting on the side of a cliff or mountain or possibly in the heat of the desert, I have a few tips for taking engagement photos in tricky locations!
Wear Comfortable Shoes– This is especially true if this is a place where you could easily lose your balance. I wore my Birdies and they were perfect! I wore the Herons in green velvet and I also wore these on my wedding day!
Communicate with your Photographer– This is soooo important. Photographers are very talented but they aren't mind readers, so communication is important. Tell them if there is angle you don't love of yourself. Because the photographer may think you look gorgeous but if you don't like the photo then it doesn't matter. So be sure and speak up. Same goes if you have your heart set on a particular pose or location, let them know. If you have example photos, even better.
Bring a Backup Outfit– You never know when disaster might strike! A spilled drink or slip in the mud could ruin your outfit. Best to be extra prepared. I brought two different shawls for our photos so that I could change up my look without having to completely change my outfit. But it's best to always have a backup just in case something goes wrong. Oh and I wouldn't suggest shooting in a location like this in your actual wedding gown until after the fact. My dress was super dirty by the end of our photoshoot and I would have been so upset if it was my actual dress!
Use this Opportunity as a Trial Run for Hair & Makeup– There is nothing like a cold, wet wind to see how your hair and makeup will hold up on your special day! Since I was already paying for a hair and makeup trial, I figured it would be best to get some photos out of it. That way I could also see how they photographed and what, if any, changes I would like on my big day.
Ask To Take a Peek at the Photos While Shooting– Most photographers are more than willing to do this. It is so helpful because you can give immediate feedback about what you like and don't like. This will establish rapport and help you two to work better together come the big day! Trust me, your photographer wants you to love the images from your wedding day, so be kind but definitely tell them what you like about the photos and that will help the photographer get you the images you will cherish forever!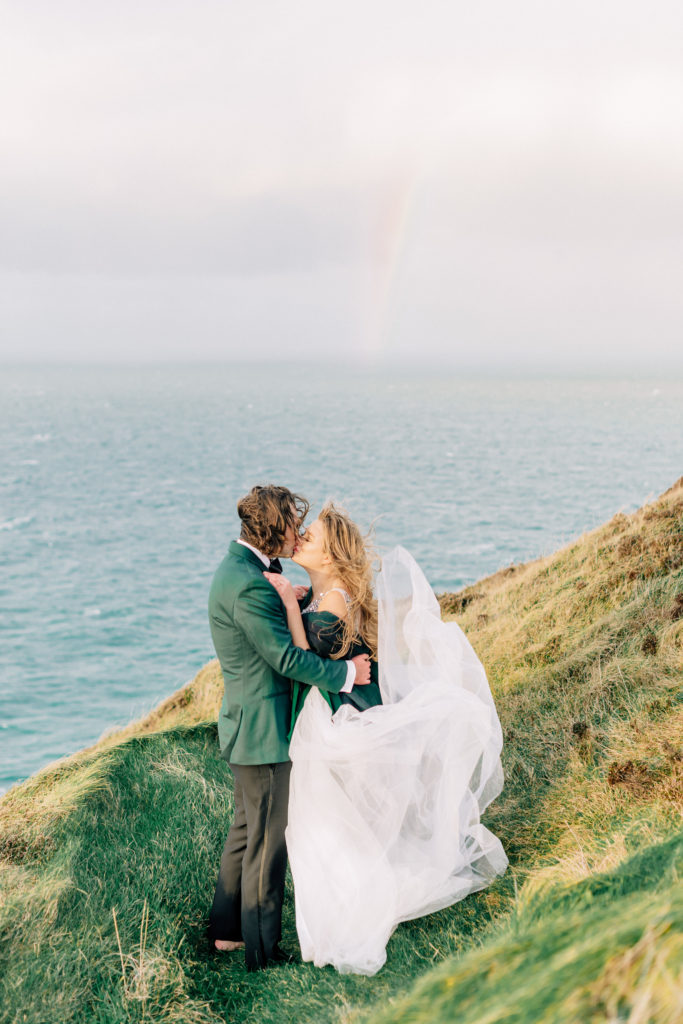 Getting Those Detailed Shots for Engagement Photos
Yes, get the detailed shots! They are so intimate and the little details are special to remember later down the line. Our photographer, Claire, was exceptional at capturing these and she set up all the poses. But like I said before, if you want certain images like an up close of your ring or you two kissing, be sure and let your photographer know! In my case, I wanted to make sure she captured my green velvet shoes!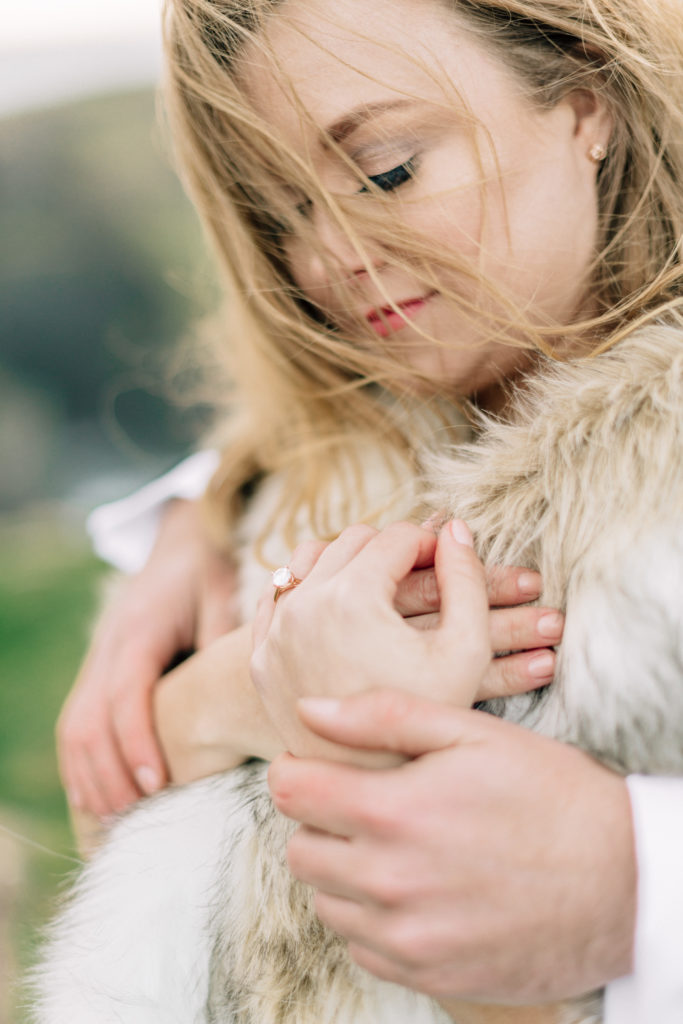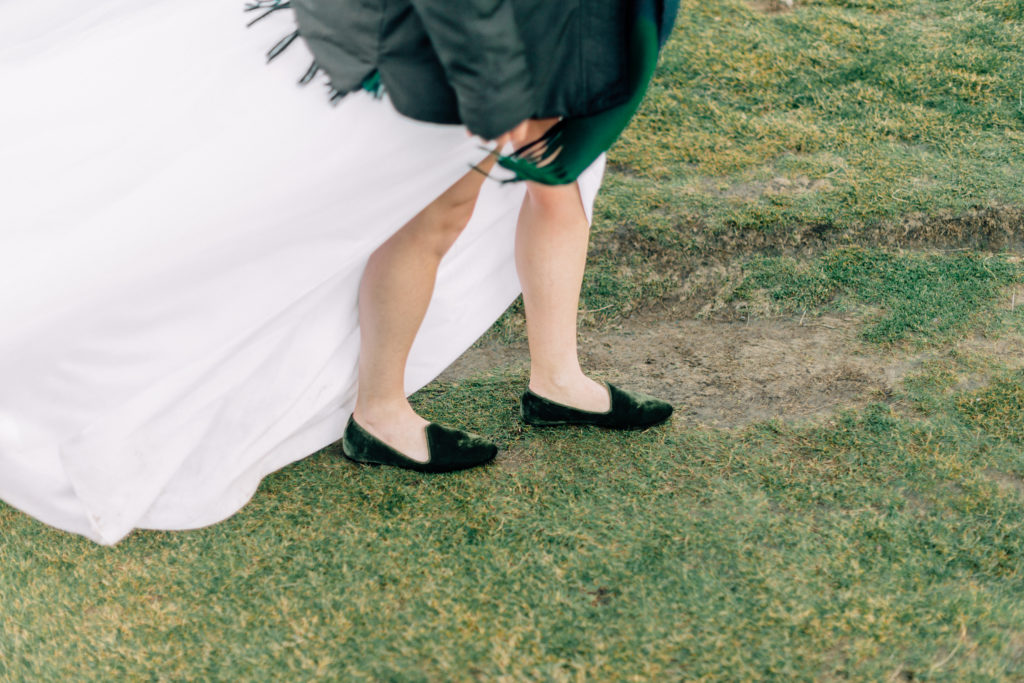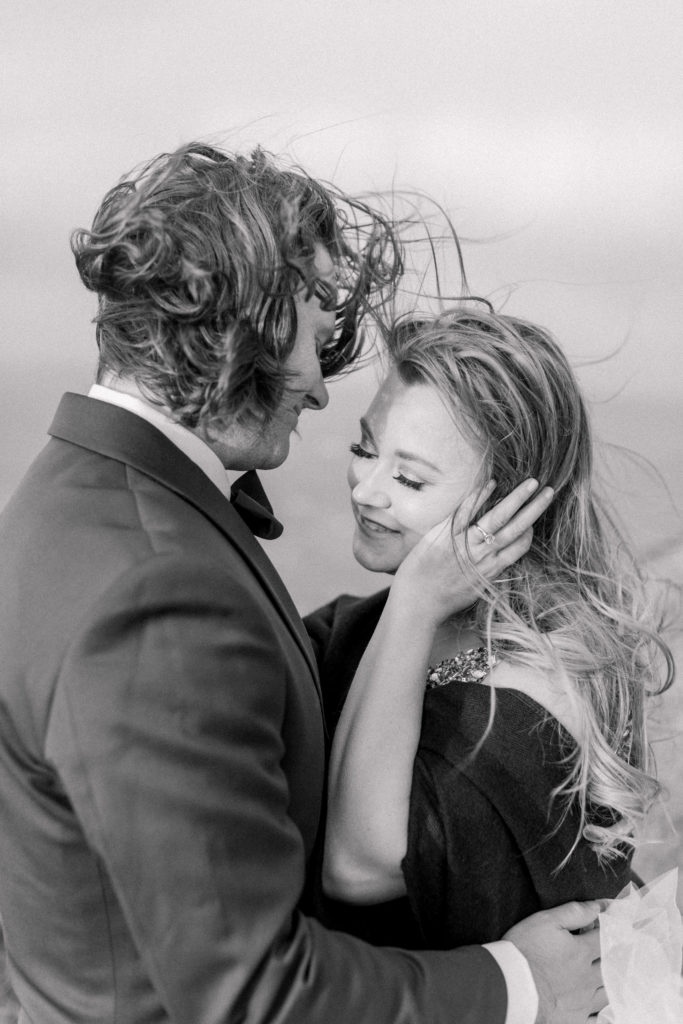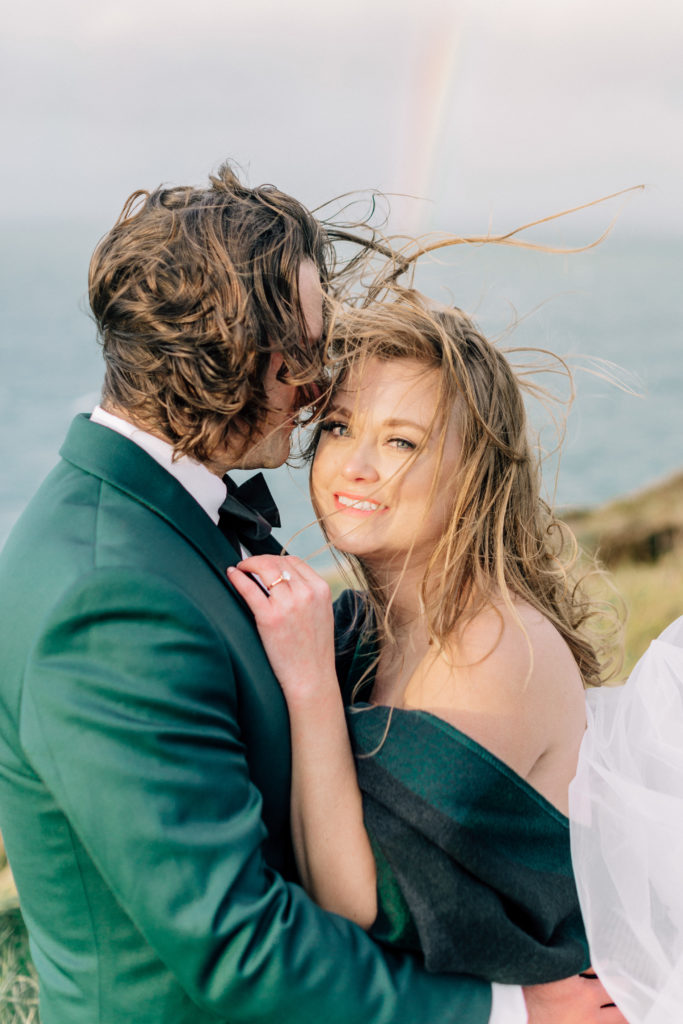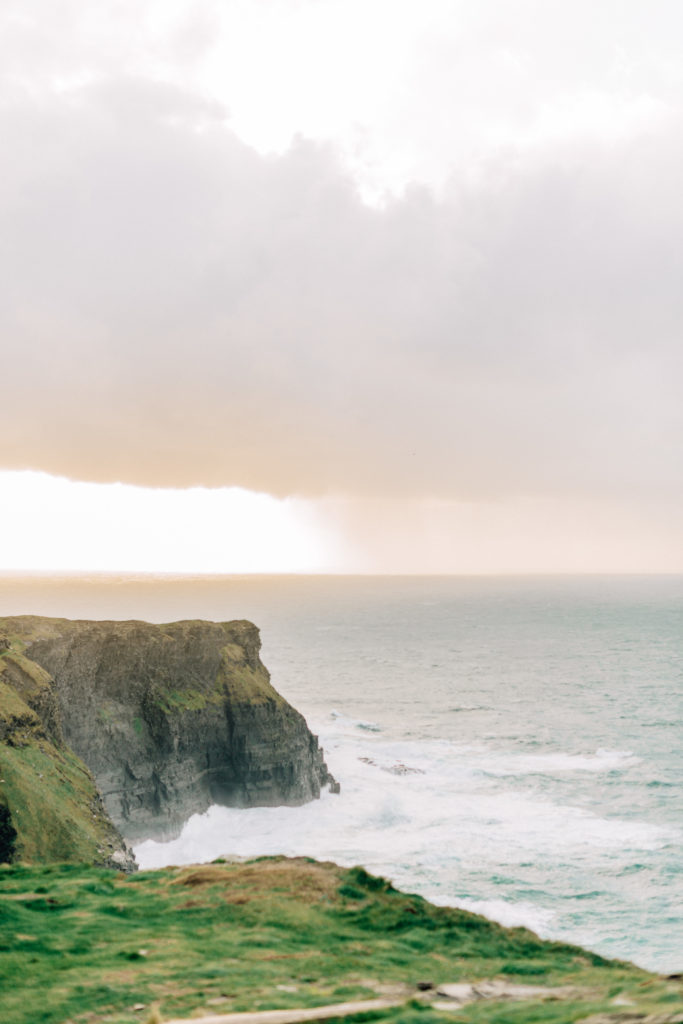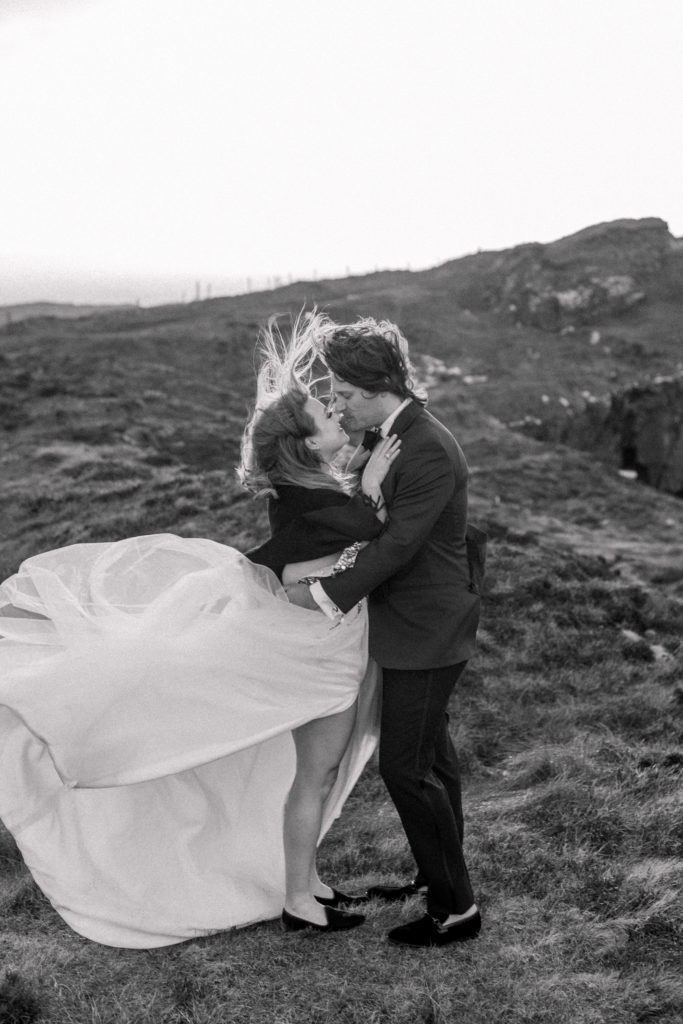 What Should I Wear in My Engagement Photos?
This totally depends on you! Your style, where you are shooting and what you both love as a couple should dictate what you wear. My biggest suggestion is to wear something that makes you feel beautiful. Maybe it's your favorite blue jeans or maybe it's a long dress that will whip in the wind. Anything goes! BMW chose this dark green tux and I loved it!
Also take into consideration where you will be shooting. Is it a mountain side? Is it the location of your first date or maybe your favorite restaurant or brewery? Just make sure that the location is ok with you shooting there ahead of time.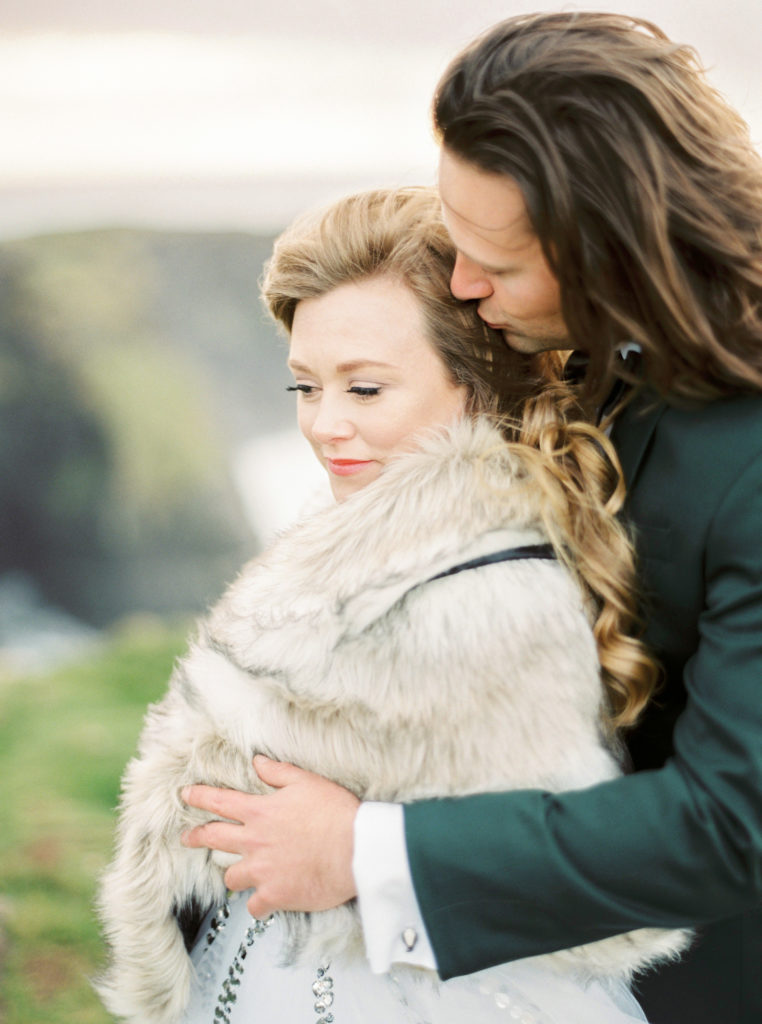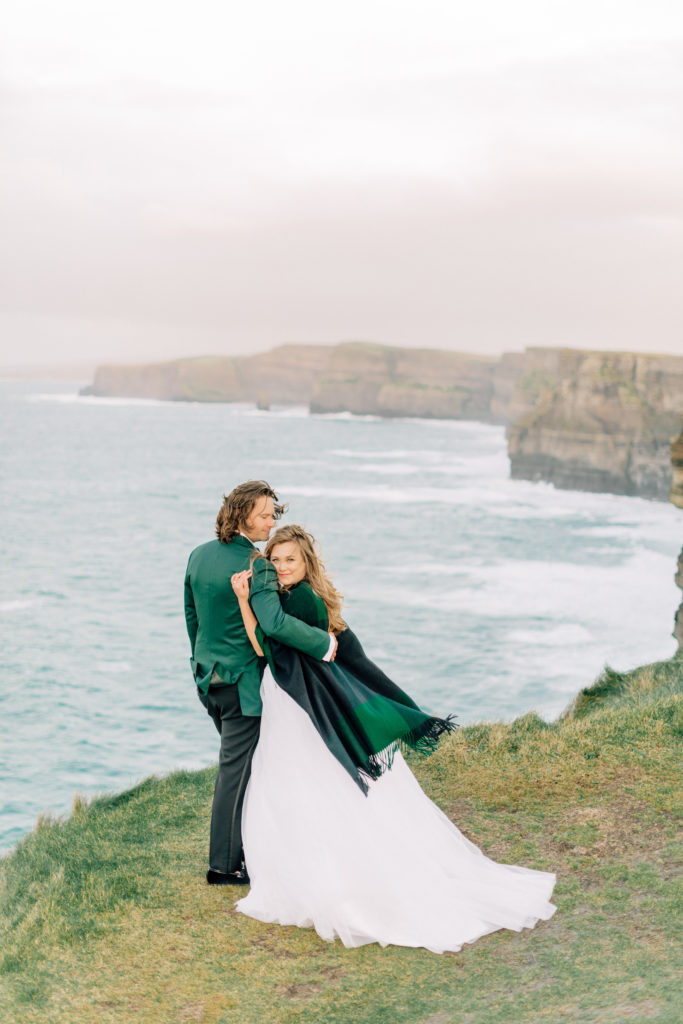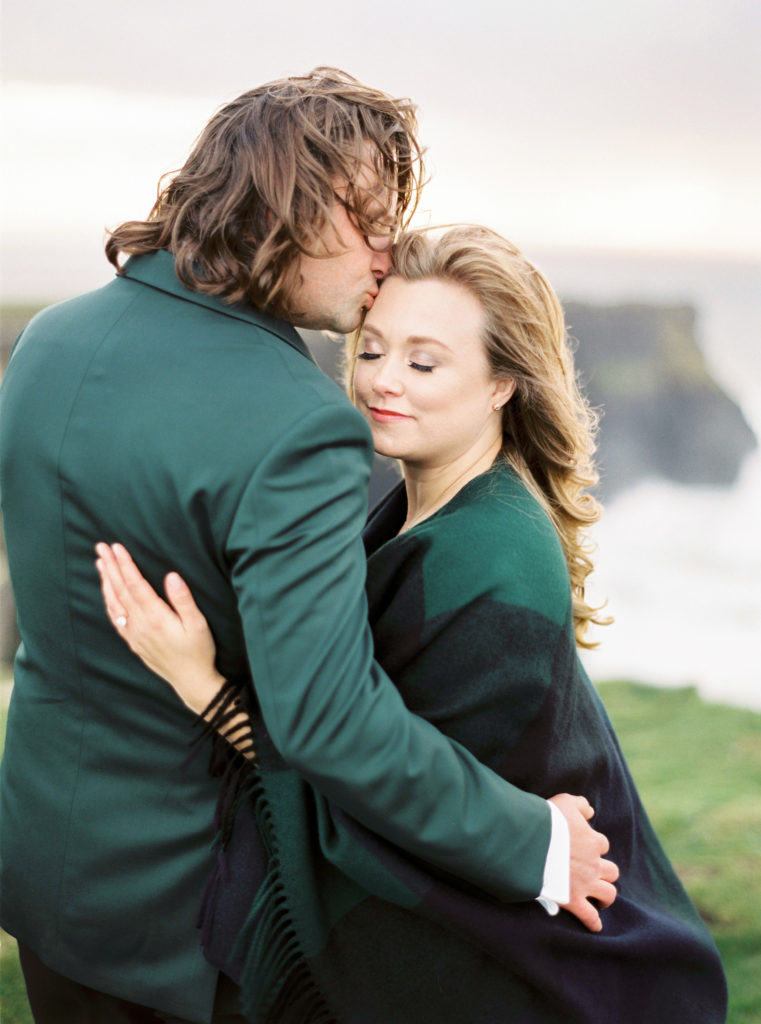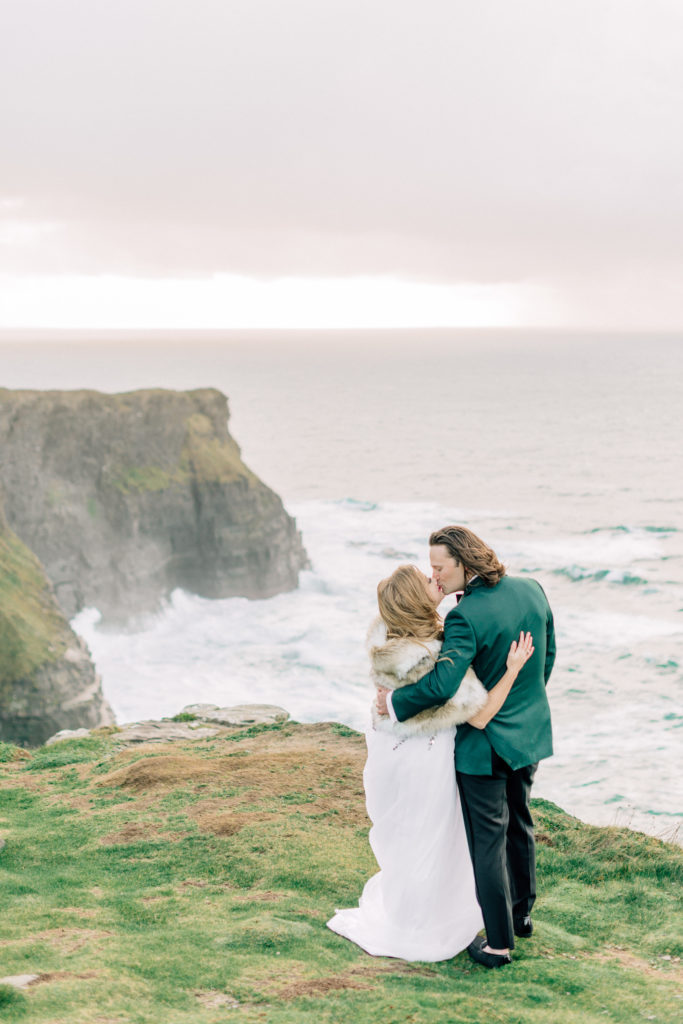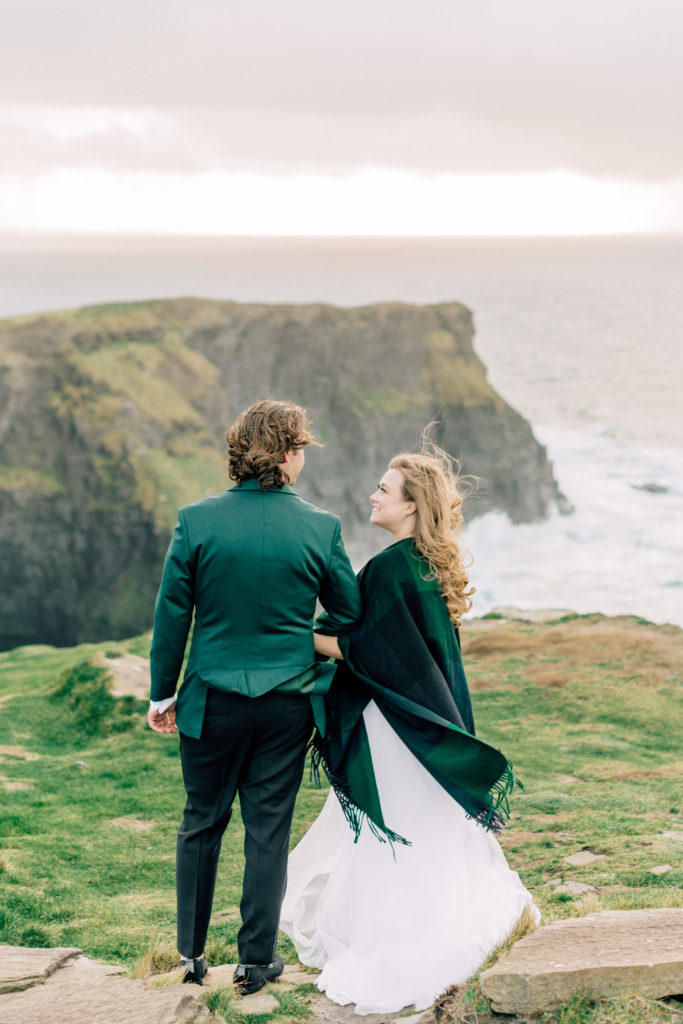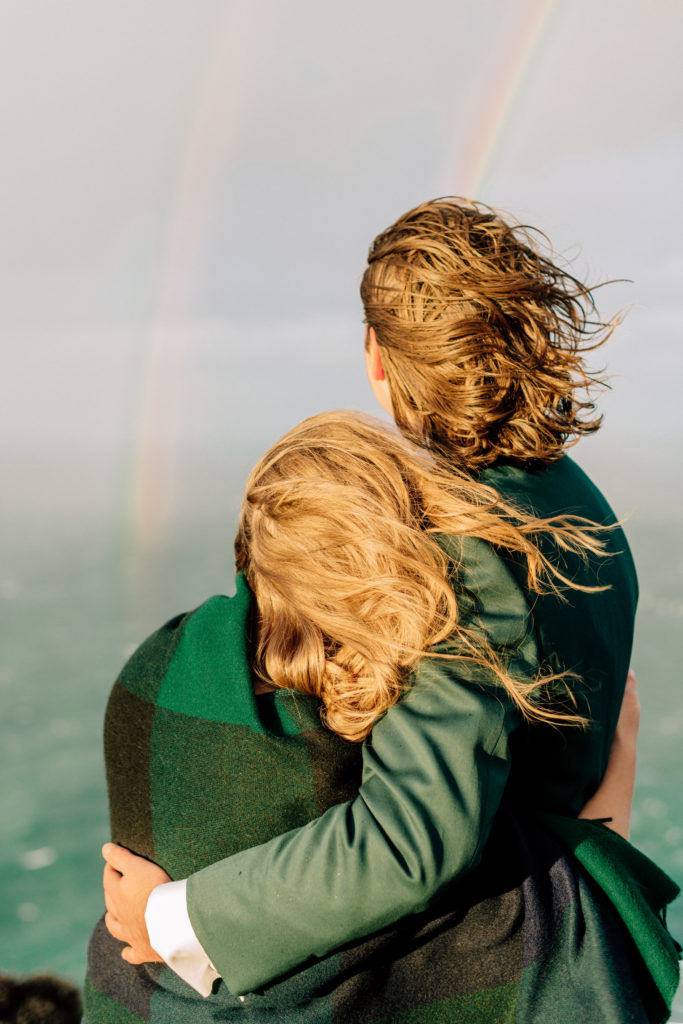 The Legend of The Irish Double Rainbow
I knew that rainbows were lucky, I just didn't know how lucky! After our shoot as we were driving back to the Manor, we spoke to our wedding planner as she was following up about how our day had went. We told her about the amazing double rainbow we were able to capture in our photos after the rain storm! Little did we know about what the Irish say about a double rainbow.
Once we pulled up to the Manor, all the staff were so warmly greeting us and helping us. They were helpful as they always are but something seemed a little extra special. I thought maybe it was because I was wearing a long white gown. But that next morning one of the staff congratulated me on twins! I was like WHAT! He told me that the Irish say if you see a double rainbow then that means you will have twins! Since we were shooting our engagement photos and would soon be having our wedding at the Manor, of course all the staff were a buzz about the possible future twins!
I got a big laugh about the whole thing and thought it was adorable. Needless to say, six months after our wedding, we found out we were expecting! We didn't plan it and I couldn't help but think in those very first few weeks whether or not the legend was true. Could I possibly be carrying twins!?! We found out a few weeks later that there was one healthy heart beat, not two, but we still think that is pretty lucky!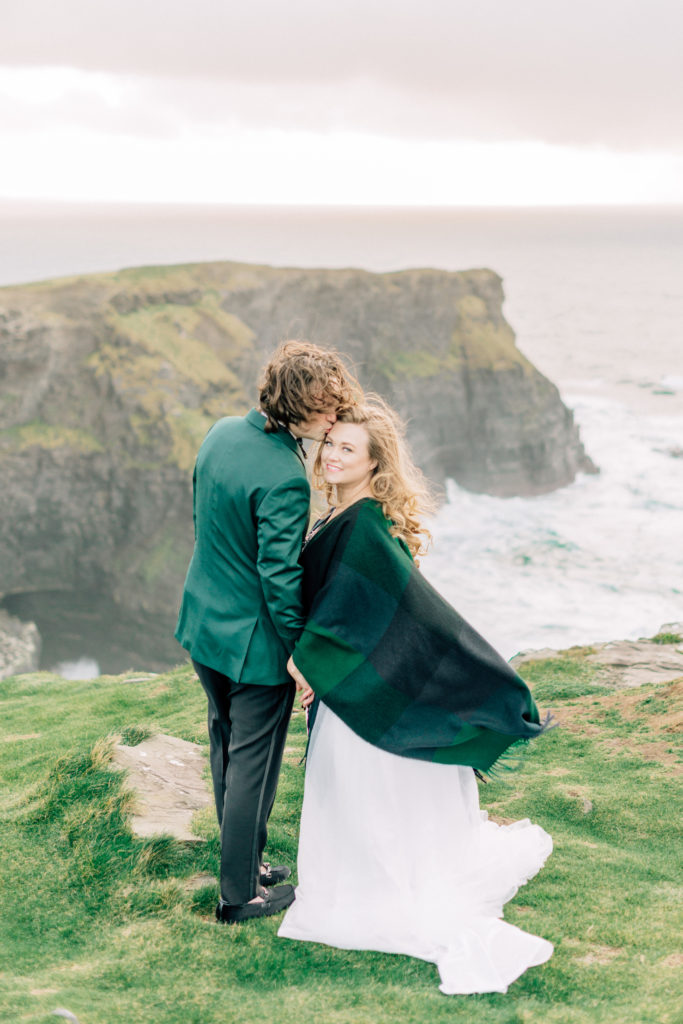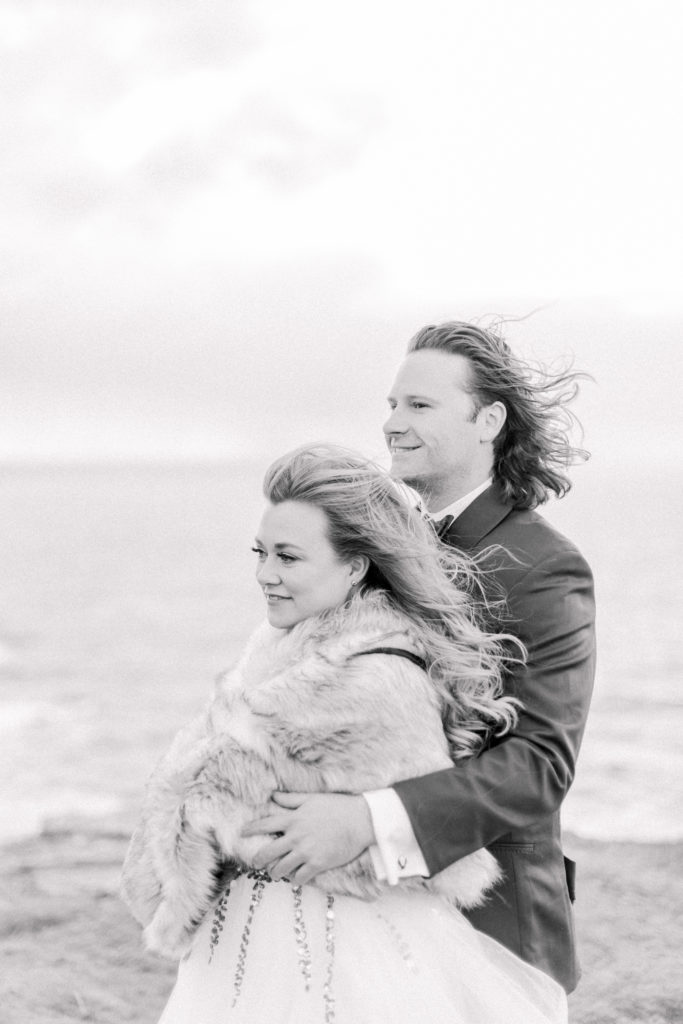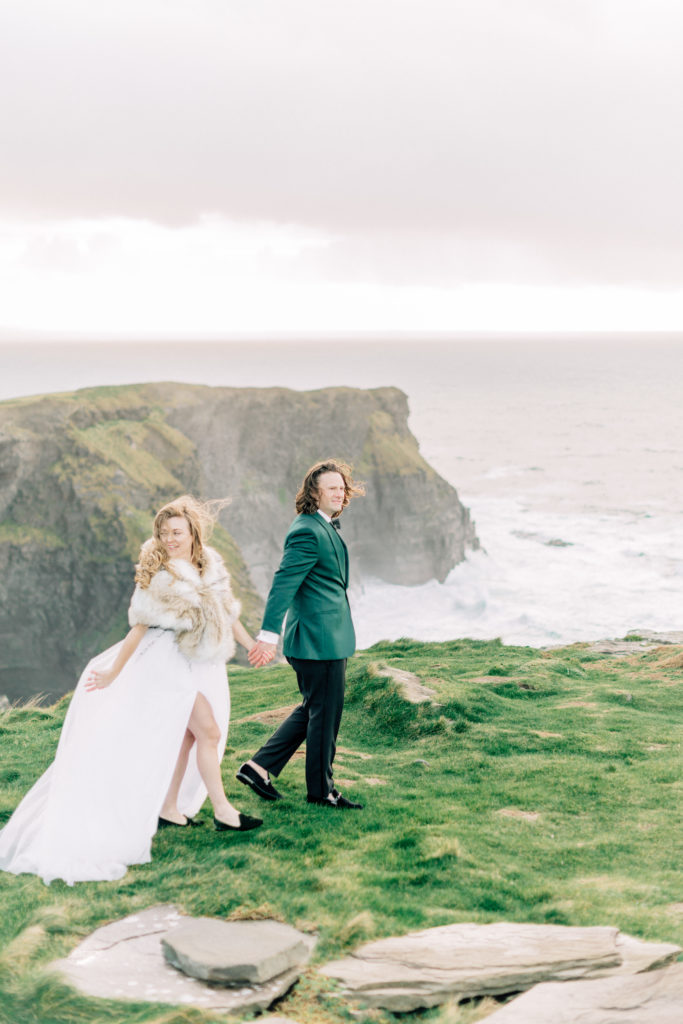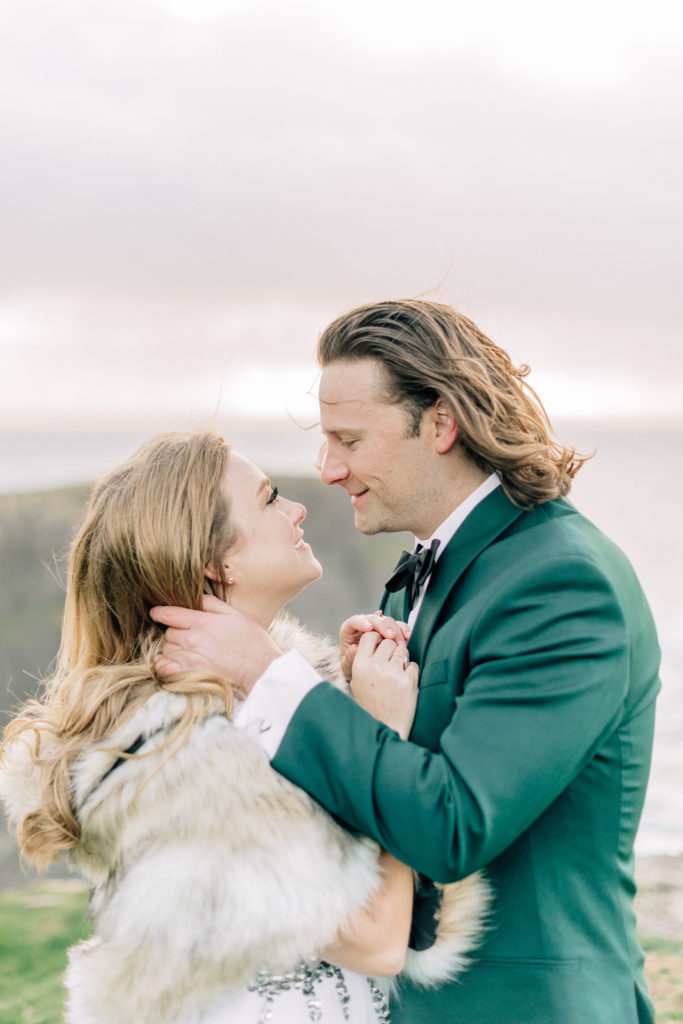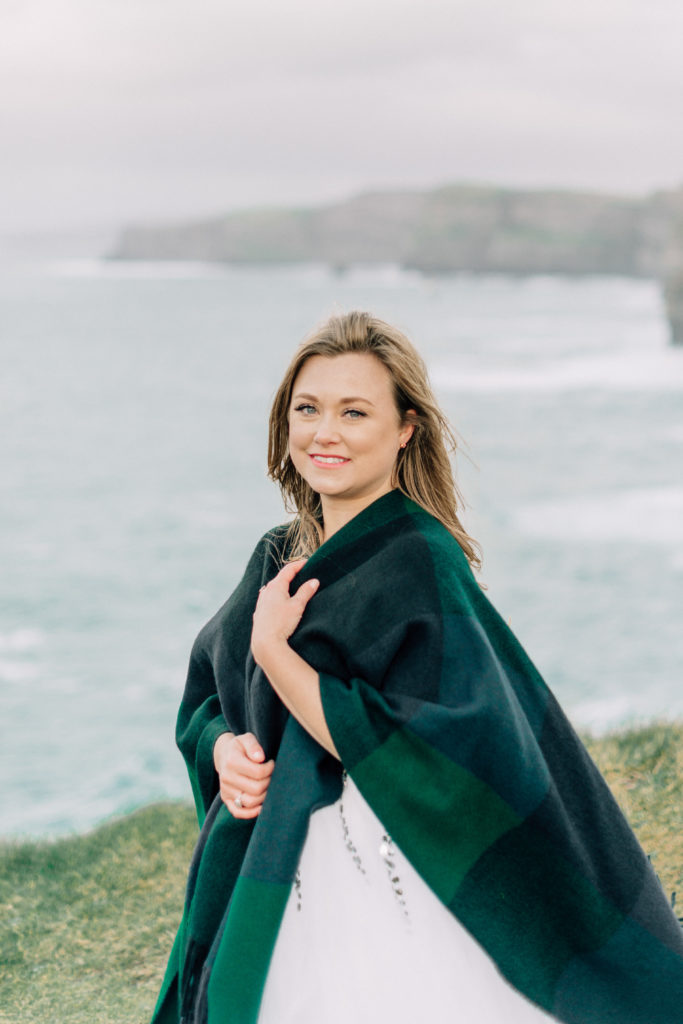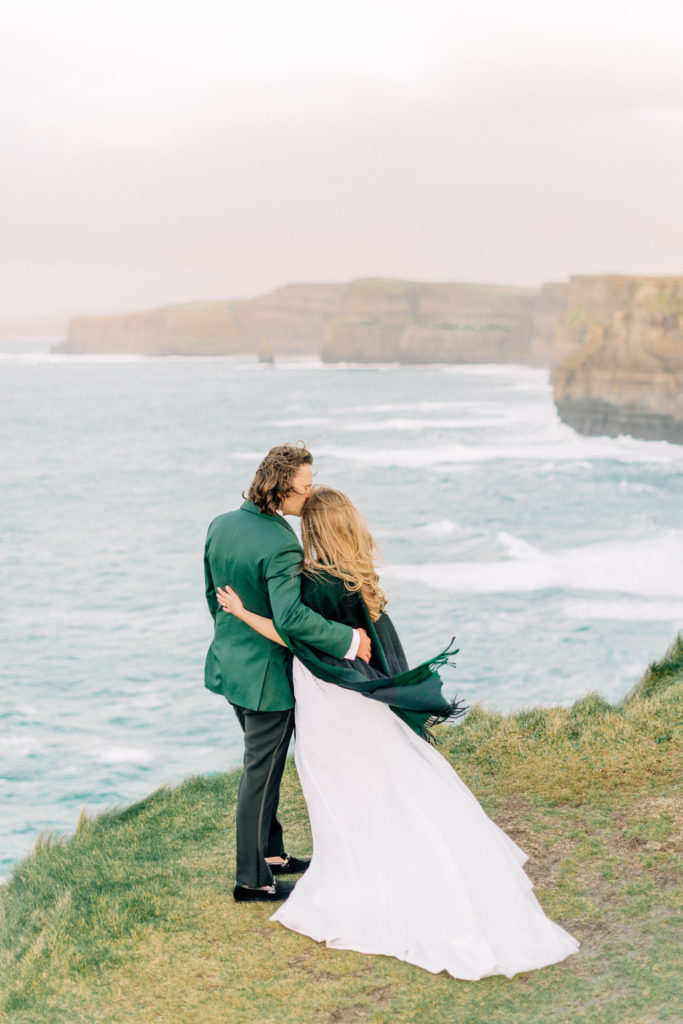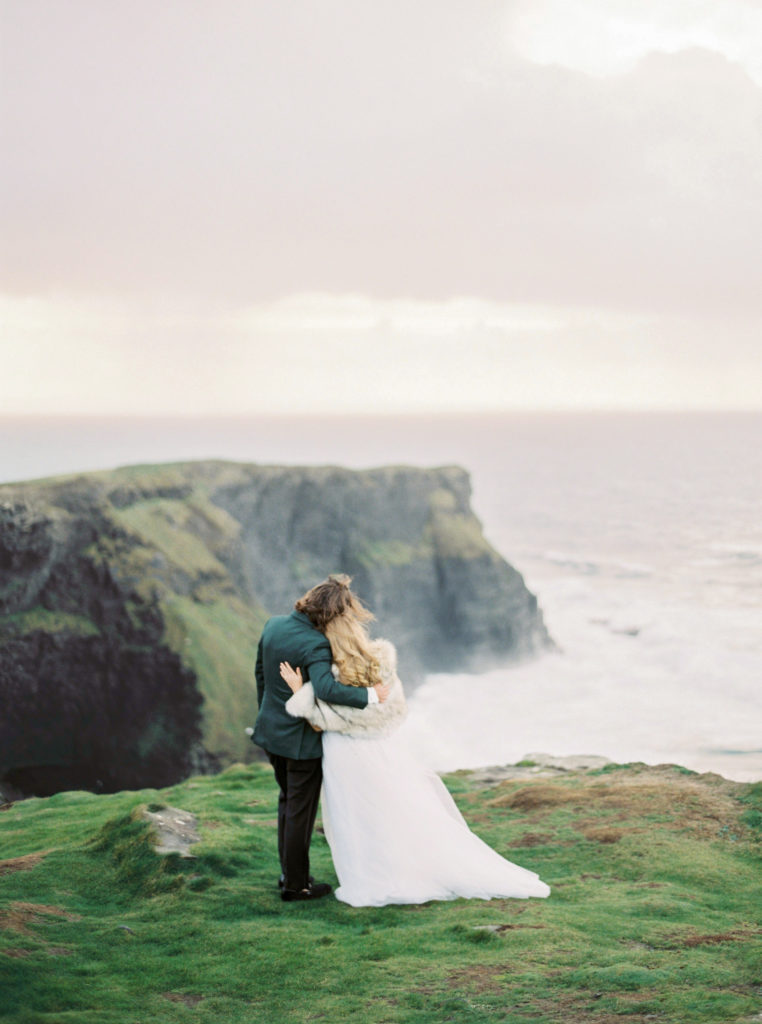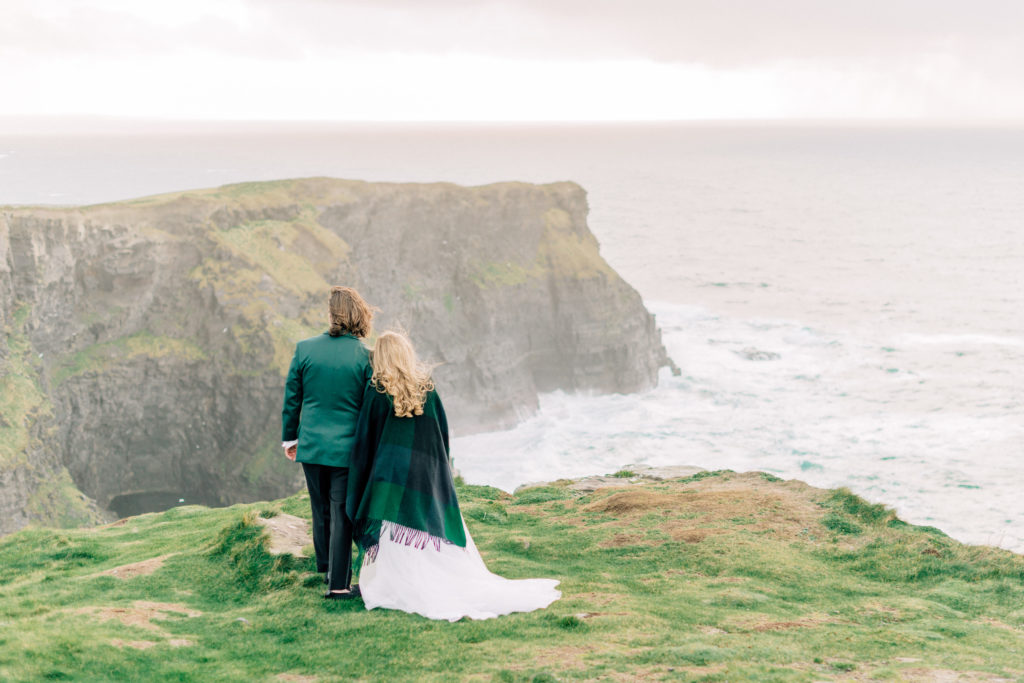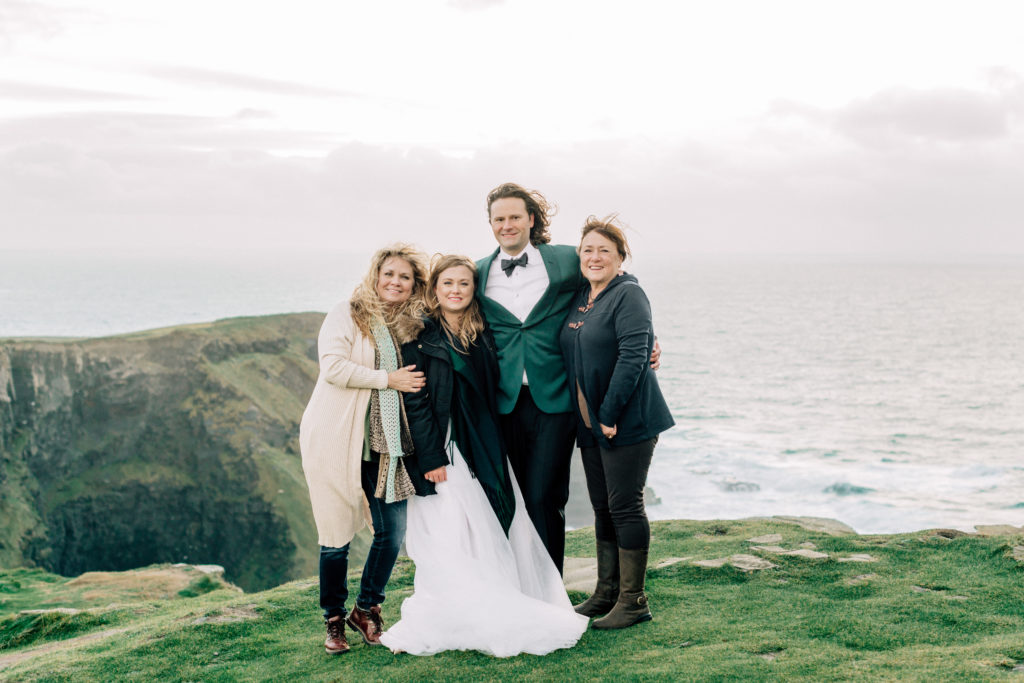 Our moms were such troopers during our photo shoot! They were there holding our coats and gloves and cheering us on as we trapezed the Cliffs in formal wear. Thanks moms!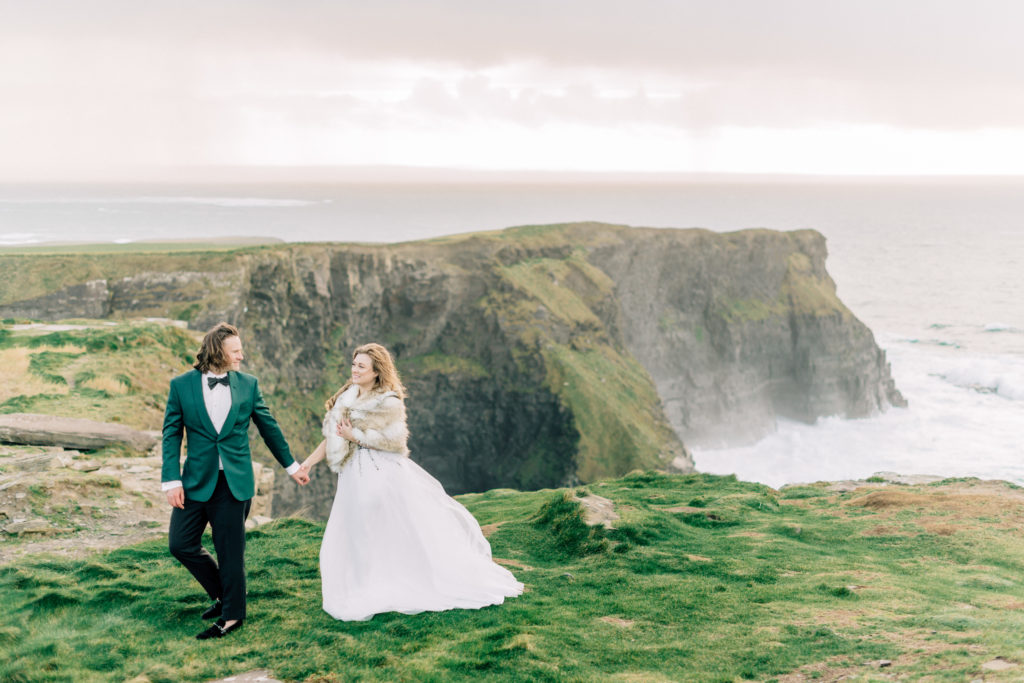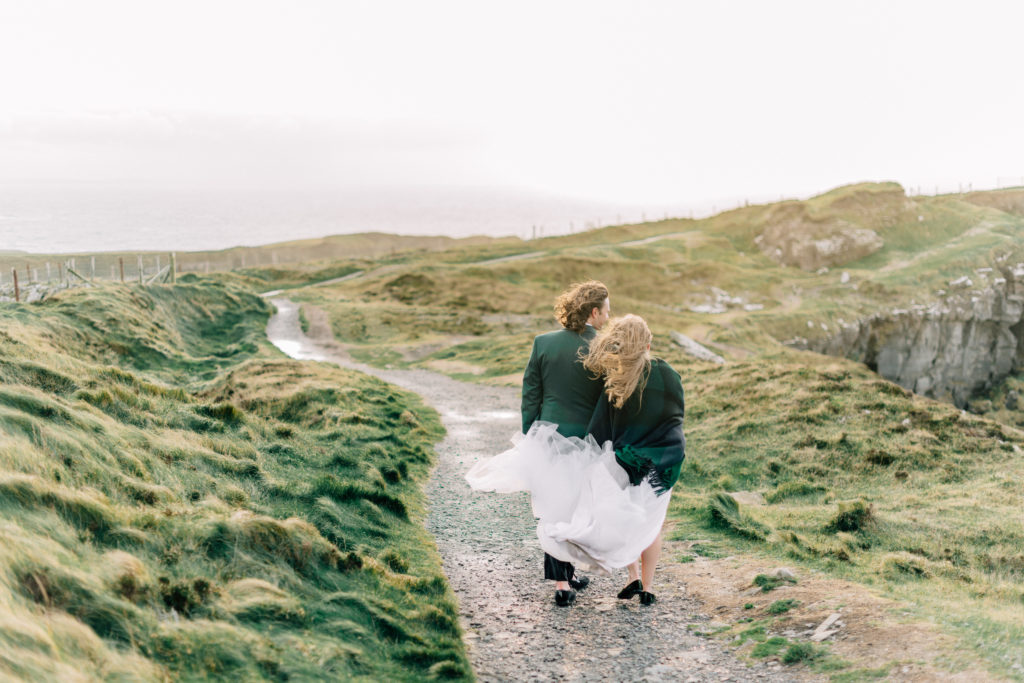 Fairytale Engagement Photos
These were some of the last shots we took as we walked back towards the car. I still can't get over those pink skies and the flowing, silky grass. It still feels like a fairy tale to me!