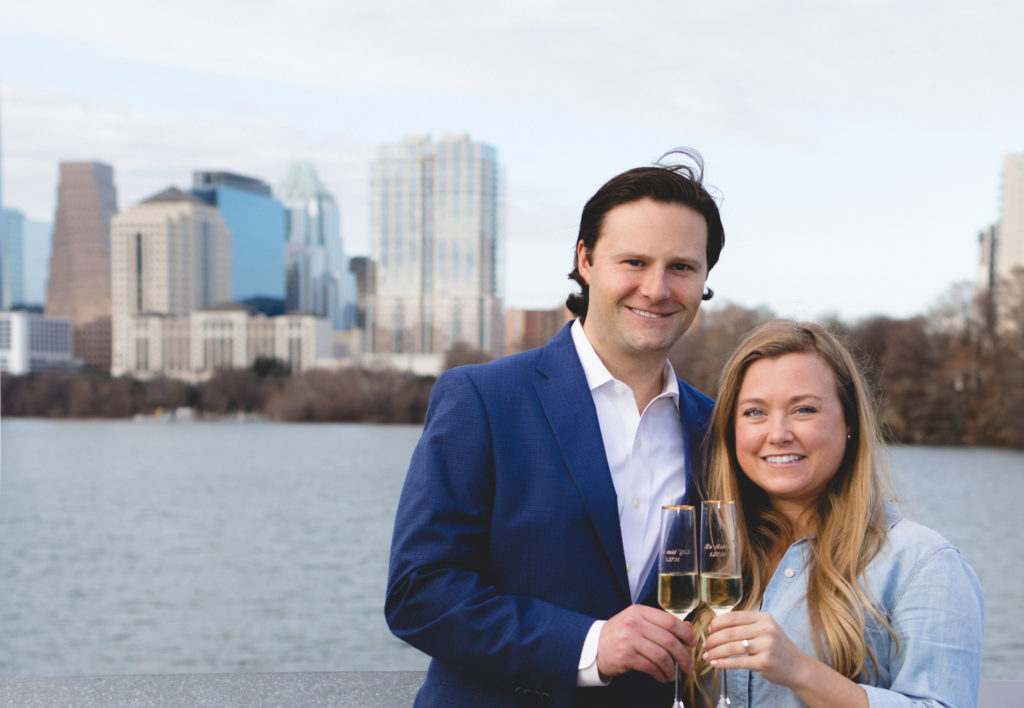 Just in time for Valentine's Day I am finally getting our engagement story written up! I couldn't have planned it better myself! BMW did such an amazing job getting everything together and made it such a wonderful day that we will always remember. He really knew everything I would have wanted even though I didn't even know what I wanted! On top of all that it was a complete surprise to me! 
Here is the whole story of our surprise engagement!
BMW had one of my closest friends, JJ, who is a photographer and often takes photos for me, tell me she wanted to take some photos of me with Mimi for a project. So naturally, I totally agreed! He had told he would be golfing all afternoon so I was free! JJ picked Mimi and me up at my house and hadn't give me any details about the shoot so I just threw on some jeans haha. We went down to the Lady Bird Lake Boardwalk and were setting up to take photos with Mimi and we had to wait on a bike tour to finish up in the spot JJ and BMW had picked out earlier that day when he was supposedly golfing.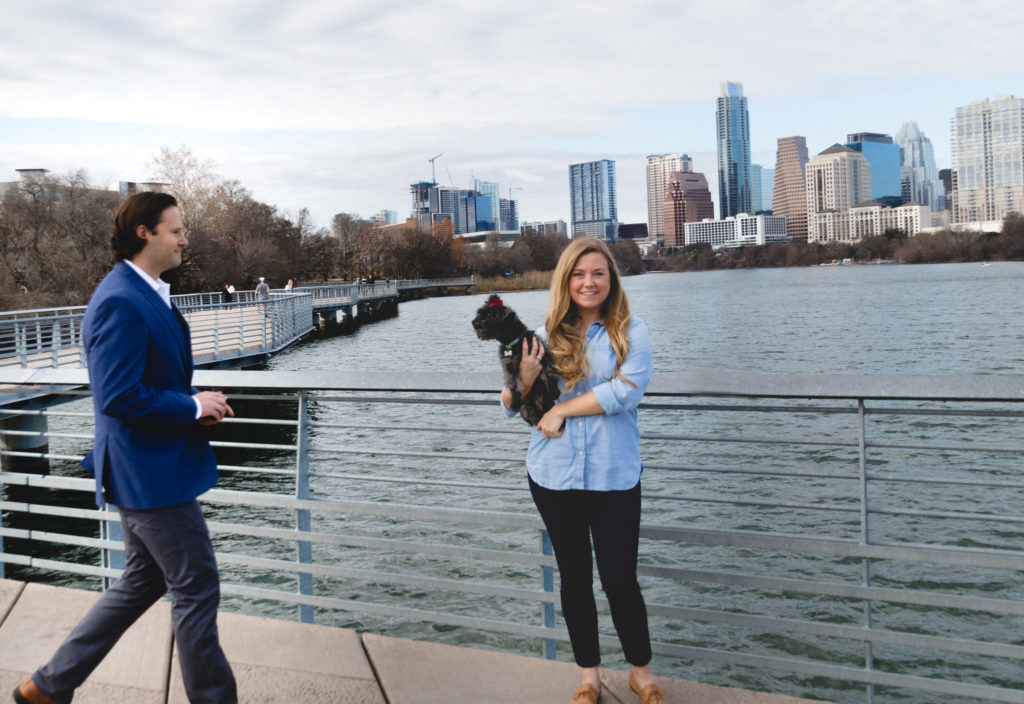 In this photo, I obviously had no idea what was about to happen! Mimi actually spotted BMW walking up before I did! It was pretty windy that day and I had turned my head to get the hair out of my face and BMW thought I had seen him and got nervous but obviously I had not seen him at all.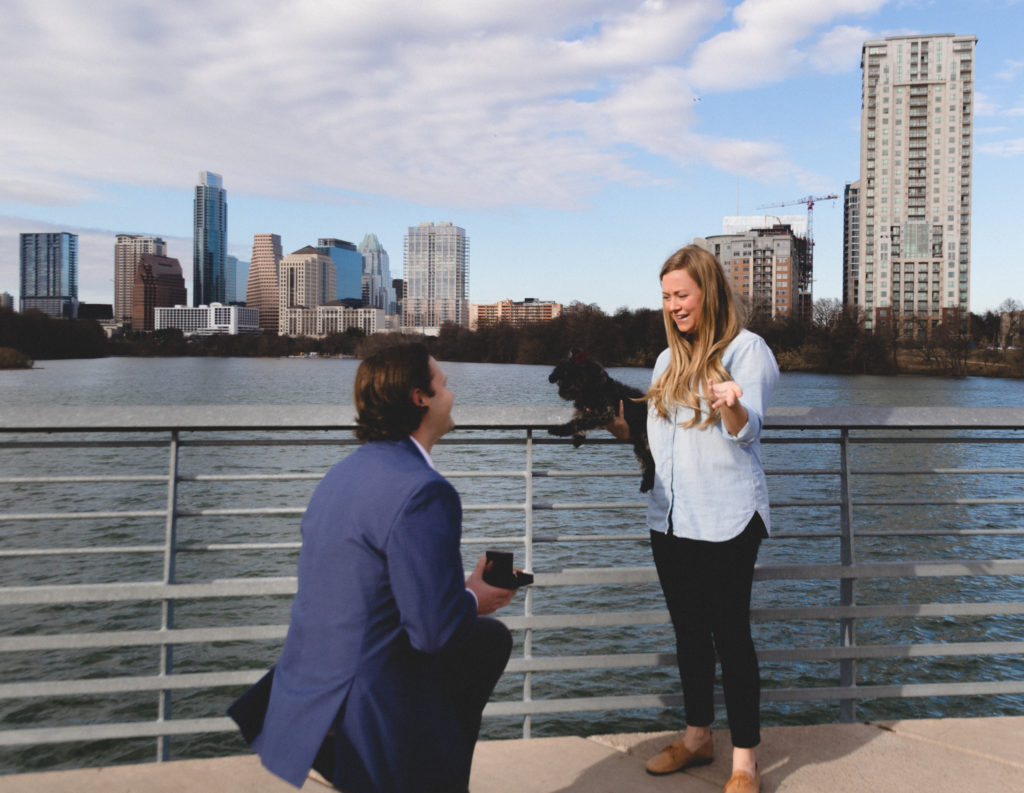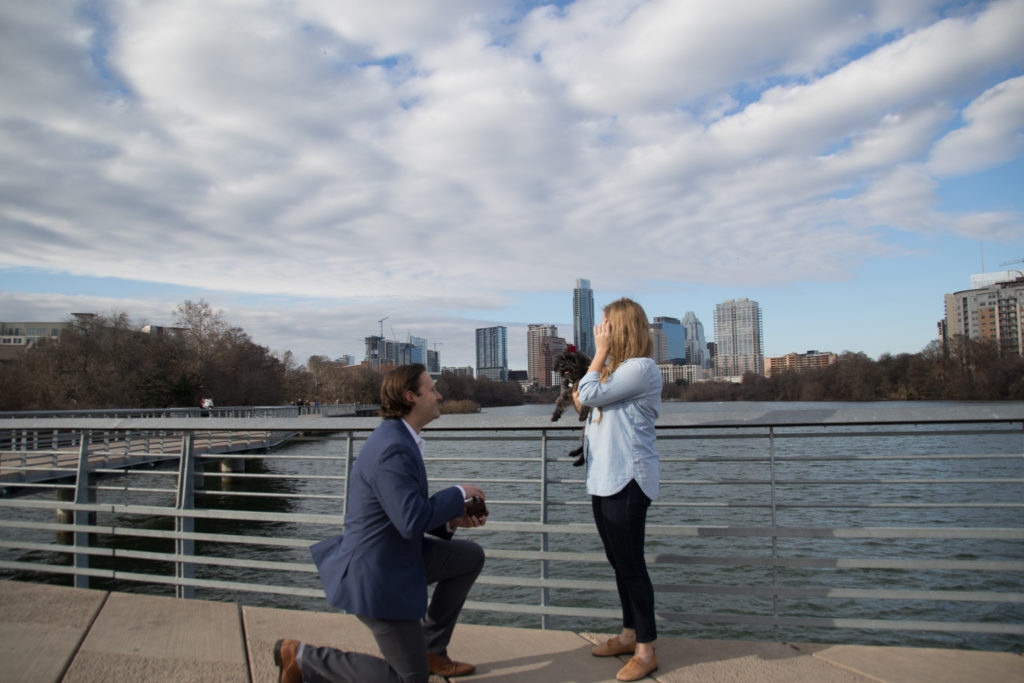 He got down on one knee and proposed! He asked me to marry him and I screamed "of course!" We had talked about getting engaged in the last few months and had even been looking at rings on Pinterest but I had no idea that he had even bought the ring yet! Needless to say, I couldn't believe he was there and proposing!
Then my mom, his mom and my dad and his girlfriend all came up walking with engraved champagne flutes that BMW's mom had gotten for us and we all had a cheers! I had no idea my family was in town! It was so thoughtful of BMW to include them all on our special day and he knew how much it would mean to me.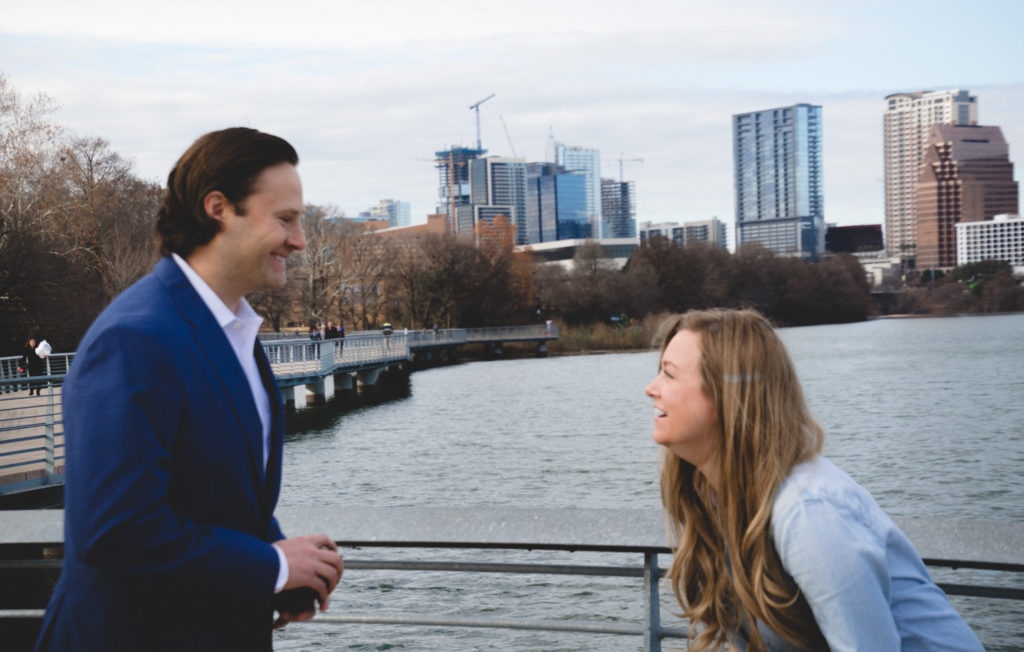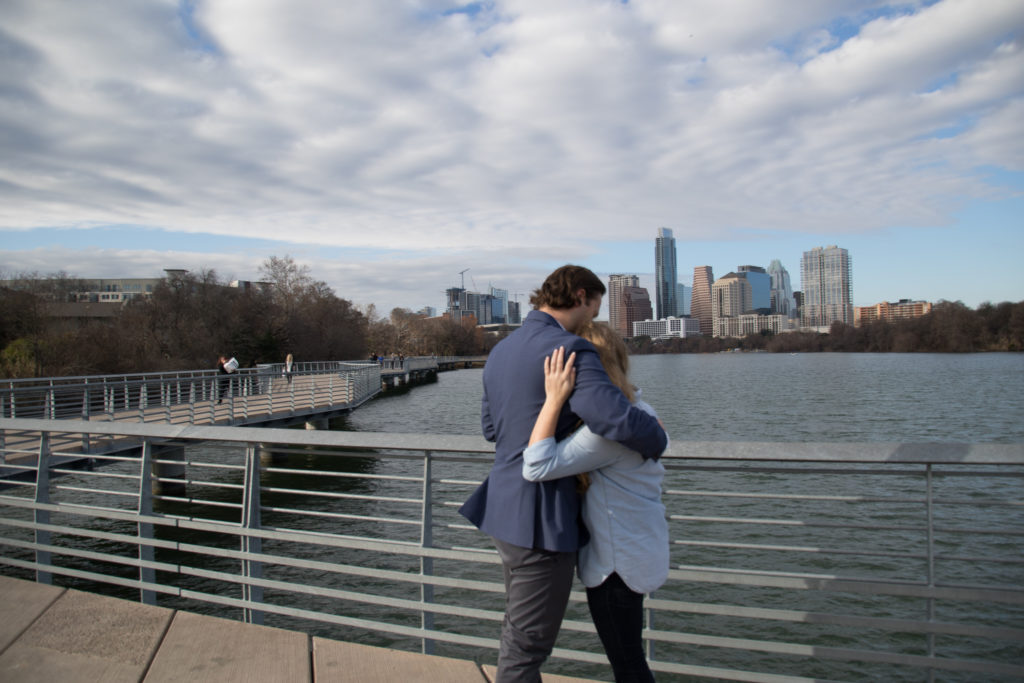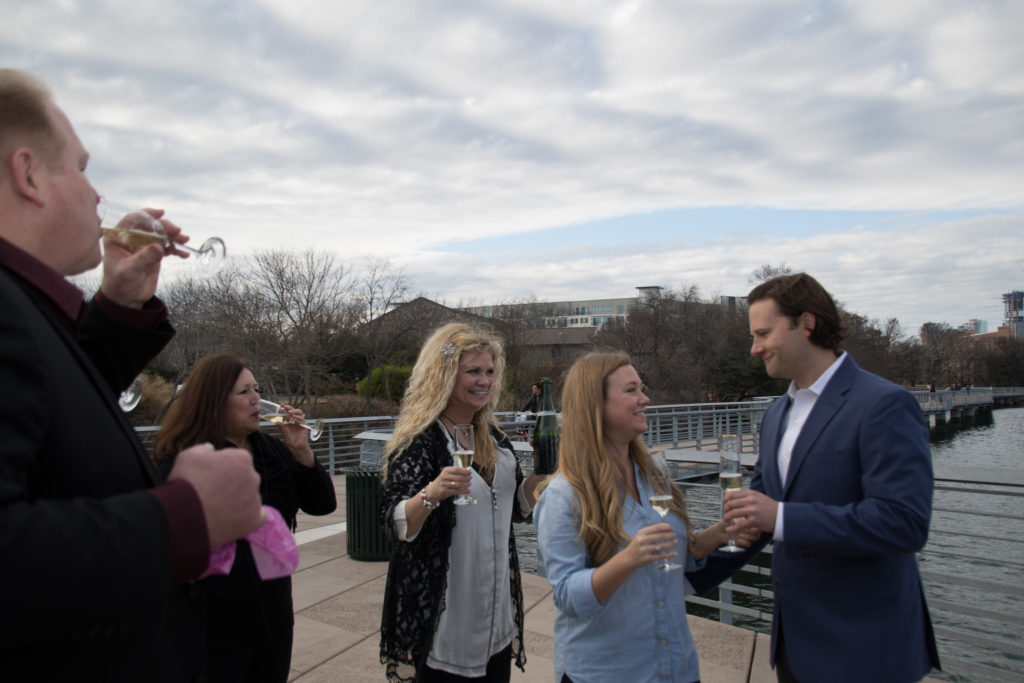 Next thing I knew he told me we were going to dinner at Launderette where BMW first told me he loved me over birthday cake ice cream sandwiches years ago! When he told me we were going to dinner, I wondered why our parents weren't coming with us but BMW insisted he wanted a special dinner just the two of us. He had gone to Launderette earlier that week and reserved the table we sat at the night he told me he loved me! The whole restaurant crew knew and treated us to lots of bubbles and bites and took tons of photos which was so thoughtful.
BMW tried to keep me off my phone but I just HAD to tell some of my girlfriends and then I really wanted to get everyone together for drinks after dinner so we could celebrate! We finished up dinner and those Birthday Cake Ice Cream sandwiches and headed back home to meet up with my parents.
Little did I know that while we were at dinner, our parents had decorated the whole house for a surprise party! The second we walked in the door at home all my closest friends yelled "surprise!!!" They were all there!! Even the ones I had texted at dinner haha and they all totally played it cool and didn't giveaway the surprise! Even our friends from Dallas who had introduced us over seven years ago came in town! I had actually Facetimed her while we were at dinner to tell her and somehow she didn't give it away!
Here is the video BMW's mom took of me being completely overwhelmed and so giddy with excitement of having all our friends there to celebrate with us! BMW's mom really helped coordinate the decor and made the cutest chocolate dipped strawberries and check out the cheese plate! It was all completed with my favorite red velvet cake! Really above and beyond!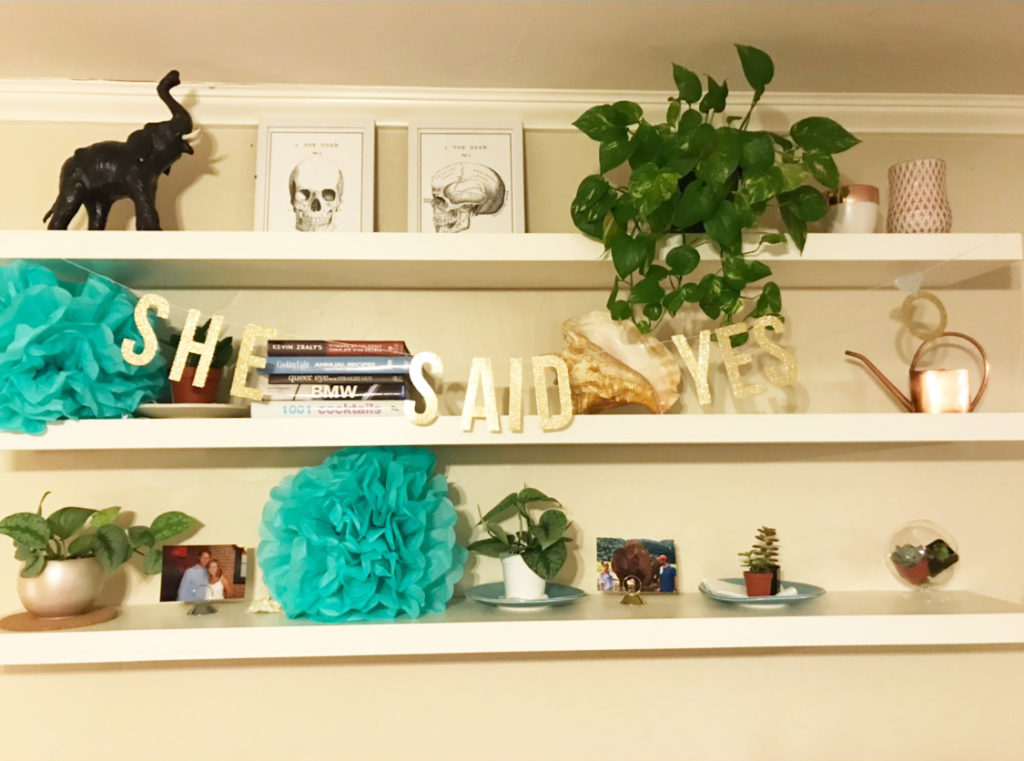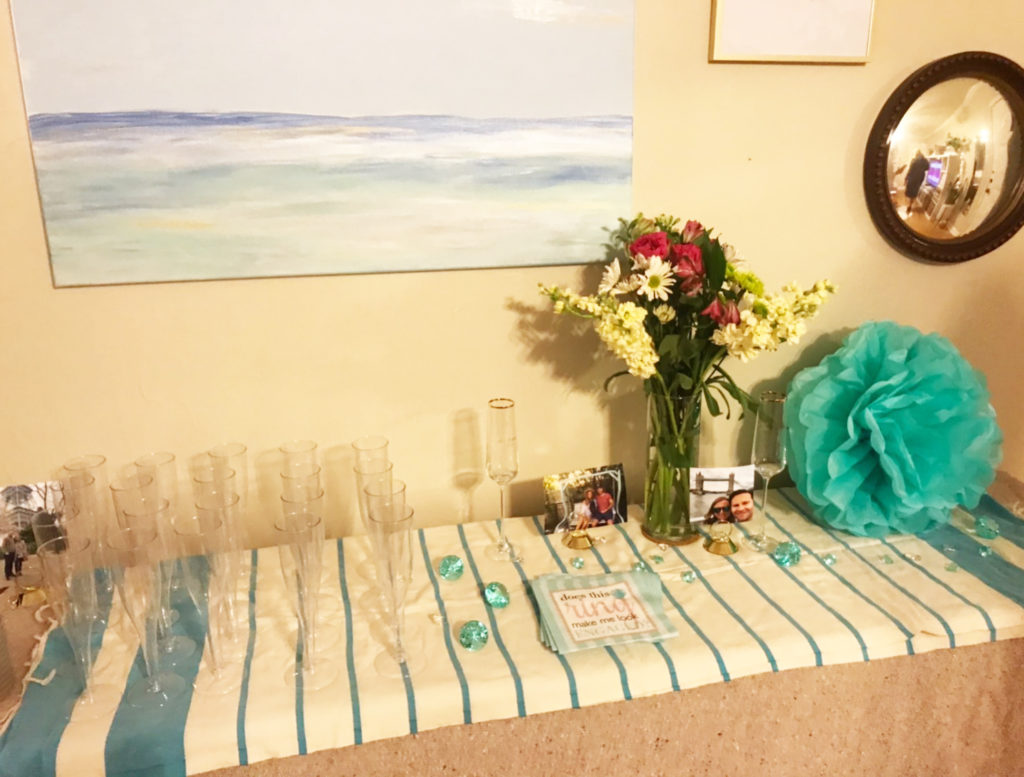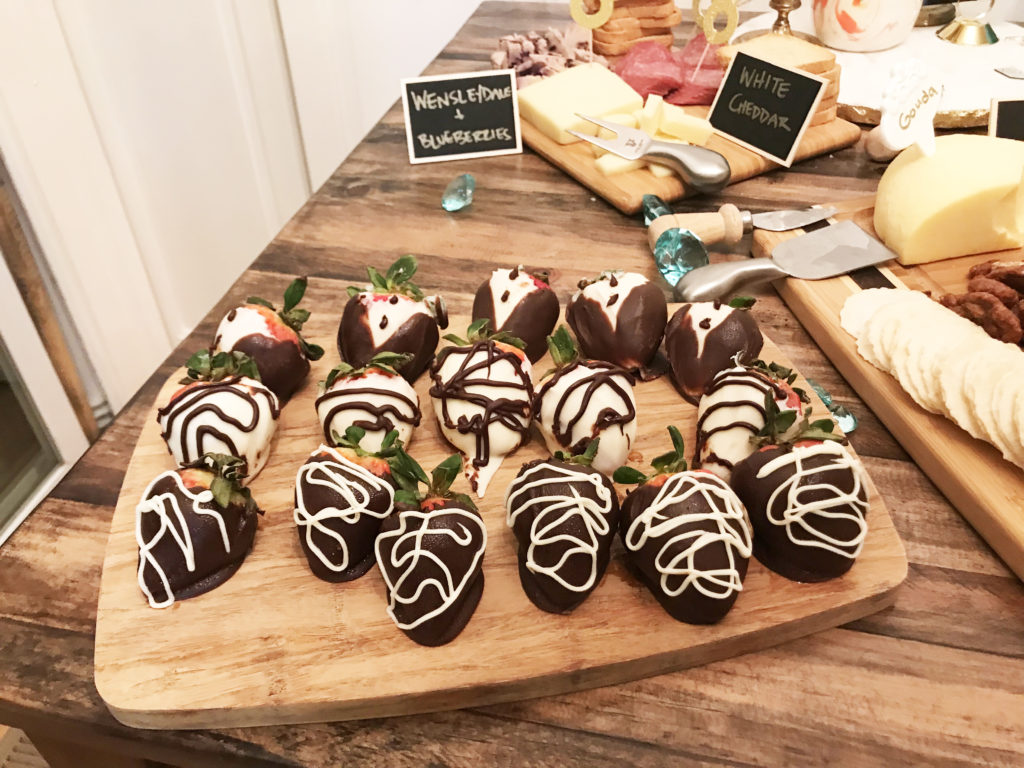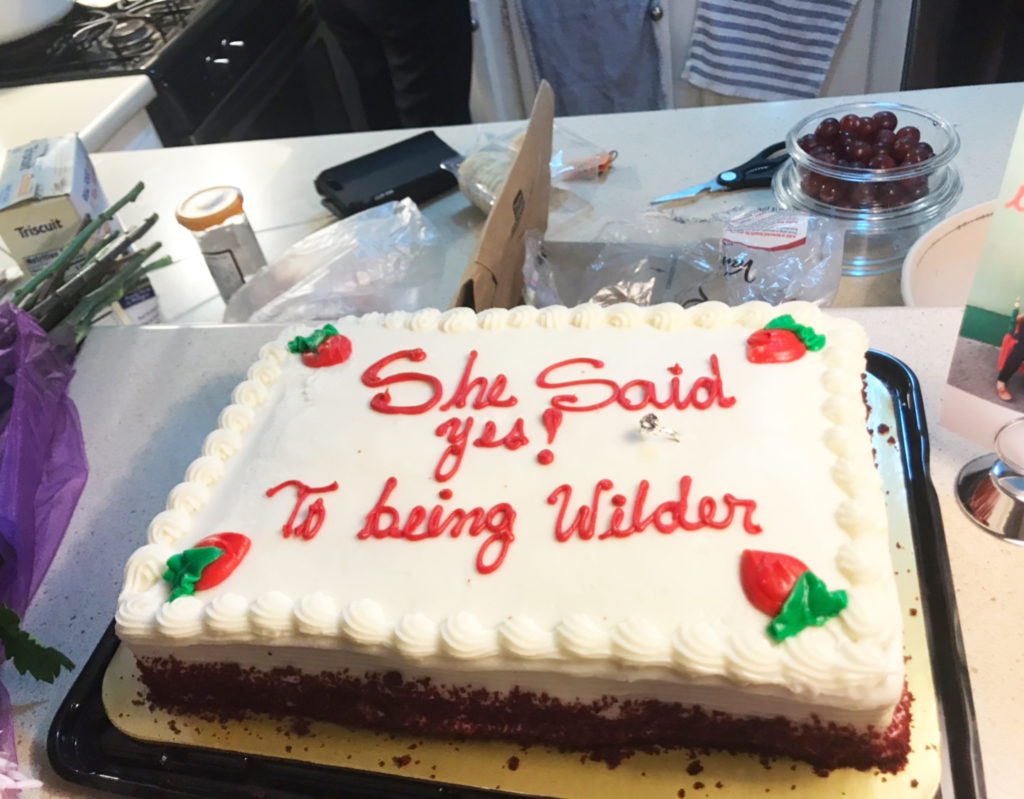 But the surprises didn't stop there. He had booked us a room at the Hotel Van Zandt so that Mimi could stay with us. He knew I wouldn't want to leave our pup behind on such a special night. Then we wrapped up the weekend with brunch with our parents at my favorite restaurant Elizabeth Street Cafe the next morning.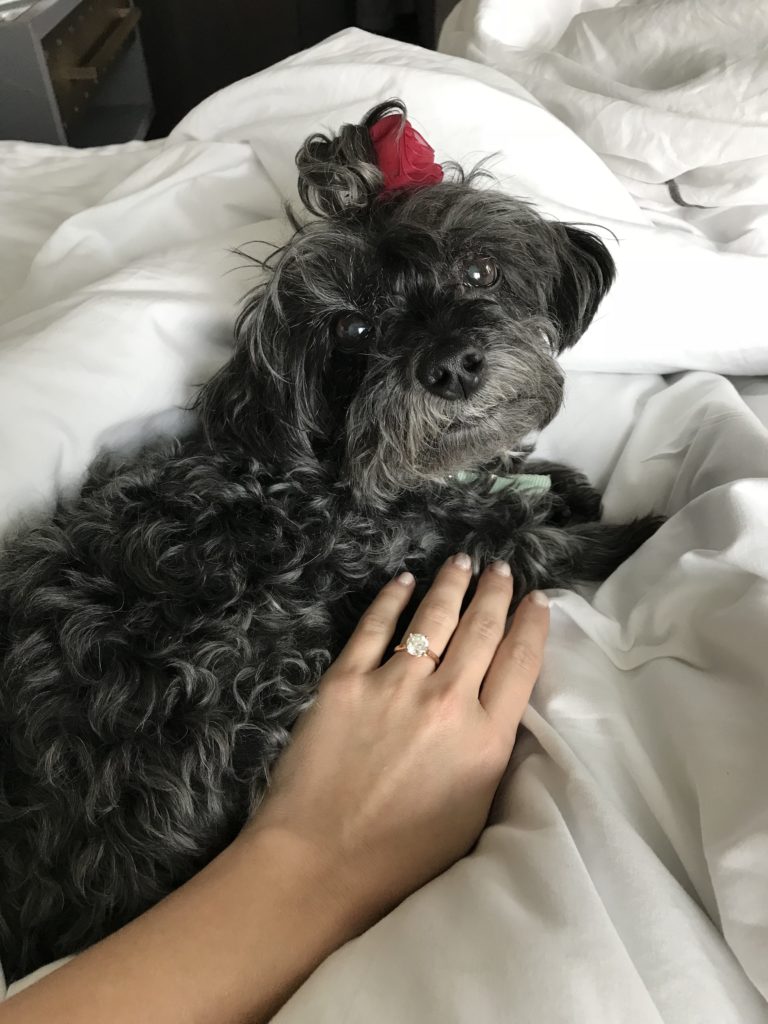 I feel so thankful for all the planning and thought BMW, our parents and our friends put into making this such a special day. I really could not have planned it better myself and I am excited for all that is to come.