Sharing all about How To Organize A Pantry With Deep Cabinets! I got some professional help to make the most of my pantry space!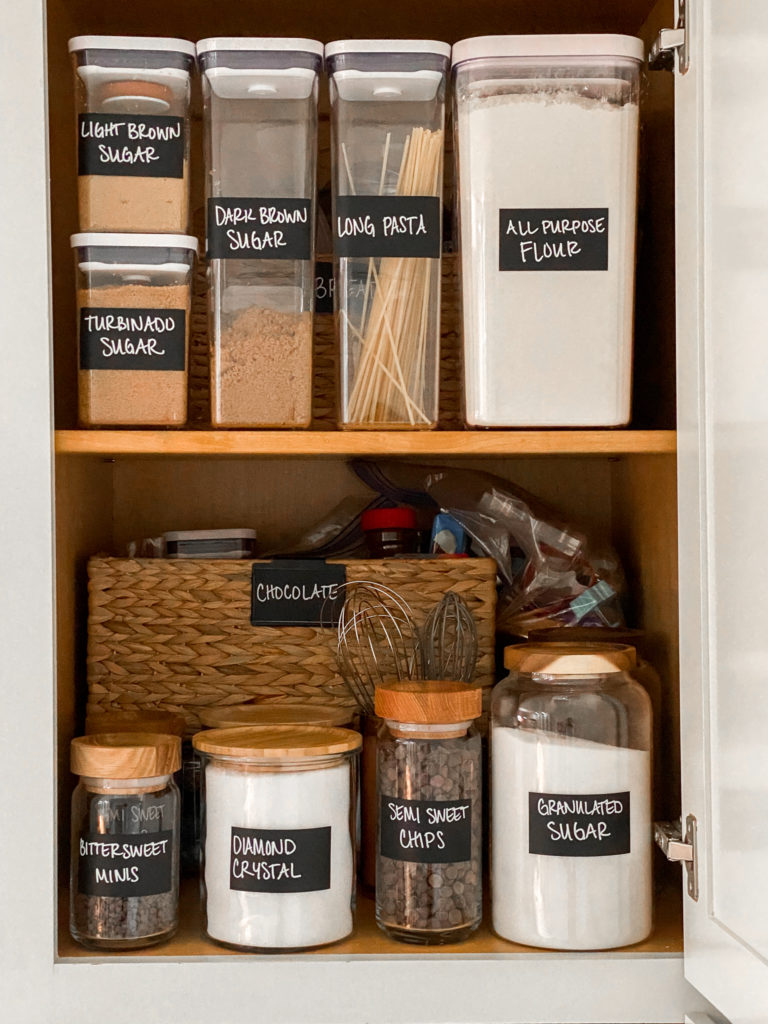 I am so excited to share these pantry before and afters with y'all! They are quite dramatic if I do say so myself. I've always dreamed of having a "blog worthy" pantry but honestly didn't think it would be a reality in our house because well there was no proper pantry to speak of. Instead we have this large cabinet with big, deep shelves. These shelves can store lots of stuff but it wasn't very functional. I received some professional help from Diana who started Room to Thrive and she made our pantry beautiful and functional!
Diana Horn of Room to Thrive is a longtime follower of Natalie Paramore and offered her services to help with this challenging pantry. As always, all opinions are 100% my own and honest. This post contains affiliate links. If you purchase a product using these links I may earn a few pennies. Thanks for keeping this free blog going!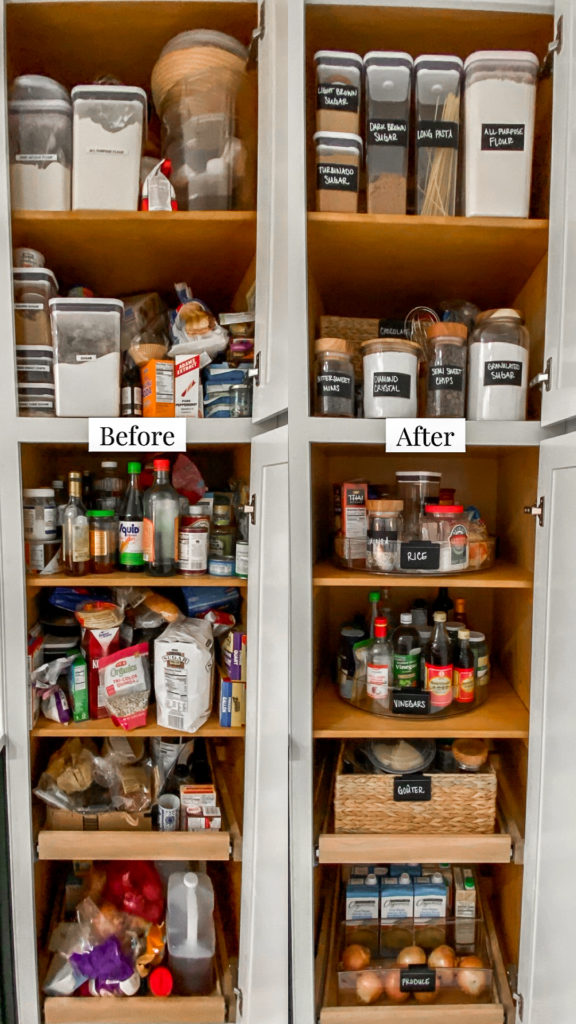 How To Organize A Pantry With Deep Cabinets
A few weeks back over on Instagram Stories I asked my followers what they would like to see a photo of. Responses ranged from "baby Natalie" to "your 25th birthday" and lots of "your pantry!" I begrudgingly obliged and posted a little video of my pantry. Honestly, it looked like a bomb had gone off in there!
Let's quickly rewind for a second, back in October, BMW and I made an attempt to get our pantry in order ahead of the holiday season. We knew our pantry was in bad shape and we wanted it to function better since we knew how much we would be using it in the coming months with lots of cookies and holiday recipes! I bought a bunch of OXO pop top containers
and I whipped out my label maker
and we went to town. We thought we had done a pretty good job but it became apparent within two weeks that we really hadn't thought things through well enough and somehow had just made things worse.

Pantry cabinet before 
Organizing A Pantry With Deep Shelves
Lucky for me, one of my followers happens to be a professional organizer! She saw the photo of my cluttered pantry and reached out and offered to help me. I am honestly so thankful she did! I consider myself to be a pretty organized person but when it came to this pantry I really struggled.
There is lots of space but deep shelves are tough because things can get lost in the back and become unorganized really quickly. Also, being a food blogger and all, I like to have lots of different types of oils, vinegars, pastas, etc. you name it on hand to work with. Even though BMW and I tried our hardest, we just couldn't come up with a good solution for this pantry.
Diana, however, knew just what we needed! After she reached out, I sent over photos and dimensions of my pantry so that she could begin to plan how to tackle this space. We also discussed what aesthetic I would like. She offers everything from modern to rustic to natural, which is mostly what we went with in my pantry. We set up a time for her to come to my house and that is where the real work began!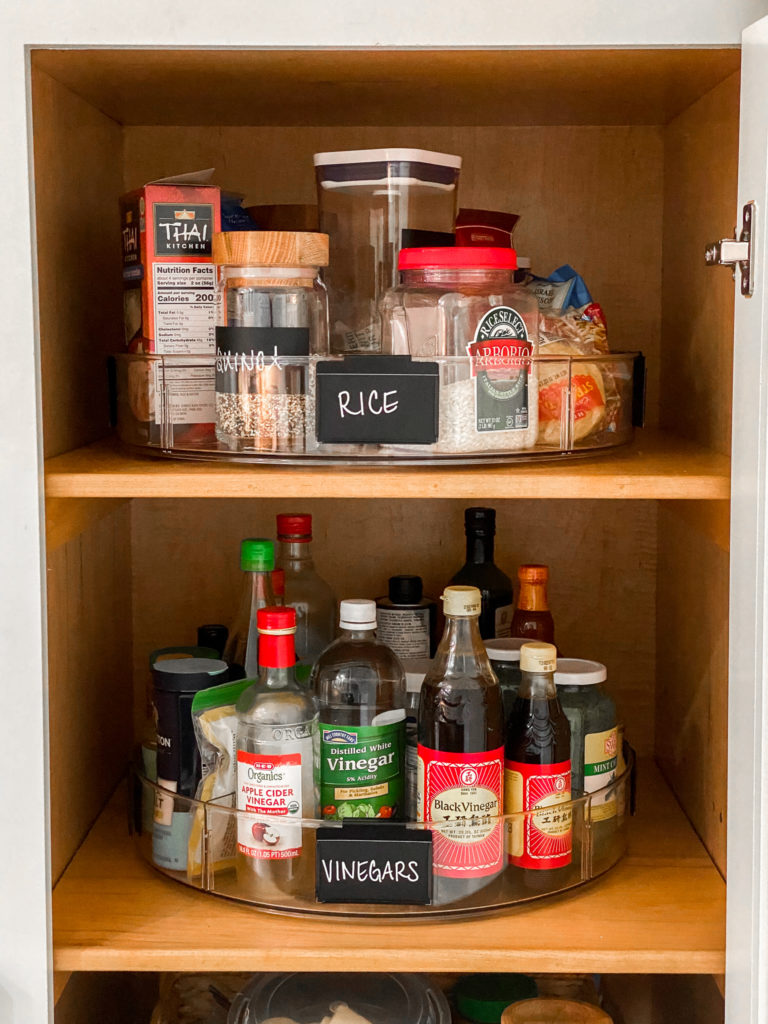 Dinner section of pantry
Making The Most Of A Small Pantry Cabinet
Diana is certified in the KonMari method and she uses that method is guide the experience. Diana offers all sorta of organization services throughout the whole home but we focused on her Perfect Pantry service. She brings her plan of the pantry and all the things needed to complete the job. From cleaning supplies to canisters and dividers even the trash bags! I was so impressed with Diana's professionalism and how prepared she was. She also has such a kind and caring demeanor. She made me feel comfortable and at ease during the whole process.
Once she arrived, she brought all her supplies inside and we got set up in the kitchen. From there, we began by removing everything out of the pantry. Then we sorted through each and every item. Some were expired or hadn't be used in so long that those were easy to get rid of. Then she helped guide through the items that were harder. I am one of those people who is always trying to find ways to use everything and not throw away something. She gently said that that is a "utility" mindset and sometimes it's best to be realistic about whether the item is helpful and useful or if it is just taking up space and becoming a burden.
Diana uses the Kon Mari method because one of the tenets is that if something brings you joy then you get to keep it! I love that! I got to keep my organic freeze dried blueberries
and olive oil from our babymoon simply because they bring me joy. We found homes for them and all the other things we use on a regular basis.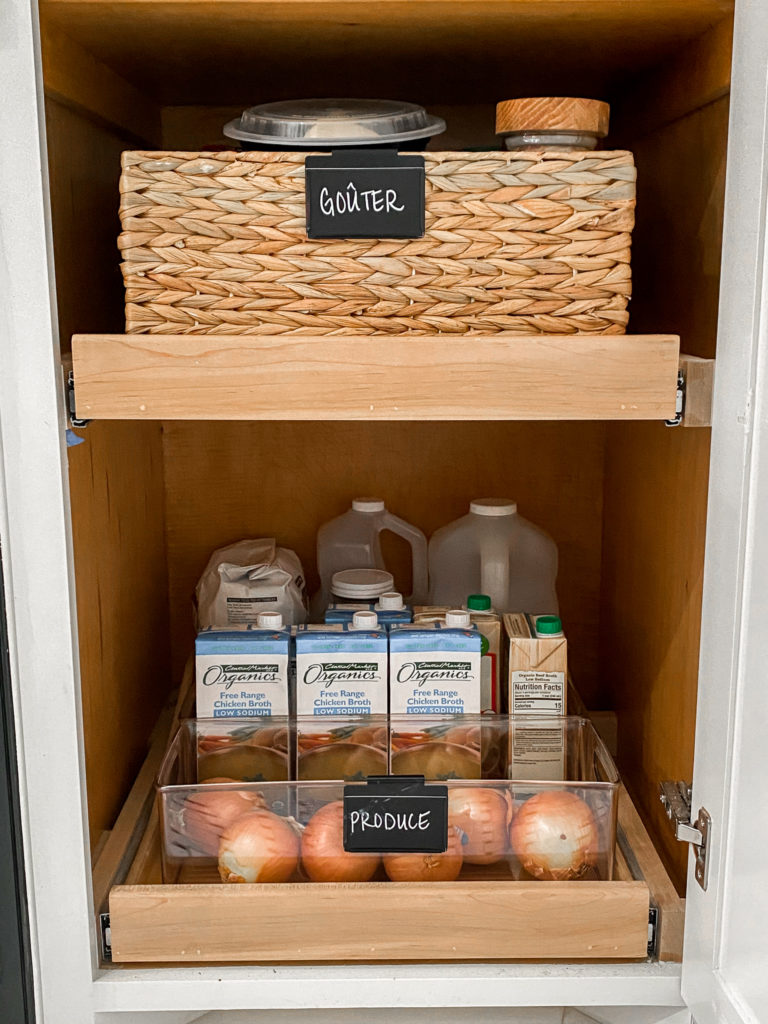 Bottom Pull Out Drawers in Pantry
How To Organize A Pantry With Deep Cabinets
After Diana guided me through what to keep and what to get rid of, we discussed how the pantry should function. I told her if there was one word for my pantry it's that it's a "workhorse." I use my pantry multiple times a day every day. My pantry needed to be something that would keep up with me instead of causing me stress like it was before.
Every pantry is different and Diana can help with all types of needs. She said in her family, they use their pantry space for lots of yummy snacks! She can also help with kid-friendly sections and all nearly any need you can imagine.
Diana showed me her plan that she had crafted before she came. We went over it and made any adjustments necessary. From there, she took over! She got to organizing and came up with the most genius idea for these really big lazy susans to make the most of my deep pantry shelves. I absolutely love this solution! It makes so much sense and now I can easily access everything I need without tipping anything over!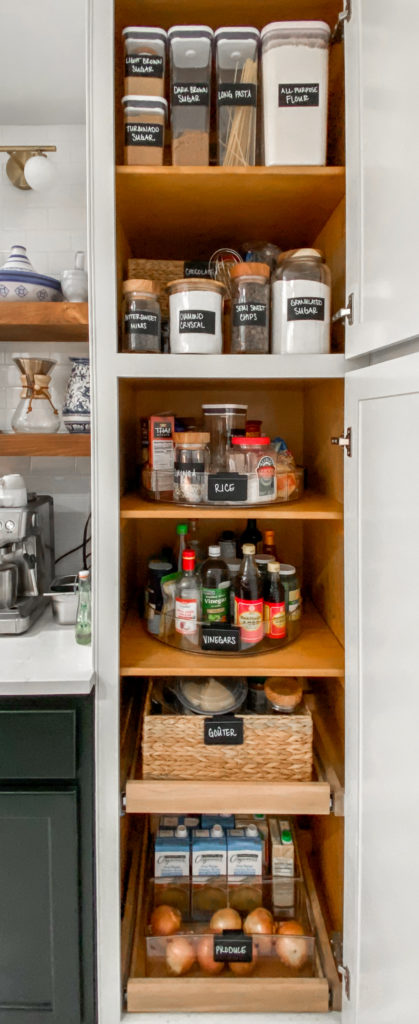 Pantry After
Gorgeous Pantry Cabinet
After Diana worked her magic, I came in and was speechless! I had no idea my pantry could look this gorgeous! Not to mention be so functional. I am so, so happy with it!
Together we discussed and created the labels for all the sections. This pantry is definitely better than anything I could have come up with myself. I am so grateful to have had Diana's help! If you want more behind the scenes of how this all came together, just head over to my Instagram Stories where I have the highlight "Perfect Pantry" saved!
If you are interested in learning more about Diana, her services or working with her, just reach via her website or send her DM on Instagram!