Giving you all my tips and tricks for How To Cook A Whole Beef Tenderloin! It's so easy to make these delicious filet mignons.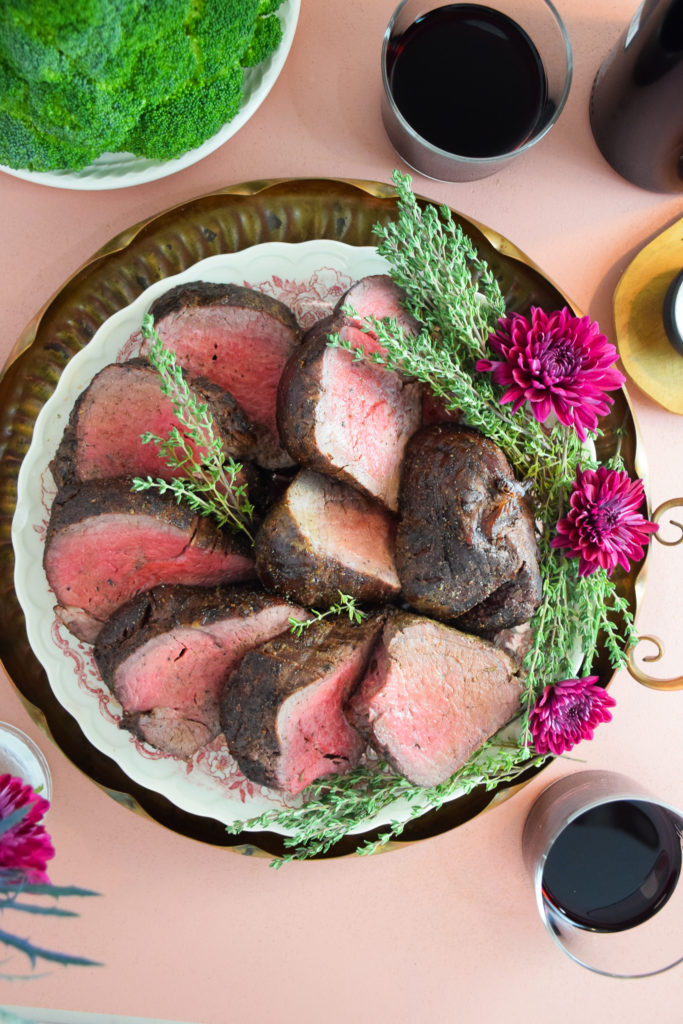 It's been a crazy year and I am looking forward to going all out this holiday season! Even if there will be fewer people around the table this holiday, I plan to serve up all the delicious things and bring as much joy to this season as possible. Cue all the twinkle lights, extra fluffy marshmallows on hot cocoa and lots of cuddles with Bébé Warren. I am also planning to serve beef tenderloins for our Christmas dinner because they are always a favorite and they are much easier than you think to make!
This post is sponsored by Goodstock. Thank you for supporting the companies that keep this blog going!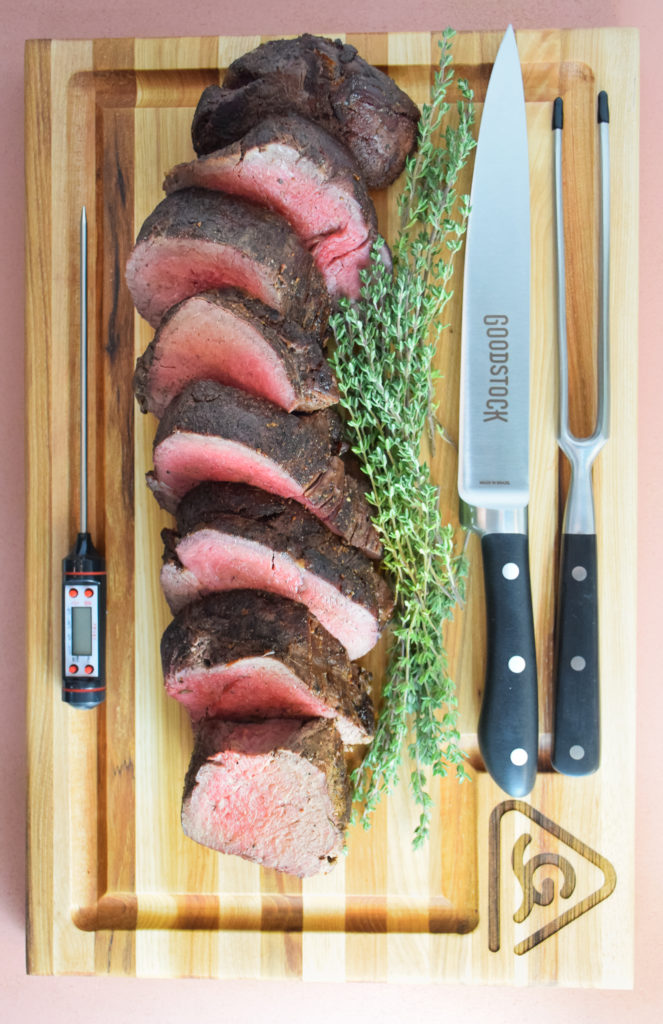 How To Cook A Whole Beef Tenderloin
Making a beef tenderloin is surprisingly easy and doesn't require much time at all on hand. Meaning you have more time to spend with family or watching Hallmark and snuggling with your dog (my personal fav!) Plus, there is something about beef tenderloins, aka filets, that feel so fancy and elegant.
I teamed up with Goodstock by Nolan Ryan, a local company here in Austin, for this post. Goodstock provides not only quality beef but also prioritizes animal welfare. Not only are their cattle pasture-raised and finished on high-quality grain, but they utilize the Dr. Temple Grandin Responsible Cattle Care Program to ensure their commitment to humane animal handling is upheld throughout the entire supply chain. Goodstock ships their meats nationwide but also has a boutique butcher shop in Round Rock, TX that offers lots of great gifts that are exclusive to the shop like their branded magnetic cutting board that keeps your knife from slipping off.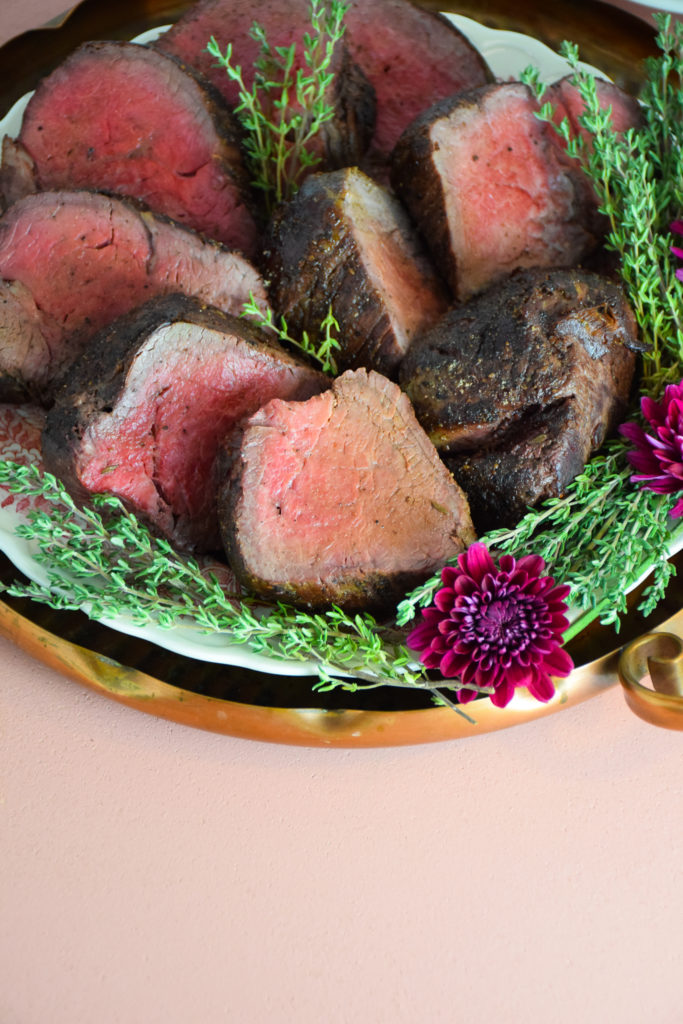 Beef Tenderloin Steaks
In the recipe, I call for an extra step of dry aging the tenderloin in the fridge overnight. This dries out the meat a bit and allows that edges to get a really nice crust just like you'd get at a nice steakhouse. If you don't have time for this step, no worries, the tenderloin will still turn out really tasty.
The dry aging is a very similar process to my Dry Brine Turkey which was a huge success over Thanksgiving. It seems slightly counter intuitive but the drying out process allows for a crispy skin or outside to the meat while the salt in the rub penetrates the meat and adds not only flavor but also more moisture to the meat when cooking. While the actual process takes a few hours to over night, it's completely hands off time. So with a little planning you can have this amazing tenderloin too!
I suggest serving your tenderloin with these Crispy Parmesan Herb Potato Stacks and Maple Glazed Brussels Sprouts.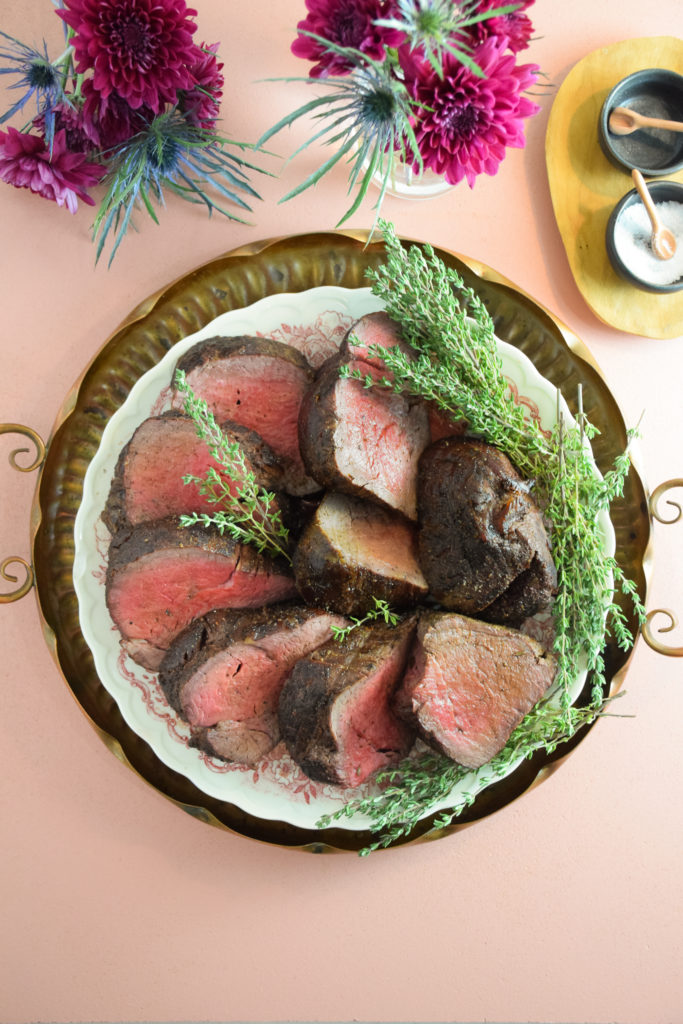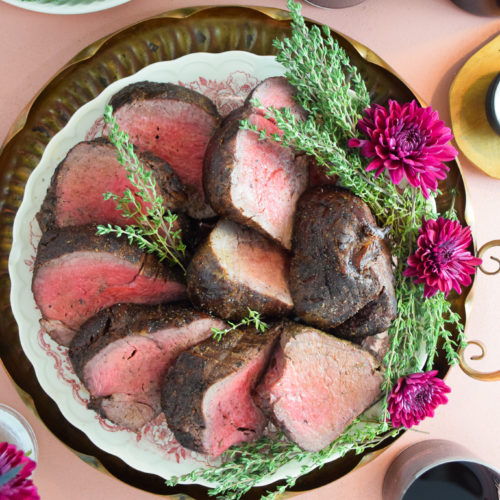 How To Cook A Whole Beef Tenderloin
Giving you all my tips and tricks for How To Cook A Whole Beef Tenderloin! It's so easy to make these delicious filet mignons.
Equipment
kitchen twine

meat thermometer

large cast iron skillet
Instructions
Trim any fat or silver-y flesh from tenderloin if needed. Curl the small end towards the middle to create an even thickness from end to end so that meat cooks evenly. Use kitchen twine with tie tenderloin into 1 inch thick sections.

Rub salt and pepper all over tenderloin and place onto rack in a roasting pan and let rest uncovered in the fridge for 1 hour or up to 24 hours. This dry aging process will help the filets have a nice crust. You can skip this step if you don't have time.

Once ready to cook, preheat oven to 425°. In a large skillet, on high heat, sear each side for the tenderloin for 3-4 minutes. You can bend the tenderloin to fit into skillet or cut it if needed. It is ok to the leave the kitchen twine on while searing.

If the skillet is oven safe, like a cast iron, place the skillet with the tenderloin in it into the oven. If your skillet is not oven safe, then transfer to an oven safe dish. Roast for 20-25 minutes until tenderloin reaches your desired doneness. This tenderloin reached 120° at 25 minutes. Remember it is better to undercook slightly than to over cook since you can always cook it more. The tenderloin will continue to rise in temperature after removed from oven, so be sure to remove when it is 5-10° below where you want it to end up.

Let the tenderloin rest for 15 minutes before slicing. Do not cover during this time. Slice and serve!
Nutrition
Calories:
311
kcal
Carbohydrates:
1
g
Protein:
21
g
Fat:
25
g
Saturated Fat:
10
g
Cholesterol:
79
mg
Sodium:
249
mg
Potassium:
345
mg
Fiber:
1
g
Sugar:
1
g
Calcium:
8
mg
Iron:
3
mg