These Crispy Parmesan Herb Potato Stacks are perfect as a side dish to any meal! They are quick, easy and delicious!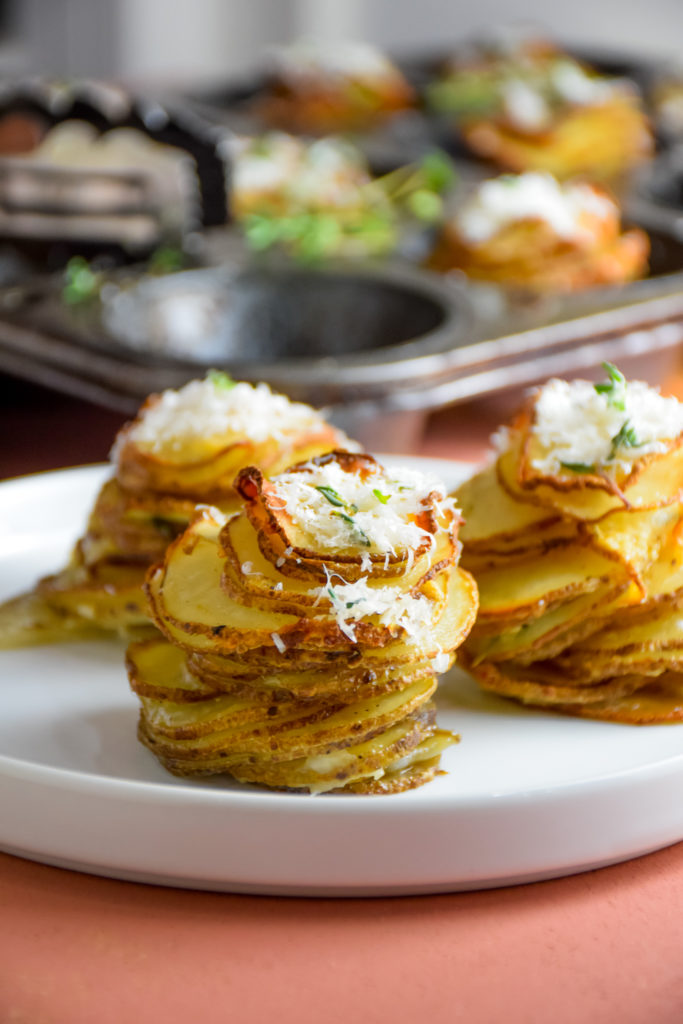 Aren't these potato stacks just the cutest little things!? They are so easy to make and bake up with crispy edges and lots of herby flavor. These potatoes feel so elegant when served and look great too. We eat with our eyes first so these are the perfect pretty little compliment to any meal!
This post contains affiliate links. If you purchase a product through these links I may earn a few pennies. Thanks for keeping this free blog going!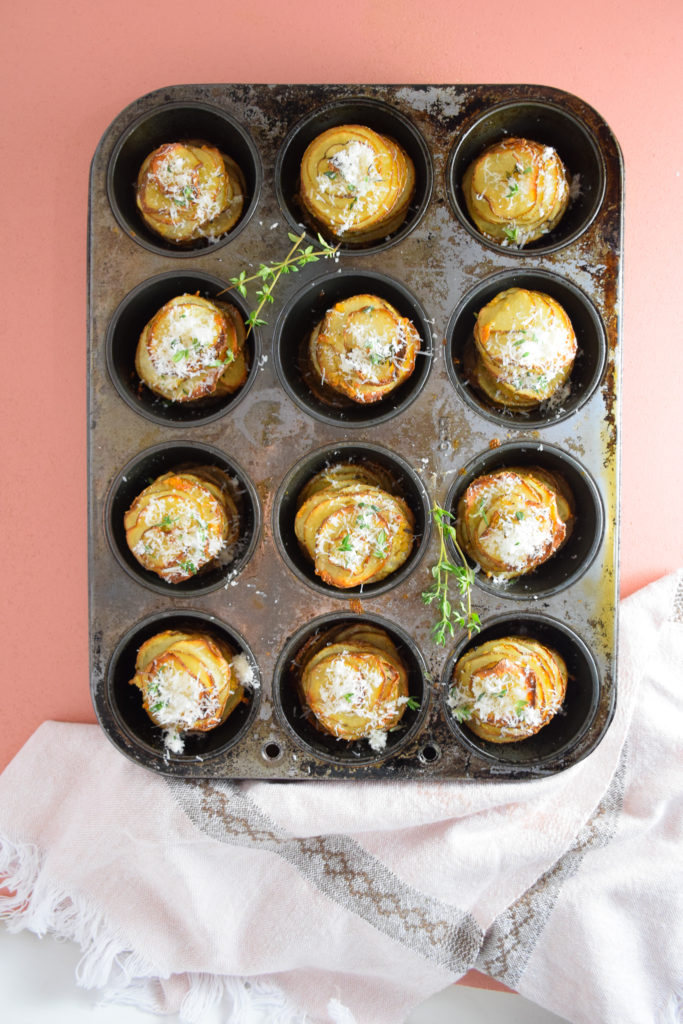 Crispy Parmesan Herb Potato Stacks
Carbs are usually my favorite sides when it comes to big holiday meals! I love a hearty mac 'n cheese and  of course potatoes. What I love most about this recipe is that it's so easy. You just slice the potatoes and drop them into a muffin tin and bake! Easy peasy.
I definitely suggest using a mandolin
to slice the potatoes. It will make the slice process go so much quicker and it will provide uniformity in the thickness of the potatoes. The thickness is important because it will help with even baking, meaning the stacks will all be cooked through at roughly the same time.
That also reminds me that you will want to get the stacks mostly even. It doesn't need to be perfect but the closer the stacks are to the same height the more evenly they will cook. This means that the center potatoes in the stack will get tender at the same time as the others and you won't end up with a sloppy stack.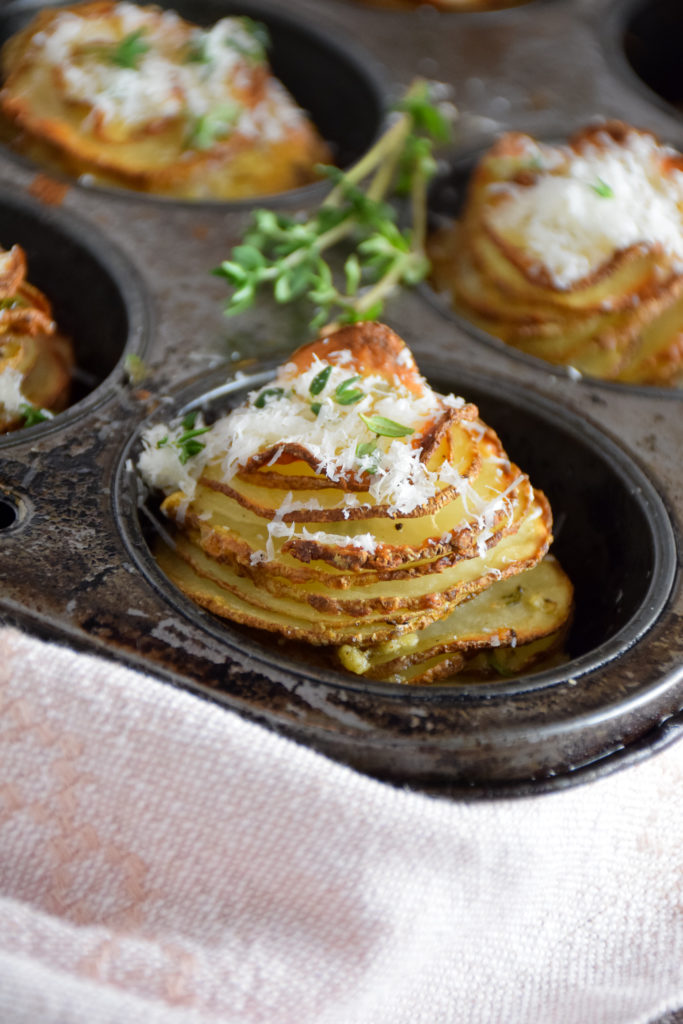 Herby Parmesan Potatoes
This recipe is pretty adaptable with different herbs and flavors if you want to switch it up. Of course I think the the fresh thyme, garlic and parmesan are the perfect trifecta of flavor! If you wanted to use rosemary or oregano in place of or in addition to the thyme I think they would work nicely. Softer, more tender herbs like basil or parsley won't hold up in the oven so I suggest not using those.
I like olive oil in this recipe because it helps the potatoes crisp up nicely! While butter would impart a nice flavor, it has a tendency to burn in the oven so I don't suggest using that as an alternative. If you prefer coconut or avocado oil, those would definitely work but could change the flavor profile so be sure to be aware of that.
Single Serve Sides
The potato stacks are also great because they are single serve. You can use tongs or two forks to serve these. The also look beautiful on the plate. The muffin tin will help these stay warm for a few extra minutes if want to keep these warm.
To check for doneness, check the center stack by lifting up the slices and inserting a knife. If it feels crunchy, return to oven for five minutes and repeat checking and baking until knife inserts very smoothly.
The potatoes will be tender in the center and crispy on the edges. I love the difference in texture in this recipe. These will not be tender all over like a gratin or mashed potato. So just be aware of that. I love how neat and tidy these stack up, haha!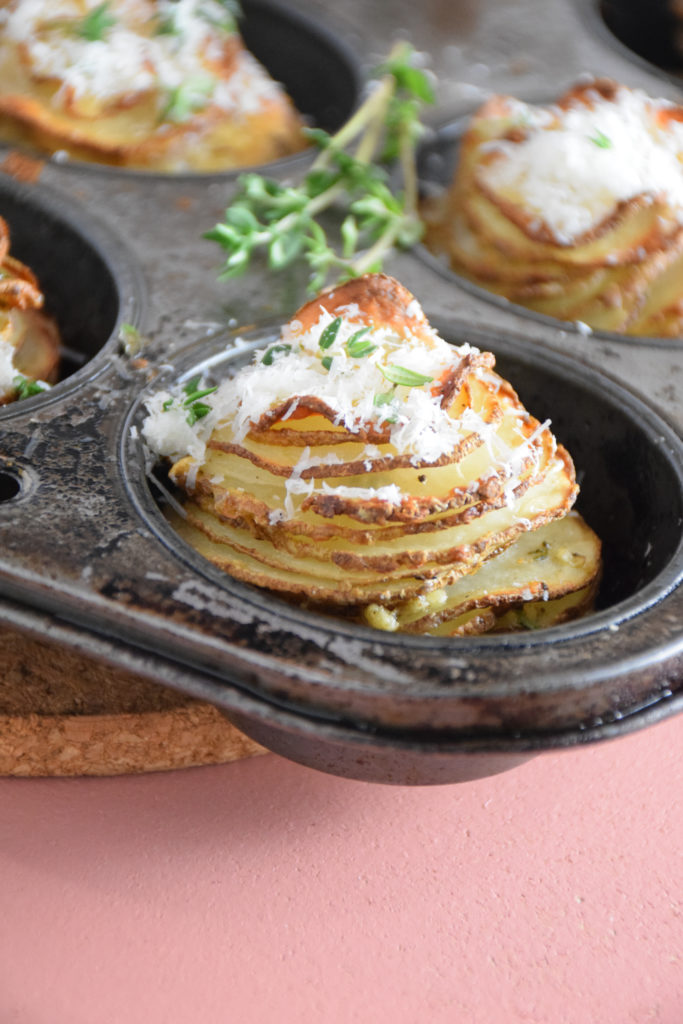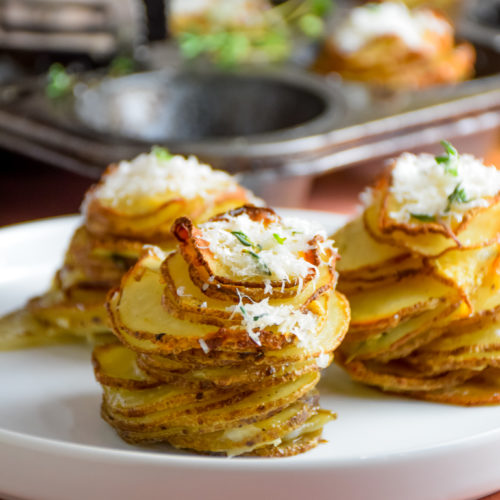 Crispy Parmesan Herb Potato Stacks
These Crispy Parmesan Herb Potato Stacks are perfect as a side dish to any meal! They are quick, easy and delicious!
Ingredients
2

lb

russet potatoes

thinly sliced

1

tbsp

kosher salt

reduce by half if using table salt + more to taste

3

tbsp

olive oil

1/2

tsp

ground black pepper

+ more to taste

6

cloves

garlic

minced or pressed

6

sprigs

thyme

stems removed

1/4

cup

fresh grated parmesan

+ more to taste
Instructions
Preheat oven to 375° and prepare a muffin tin with non-stick spray. Wash potatoes and pat dry.

Using a mandolin, or very carefully with a knife, thinly slice potatoes to 1/8 inch thick.

Place sliced potatoes into a large bowl. Pour olive oil, salt, pepper, garlic, parmesan and thyme leaves on top. Mix together until evenly coated. I find it easiest, albeit messy, to do this with your hands.

Divide potatoes and stack into muffin tin. It's ok if some stack above the tin, they will shrink a bit as they bake. Pour any remaining olive oil on top of potato stacks and bake for 40 minutes, turning the muffin tin in the oven halfway through baking. Check for doneness by sticking a fork into the center stack. If it easily slides in, they are done, if it's crunchy at all, go a few more minutes in the oven.

Top with additional grated parmesan, salt and pepper if desired. Serve hot.
Nutrition
Calories:
94
kcal
Carbohydrates:
14
g
Protein:
2
g
Fat:
4
g
Saturated Fat:
1
g
Sodium:
586
mg
Potassium:
324
mg
Fiber:
1
g
Sugar:
1
g
Vitamin A:
24
IU
Vitamin C:
6
mg
Calcium:
15
mg
Iron:
1
mg