This Saucy Butternut Squash Mac 'n Cheese is a cozy, delicious way to use up all that butternut squash! It has a rich sauce that is so good!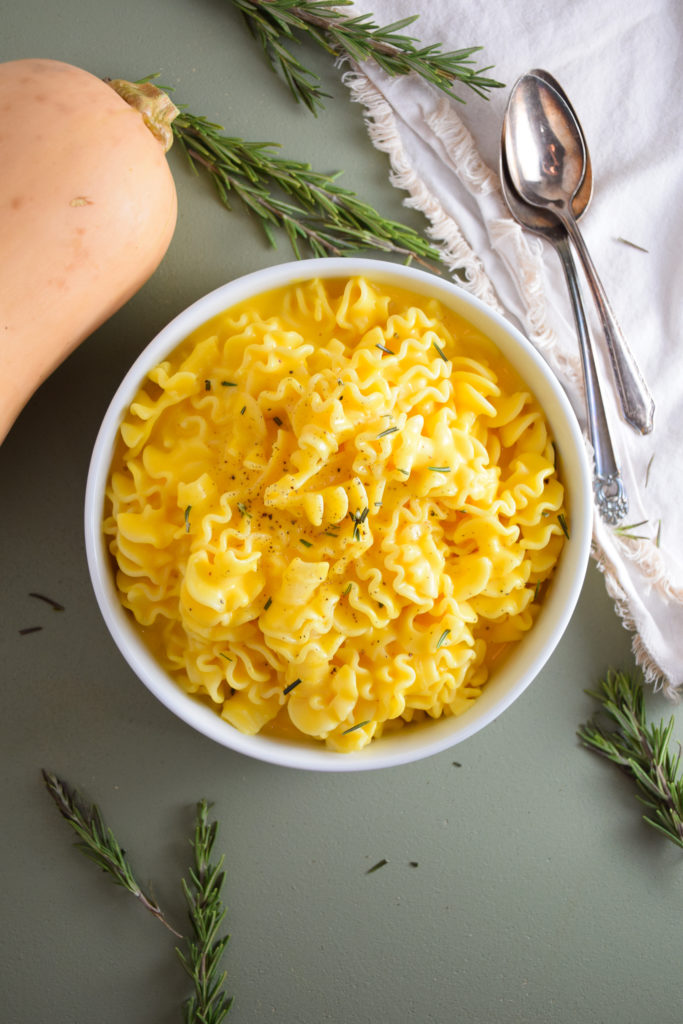 I am big fan of mac 'n cheese! I mean how doesn't love a big bowl of cheesy, comforting noodles?! There are lots of ways to make mac 'n cheese but I absolutely love this recipe because the sauce is velvety smooth and rich from the roasted butternut squash! This sauce is so simple and doesn't require any fancy ingredients but it still feels sophisticated and has a depth of flavor that makes it delicious for kids and adults!
This post contains affiliate links. If you purchase a product through these links I may earn a few pennies. Thanks for keeping this free blog going!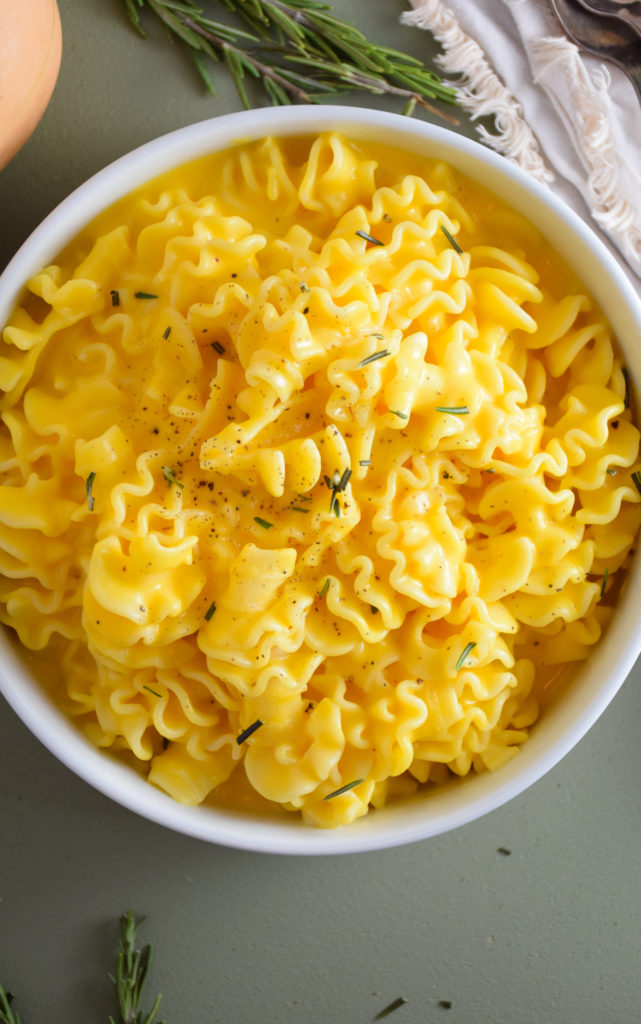 Saucy Butternut Squash Mac 'n Cheese
If you're the type of person that loves hiding vegetables into recipes then this one is for you! Butternut squash is so versatile because it has a mild nutty flavor that melds well with so many things but especially cheese! It's a perfect match for this decadent mac 'n cheese sauce.
There is no big secret to getting the butternut squash right for this recipe. It's pretty simple, you just need to roast it until tender. In the directions, I called for a whole butternut squash but you can buy the pre-chopped kind if that is available to you. Just roast until the squash is very tender. This allows the natural sugars to develop and the flesh to be soft enough to blend into a rich sauce.
Butternut Squash Pasta
If you find the sauce to be a bit thin, you can continue cooking it in the final stage allowing the sauce to cook down until you reach the desired consistency. If you want to expedite the process, you can whisk in a tablespoon of flour.
The sauce will vary depending on how much water is in the particular squash you are using. So just keep that in mind as you cook. Boil the noodles until al dente since this recipe does not call for them to be cooked much at the end.
As always, add salt and pepper to taste at the end of the recipe. I do this in most of my recipes because I never want to over salt anything. You can always add more salt but you can't take it out! This is the salt
I use to cook everything. I love it because it is a slightly flakier kosher salt and works particularly well for cooking and for finishing.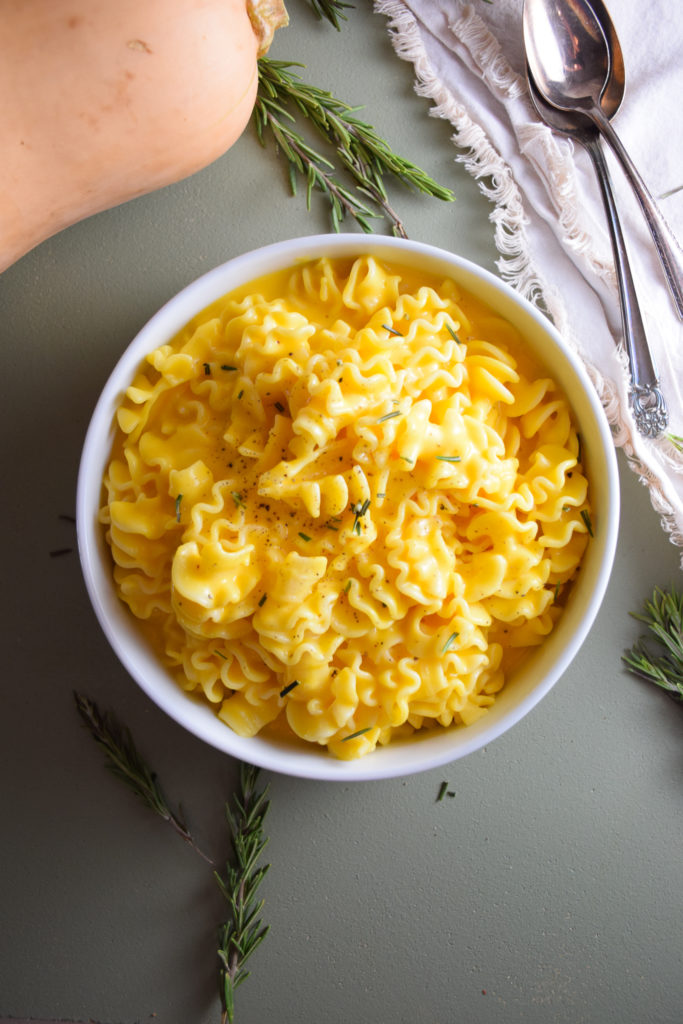 Cozy and Comforting Pasta Recipe
Cozy and comforting pasta dishes are my go-to whenever I get to choose the meal! There is just something I love about a bowl of pasta! I really enjoy making my own sauces at home and this one I am particularly proud of. What is you go-to meal whenever you to get to choose what's for dinner?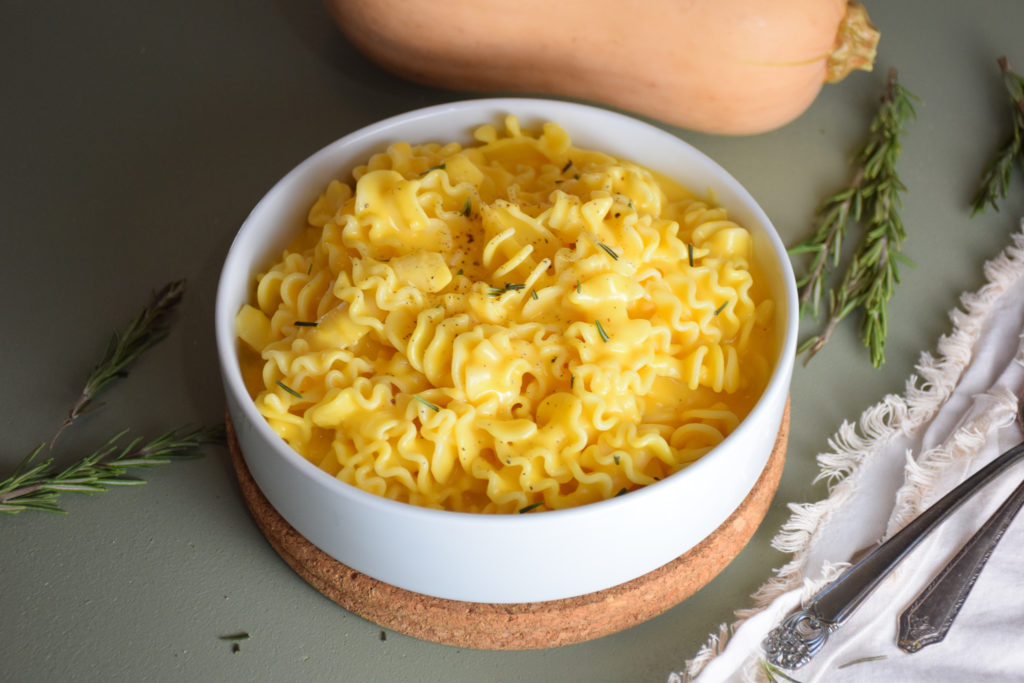 You Might Also Love 
Rigatoni with Spicy Pumpkin Cream Sauce
BMW's Spicy Red Wine Spaghetti Sauce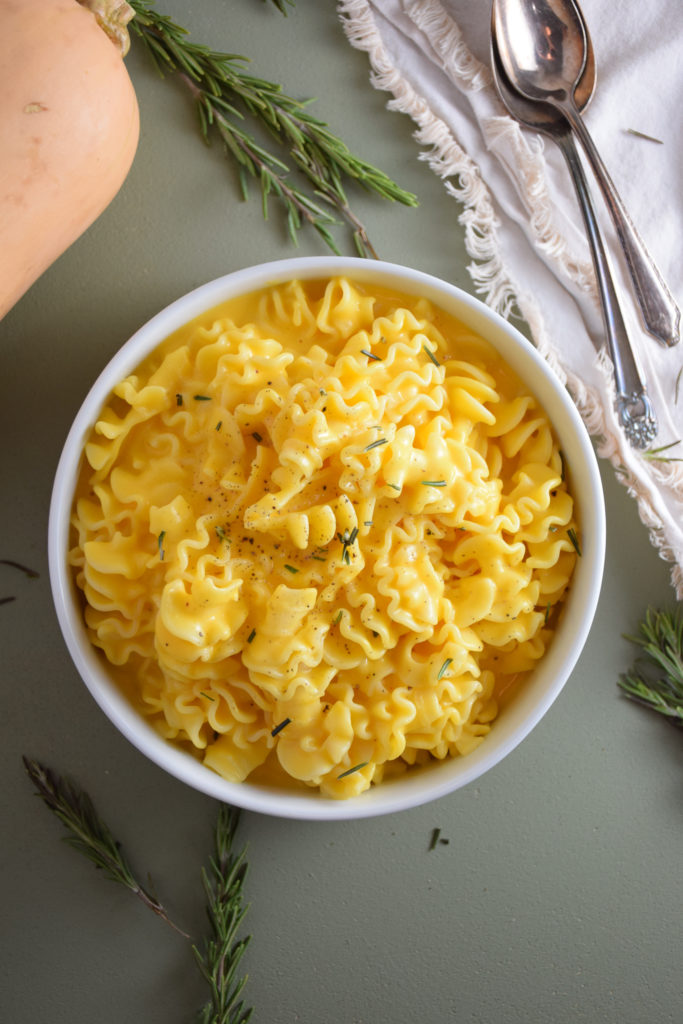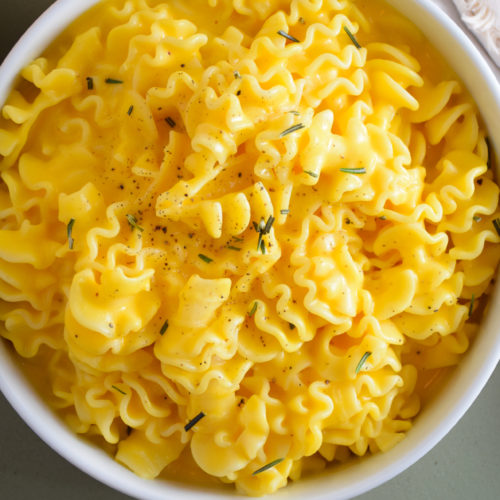 Saucy Butternut Squash Mac 'n Cheese
This Saucy Butternut Squash Mac 'n Cheese is a cozy, delicious way to use up all that butternut squash! It has a rich sauce that is so good!
Ingredients
4

cups

butternut squash

cubed, approx 1 small 2lb butternut squash

1

tsp

olive oil

2

tsp

kosher salt

2

tbsp

unsalted butter

3

cloves

garlic

minced or pressed

1

lb

short cut pasta

1

cup

heavy cream

1

cup

sharp cheddar cheese

grated

1

cup

parmesan cheese

grated

1/2

cup

low sodium chicken broth

1/2

tsp

black pepper
Instructions
Preheat oven to 375°. Cut squash in half and scoop out seeds and strings and discard. Drizzle inside of squash with olive oil and roast face down for 30 minutes or until squash is very tender and can be easily pierced with a butter knife.

During the last ten minutes of the squash roasting, begin boiling a pot of water for the pasta. Boil pasta according to package instructions. Drain and set aside.

Scoop squash into blender discarding skins. Add chicken broth to blender and mix until very smooth.

In a large pot, melt butter over medium high heat. Add garlic and cook for 30 seconds or until fragrant.

Add squash purée to pot with both cheeses and stir until melted together, about 2-3 minutes.

Lower heat to low and stir in cream, remaining salt and pepper until well mixed.

Add cooked noodles and stir until well coated with sauce. Serve hot! Top with additional salt and pepper to taste or minced rosemary.
Nutrition
Calories:
486
kcal
Carbohydrates:
37
g
Protein:
17
g
Fat:
31
g
Saturated Fat:
19
g
Cholesterol:
96
mg
Sodium:
1185
mg
Potassium:
448
mg
Fiber:
3
g
Sugar:
3
g
Vitamin A:
10942
IU
Vitamin C:
20
mg
Calcium:
412
mg
Iron:
2
mg