Super easy homemade Irish cream! It's perfect for the holidays or St. Patrick's Day! We love it in coffee, hot or cold, and with whiskey!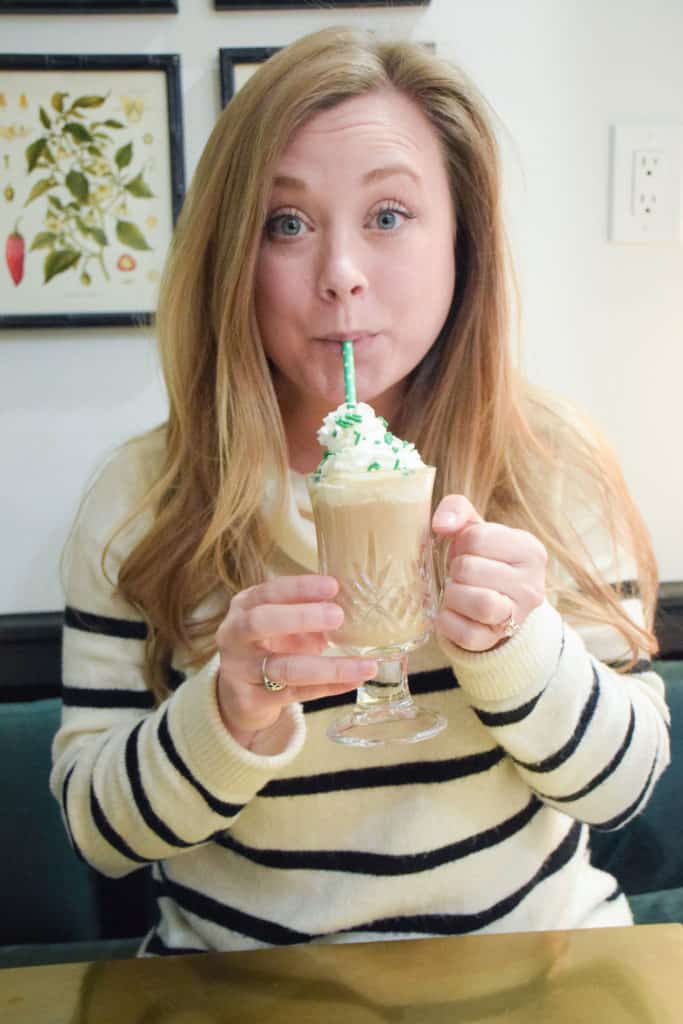 In honor of my wedding month, March, and the wedding being in Ireland, it's all things Irish and green around here! This post is special because it has two recipes! Ahh the luck of the Irish 😉
One for Homemade Irish Cream which is a riff on Bailey's and one for Natalie's Irish Coffee which is a riff off of an Irish Coffee!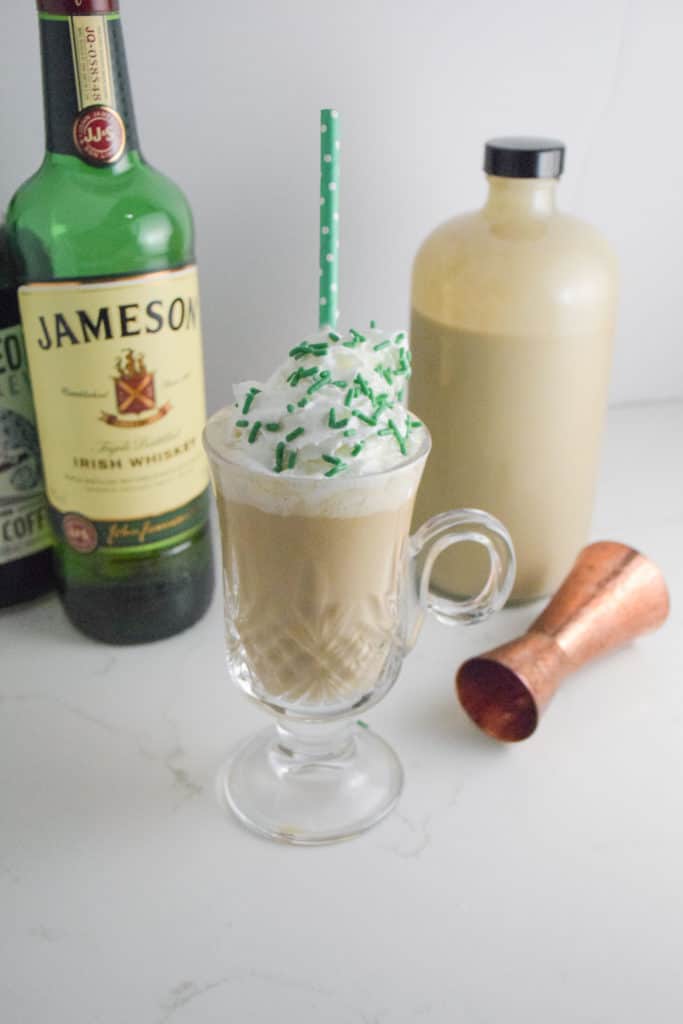 It being our wedding and all, I wanted to share the story behind a special drink we served at our rehearsal dinner! For our rehearsal dinner, in lieu of a formal dinner, we decided to invite all our guests to join us on a pub crawl through the town of Adare and end at one of the charming pubs for a pig roast! We learned that Irish weddings often have a pig roast on the Sunday after the wedding. Instead, we opted to do a Sunday brunch and host a pig roast on Friday evening.
We visited three pubs and at the last pub I knew our guests would be wanting something warm by the third stop. During a meeting with the pub owner to plan our dinner, he asked me if I wanted a hot drink. I said yes, he asked if I wanted an Irish Coffee, I said yes. But then I said wait! Can you add a shot of Bailey's to that? I want something creamy and sweet too. He said ohhh a double shot! We'll call it a Natalie's Irish Coffee! And so the drink was born and we decided to serve it to our guests!
Homemade Irish Cream
This recipe is quite simple, so easy to make, and you likely already have a good number of the ingredients in your pantry or liquor cabinet!
Ingredients: 
1.5 cups Irish Whiskey (I used Jameson)
1.5 cups heavy cream
1 can (14oz) sweetened condensed milk
2 tablespoons chocolate syrup (like Hershey's)
3 tablespoons instant coffee
Directions: 
Mix all the ingredients together in a blender until smooth and creamy.
Chill in the fridge for up to a week.
Serve very cold, over ice or the opposite in a piping hot cup of coffee!
PS- BMW loves to have his Homemade Irish Cream served in an old fashioned glass over a big cube of ice. It's like a drinking dessert!
** Keep scrolling for Natalie's Irish Coffee**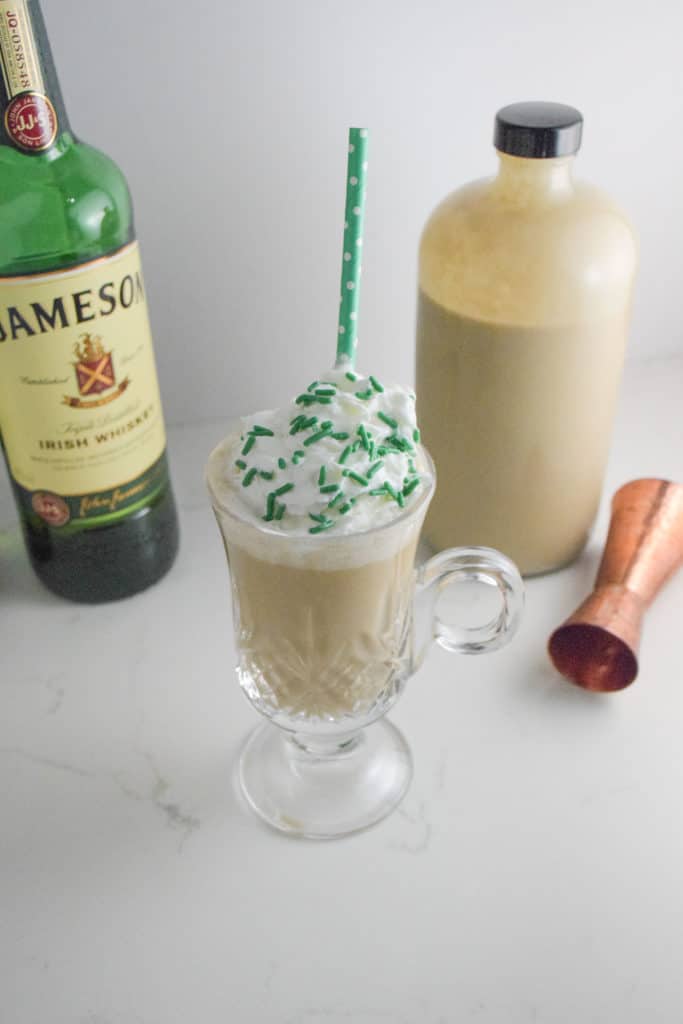 Now for the Natalie's Irish Coffee! Which is basically a Bailey's Coffee and an Irish Coffee mixed together! This is my personal favorite way to serve Homemade Irish cream.
Natalie's Irish Coffee
Ingredients: 
1/4 cup coffee, either hot or cold, if cold I like to use Chameleon Coldbrew Espresso. You can find it at Target!
1/4 cup Homemade Irish Cream
1 oz whiskey (I like to use Jameson)
Directions: 
Pour coffee into glass.  If serving cold, I like to use big ice cubes.
Pour whiskey into coffee then add Homemade Irish Cream and give it a whisk.
I like to top with whipped cream and green sprinkles but those are definitely optional and not how this is traditionally served!