This Healthy Mac 'N Cheese with Broccoli and Turmeric is so delicious and easy to make! Perfect for adults and kids!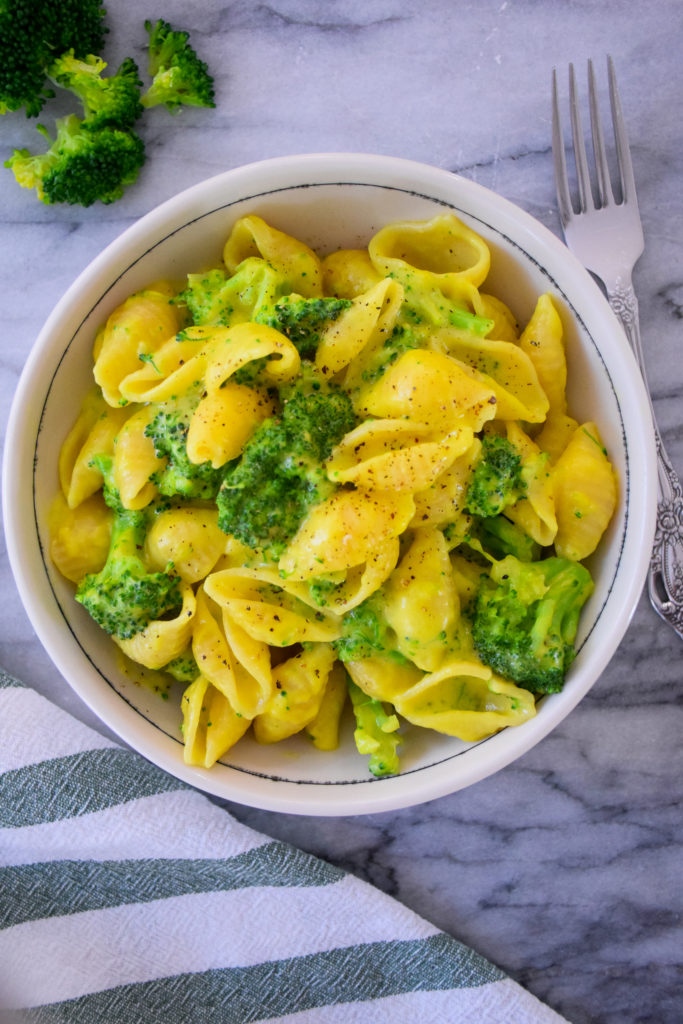 Mac 'n cheese has always been a favorite of mine! My big question is do you think mac 'n cheese is a side dish or meal? For me I guess it depends on the day it's being served. If it's a random weeknight then mac 'n cheese is totally a meal. If it's a holiday, then it's more of a side dish probably. In the case of this recipe, it's definitely a great weeknight meal. It's delicious enough to satisfying my cravings while also still being nutritious!
This post contains affiliate links. If you purchase a product through these links I may earn a few pennies. Thanks for keeping this free blog going!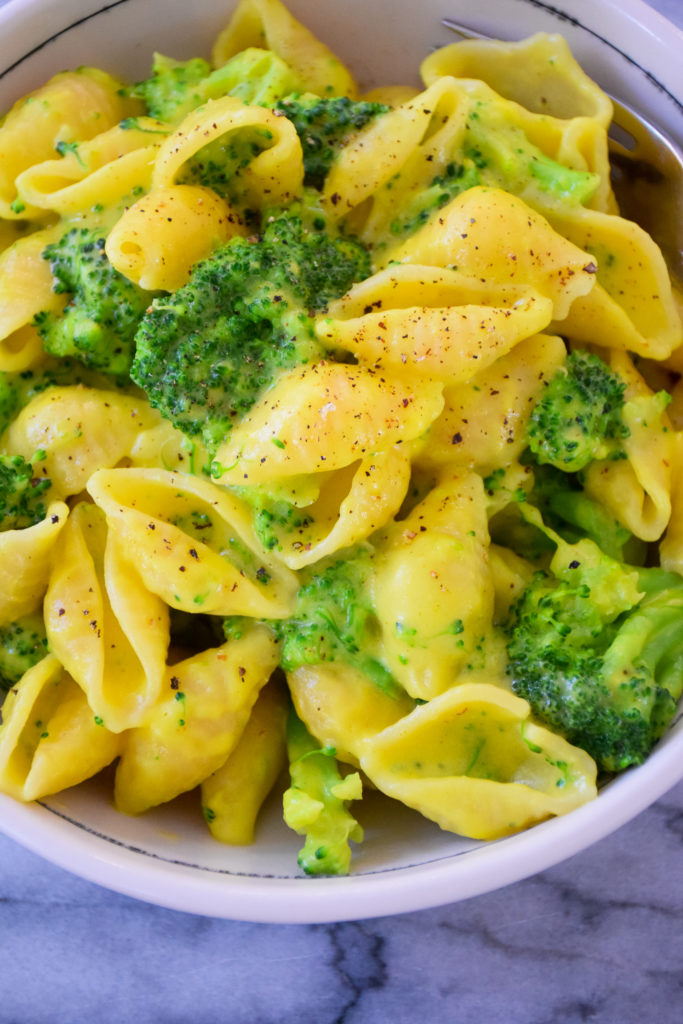 Healthy Mac 'N Cheese with Broccoli and Turmeric
While healthy might not always be a word used to describe this carby, cheesy masterpiece of a meal I think it can definitely provide a lot of nutrition and still be delicious! Instead of opting for a the boxed stuff that is laden with preservatives and who knows what else, I like to make my own sauce with ingredients I can trust and add some extra healthy super foods.
Speaking of super foods, I like to add broccoli to my mac 'n cheese! Broccoli and cheese were just meant for each other! I've been doing this since I can remember and it's such an easy way to add flavor and nutrition. I have used both frozen and fresh broccoli florets and both work great. I recommend using florets or cutting the fresh broccoli into florets yourself. When I tried it using the stems it added a little too much crunch in my opinion. In order for the thick stalks to be cooked enough it overs cooks the florets turning them to mush.
I use turmeric powder
in this recipe and it add an ever so slight flavor and color but packs lots of antioxidants! I like to sneak in this super healthy powder whenever I can. It works so well in this recipe and is such a simple addition.
Healthy Mac 'n Cheese
This meal cooks up quick so it's perfect for lunch or a quick dinner after a busy day. Plus, who can say no to mac 'n cheese? It's one of those meals that I feel like everyone can get on board with. Whether you're an adult or a kid, mac 'n cheese is always a pleaser, right?
I've made so many variations of mac 'n cheese over the years and many of them wind up being over the top baked mac 'n cheese casseroles that can feed a small army! Which is perfect for the holidays. What I love about this version though is that it's a small batch recipe just four small servings (or two big one if you're hungry!) and it comes together quick on the stove top, no baking needed.
Tips for Making Stove Top Mac 'n Cheese
Best of all this version is great for a weeknight meal since it comes together in less than 30 minutes. When you are making the cheese sauce, it should be thick and smooth. It might have a few stretchy strings but it shouldn't be too stretchy. If the sauce is too thick, add more pasta water or milk. If it's too thin, cook it for a few more minutes so that some of the water evaporates and thickens the sauce. An if that doesn't work, add a little more flour, one teaspoon at a time. When you add the shells and broccoli back to the pot with the sauce, they will naturally add a little big of water to the sauce so keep that in mind when you are making the sauce.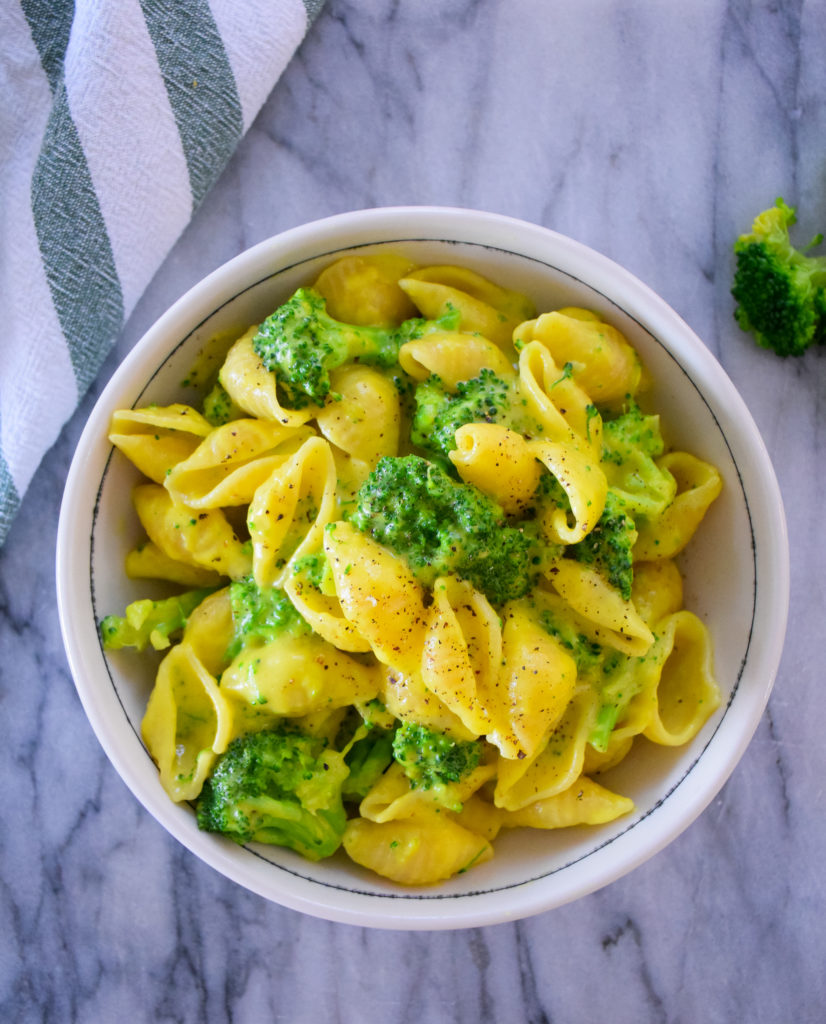 You Might Also Love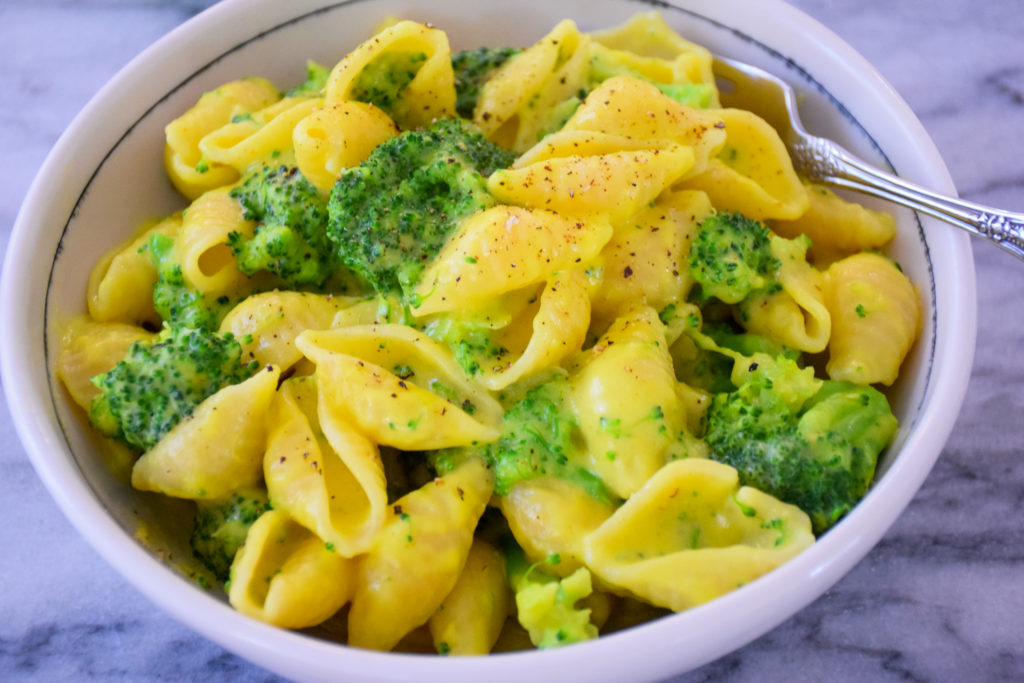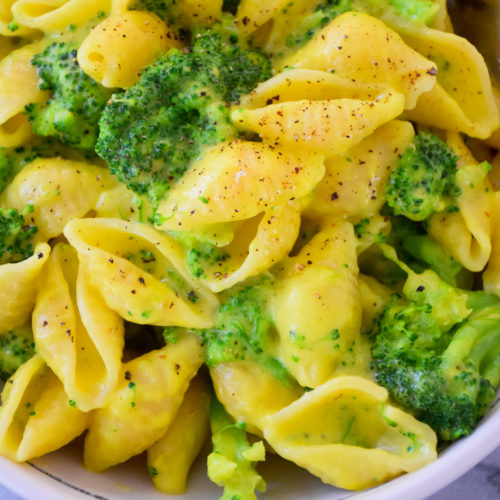 Healthy Mac 'n Cheese with Broccoli and Turmeric
This Healthy Mac 'N Cheese with Broccoli and Turmeric is so delicious and easy to make! Perfect for adults and kids!
Ingredients
1/2

lb

pasta shells

1

cup

pasta water

1

tbsp

unsalted butter

2

tbsp

all purpose flour

1/2

tsp

kosher salt

plus more for salting water

1/4

tsp

ground mustard

1/4

tsp

ground turmeric

1/4

tsp

garlic powder

1/8

tsp

ground white pepper

1/4

cup

whole milk

1

cup

white cheddar

shredded

8

oz

broccoli florets
Instructions
Bring a large pot of salted water to a boil. Boil the pasta shells according to the package until al dente. Add broccoli to boiling water during the last three minutes of boiling. Drain pasta reserving one cup pasta water.

When pasta is almost done boiling, in a separate pot, begin making sauce. Melt butter and add flour, salt, mustard powder, turmeric, garlic powder and pepper whisking together until paste forms. Add milk and whisk until combined. Add cheese, whisking until melted and well combined. Add half of the pasta water to help come together. Continue adding pasta water one tbsp at a time until melted and thick sauce forms.

Add pasta shells and broccoli to sauce and stir until combined. Add additional pasta water if needed. Serve hot.
Nutrition
Calories:
393
kcal
Carbohydrates:
50
g
Protein:
17
g
Fat:
14
g
Saturated Fat:
8
g
Cholesterol:
39
mg
Sodium:
498
mg
Potassium:
353
mg
Fiber:
3
g
Sugar:
3
g
Vitamin A:
748
IU
Vitamin C:
51
mg
Calcium:
259
mg
Iron:
2
mg