Chicken Gnocchi Florentine is a surprisingly quick recipe that is a delicious and well balanced meal that can be made in less than 30 minutes!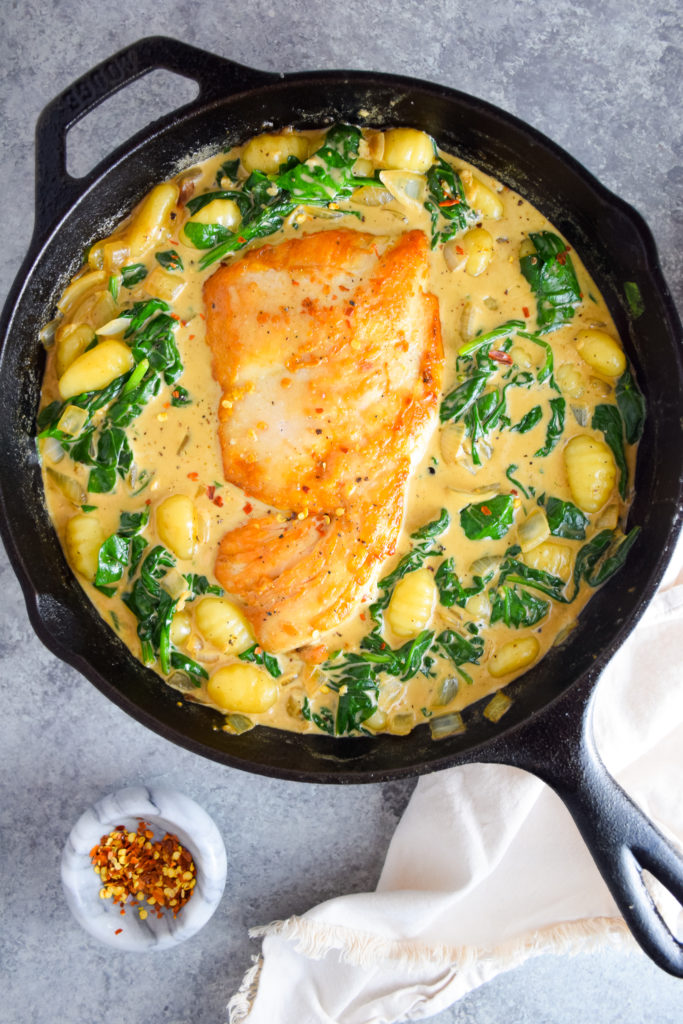 Did I mention this meal comes together in less than 30 minutes!?! Yes, it really does thanks to a quick cooking pounded chicken breast, gnocchi that barely takes any time to boil and only one, I repeat, one vegetable that requires chopping! I love that this recipe definitely constitutes a full meal meaning you don't need to add anything else to it to make dinner happen.
This post contains affiliate links. If you purchase a product through these links I may earn a few pennies. Thanks for keeping this free blog going!
Chicken Gnocchi Florentine
It always amazes me when a meal that is this quick and easy to make has so much flavor. Often times flavor is associated with slow cooking but not in this recipe! There is something about garlic and onions cooked in butter that make the base for a magic sauce. Add a little cream, black pepper and spinach and you're good to go!
This sauce manages to be decadent without being too heavy which I love. The chicken actually gets a lot of flavor from being pounded out and seasoned with salt before searing. Giving the salt a few minutes to penetrate the chicken before cooking makes a huge difference in my opinion. I have also been cooking with this salt
and it really is better than other kosher salts.
I also wanted to make a note that I gave up mincing garlic years ago and it has changed my life! Seriously. Get yourself a garlic press
and I guarantee it will make cooking so much easier. A good garlic press is well worth the investment. Just my little tip!
30 Minute Dinner Recipe
I made this recipe several times and BMW and I realized that there was discernible difference in the recipe when it was made in a cast iron skillet
. Don't get me wrong, it still tasted great in the non-stick skillet, but the cast iron added a little something, something to the sauce. If you have a cast iron, I would recommend using it for this recipe!
You Might Also Love
Souper Broccoli Cheddar Gnocchi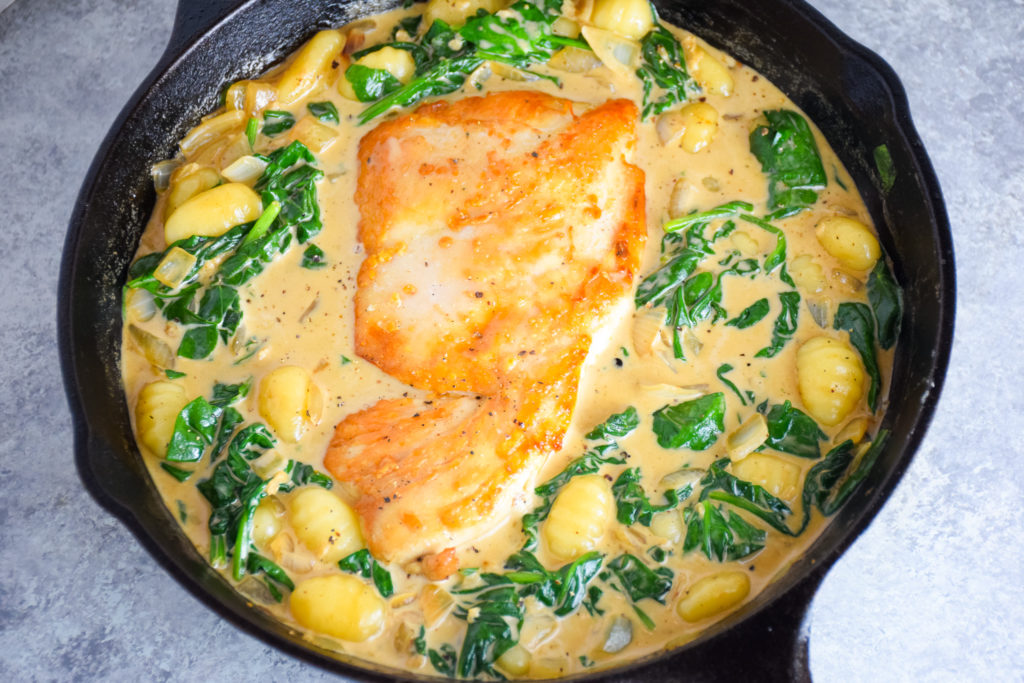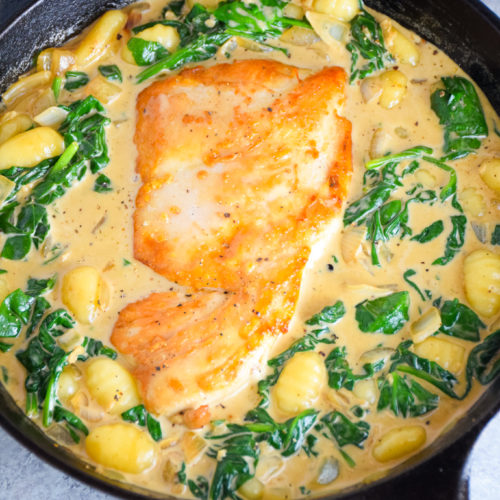 Chicken Gnocchi Florentine
Chicken Gnocchi Florentine is a surprisingly quick recipe that is a delicious and well balanced meal that can be made in less than 30 minutes!
Ingredients
1

chicken breast

approximately 1/2 lb

1

tsp

kosher salt

plus more to taste

1

tbsp

extra virgin olive oil

1

tbsp

unsalted butter

1/2

yellow onion

diced, approx 1 cup

4

cloves

garlic

minced or pressed

1/4

cup

parmesan

finely grated

1

tsp

black pepper

1/2

lb

gnocchi

boiled, reserving 1-2 cups pasta water

4

cups

baby spinach

1/2

cup

heavy cream

1/4

tsp

red pepper flakes

optional
Instructions
Pound chicken breast to about 1/2 inch thick. Season with kosher salt. Preheat skillet on medium high heat.

Cook chicken with the olive oil for 5-7 minutes on each side until cooked through or reaches an internal temperature of 165°.

Meanwhile, bring a medium pot of salted water to boil. Cook gnocchi according to the package. Usually about 2-3 minutes or until gnocchi float. Remove gnocchi from pot and set aside. Reserve 1-2 cups pasta water.

Remove chicken from skillet and set aside. In the same skillet, add butter, onion and garlic. Stir frequently, reducing heat if necessary to keep from burning, until onions are translucent and fragrant. About 3 minutes.

Add one cup of pasta water and gnocchi to skillet. Saute for 1-2 minutes more, increasing heat if necessary, until about half of the water has been reabsorbed.

Add parmesan and pepper and stir until combined. 30 seconds.

Add spinach, one large handful at a time, until wilted. Stir frequently.

Remove skillet from heat and stir in cream. Adding an additional tablespoon of pasta water at a time if needed to achieve desired consistency of sauce. I prefer the sauce to be thick where it coats the back of a spoon. Taste and add salt if necessary.

Add chicken back to skillet and serve. Alternatively, you can divide the gnocchi and spinach sauce onto serving dishes and cut chicken in half and place on top and serve hot. Add optional red pepper flakes if desired.
Nutrition
Calories:
717
kcal
Carbohydrates:
50
g
Protein:
37
g
Fat:
42
g
Saturated Fat:
22
g
Cholesterol:
178
mg
Sodium:
1956
mg
Potassium:
862
mg
Fiber:
5
g
Sugar:
2
g
Vitamin A:
6884
IU
Vitamin C:
22
mg
Calcium:
292
mg
Iron:
6
mg