Sharing all about designing our playroom guest room combo room! How we are making the most of this space in our home!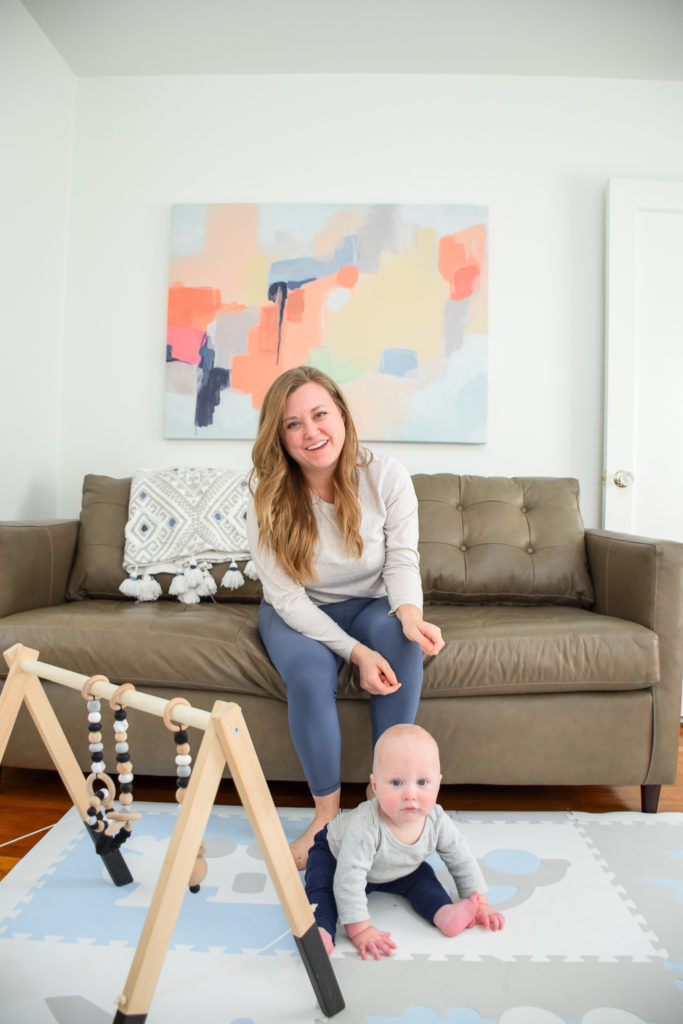 We've been busy this past year! We welcomed our bébé and started a big backyard renovation and backhouse addition. Lately, I've been documenting how we have been using our spare bedroom/BMW's office as a storage unit until we can move into our backhouse. We've finally been able to move things around a bit and have started putting together our playroom! I am so thrilled about this room because it is where I see myself spending lots of time each day with bébé Warren. I partnered with Austin Couch Potatoes on this project and they provided this amazing sleeper sofa!
This post is in partnership with Austin Couch Potatoes. They provided me with this sleeper sofa in exchange for this post. Thanks for supporting the companies that keep this blog going!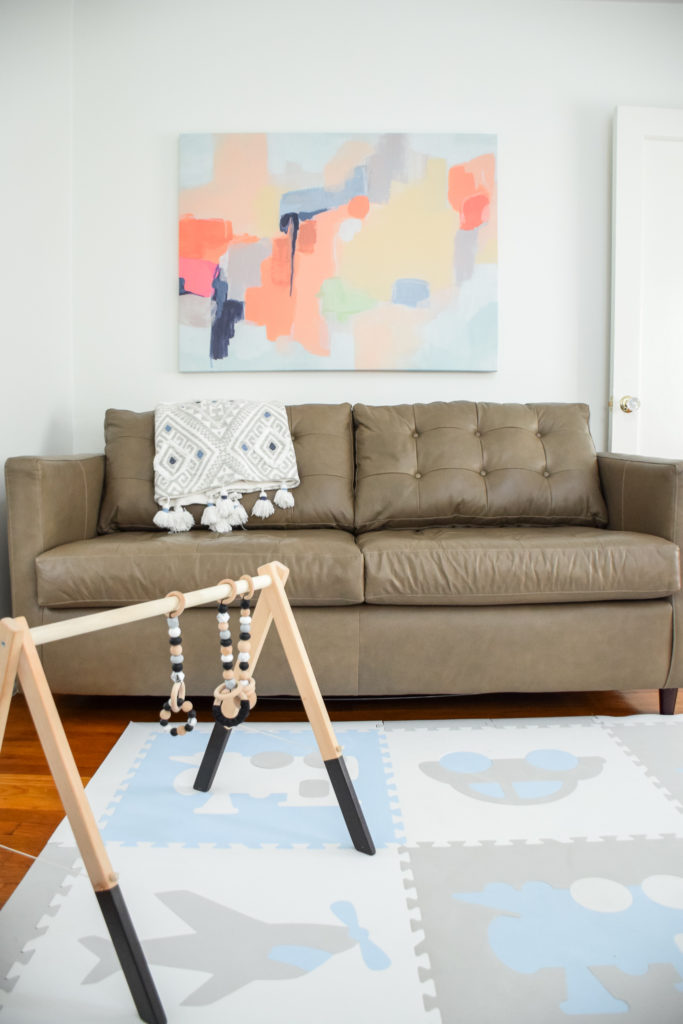 Inspiration for Our Playroom Guest Room Combo
As I began dreaming up what to do with this room, I knew I wanted to make the most of our space. I needed seating but also something that is durable enough for kiddos but looks good too. I knew having lots of open floor space was important so that Warren can crawl around and do all his bébé things.
We looked into a murphy bed thinking that might be a good solution. The murphy bed is great because it would have given us lots of floor space but it didn't solve our seating problem. Enter the sleeper sofa! We chose this amazing Wallace Sofa from Austin Couch Potatoes' Austin Made line.
This couch is so comfortable! It's deep without being impossible to get up from and the leather is buttery smooth and feels worn in the best possible way, like the perfect fitting jeans. The Austin Made brand from Austin Couch Potatoes is great because everything is made right here in Austin and supports local jobs. The couch comes with a soft memory foam mattress and unfolds really easily!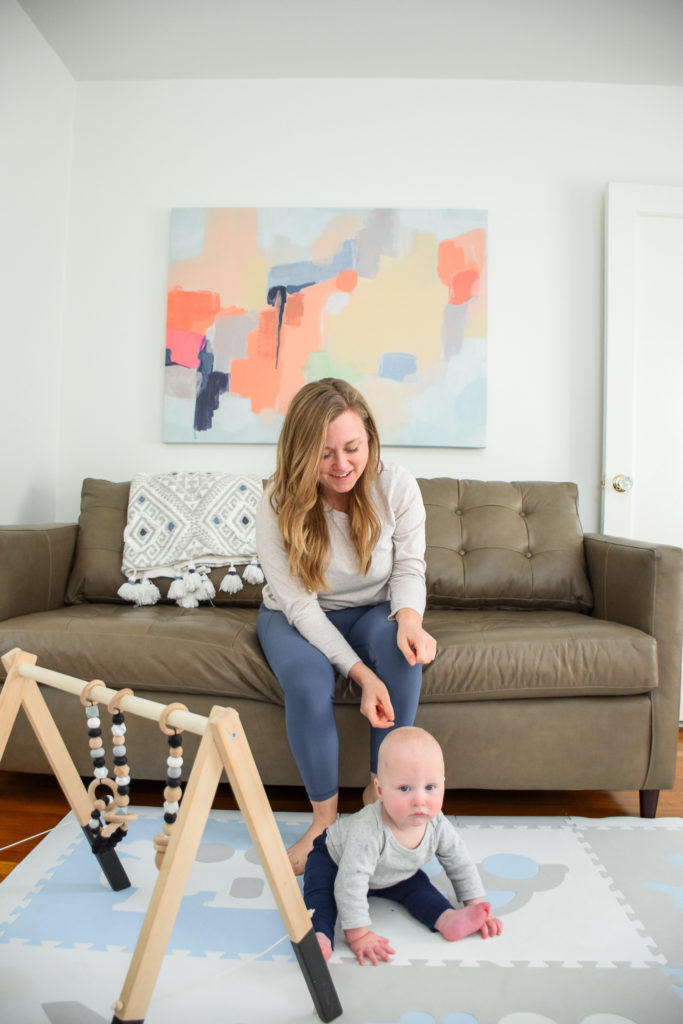 Playroom Guest Room Combo Room
Even though we will have additional guest space out back, we hope to one day welcome lots of family to our place for the holidays and long pool weekends. I wanted to have space to comfortably sleep as many as possible. That's why I wanted to get a nice couch in our playroom. Most days we will use this space for Warren but whenever we have family or friends staying we will have some extra room for them to sleep.
While I have been dreaming up this room, I put together this Pinterest board with lots of dreamy ideas. I am still working on styling this room and making it perfect. If you have any suggestions about what we should include in this space, I've love to hear it in the comments!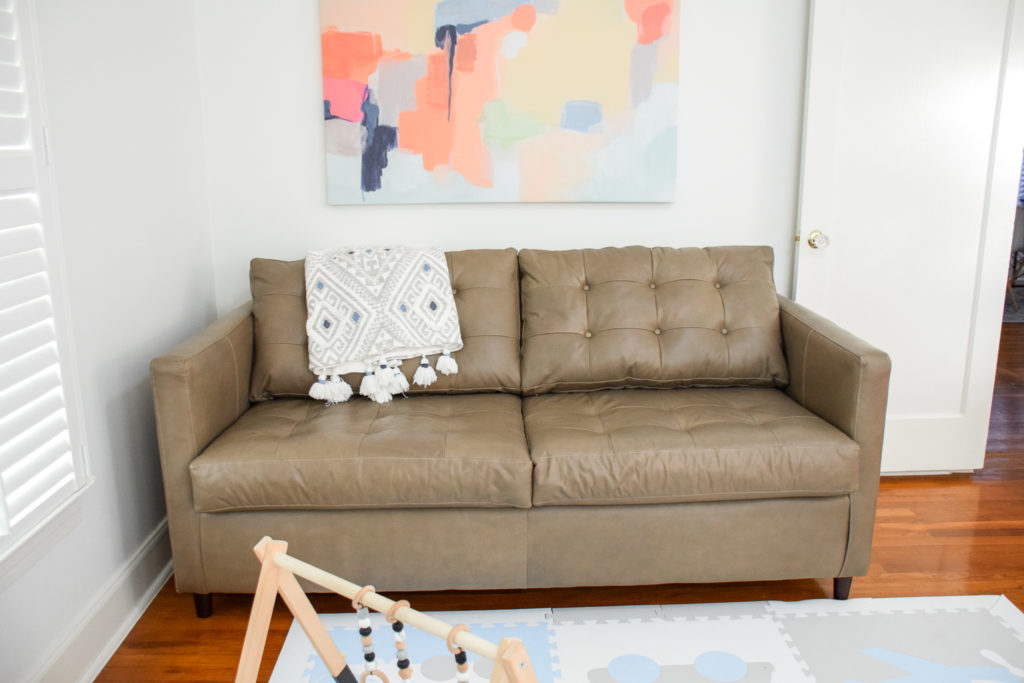 Designing Our Playroom Guest Room Combo
I am putting the final touches on this room this week and I am so excited to share the final reveal with you next week! Stay tuned!
You Might Also Love 
Backhouse Update – A Peek Inside!
Our Backyard Renovation and Addition