Backhouse Update — A Peek Inside! Sharing some behind the scenes photos and tips that we've learned from our construction project!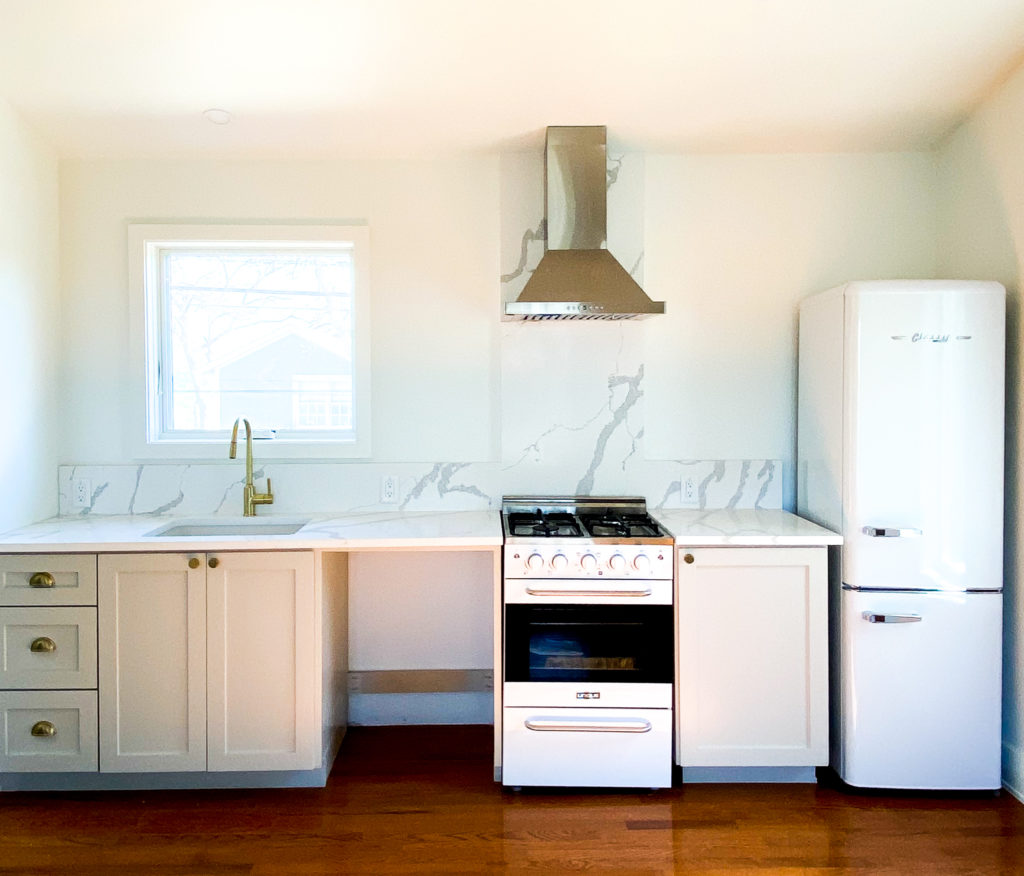 Wow, this update is long overdue! If you need to catch up on our backyard project you can get the full scope of the project here. I've been a little bit better about keeping y'all up to date on this project over on Instagram Stories where I have a highlight dedicated to this project if you want to check out some videos. Today I am sharing some updated photos of the inside which is the upstairs apartment and some of the progress we have had up there!
This post contains affiliate links. If you purchase a product through these links I may earn a few pennies. Thanks for keeping this free blog going!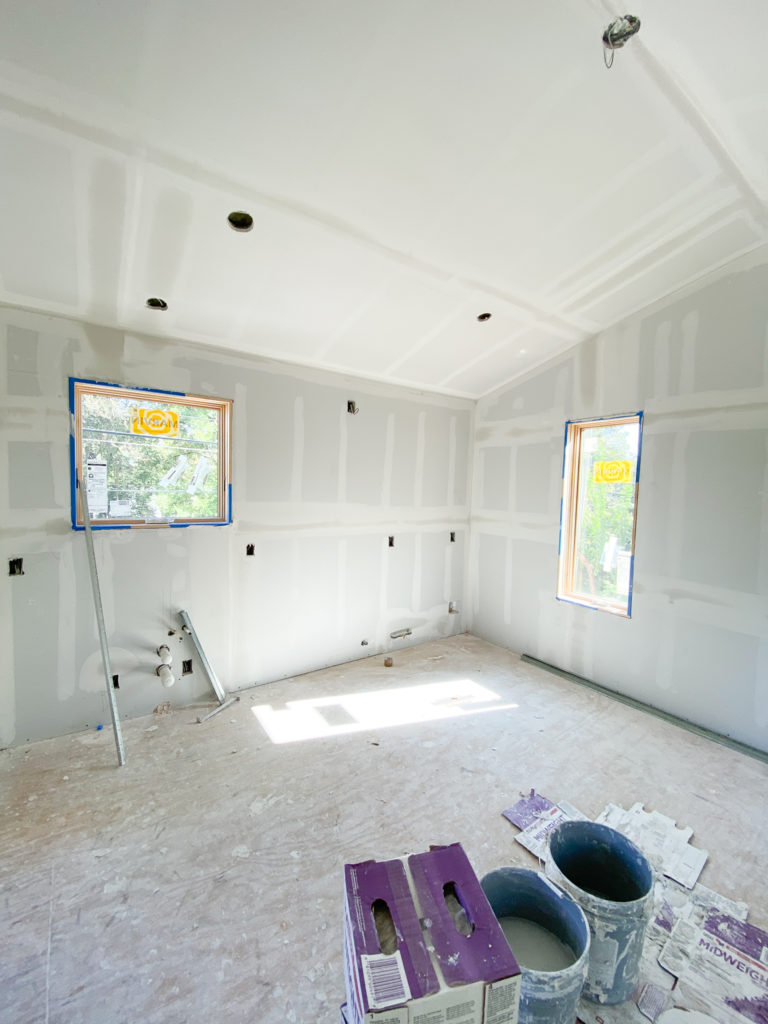 Looking at wall where kitchen will be.
Upstairs One Bedroom Apartment
When we decided to embark on this project it had originally started out as wanting a pool in our backyard. Then we were like ok well if we have a pool then we will want a patio and then that patio should definitely have an outdoor kitchen. And if we are going to be spending so much time out there then we will want a bathroom too. And well if we are going that far what would it look like if we just went up and added an apartment! If you give a mouse a cookie… haha! And that is how we ended up with this big project!
Anyways, that being said, we are so glad we are making the most of our space. It has definitely been a lesson in patience. With construction it seems like one step forward and two steps back. Originally, our project was slated to be completed by Memorial Day 2020. Our project was delayed at the start so that pushed things to 4th of July. Then as we broke ground things were taking longer and it was pushed again to Labor Day. Then it was end of October. We were holding out for Christmas miracle but here we are in 2021 and 11 months into our 6-8 month project! Life is funny that way.
A Lesson in Patience for Our Backhouse
Before we started this project I had spoken to a few friends that told me everything would taken longer than expected and that we would be over budget. Because there are always surprises. I, being the stubborn person that I am, was like I can plan for these things. I will be on top of our contractor and quick with design decisions and communication and since this is new construction and not a renovation… well certainly there wouldn't be many surprises, right?
Wrong! Haha. When we started planning this project I wasn't even pregnant.  Now I have an almost 9 month old bébé! I should have listened to my friends. Construction and renovation is a long tedious process. I wasn't really prepared for that process. It's messy and there are constant decisions to make. If you love the process than you might do ok with a project like this. But now I see why some people will only buy something that is move-in ready! I get it now!
In the end, I will be glad that we did this and hopefully I will forget how frustrating this was and just enjoy our backyard and our backhouse that will serve as amazing guesthouse and office for BMW. This will allow us to have a playroom in our main house for Warren. Not to mention a great backyard with outdoor cooking space, a pool and lots of green space for kids and dogs. Onward and upward!
Backhouse Update — A Peek Inside!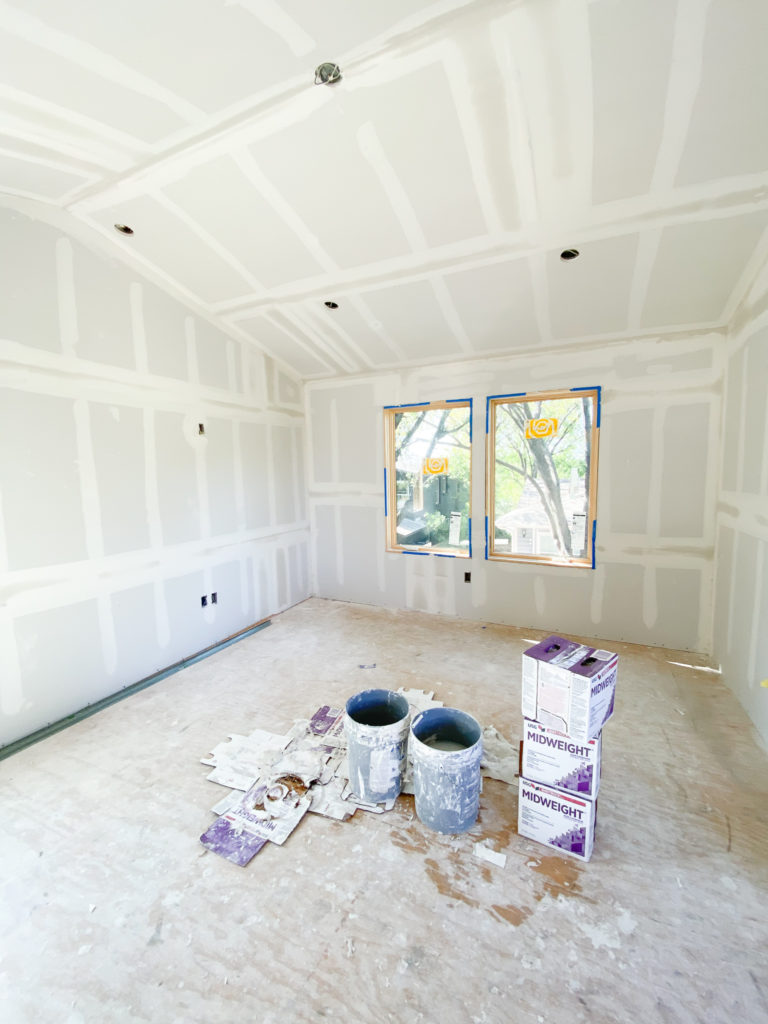 Living space overlooking backyard. BMW's future office space and guest living/kitchen when friends and family are here!
Living and kitchen space view upon entry.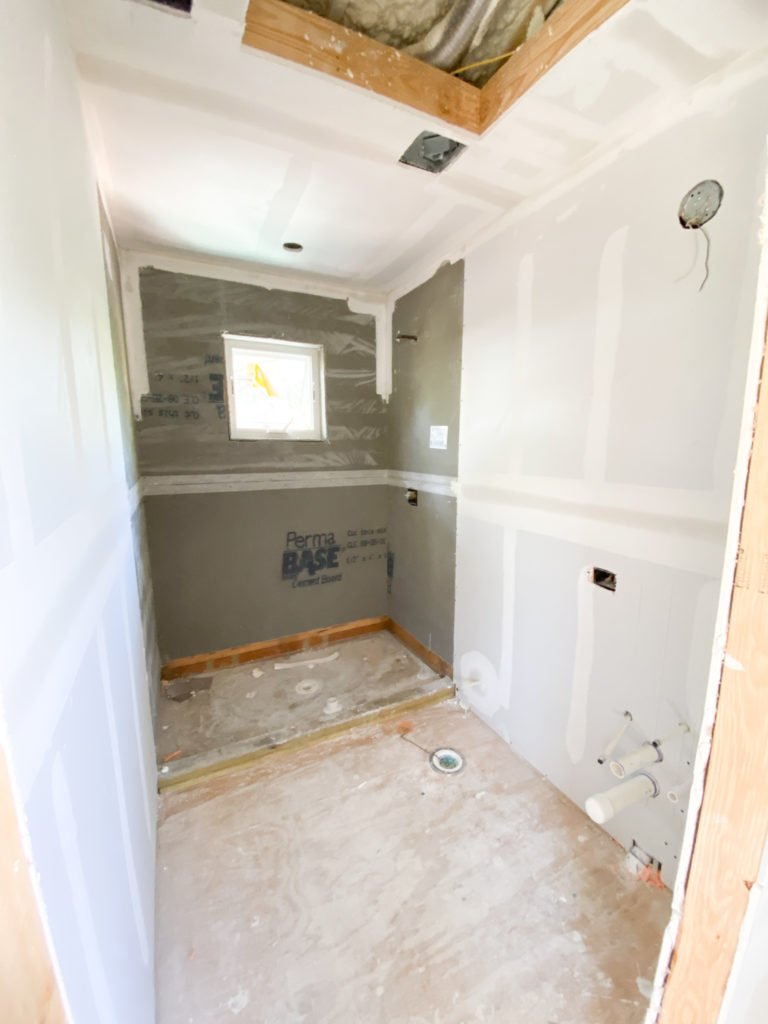 Bathroom. 
Beginnings of shower tile installation.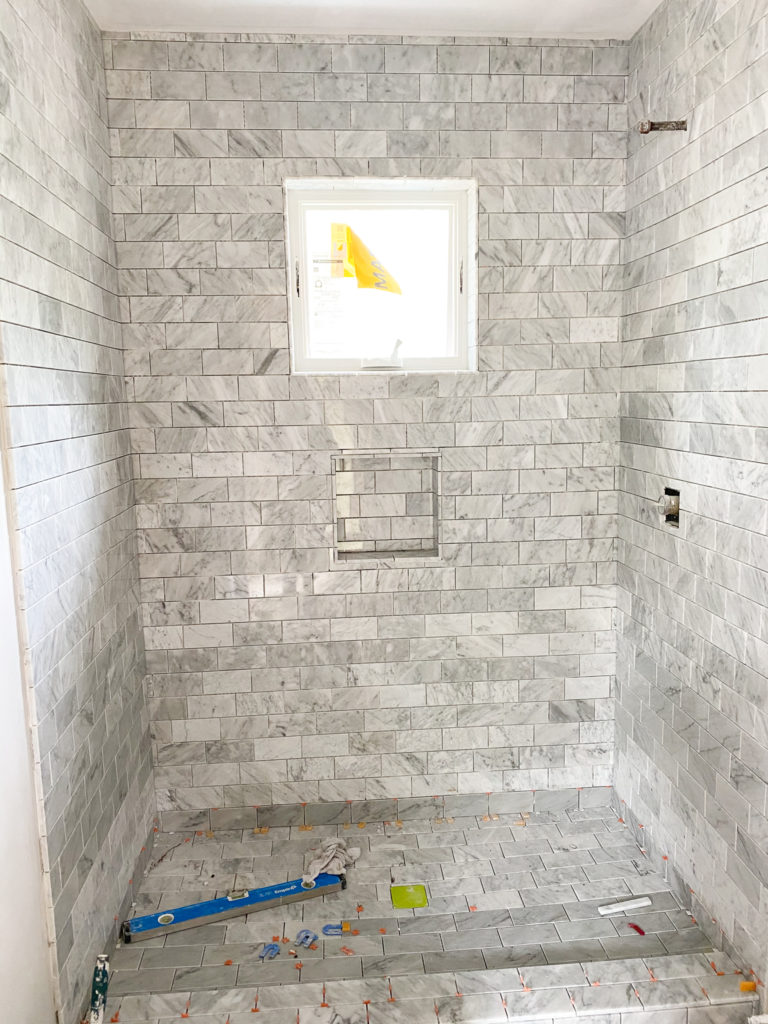 Shower tile ready for grout.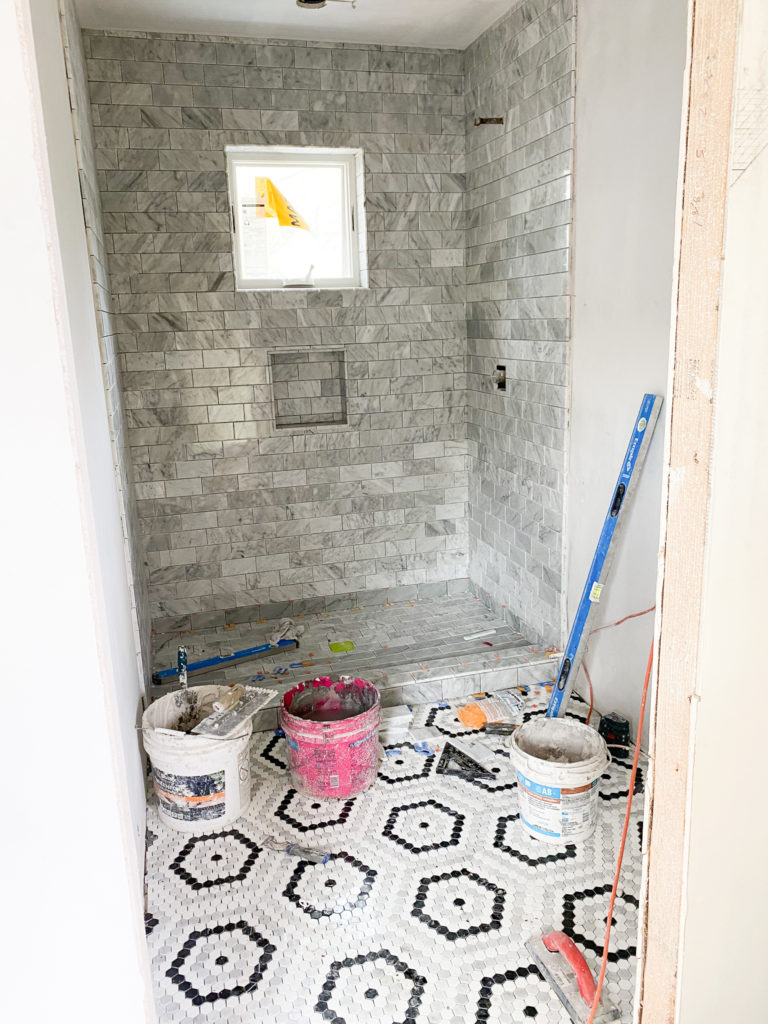 Bathroom floor tile installation.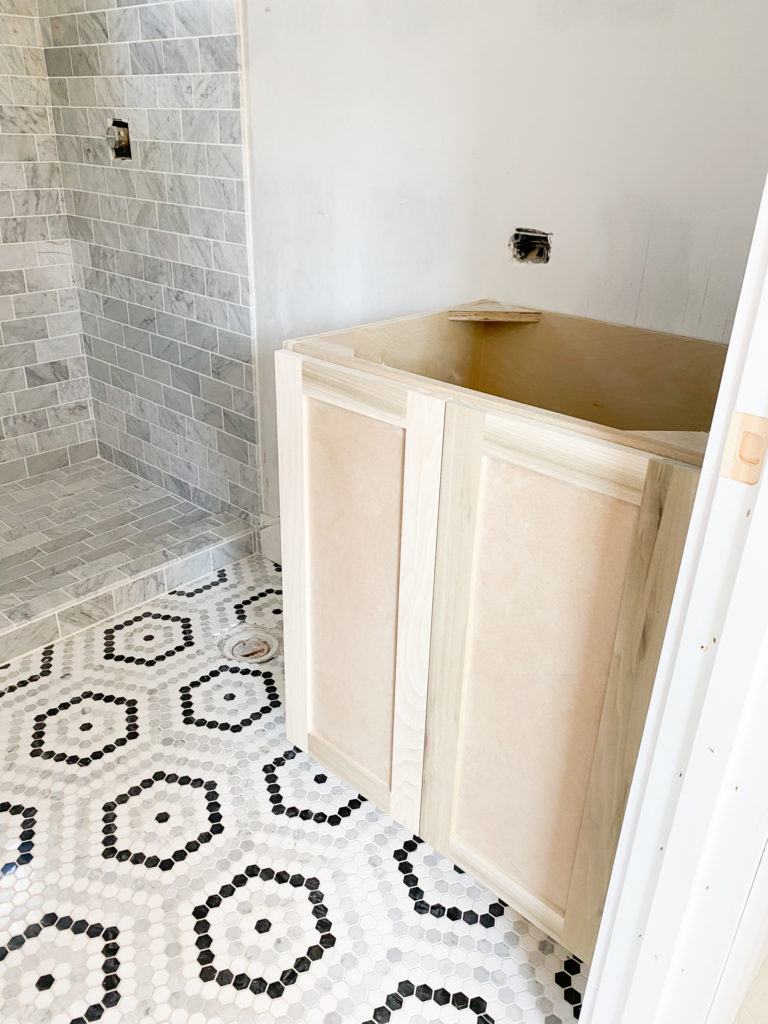 Cabinet installation.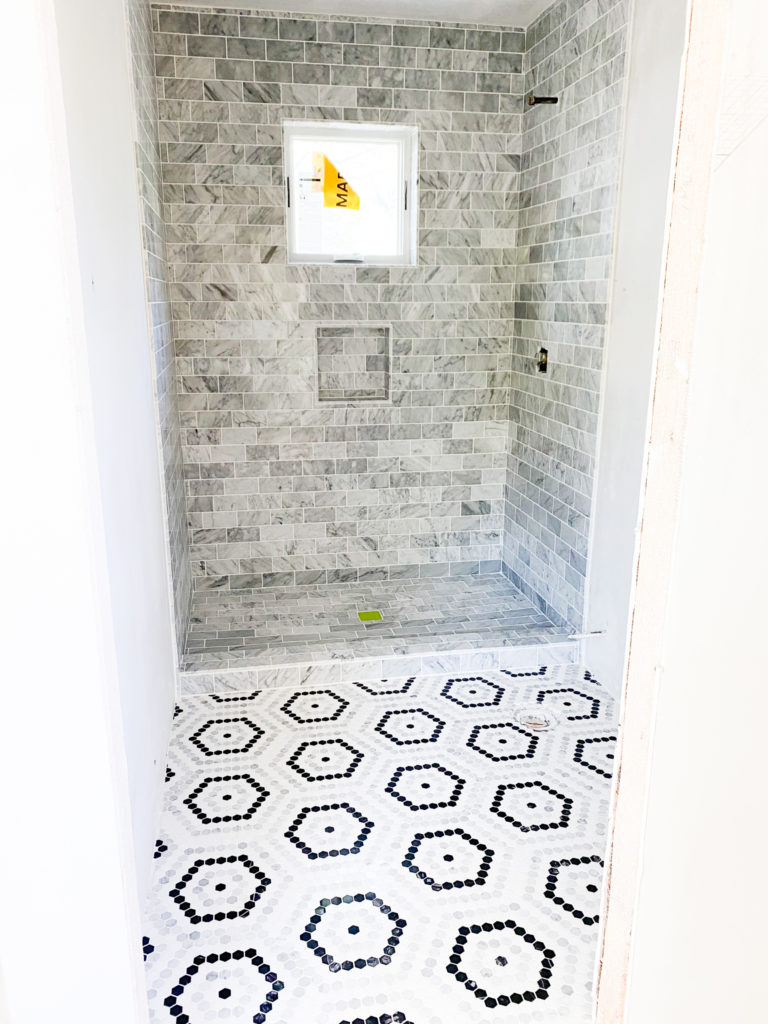 Bathroom tile complete and ready for appliance installation.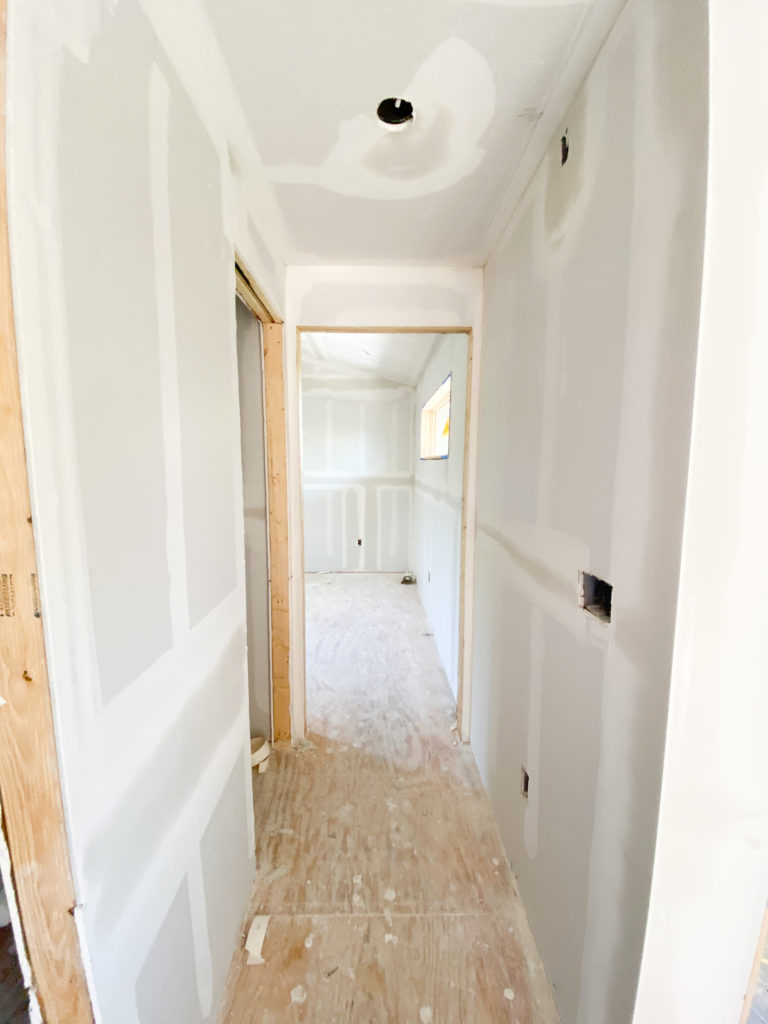 Hallway- bathroom first door on left, then laundry closet and bedroom.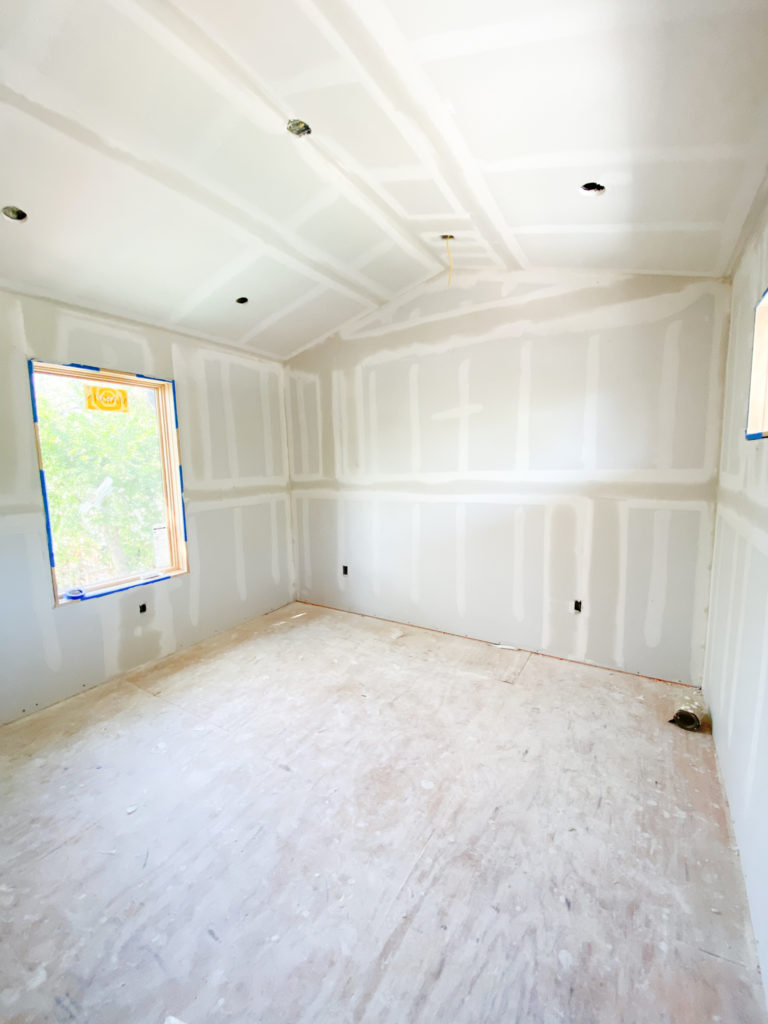 Bedroom view upon entry.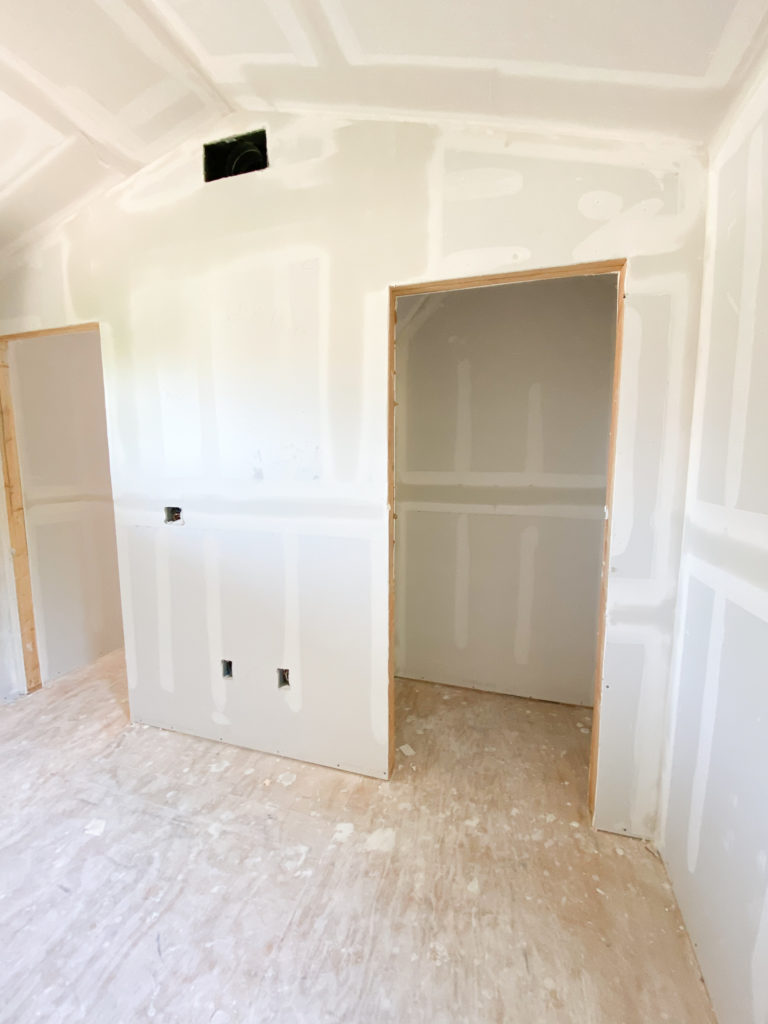 Bedroom view looking towards door with closet on right.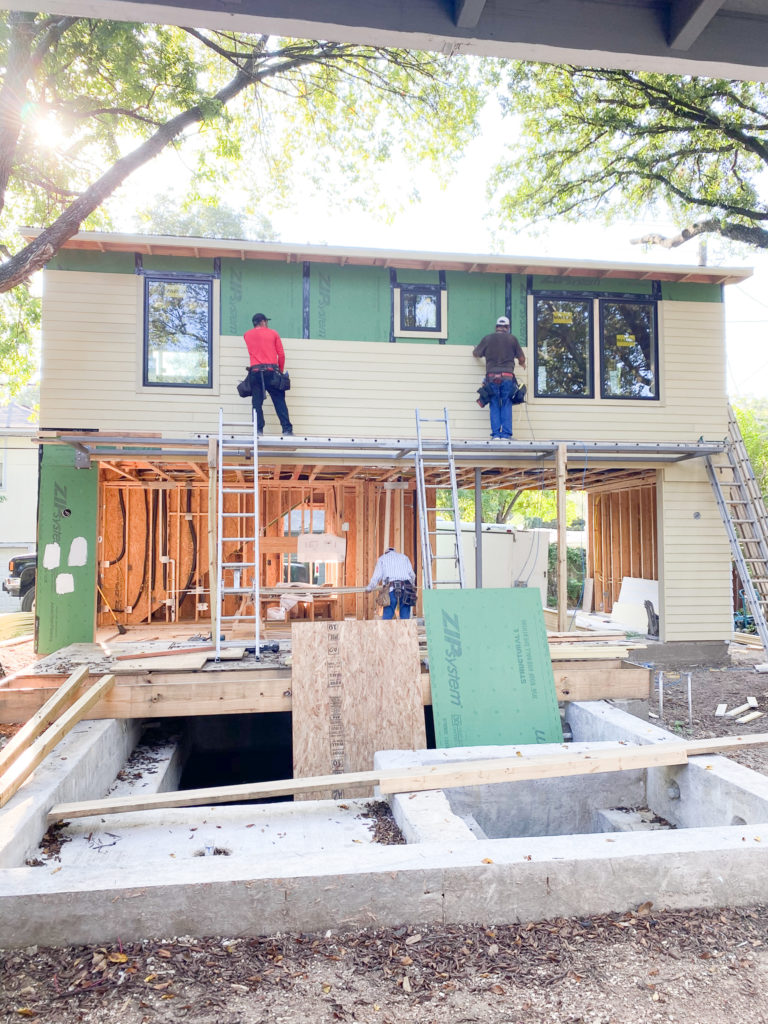 Outdoor siding going in.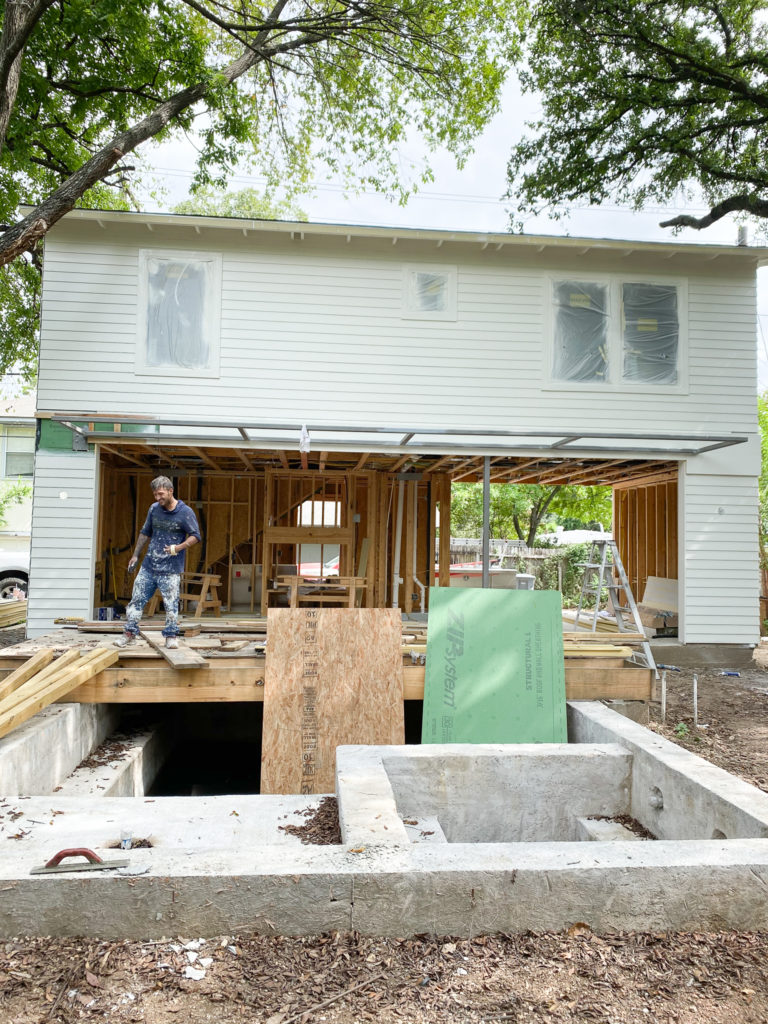 First coat of paint going on so that pool could be finished. Wanted to do as much as possible outside before pool was completed so that nothing got damaged.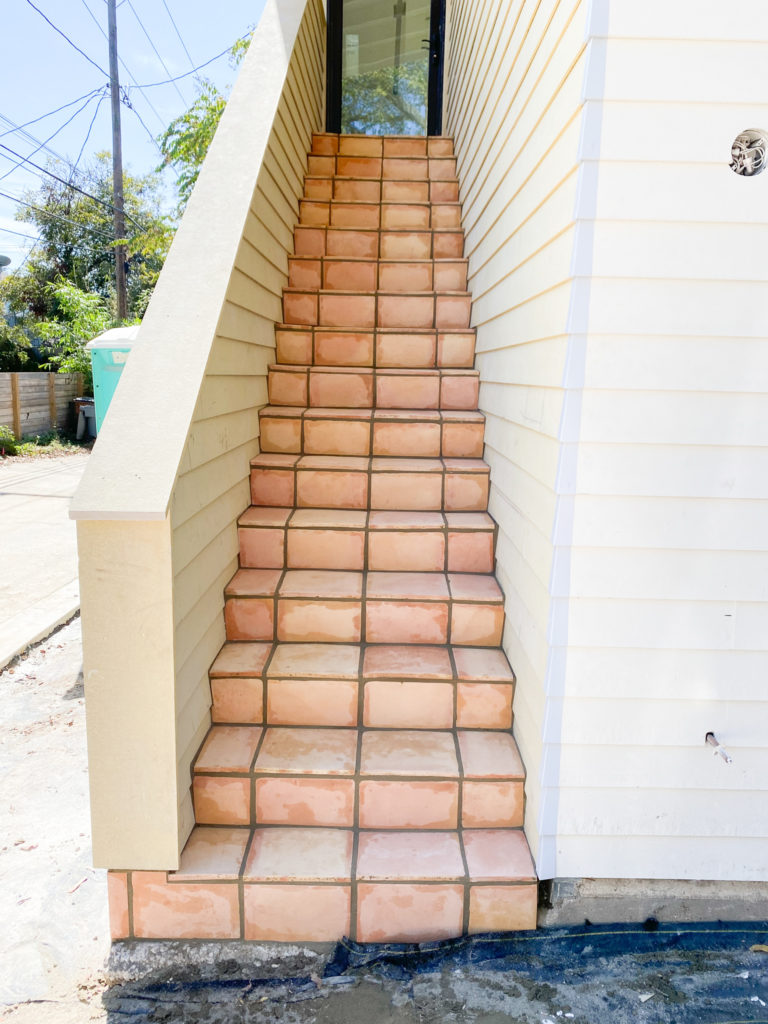 Stairs were planned to be wood but that wasn't possible because of the water proofing that was needed. You can nail into waterproofed materials or it ruins them. So, we had to go a tile route. We thought we wanted brick but now are so happy with our Saltillo tile. It had a warming effect while still being subtle and modern. Plus, it's really affordable as well as durable!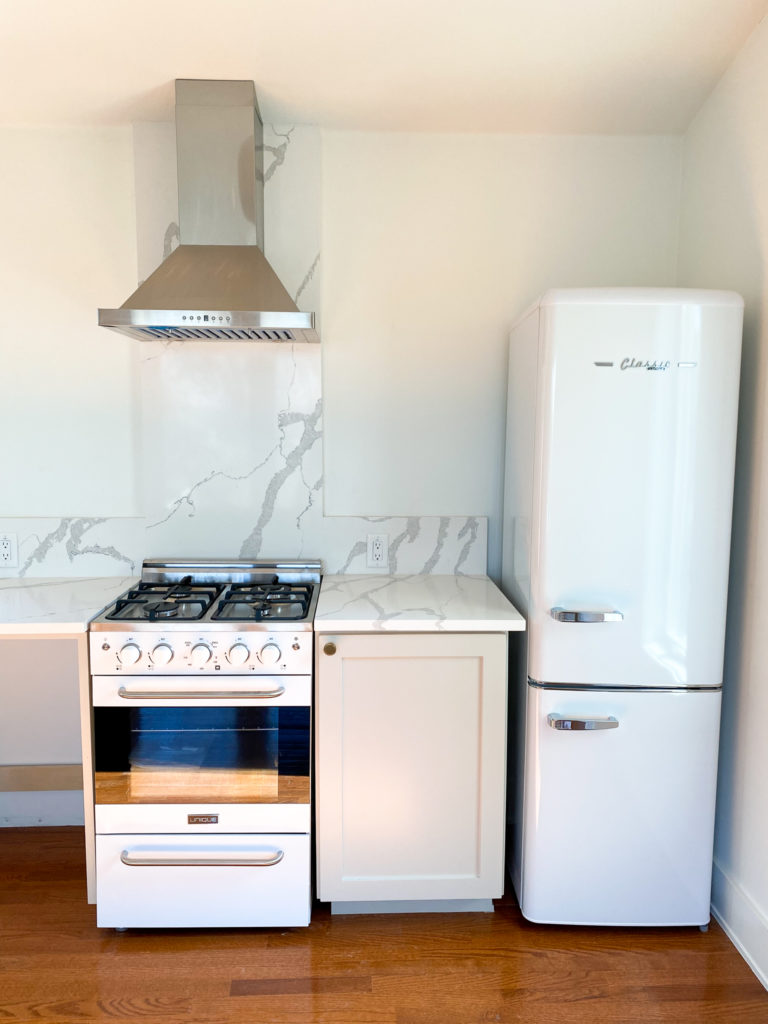 Now, my favorite part– the kitchen!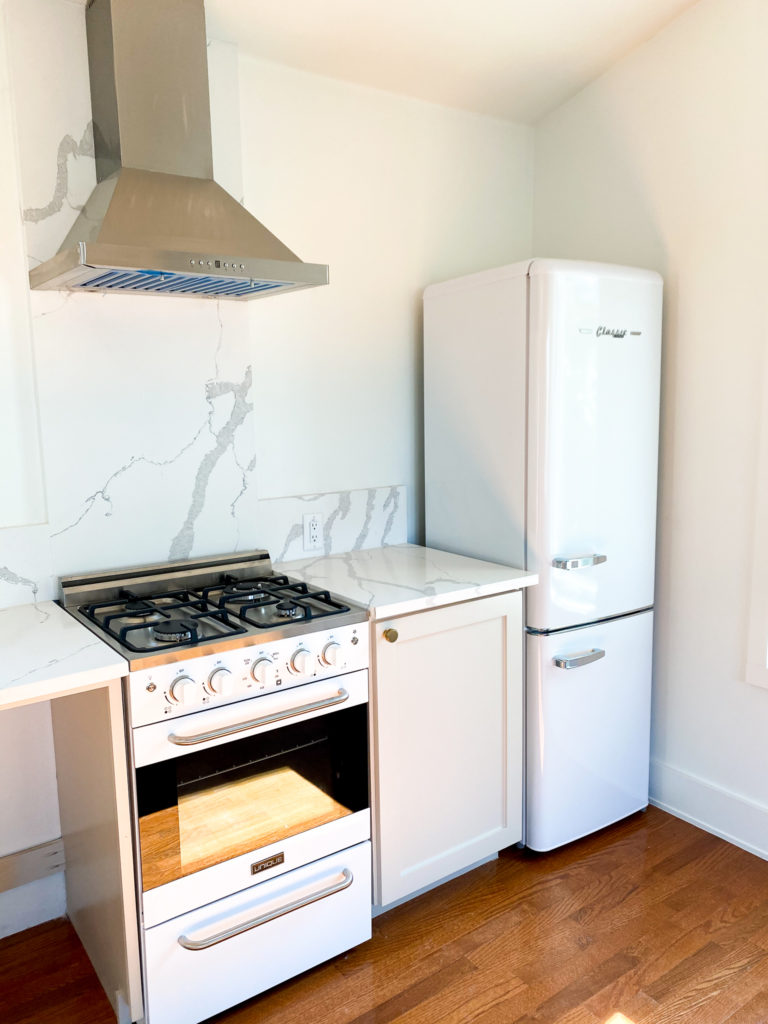 We opted for a slim, retro looking fridge and small gas range with this venthood.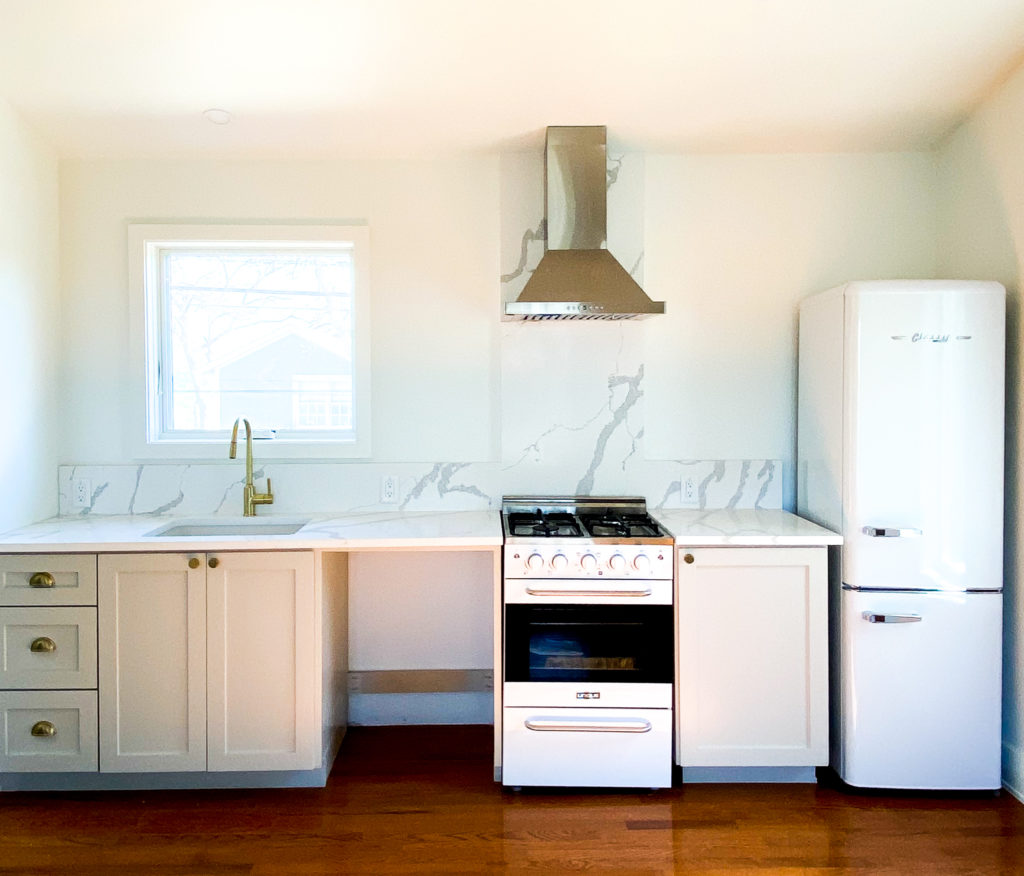 Since the kitchen is so small, we were able to use pieces of quartz leftover from other projects which made it very affordable. I love that we took the quartz all the way up behind the range to provide something slightly more dramatic than a normal backsplash without committing to a tile color or pattern.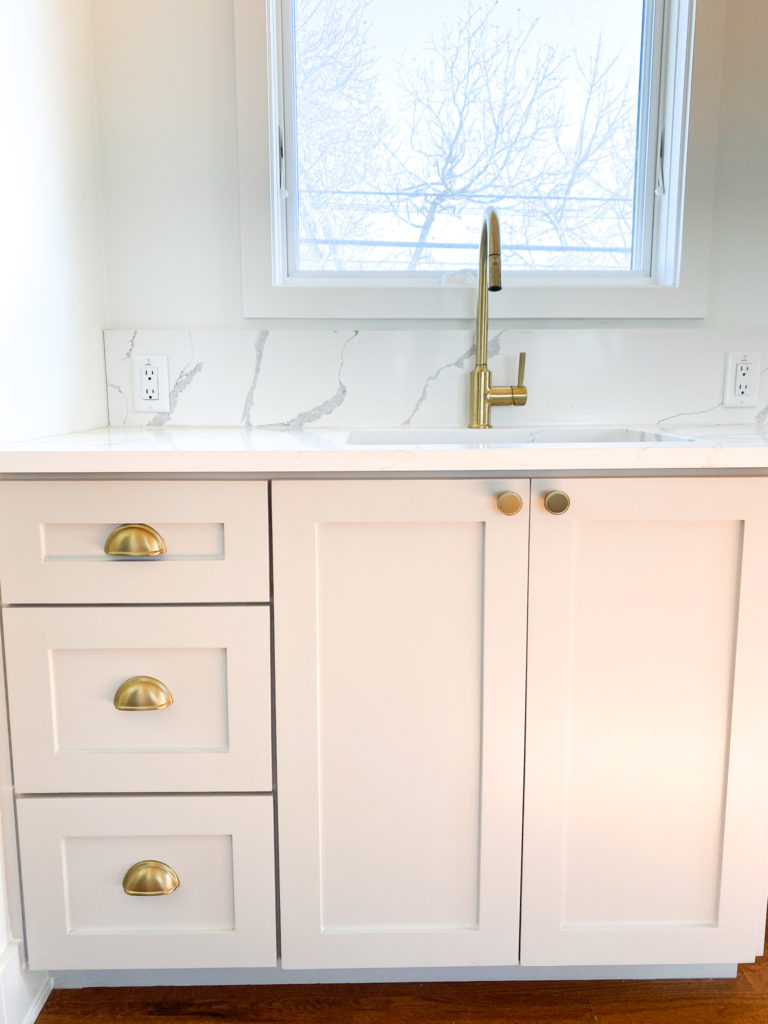 We mixed metal finishes and I am happy with the way it looks! We used light colors throughout the upstairs and warm wood floors. My hope is that we don't ever have to do much renovating up here. Maybe just painting and switching up knobs and such to keep it looking fresh. (knobs, cup pulls, faucet)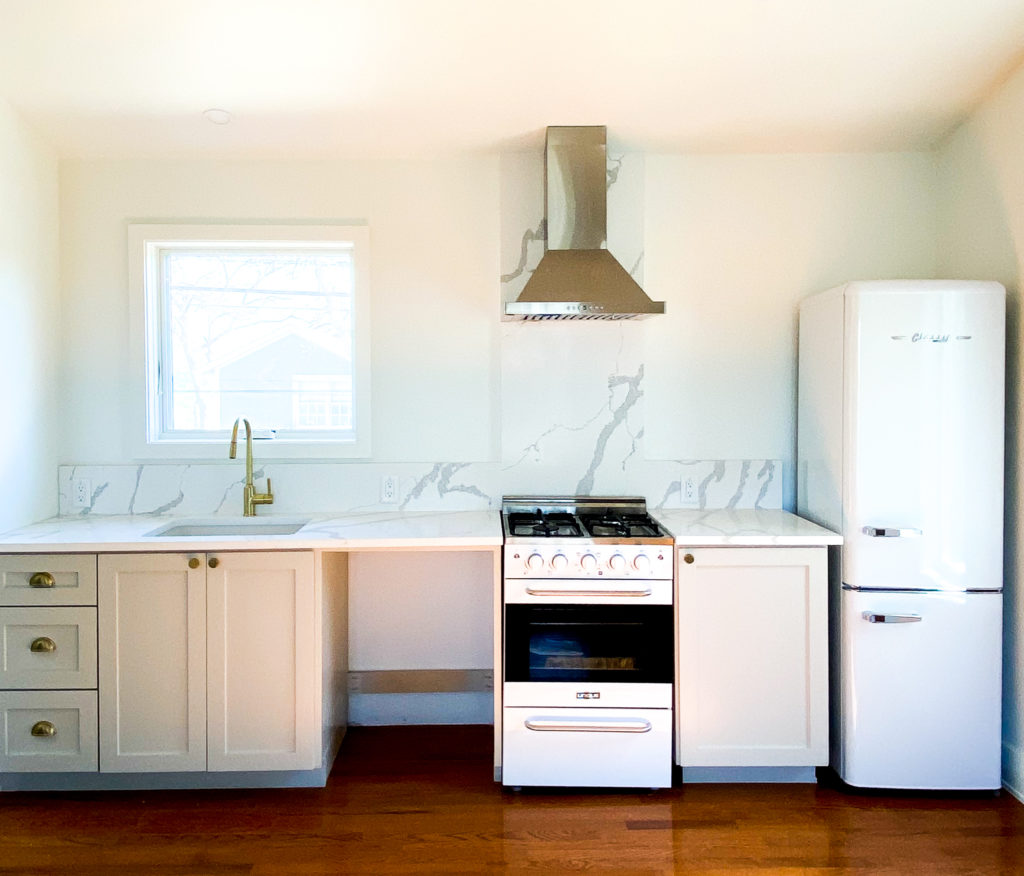 Wall paint is Falling Snow from Behr and cabinets are Repose Grey from Sherwin Williams. 
The empty space between the sink and stove is for a dishwasher which we are waiting to install until everything else is complete. Since no one is using the space currently, there is no rush.
I will be writing up more on the outdoor space and kitchen, as well as details for the pool and the landscaping. Drop any questions in the comments!