Cinnamon Spiced Cauliflower is a delicious side for your Thanksgiving meal!
It's never too early to start thinking about Thanksgiving sides! And let's be honest, my favorite part about Thanksgiving dinner is definitely the sides. Cauliflower is a super versatile vegetable and lends itself well to the holiday table. From Mashed Cauliflower Potatoes to a Whole Roasted Cauliflower, this veggie seems to always make its way to my table. This year, I wanted to spice things up a bit and this Cinnamon Spiced Cauliflower is the perfect autumnal side!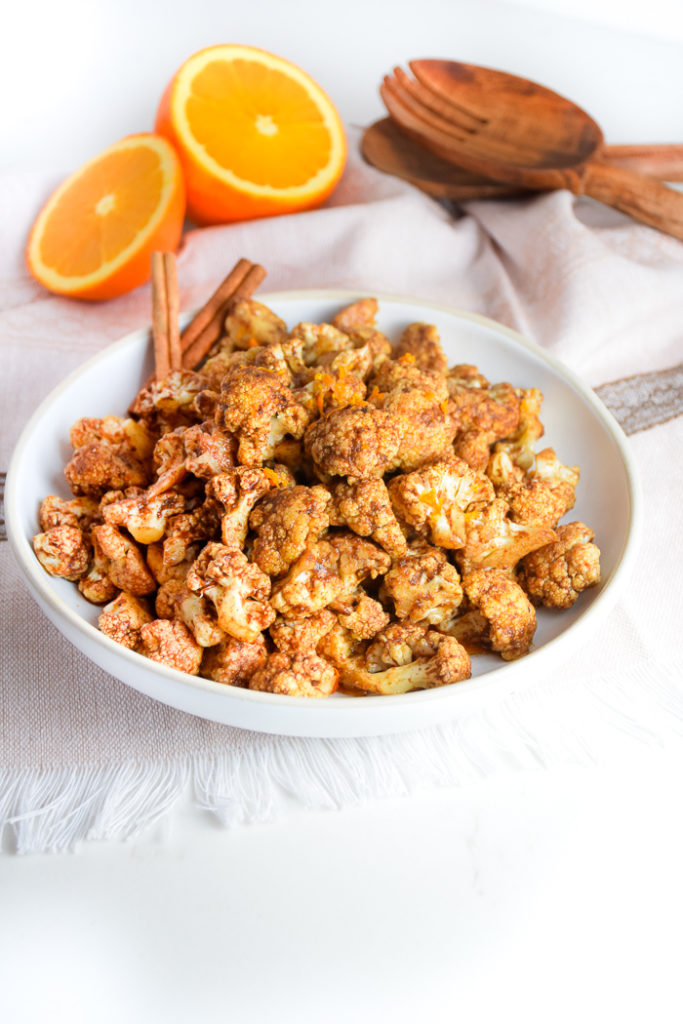 Best Sides for Thanksgiving
Are you a traditionalist when it comes to Thanksgiving food? Or do you like to try something new? I land somewhere between the two. I love some of the traditional sides like Green Bean Casserole, mashed potatoes and of course soft, yeast-y rolls. But I always like to mix it up with some fresh and fun like this Fall Holiday Salad.
This year, I've been craving warming spices and wanted to incorporate that into a recipe! I knew my family wouldn't go for something too weird or different but a little cauliflower with cinnamon? Now that is something I could get them to try!
Even BMW, my traditional meat and potatoes guy, was a fan of this Cinnamon Spiced Cauliflower! Major bonus points because this recipe is vegan and gluten-free, which makes it perfect for those Friendsgiving get togethers when you aren't sure what to bring to everyone who has crazy diets!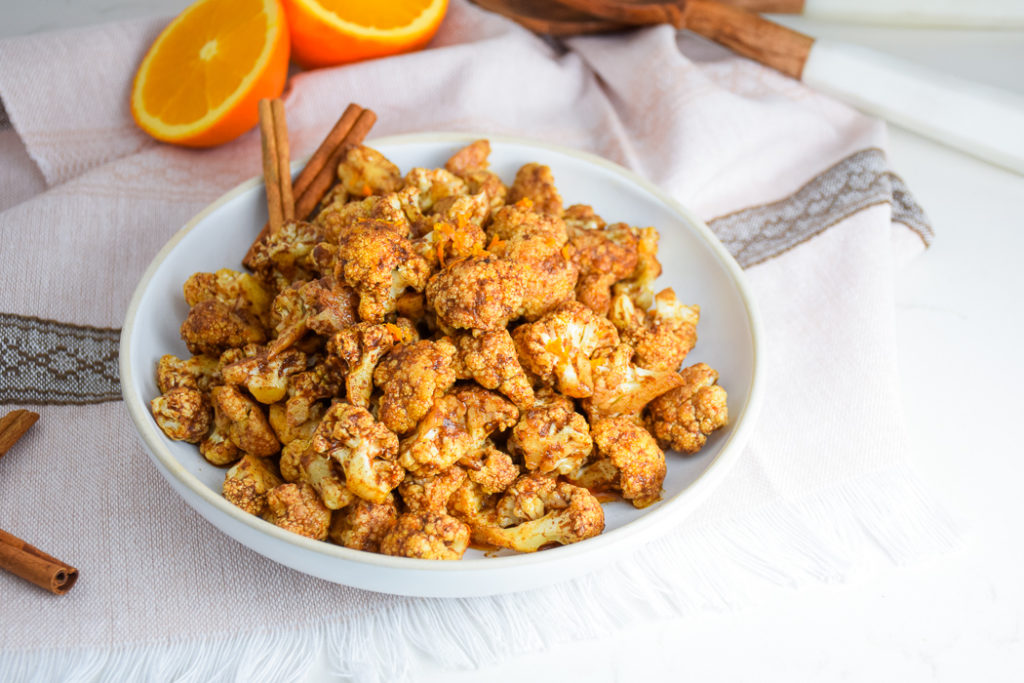 Cinnamon Spiced Cauliflower
Makes 4-6 side servings
Ingredients: 
1 head of cauliflower, chopped small, about 4 cups
4 tablespoons olive oil
1 1/2 teaspoons ground cinnamon
1 teaspoon ground cardamom
1 teaspoon Garam Masala
1 teaspoon kosher salt
1 teaspoon orange zest
1/2 teaspoon ground paprika
1/4 teaspoon ground coriander
1/4 teaspoon ground white pepper
Directions: 
Preheat oven to 350 degrees. In a large bowl, whisk all spices with olive oil until there are no longer any clumps.
Toss cauliflower with spiced olive oil until well coated. Put into baking dish and bake for 25 minutes or until fork tender.
As you can see, this recipe is so easy to make! So even if you "can't cook" I feel confident you can make a batch of this Cinnamon Spiced Cauliflower!