This Blackberry Bramble cocktail is so refreshing and light! It's made with real blackberries and includes a quick recipe for Créme de Mure!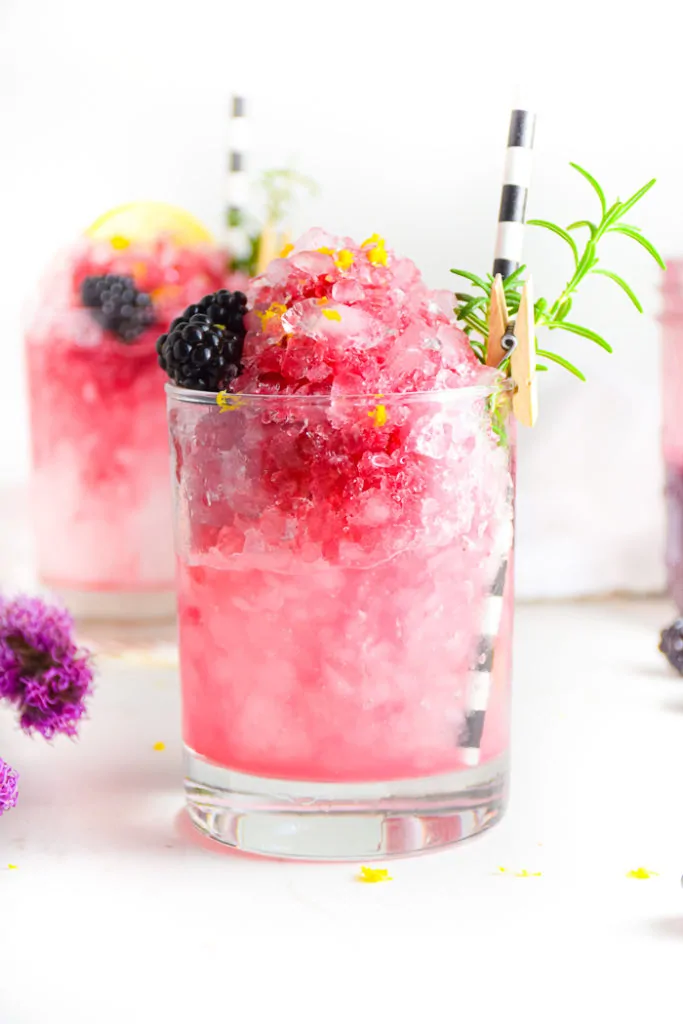 It's bramble season! Don't know what a bramble is? It's a cocktail inspired by bushy plants that grow berries– like the blackberry! It's so refreshing and perfect for these hot weather months. I mean in Austin, that is really anytime though. The sweet blackberries, zesty lemon and herby rosemary play so nicely with the gin in this cocktail. Créme de Mure is what makes the bramble, well the bramble, and different from any other muddled fruit cocktail. I definitely recommend taking a few extra minutes to make a jar. You can pour it into cocktails, mocktails, over ice cream and or lick it with a spoon.
This post contains affiliate links. If you purchase a product through these links I may earn a few pennies. Thanks for your support to keep this free blog going!

During our recent trip to the Mississippi Coast, we had a really delicious blackberry bramble at a craft cocktail bar there. It reminded me how much I love brambles. I hadn't had one in such a long time. One of the things I love about brambles is how fresh they are. Well, if they are made correctly of course. You can get a super syrupy processed one if you don't know to ask if they make their own Créme de Mure, which you know from the title of this post is blackberry syrup.
Syrups get such a bad name these days since there is sugar overload in processed foods. But don't be scared off. This syrup is made with super simple, clean ingredients and a little sugar is ok, because you only need a little bit of your homemade Créme de Mure to make this cocktail. Basically, a little bit goes a long way! You can buy a bottle of Créme de Mure, or Cassis the other name for it, at the liquor store but it is not the same. It's like saying that bottled lemon juice is the same as fresh, and as we know all know, it's not.
Second, the bramble needs crushed ice. Yes, you need crushed ice. Never fear, I have a hack below that tells you exactly how to make the crushed ice in this picture at home. It's so easy that I can't believe it took me this long to figure it out, ha!
Brambles traditionally call for gin. I know, I've been on quite the gin kick lately. You can of course make this with vodka. However, I would encourage you to choose a vodka that is smooth and potentially a bit floral. Otherwise, choose a good quality gin, like Waterloo or Hendrick's.
Don't forget to strain, strain, strain. It's important to strain the Créme de Mure or you will be slurping seeds and then it will just get weird.
How To Use A Vitamix To Make Crushed Ice At Home
Umm, how did this just dawn on me?! I've had a Vitamix
for years and never thought to use it to crush ice! I mean, I've been crushing ice by hand for cocktails for years and now I am just laughing at myself for not realizing this genius, two-second hack. The crushed ice is key to this Blackberry Bramble Cocktail.
How to Make Crushed Ice with A Vitamix: 
Fill your Vitamix with ice. Add just enough water so that the ice floats above the blades, otherwise the ice will keep freezing back together.
Pulse for one second. Literally, it's that fast. Pour off any remaining water and use your crushed ice! So genius!
Quick Homemade Créme de Mure (Blackberry Syrup)
This syrup is what makes the bramble! It gives the drink it's bright color and signature taste. You can buy a bottle or make your own quickly at home, which tastes much fresher in my honest opinion. There are about a gazillion recipes for Créme de Mure out there but this is a quick version and should be kept in the fridge.
Makes about 2 cups
Ingredients: 
1 cup blackberries
1 cup red wine
1/2 cup of sugar
zest of 1 small lemon
Directions: 
In a high powered blender, combine blackberries and wine until smooth. I like to keep blending on the highest speed for an additional two minutes to get it as smooth as possible.
Strain the blackberry and wine mixture through a fine mesh sieve into a small pot. Add sugar and dissolve over medium low heat, stirring frequently, being careful not to burn the sugar. About three to four minutes or until just starting to bubble.
Add lemon zest and stir one more minute.
Strain the Créme de Mure one last time through a fine mesh sieve into a jar or bowl and set aside. Can be made ahead of time and kept in an air tight jar in the fridge. This will stay good for a few weeks so you can use again!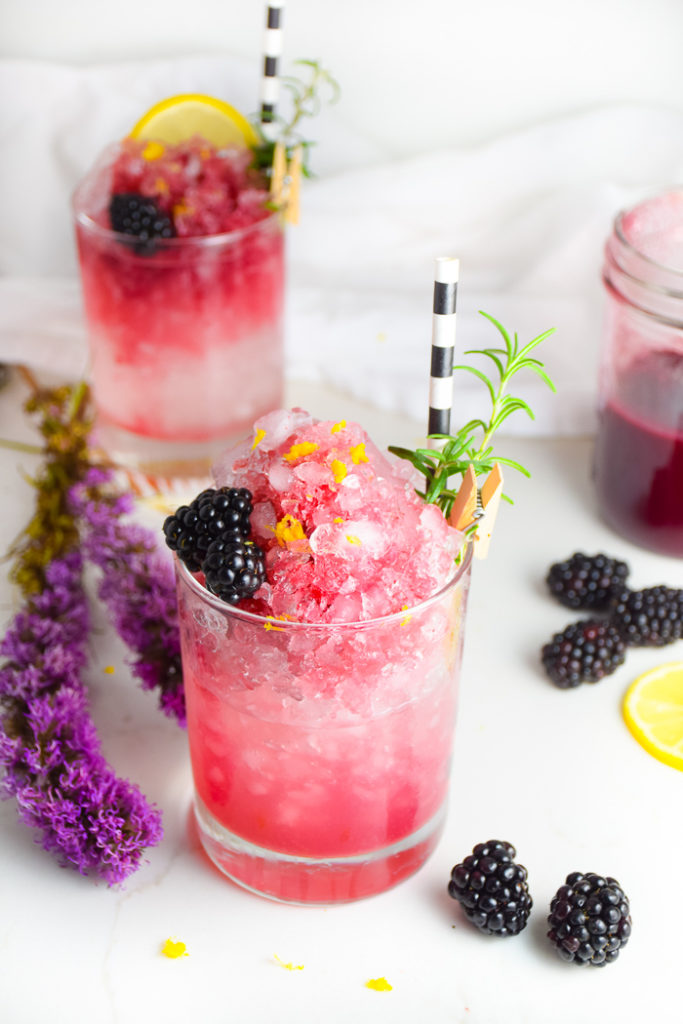 Blackberry Bramble Cocktail
Makes one cocktail
Ingredients: 
1 1/2- 2 cups crushed ice, mounded in a rocks glass
2 ounces gin (for a mocktail, replace with sparkling water!)
1 tablespoon Créme de Mure (most of the alcohol cooks out in my homemade version)
garnish with lemon slice + zest and rosemary sprig
Directions: 
Mound crushed ice into glass, using your (clean!) hands to make a snowball shape on top
Unlike most other cocktails, add your garnishes now
Pour gin over top, then finish with Créme de Mure and serve immediately