Tikka Masala with Paneer is the ultimate comfort food dish! Creamy, rich, delicious and this version is vegetarian. This is an easy make ahead meal!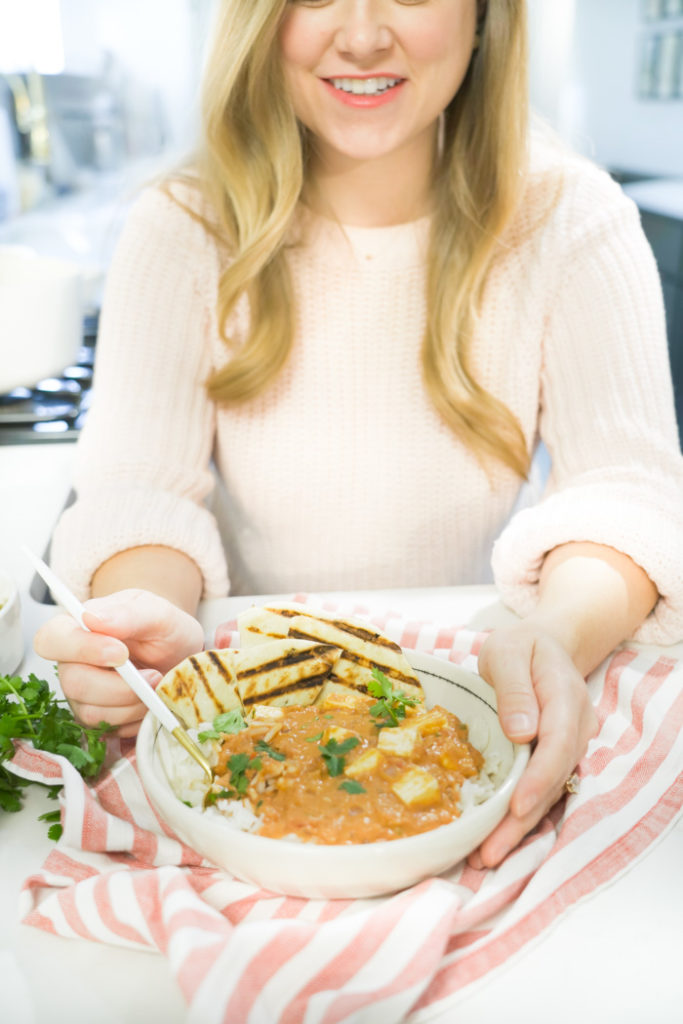 Big flavor and simple ingredients. Sounds like the perfect recipe, right? Well, I'm here to tell ya that Tikka Masala is a craveable comfort food dish that is pretty perfect almost anytime of year. Making Indian food recipes always seemed a little intimidating to me. Like, where would I get all the spices, are there a lot of steps, what if I spend all this time on a recipe and it doesn't turn out very well? I know these are questions that lots of you probably ask yourself before making a recipe too. This recipe has a surprisingly simple ingredient list and you can watch the video to see how simple the steps are!
This post contains affiliate links. If you purchase a product through these links, I may earn a few pennies. Thanks for keeping this free blog going!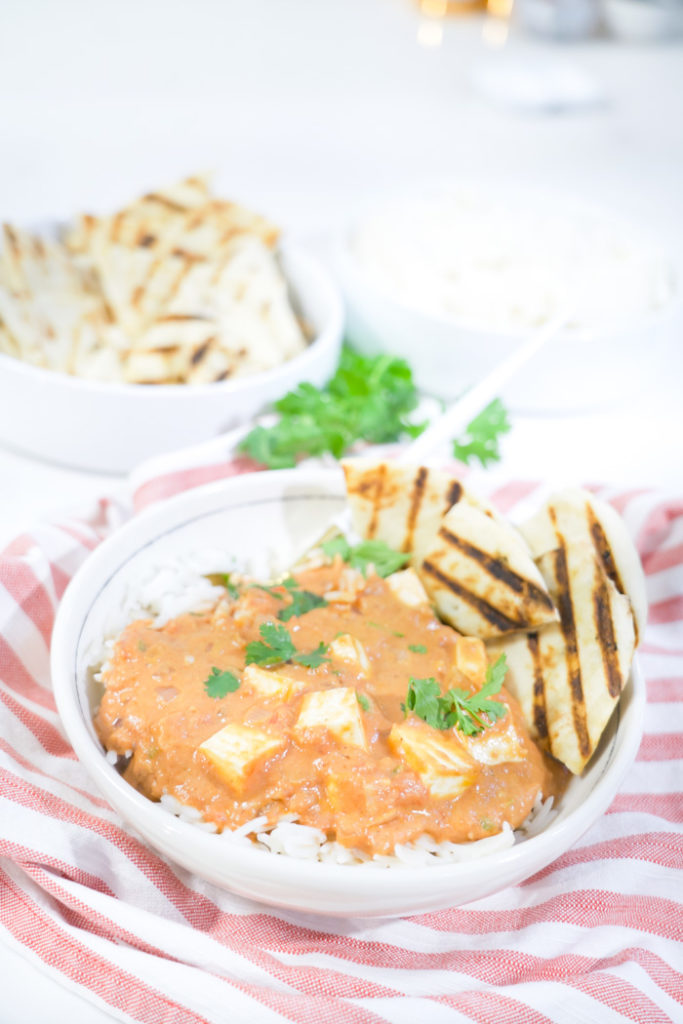 Simple Tikka Masala Recipe
Tikka Masala might not be the most traditional Indian food recipe. If my memory is serving me well, Tikka Masala is actually an English Indian food dish. This creamy, tomato based sauce gets an upgrade with a few punchy spices. Served alongside a bed of long grain rice and buttery naan bread, this dish has all the makings of a perfect night cozied up watching Netflix.
It's better than takeout! At least the takeout we can get here in Austin. That's why BMW and I make this dish so much at home, because it's tough to get good Indian food in Austin. Whenever we find ourselves in London, we gobble up as much Indian food as we can! I've never had the pleasure of visiting India but maybe one day. I'd love to get my fill of curries and spices and of course all those gorgeous colors I see in photos!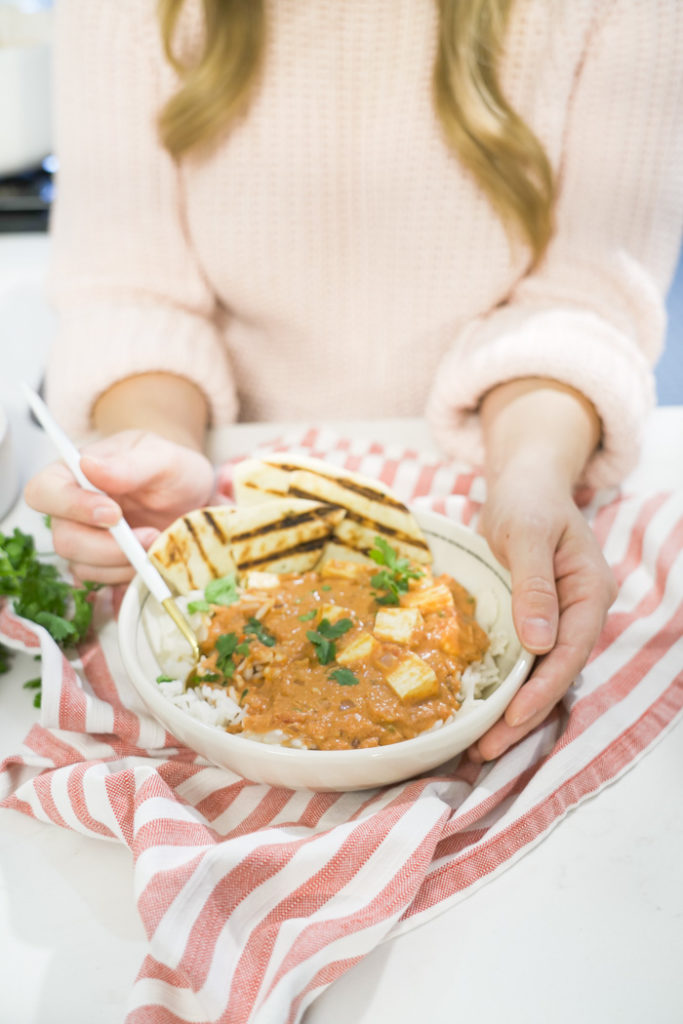 In the meantime, I will settle for cooking some of these delicious dishes at home. I am so excited to share this recipe with y'all because it's so simple. I often think of it like an Italian Sunday sauce. It's comforting, it's tomato based, so the longer it sits, the better it gets. BMW swears he thinks it's better the next day.
I can't argue with him, this is one dish I love to make a big batch of and have for lunches or dinners throughout the week. Bonus points because Tikka Masala freezes and reheats really well. Making it the perfect dish to stock your freezer with!
Watch the Full Recipe Video!
You Might Also Love 
Short Ribs with Ancho Chili Grits 
Hearty Sausage Potato Kale Soup 
Souper Broccoli Cheese Gnocchi 
Tikka Masala with Paneer
Makes 4-6 servings
Ingredients: 
1 cup uncooked rice, cooked according to package
12 oz paneer
1 tablespoon vegetable oil
1 white onion, chopped
1 tablespoon garam masala
1 teaspoon cumin
1 teaspoon coriander
1/2 teaspoon cayenne
4 garlic cloves, minced
2 teaspoon ginger root, grated
1 teaspoon granulated sugar
1 serrano pepper, minced
28oz crushed tomatoes
3/4 cup heavy cream
1 tablespoon tomato paste
1 tablespoon kosher salt
fresh cilantro leaves for topping
Optional: serve with naan bread
Directions: 
In a large pot over medium-high heat, sauté onions with vegetable oil and half the salt, until translucent, about 4-5 minutes. Then add minced or pressed garlic, sauté until fragrant.
Add spices, ginger, serrano and tomato paste, stirring until a paste forms.
Next, add crushed tomatoes, sugar and remaining salt. Bring to a boil, then reduce to a simmer, stirring occasionally. The longer you let it sit, the more flavor you'll get! Anywhere from 20 minutes to 2 hours.
Remove from heat and add cream and paneer cubes. Stir to combine. Add salt to taste. Serve with rice, cilantro and naan.
Tip: If making ahead of time, freeze sauce separately from rice.