I've rounded up The Best Pie and Ice Cream Pairings! These are the best ice cream flavors to go with holiday pies!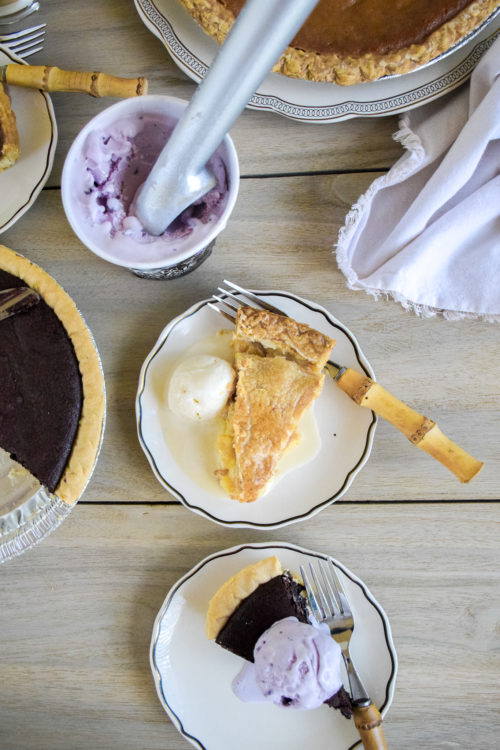 Pie and ice cream is arguably one of the best dessert pairings, don't ya think? Something about the warm slice of pie and the cold ice cream that just keeps me coming back for more. I'm also all about those buttery, flaky oh-so-perfect pie crusts! Tidbit about me, I don't love overly sweet things and often I like to eat the pie crust and not all the filling… call me crazy. Anyways, I am here to help you solve the conundrum of choosing the best ice cream flavor to accompany your pies this season! Yes, you could get vanilla to go with everything but just make sure it's a good vanilla, mmmkay? If you want something more interesting then keep scrolling!
This post is sponsored by Cream + Sugar Ice Cream. As usual, all opinions are my own. Thanks for supporting the companies that keep this free blog going!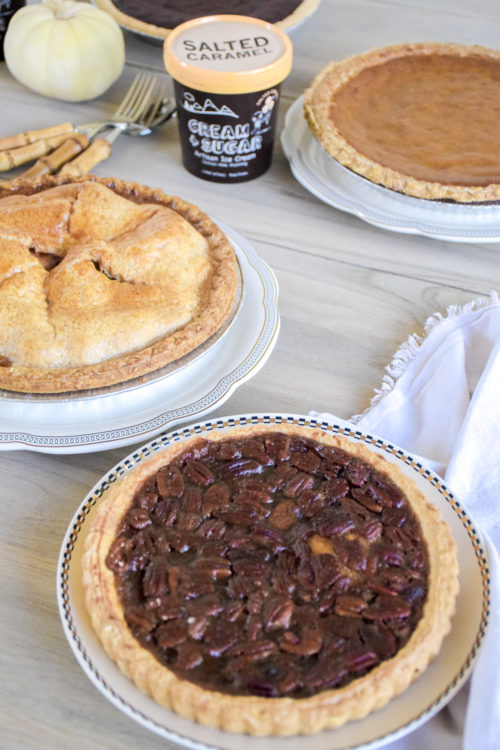 The Best Pie and Ice Cream Pairings
I like to think that some pies are great on their own without any pairings and I call those ice cream pies! Haha. Pies just need ice cream. They go together. They're meant for each other. That's why I teamed up with Cream + Sugar Ice Cream to share my favorite ice cream and pie pairings!
Cream + Sugar is a small artisanal ice cream brand out of Jackson Hole, WY. The ice creams were originally developed by the pastry chef at a local restaurant group, Fine Dining Restaurant Group. The idea was to make the best ice creams to pair with desserts on the menu. As fate would have it, diners kept asking where they could buy a pint. The group decided to open a small shop and they kept getting more popular! Now they are available on shelves here in Texas at Central Markets! They also ship nationwide via GoldBelly. So you're in luck! No matter where you are you can get your hands on some of the best ice creams to pair with your pies this holiday season.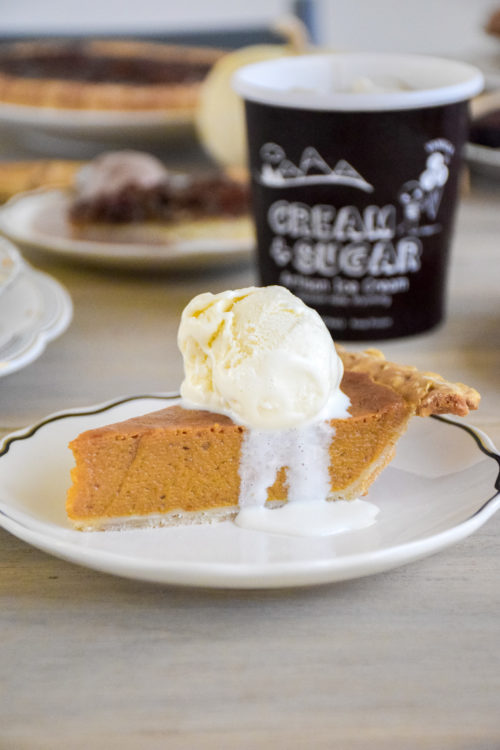 Pumpkin Pie and Vanilla Ice Cream
Ok, first up is the autumnal classic Pumpkin Pie! Whether you're a pumpkin pie lover or hater the warming spices in the custard pair perfectly with a smooth, rich vanilla ice cream. I particularly love Cream + Sugar's Vanilla because it's creamy without being heavy, has a rich but subtle vanilla flavor and it's just dang good.
If you want to get over the top, try my Maple Bourbon Pumpkin Pie with Cinnamon Sugar Stars and big scoop of vanilla ice cream! The spices like cinnamon, nutmeg, ginger and black pepper (oh yes, trust me!) really pop against the vanilla ice cream. The tender, flaky cinnamon sugar stars really bring the whole thing home.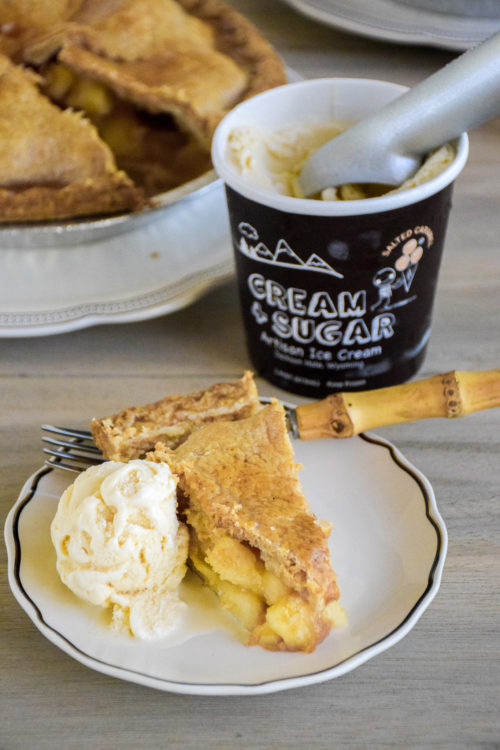 Apple Pie and Salted Caramel Ice Cream
A good apple pie deserves the best ice cream! While vanilla would do the job, salted caramel ice cream will really send this over the top! The combo of rich caramel and a touch of salt really bring the out the apple flavor. Most apple pies have cinnamon and the trifecta of tart apple, spicy cinnamon and rich caramel can't be beat.
Cream + Sugar really does Salted Caramel the right way. I've had versions that are way too salty and way too sweet and run amok with fake caramel flavoring. Here you will find the perfectly balance of rich caramel and a touch of salt that makes everything pop.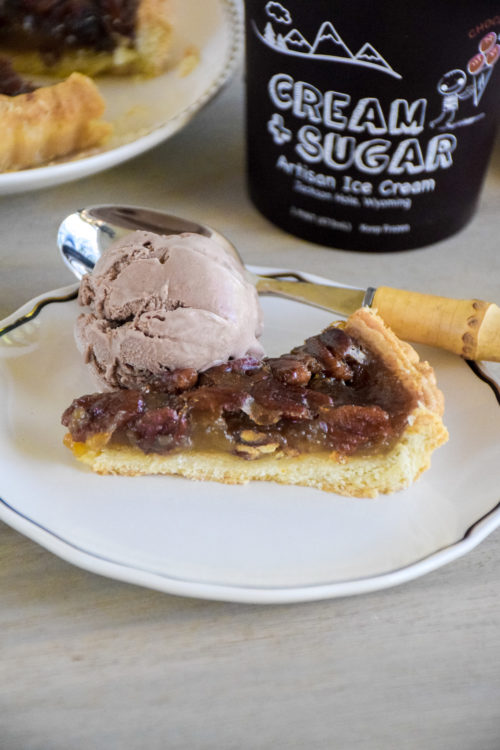 Pecan Pie and Chocolate Ice Cream
This one is for all the dessert lovers out there! You know those people who can never turn down a chocolate treat. Rich, velvety chocolate ice cream comes to life with a bite of pecan pie. The pecans hold their flavor against the deep chocolate flavor without being overtaken making this the perfect pair!
The Chocolate ice cream from Cream + Sugar is dense and has a rich chocolate flavor made from 55% chocolate meaning that it is truly for the chocolate lover. It has a mild sweetness and a touch of bitterness that makes it almost impossible to eat just one scoop!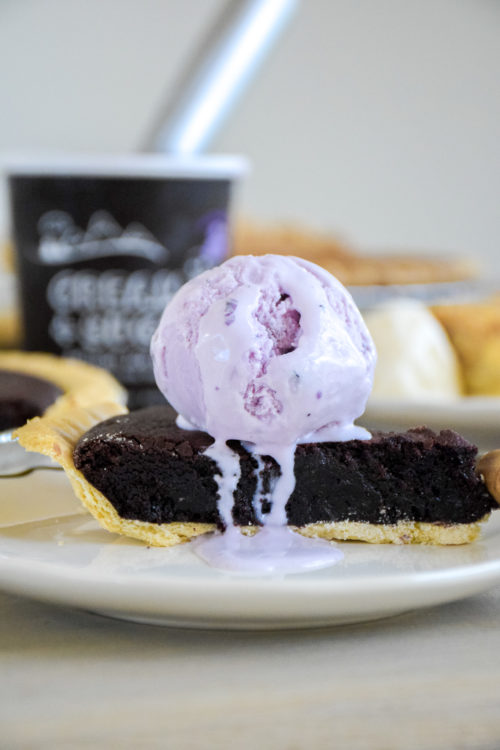 Huckleberry Ice Cream + Chocolate Brownie Pie
Ok, I saved the best for last! Seriously, y'all, if you haven't had Huckleberry Ice Cream now is the time to change that! The closest flavor I can compare it to is blueberry. But it's got its own thing going on. I love a brownie pie. It's basically a rich brownie with a flaky buttery crust. You'll def want to make this one! Now you add a scoop of the sweet, wild, tangy Huckleberry Ice Cream and you've got yourself a dessert to remember.
Huckleberry is native berry in Jackson Hole and you'll find it on menus all around town. Lucky for us, Cream + Sugar mixed it into a pint so we can enjoy from all over the country! I love the unique flavor and the way it pairs with the chocolate in the brownie pie. This would also be perfect on a hot summer afternoon!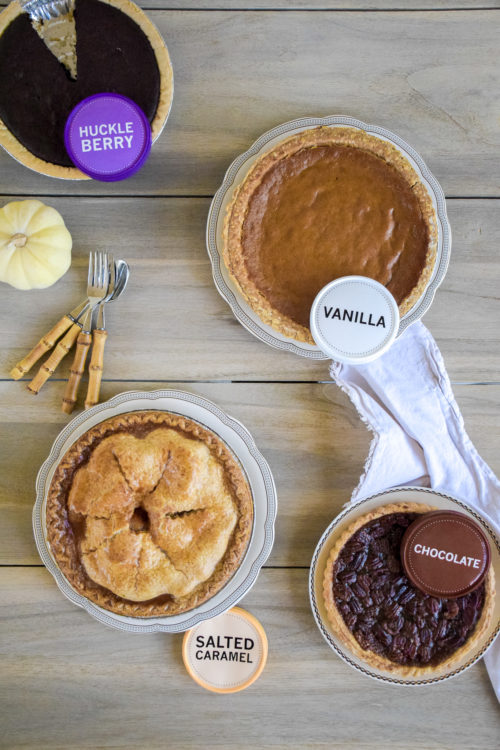 You can find all these ice creams available for nationwide shipping via Goldbelly or on shelves at Central Market here in Texas. I should also mention that Cream + Sugar have some fantastic ice cream sandwiches! BMW and I ate these up so fast. The cookies are so good and covered in these delicious sprinkles (yes, the actual sprinkles are good!) that add a little bit of texture. They come in lots of delicious flavors like Mint Chocolate Chip and even Pumpkin and Peppermint!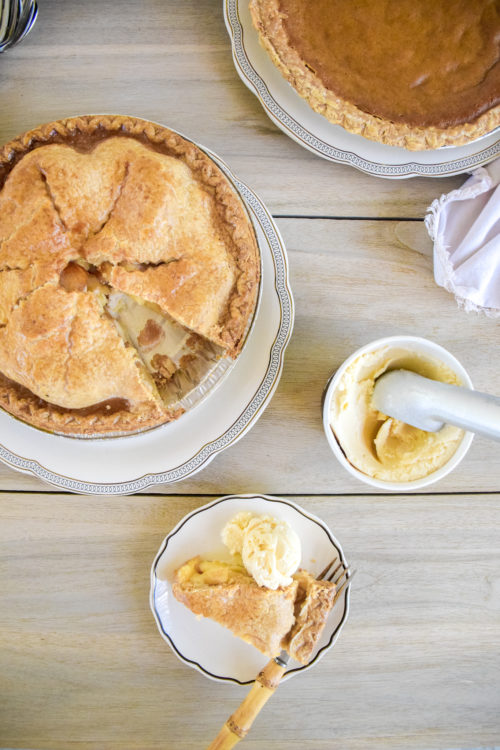 Do you have any favorite pie and ice cream pairings? Share with us in the comments!