This Maple Bourbon Pumpkin Pie with Cinnamon Sugar Stars is silky, decadent and the absolute best pumpkin pie I've ever had!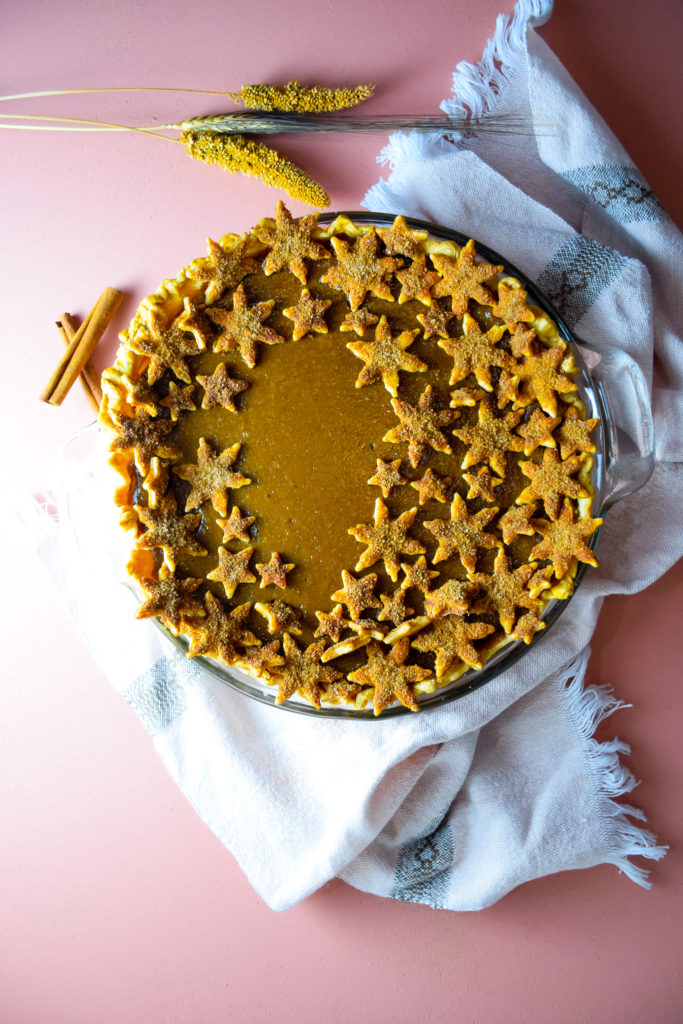 This pie is the pie that made me change my mind about pumpkin pie! It's filled with depth and flavor and the cinnamon sugar stars are the perfect playful touch. If you are the kind of person who doesn't bake much but really enjoys decorating holiday cookies then you will absolutely love this pie! It is so easy to make and is really fun to decorate too.
This post contains affiliate links. If you purchase a product through these links I may earn a few pennies. Thanks for keeping this free blog going!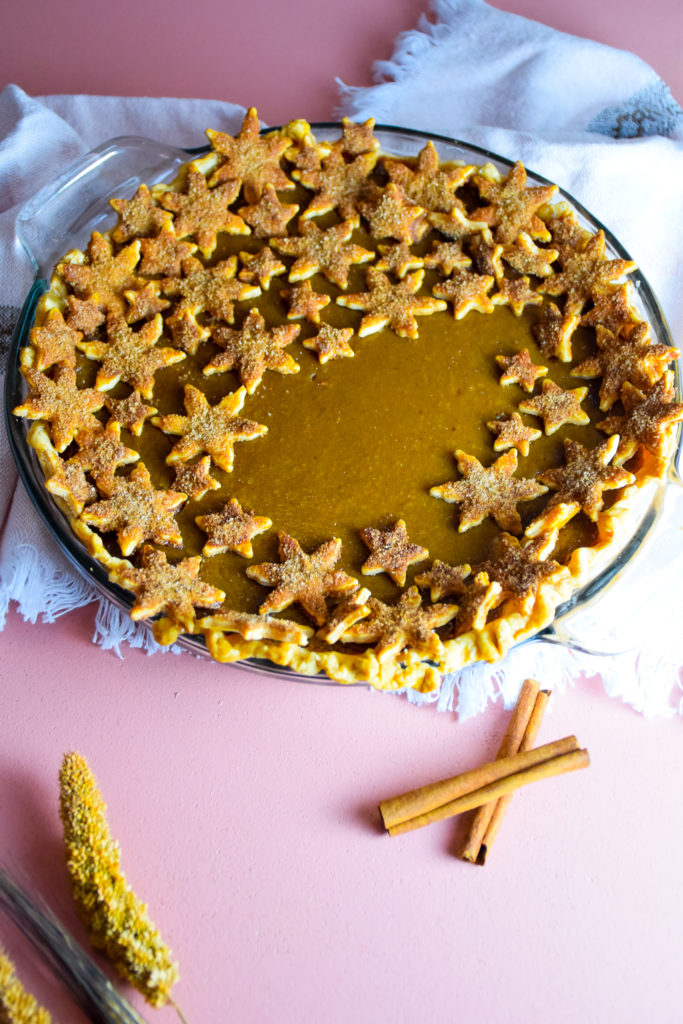 Maple Bourbon Pumpkin Pie with Cinnamon Sugar Stars
I feel like pumpkin pie is sorta like turkey on Thanksgiving, you just gotta have it. And if you're going to have pumpkin pie then it better be a good one in my opinion! While I've always enjoyed pumpkin desserts, I've never had a really good pumpkin pie. So this year I set out to change that! I wanted to create a pumpkin pie that was decadent and craveable. I wanted a pie that I could look forward to enjoying year after year. This maple bourbon version definitely fits that bill! BMW and I have really enjoyed recipe testing this pie haha!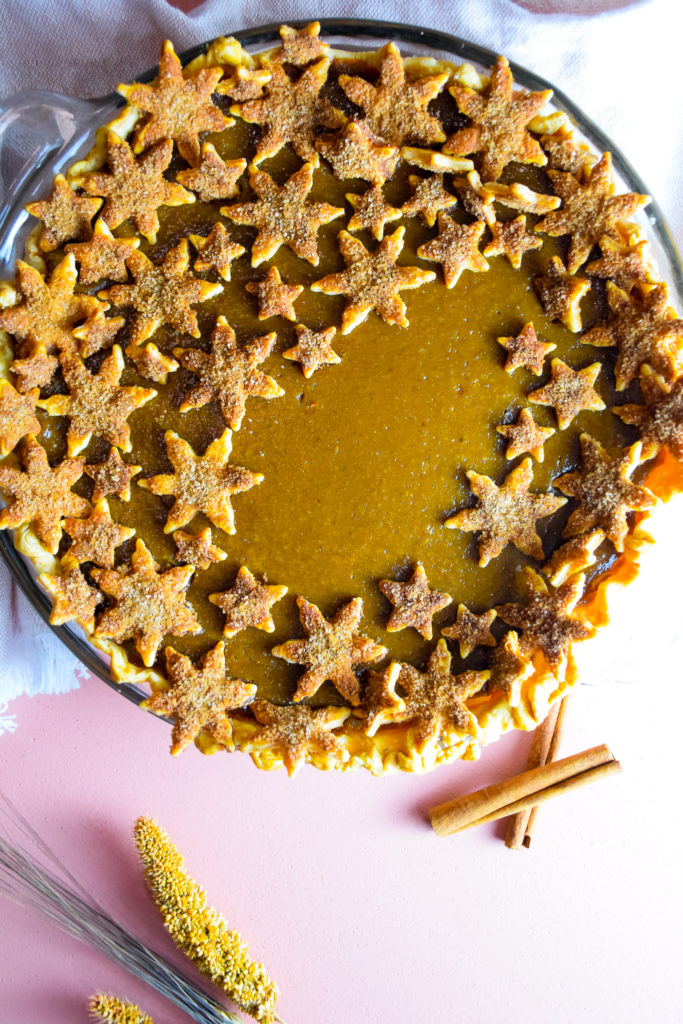 The Best Ever Thanksgiving Pumpkin Pie
Are you the kind of person that looks forward to Thanksgiving for the turkey, the sides or the desserts? I am usually all about the sides but this year I have definitely developed something of a sweet tooth. That is why I finally decided to make this pie that I have been dreaming up for years.
People always talk about pumpkin pie like it's something we should all love. But to be honest, I usually find pumpkin pie to be disappointing at best and out right bland at worst. My version of pumpkin pie is loaded with flavor from an excellent mix of spices, a good splash of bourbon and maple syrup all bound together with eggs and some cream. And don't forget the cinnamon sugar stars! Those are the real winners!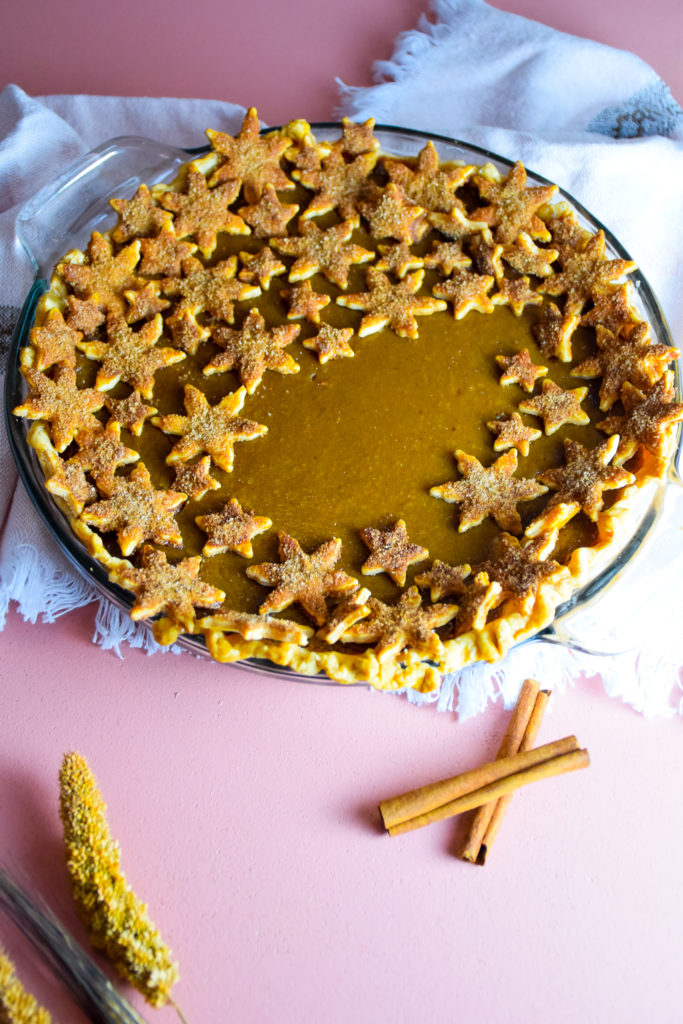 What Makes The Best Pumpkin Pie
I learned a few things while making pumpkin pie. There are certain things that really bring out the pumpkin flavor. Maple syrup in particular pairs well with pumpkin. Be sure to use real maple syrup in this recipe for the best flavor profile.
Bourbon brings a depth to the pie. Bourbon also mixes well with maple so the trifecta of pumpkin, maple syrup and bourbon is a real winner!
This recipe also calls for a bit of ground black pepper. Be sure not to leave that out. It adds just a hint of spice that brings out the flavors of the ginger, nutmeg and clove.
The addition of the cinnamon sugar stars are really just icing on the cake! But who doesn't love icing?! One note, be sure to bake the cinnamon sugar stars separately from the pie. If you try to bake the stars on the pie you will wind up with an under baked pie and limp cinnamon sugar stars instead of the lightly browned, flaky ones you see here!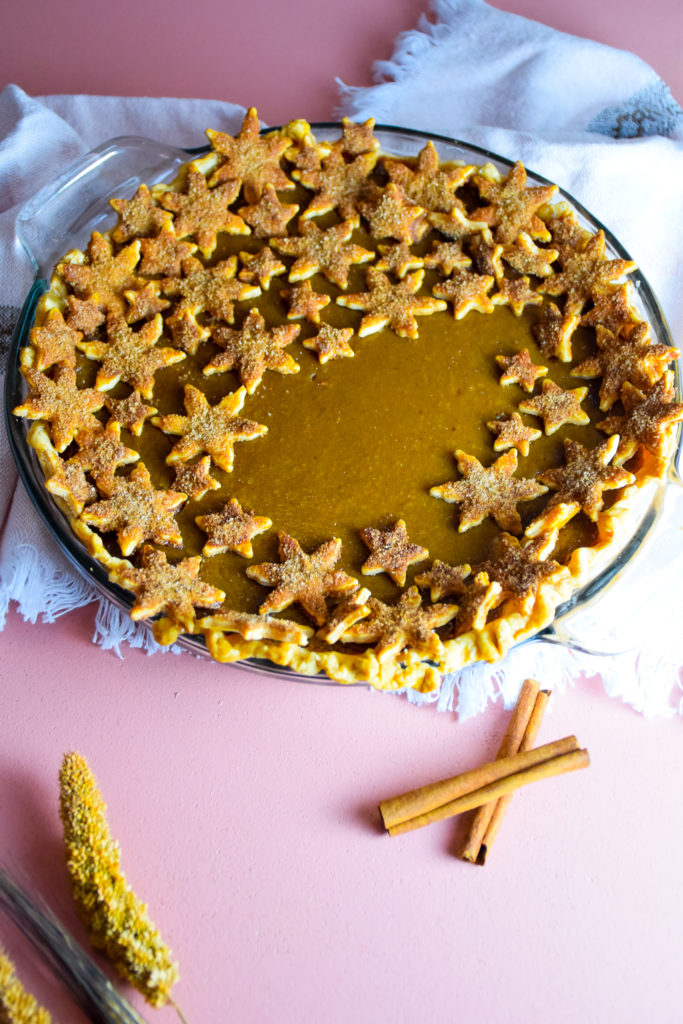 Easy No Fail Pumpkin Pie
While I am all about making homemade recipes there are certain times when ease, convenience and taste align and for this recipe a refrigerated store-bought pie crust does just as well, if not better, than a homemade one!
The decadent, silky pumpkin pie filling works well with the store bought crust. The store bought crust also makes rolling out and cutting the star shapes much easier and saves loads of time. Which when it comes to holiday baking, I think it should be fun and effortless.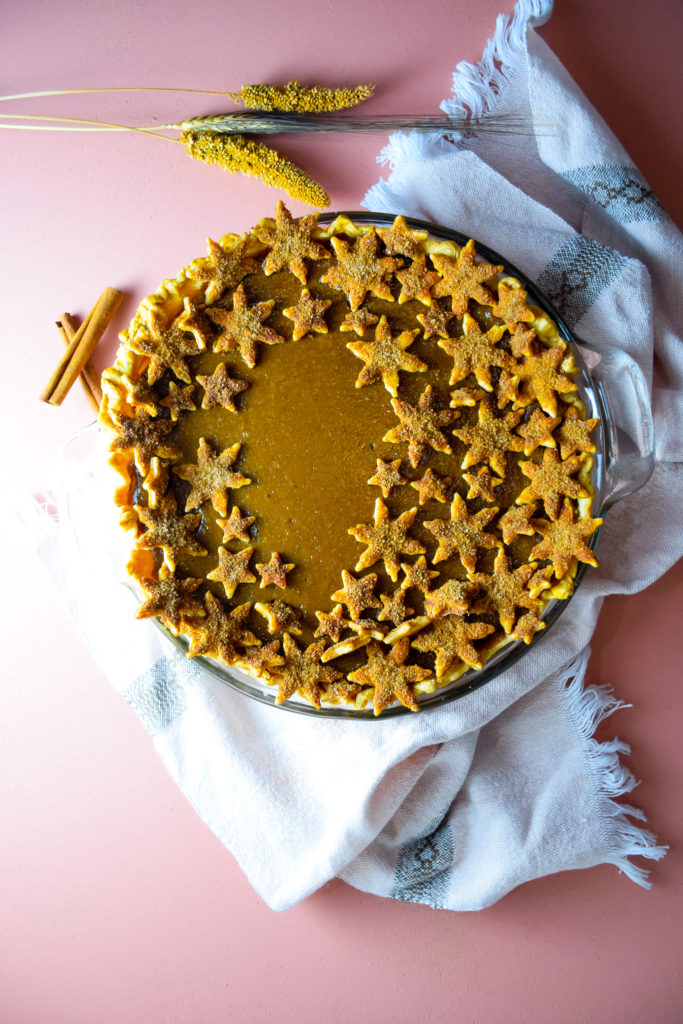 You Might Also Love 
Cranberry Curd Tart with Rosemary Almond Flour Crust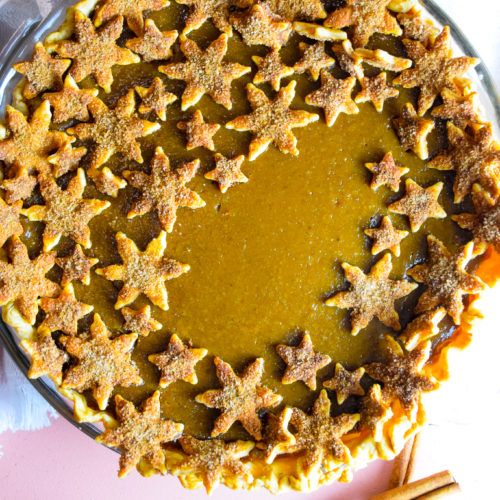 Maple Bourbon Pumpkin Pie with Cinnamon Sugar Stars
This Maple Bourbon Pumpkin Pie with Cinnamon Sugar Stars is silky, decadent and the absolute best pumpkin pie I've ever had!
Ingredients
2

9in

premade pie crusts

15

oz

pumpkin purée

3/4

cup

heavy cream

3

large

eggs

1

cup

dark brown sugar

1/4

cup

bourbon

1/4

cup

maple syrup

1

tbsp

cornstarch

or arrowroot powder

1.5

tsp

ground cinnamon

1/2

tsp

vanilla extract

1/2

tsp

kosher salt

reduce amount by half if using table salt

1/2

tsp

ground ginger

1/4

tsp

ground nutmeg

1/8

tsp

ground cloves

1/8

tsp

ground black pepper
Cinnamon Sugar Mix
1/4

cup

granulated sugar

1

tbsp

ground cinnamon
Instructions
Preheat oven to 350°. Prepare a 9in pie plate by greasing or spraying with non stick spray.

Press one of the pie crusts into the bottom of the pie plate and up the sides. Prick the bottom with a fork. Place parchment over the crust and fill with pie weights or dried beans or rice. Bake for 15 minutes.

Meanwhile, make the filling by combining the pumpkin purée, cream and eggs together in a large mixing bowl.

Next add the bourbon, brown sugar, maple syrup and vanilla extract into pumpkin mixture and mix until well combined.

In a separate bowl, whisk together cinnamon, salt, ginger, nutmeg, cloves and black pepper with cornstarch. This will prevent the cornstarch from clumping. Then whisk the spice mixture into the pumpkin mixture until thoroughly combined.

Get pie crust from oven and take out pie weights and parchment paper. Fill warm crust with pumpkin mixture. Bake for 50-60 minutes until pie is set. Middle may be slightly wobbly but not liquid.

While pie is baking, make cinnamon sugar stars. Begin by whisking remaining cinnamon with granulated sugar in a small bowl and set aside. In a separate bowl, whisk together whole egg and water and set aside.

Roll out pie crust and cut into star shapes or whatever cutter shapes you are using. Then very lightly brush stars with egg wash. Place shapes onto baking sheet lined with parchment paper or nonstick silicon sheet.

Sprinkle shapes with cinnamon sugar mix. Then bake for 10 minutes until browned. Let cool completely.

Once pie is done baking, let cool for 30 minutes. Then decorate edges of pie with cinnamon sugar stars. Serve alone or alongside whipped cream. Pie can be made up to three days ahead of time and kept covered at room temperature.
Nutrition
Calories:
316
kcal
Carbohydrates:
48
g
Protein:
4
g
Fat:
11
g
Saturated Fat:
6
g
Cholesterol:
124
mg
Sodium:
203
mg
Potassium:
230
mg
Fiber:
2
g
Sugar:
42
g
Vitamin A:
8736
IU
Vitamin C:
2
mg
Calcium:
91
mg
Iron:
1
mg