The Best Crispy Fried Chicken Salad! These crispy, crunchy nuggets are packed with flavor and protein for a well balanced and delicious salad!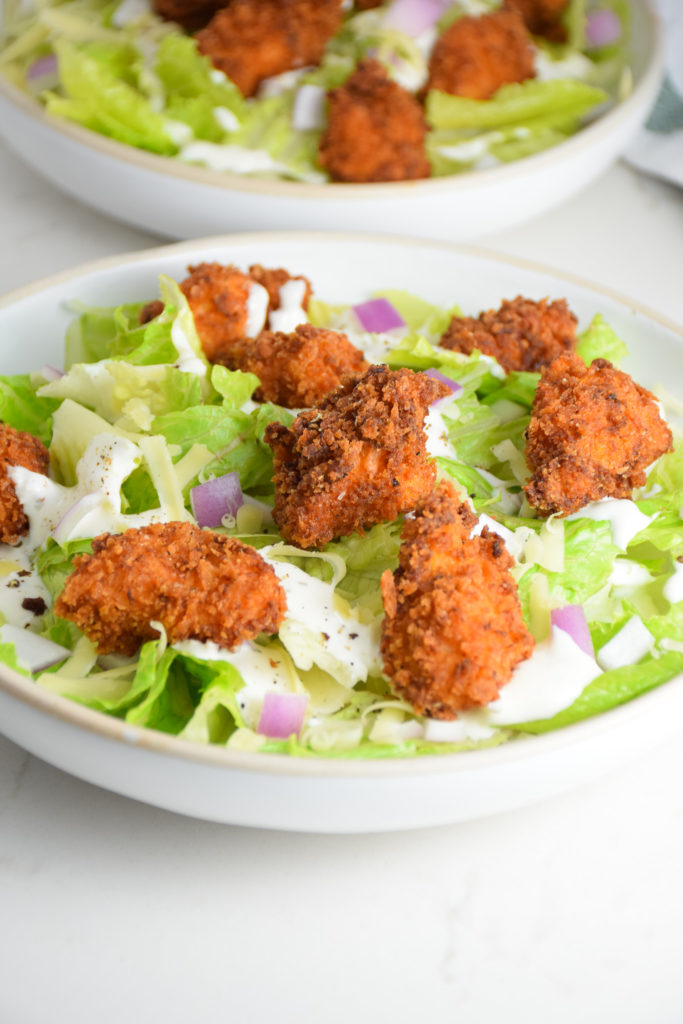 I've been keeping a secret from y'all for a while now. This fried chicken salad is one of BMW's and my favorite meals! We make this a few times a month and it's always a meal that we can agree on. We've really perfected our chicken nuggets and dare I say they are crispier and even better than the ones from Chick-Fil-A! This is such a simple and satisfying salad that your whole family will love.
This post contains affiliate links. If you purchase a product through these links I may earn a few pennies. Thanks for keeping this free blog going!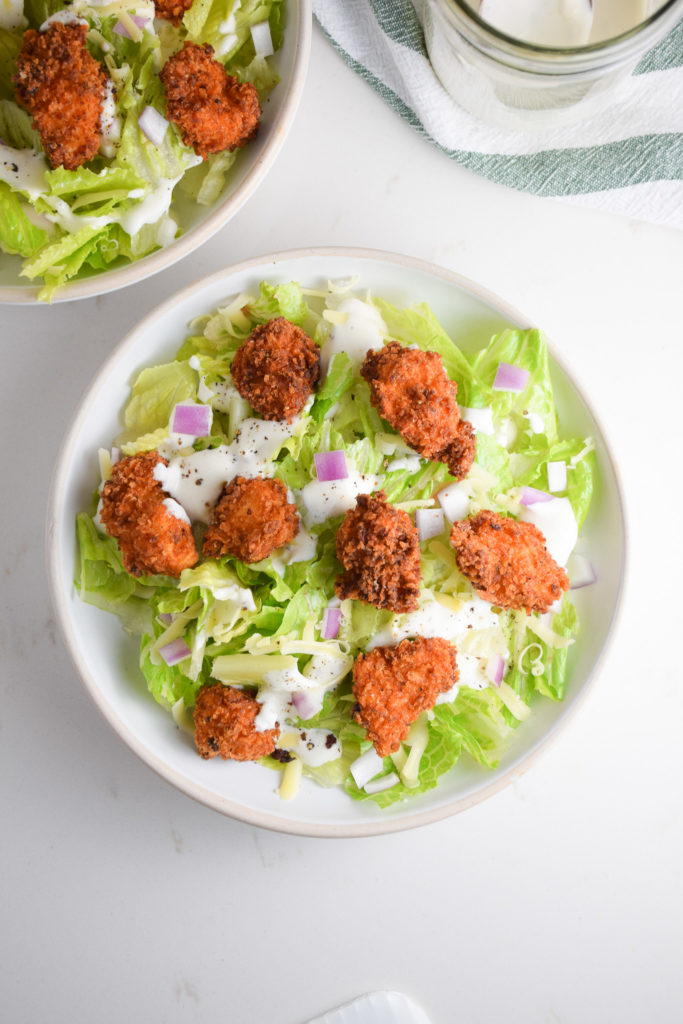 Homemade Chick-Fil-A Nuggets
Better than Chick-Fil-A? Lets just say we aren't rushing to go to the drive-thru anytime soon. Plus, these nuggets are made from chicken breast and since they are homemade, you know there aren't any preservatives or chemicals. And you can use all organic ingredients if that's what you have at your home.
These nuggets are made with a mixture of flour and panko that are seasoned with a special blend of spices and fried at the perfect temperature to get that super crispy crunch. Panko breadcrumbs are a flaky type of bread crumb that fry up crispier than other types of breadcrumbs.
One key to achieving the prefect crispy crunch is to heat the oil to the correct temperature. Too low and the panko will get soggy. Too high and they will burn. I use a candy thermometer
to keep track of the temperature of the oil. It's really convenient since it clips to the side of fry pot.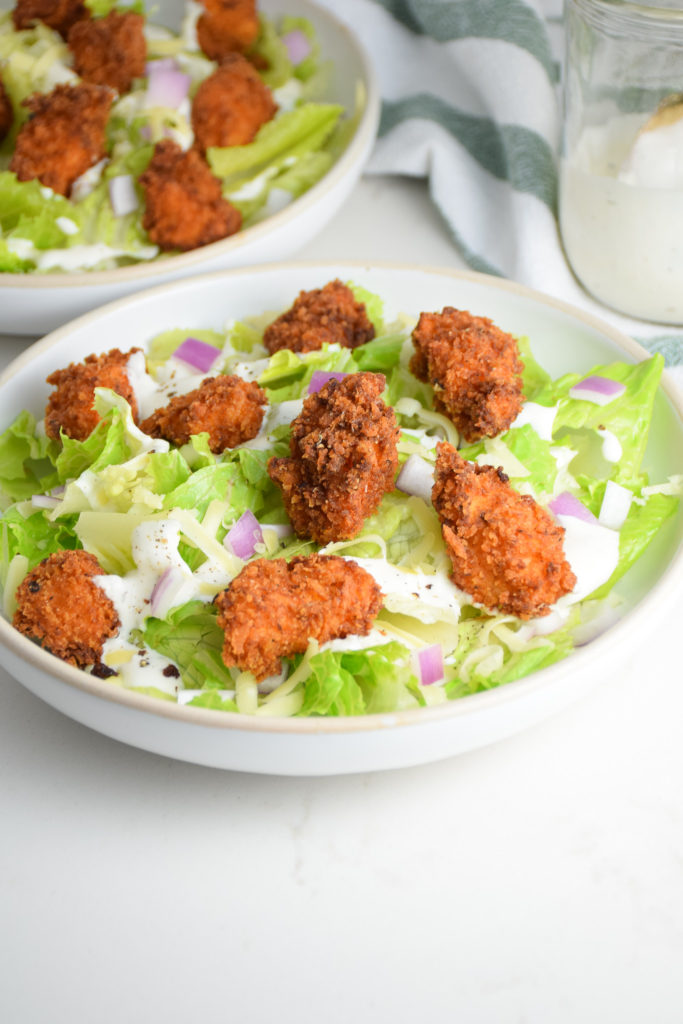 How To Make The Best Homemade Ranch Dressing
A great way to ruin a salad is with a bad bottled dressing. Sure bottled dressings are convenient but they aren't that tasty or flavorful. That is usually because in order for dressing to be shelf stable they have to be pasteurized aka heated up to a high heat to kill any microbes and also any flavor along with it.
The dressing is an important component in this salad so here is our easy recipe!
Here is our quick go-to ranch dressing recipe: 
1 cup buttermilk
1 cup full fat high quality mayo
1 packet of Hidden Valley Ranch Mix
2 teaspoons freshly chopped dill
Whisk all these ingredients together for thick, delicious ranch dressing! It will keep for about a week in the fridge in an air-tight jar.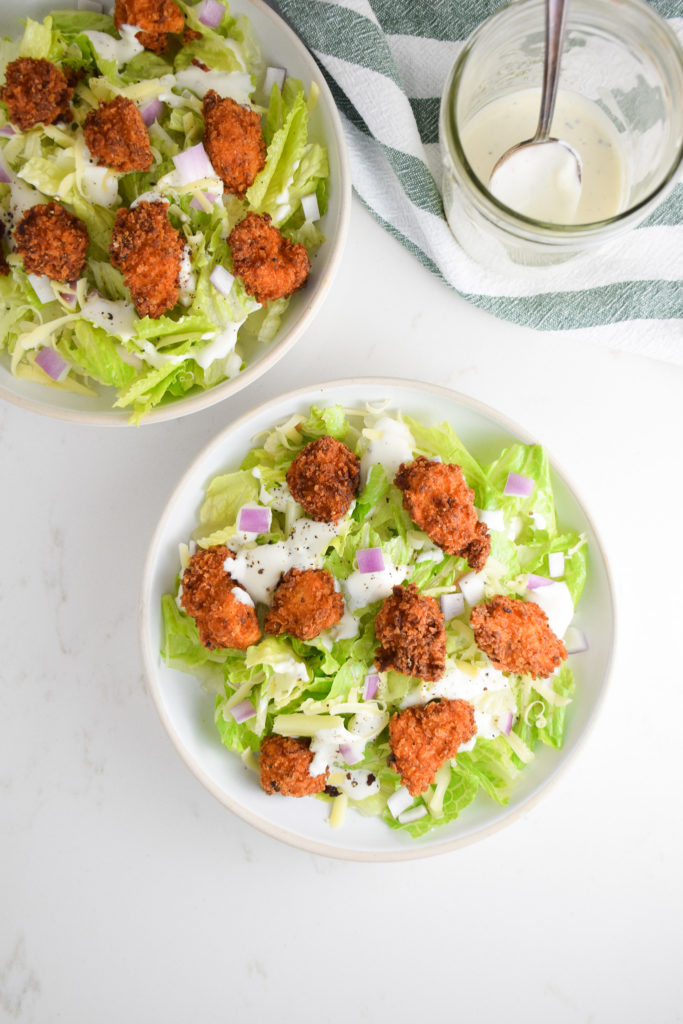 You Might Also Love 
Salt and Vinegar Pork Chops with Baby Kale Salad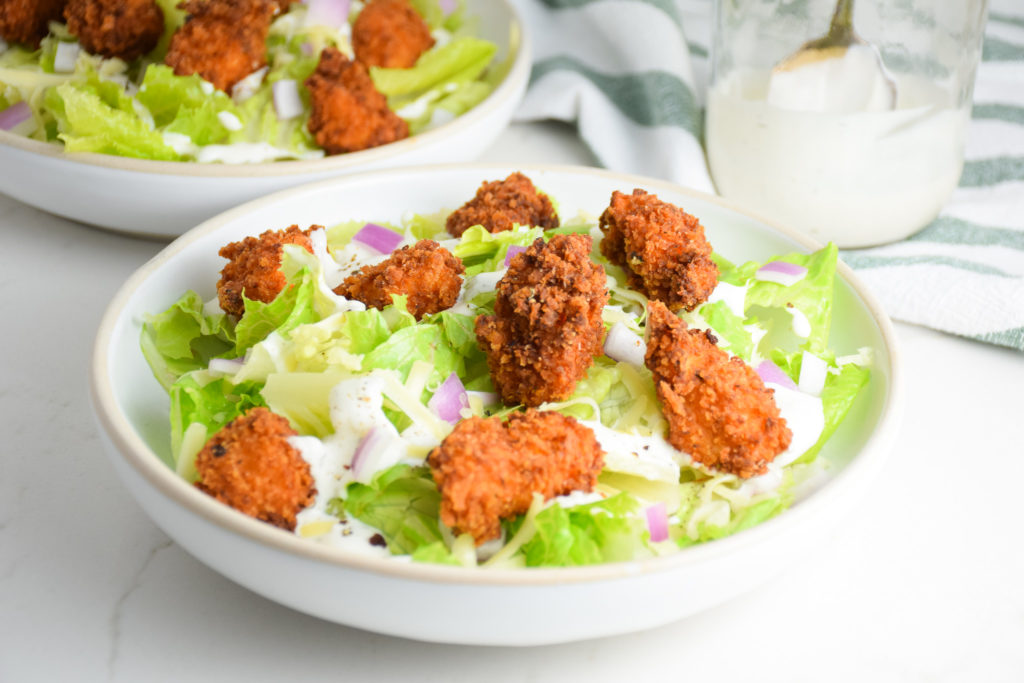 The Best Crispy Fried Chicken Salad
Serves 2
Ingredients: 
8oz chicken breast
2 cups panko bread crumbs
1 cup buttermilk
1 cup all purpose flour
2 eggs
4 cups oil for frying, like peanut or vegetable
1 teaspoon kosher salt
1/2 teaspoon paprika
1/2 teaspoon garlic powder
1/4 teaspoon black pepper
1 head, about 4 cups, romaine
1/4 cup cheddar, shredded
1/4 cup red onion, diced
1/4 cup ranch dressing
Directions: 
In a deep pot, heat oil to 350 degrees. Use a candy thermometer to monitor oil temperature.
Dice chicken into bite sized pieces.
In a medium bowl, whisk flour, panko, paprika, salt, pepper and garlic powder together. In a separate bowl, whisk together eggs and buttermilk.
Dredge chicken in egg and buttermilk then dip into panko mixture gently pressing to ensure breadcrumbs adhere.
Fry chicken in batches for about 60 seconds, keeping oil temperature close to 350 degrees. Set on a paper towel lined plate to drain.
Tear romaine and toss together with onion, cheese and ranch dressing. Plate salad and top with chicken. Season with salt and pepper to taste.