I recently visited Nashville and had to try the hot chicken there. I saw all the bright red pictures of chicken and just couldn't be kept away! Of course, once I got back home I've been craving it more than ever. So I grabbed a recipe from Bon Appetit, that is based off of Hattie B's Hot Chicken, which is where I had my first hot chicken. Tell me what you think about this one!
This recipe is from Bon Appetit:
2

3½–4-lb. chickens, each cut into 10 pieces (How To Cut Up A Whole Chicken)

1

tablespoon

freshly ground black pepper

2

tablespoons

plus 4 tsp. kosher salt

4

large eggs

2

cups

buttermilk or whole milk

2

tablespoons

vinegar-based hot sauce (I used Frank's but Tabasco will work too)

4

cups

all-purpose flour

Vegetable oil (for frying; about 10 cups)

6

tablespoons

cayenne pepper

2

tablespoons

dark brown sugar

1

teaspoon

chili powder

1

teaspoon

garlic powder

1

teaspoon

paprika
Salt and pepper the chicken on both sides and let sit covered in the fridge for 30 minutes or up to three hours.
Whisk together flour and salt. In separate bowl combine eggs, buttermilk and hot sauce, whisk together. Dredge chicken in flour, then dip into hot sauce mixture then again in the flour.
Heat oil in a frying pan. Make sure it gets nice and hot, you can measure it with a thermometer or test it like I do by dropping a little ball of flour in. If it sizzles, then its ready. Fry chicken on each side for about 8-10 minutes on each side.
Once chicken is done frying, set on a plate covered with a paper towel. Whisk together spices and brown sugar. Add one cup of frying oil from the pan into the spices. It will be hot and bubble up, so be careful. Brush mixture over the chicken, covering generously on both sides.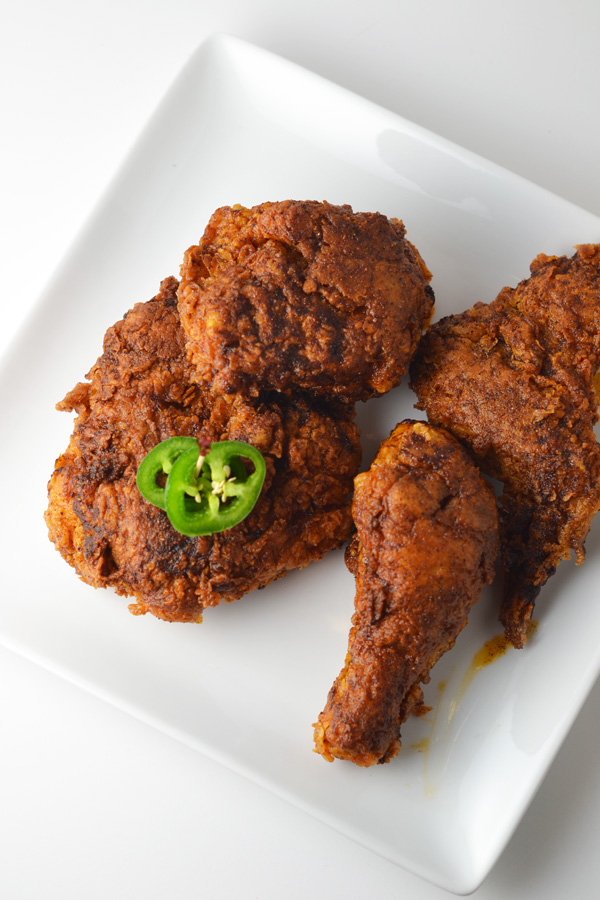 Traditionally, this is served with pickles and white bread, but I garnished with jalapenos because Texas.