I had the best Aperol Spritz of my life while on vacation in Florence, Italy! It had the fruitiest garnish and I recreated it here!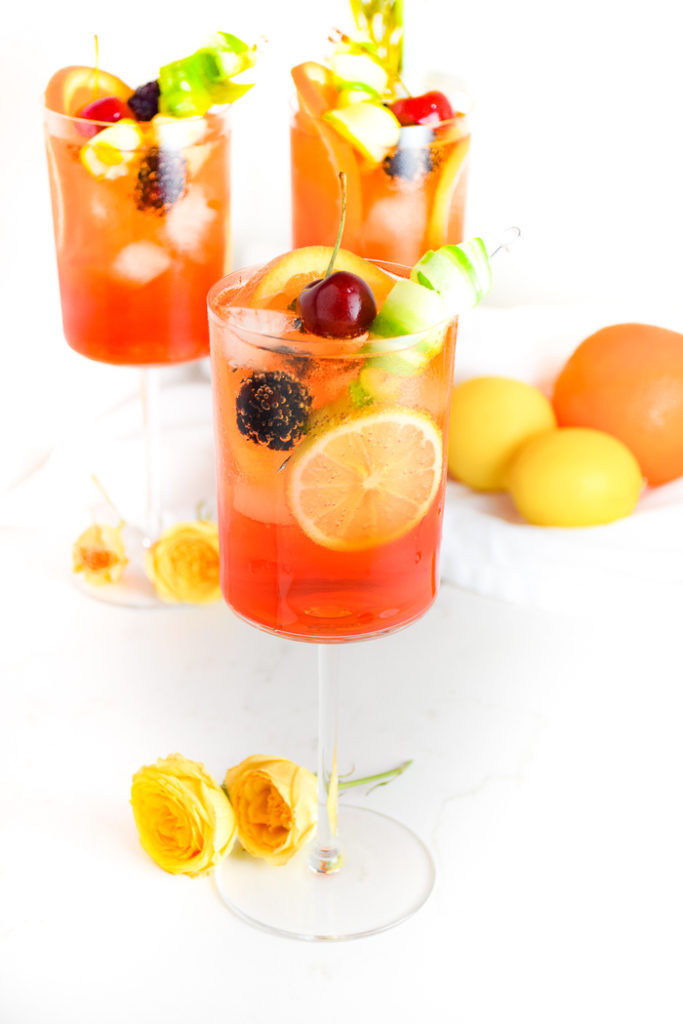 I am still trying to remember when exactly I had my very first Aperol Spritz. I know it was way before my trip to Italy with BMW's family because I remember wanting to seek them out and find the best one. Which I did, more on that later. I do know that I think the Aperol Spritz is THE BEST summer cocktail. Wait, did I just say that out loud? It's icy cold, refreshing, and the perfect sipper on a hot day. And we have a lot of those in Austin, so let's just say I get a lot of practice, haha!
This post contain affiliate links. If you purchase a product through one of these links I may earn a few pennies. Thanks for keeping this free blog going!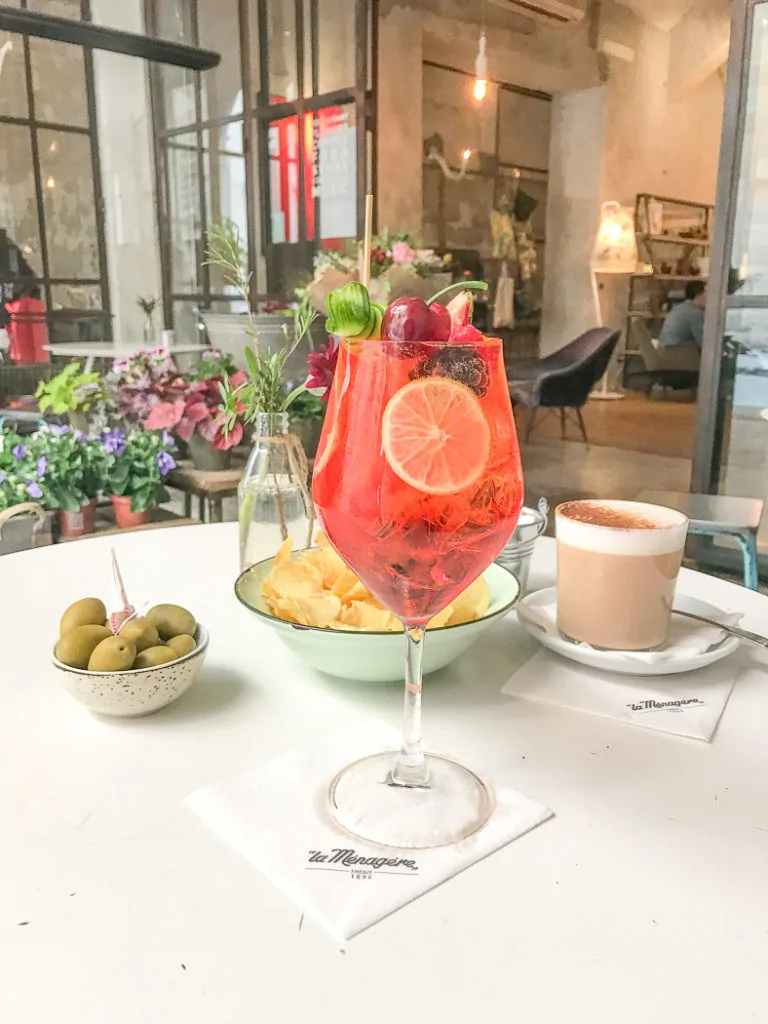 The Best Aperol Spritz I've Ever Had
Even though I can't quite recall exactly when I fell in love with the Aperol Spritz, I do vividly remember the best one I ever had! It was in Florence, Italy in May of 2018. It was at this adorable little coffee/flower shop/restaurant called La Ménagére. First of all, the whole shop was completely adorable and if you ever find yourself in Firenze (what the Italians call it!) I recommend making a stop at La Ménagére.
We sat down for an afternoon pit stop and to grab some drinks and coffees. I ordered some olives and an Aperol Spritz… my typical order during our afternoon stops on our trip. What was not typical, was how gorgeous this Aperol Spritz was. I mean cocktails can be beautiful, right? This one definitely was. Maybe they used some secret delicious prosecco or maybe it was just that it was presented so beautifully with colorful fruit garnishes or maybe that the whole place was just so dang cute. Anyways, the Aperol Spritz at La Ménagére in Firenze takes the number #1 spot as the best Aperol Spritz I've ever had.
My Favorite Aperol Spritz In Austin
In case your plans don't include a trip to Italy anytime soon, my favorite Aperol Spritz in Austin is served at Juliet Italian Kitchen. What's even better, it's only $5 during happy hour! What a deal! It's served with blueberries, mint and rosé prosecco. It's super refreshing and BMW and I like to hit up Juliet's happy hour after taking a dip at Barton Springs.
Why I Love Aperol Spritz So Much
There are lots of things I love about Aperol Spritz! One, it's eye catching color. You immediately know if someone is sippin' a spritz. There is just something I really like about that. Second, every place that serves spritzes has their own spin on it. While an orange is the traditional garnish, I love all the fruit garnishes that make this cocktail pop.
Although Aperol is bitter, it is much smoother than most other bitter spirits. Aperol is an apertif and meant to be drank at the beginning of a meal. Or maybe all day by the pool, that part is up to you. The Aperol mixed with the fizzy prosecco doesn't upset my stomach like some other super strong cocktails, so that is another reason why I like it so much. It is also considered a low-alcohol cocktail, so I like that I can have more than one if I want too.
What Is The Difference Between Aperol And Campari In A Spritz?
Aperol and Campari are both bitter, Italian apertifs. Aperol and Campari have the same sugar content but Aperol has half the alcohol of Campari, making it much better for all day sipping. Aperol is also much smoother than Campari, which is considered more bitter. In many cocktails, Aperol and Campari can be substituted for one another. Campari is most notably used in its signature cocktail the Negroni, while Aperol is preferred in the summer sipper, the Spritz. I should note that while you can make a Campari Spritz, it will definitely taste different and I far prefer Aperol in a spritz.
Prosecco is the bubbles of choice for an Aperol Spritz, although you could substitute almost any sparking wine if you wanted to. The best choice in my opinion is a dry prosecco. I also recommend using San Pellegrino for your soda water. I have tried many other types of sparkling waters including Topo Chico (too fizzy), Aqua Panna (not fizzy enough) and a store brand, which came in a can, and imparted a metallic taste. I found San Pellegrino to play the best with with it's Italian friend, Aperol.
How To Make The Perfect Classic Aperol Spritz
The Classic Aperol Spritz is made with an exact proportion of ingredients. The classic recipe, according to Aperol's website, is:
Equal parts Aperol and Prosecco, usually 2 ounces
Served over ice in a wine glass
Topped with a splash of soda water
Garnished with an orange slice

What You Need To Make The Perfect Aperol Spritz
There are a few things that you really need to make the perfect Aperol Spritz. Traditionally, a spritz is served in a tall, stemmed wine glass, with ice cubes, an orange slice or peel, and often with a straw. For my version, inspired by the one I had in Florence, you'll also want some sturdy toothpicks to hold the garnishes.
I love these stemmed wine glasses– so chic!
I like to use square ice cubes because they stay colder longer and these molds are so easy to work with.
I bought these metal toothpicks just for my Aperol Spritz!
The Best Aperol Spritz
Makes 1 drink
Ingredients: 
3 ounces prosecco
2 ounces Aperol
Splash of soda water (I prefer San Pellegrino)
Garnish: orange slice, lemon slice, twirled cucumber, blackberry and cherry
Directions: 
Place ice into stemmed wine glass. Next pour in Aperol, then prosecco, and lastly top with with splash of soda water.
Add orange and lemon slices then cherry and blackberry and finish with cucumber twirl. To make the cucumber swirl, use a vegetable peel to thinly slice a piece of cucumber into a wide, thin strip. Then roll the slice and thread a metal toothpick through it. Serve immediately.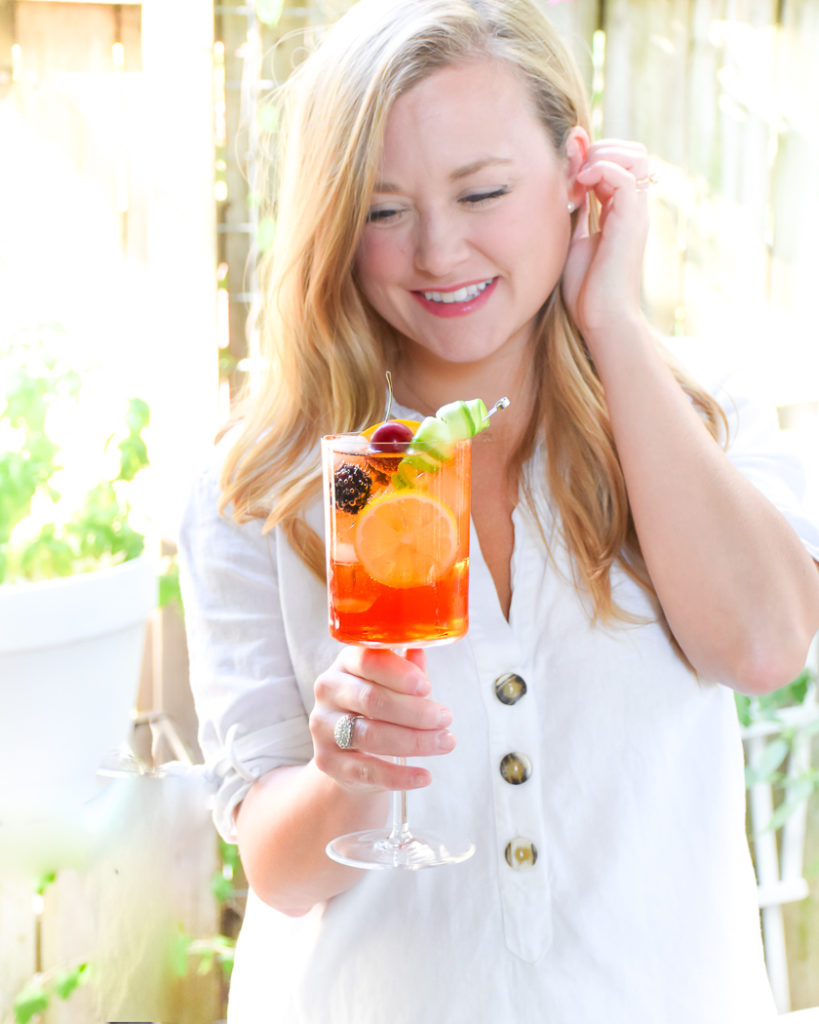 And that is the story of me and the Aperol Spritz! Have you ever tried one? What do you think? Let me know in the comments!