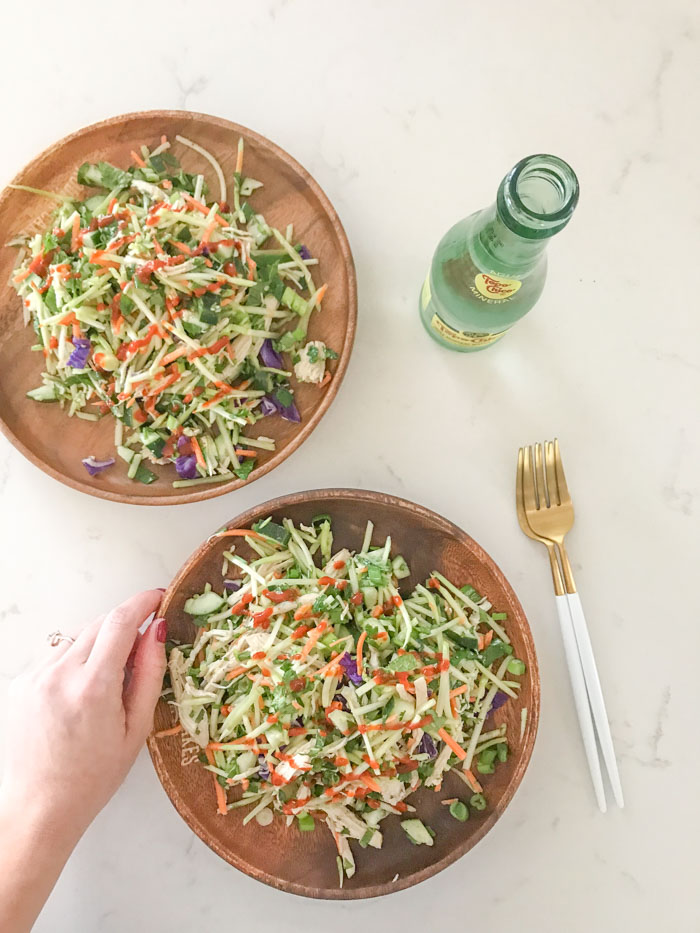 Quick, veggie-packed meal anyone? I am always looking for ways to get extra vegetables in each day. I love a big green salad, don't get me wrong, but this Thai-inspired Shredded Chicken and Veggie Bowl has tons of crunch and protein and leaves me feeling satisfied and full. It helps that BMW is fan of this one too!
I often get inspired by our travels, and Thailand was a big inspiration. The flavors of Thai food are so bold and delicious, like the sour lime, salty fish sauce and bright cilantro. Together they can lift just about any dish from bland to craveable. If you're wanting a little bit more Thai in your life, I love this Bangkok Fried Rice.
What's even better is that these bowls, or salads, come together so quick thanks to a bag of pre-shredded broccoli slaw. I typically like to prep my own ingredients but pre-shredded slaw is one of those things that is just as good pre-made as it is fresh. Anything to make getting more veggies easier is something that I like!
Thai-Inspired Shredded Chicken and Veggie Bowls
Makes Two Bowls
Ingredients: 
1.5 cup shredded chicken
2 cups shredded broccoli, cabbage, carrot (I used a store-bought mix)
1/4 cup thinly sliced cucumber
2 green onions, chopped
1/4 cup cilantro, chopped
1/4 cup mint, chopped
1 tablespoon fish sauce
1 tablespoon rice wine vinegar
1 tablespoon lime juice
optional: top with sriracha
Directions: 
Toss all ingredients together and serve immediately. If you want to prep ahead of time, combine chicken with vegetables and herbs. In a separate container, combine lime juice, fish sauce and vinegar. Toss together once ready to eat.