This Strawberry Basil Spinach Salad with Balsamic Vinegar Dressing is a light but satisfying salad that is perfect for any meal!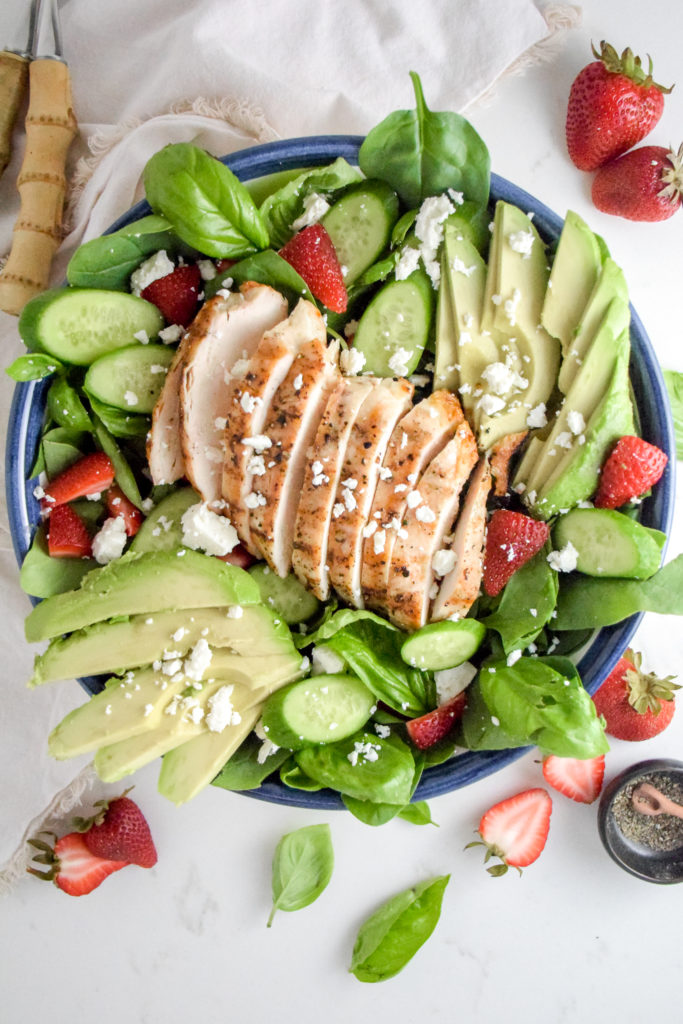 I like to file this recipe under, "no more boring salads!" I absolutely love salads and I want everyone else to love them too. There are a few key components to a great salad and those include lots of fresh produce, a good protein, homemade dressing and something for a pop of flavor. This salad has all the goodness of summer's bounty but also these ingredients are pretty easy to find year round. This dressing is super simple to make and this salad is a total crowd pleaser!
This post contains affiliate links. If you purchase a product through these links I may earn a few pennies. Thanks for keeping this free blog going!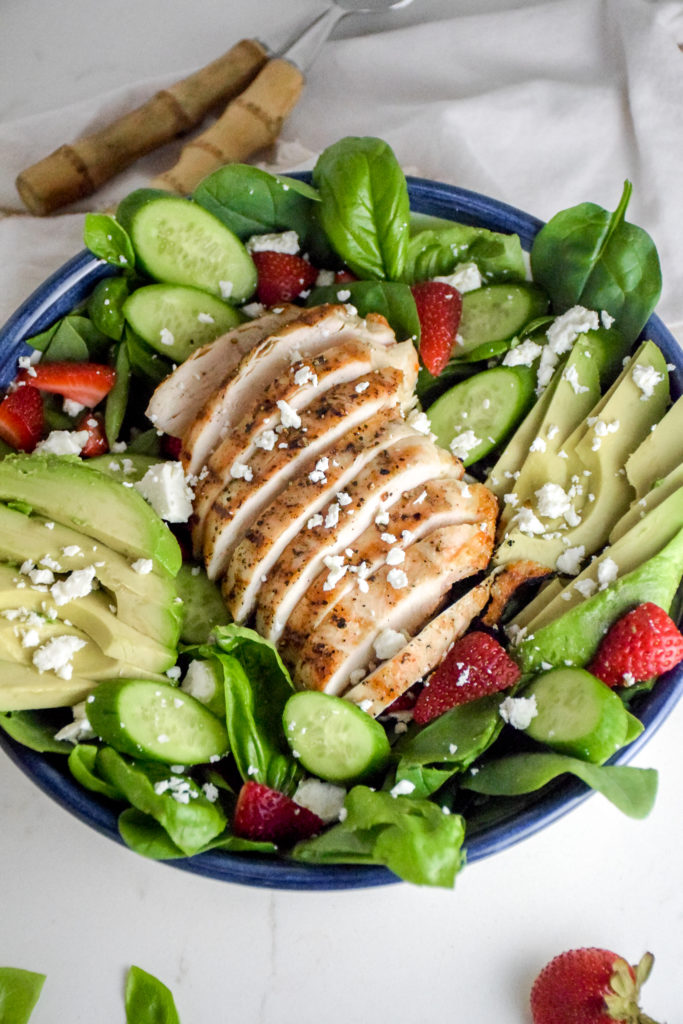 Strawberry Basil Spinach Salad with Balsamic Vinegar Dressing
The combination of strawberry, basil and balsamic vinegar is one of those trios that is hard to beat! These flavor just work together so well. This salad is really satisfying thanks to protein from the grilled chicken and the addition of avocado. I would never give y'all a salad that would leave wanting another meal!
Strawberry Basil Spinach Salad is a whole complete meal in one bowl just as it should be. I like to enjoy a salad as a whole meal, especially for weeknight dinners when I am wanting something full of nourishment but on the lighter side. This salad hits all those notes!
Easy Homemade Balsamic Vinegar Dressing
I know some people balk at the idea of making your own salad dressing but stay with me here! I used to be the exact same way. Like aren't there a gazillion salad dressings I can just buy and don't they taste just as good? Yes, there are so many you can buy but no they don't taste as good! Mostly because in order for the dressing to be shelf stable, they are usually pasteurized or packed with preservatives and other additives.
Obviously, if you make your own dressing, you get to control exactly what goes in and that almost always makes them better for but also they taste way better too because they are fresh! This dressing is literally four ingredients: olive oil
, balsamic vinegar, kosher salt and black pepper. It's so simple but also incredibly delicious on this salad!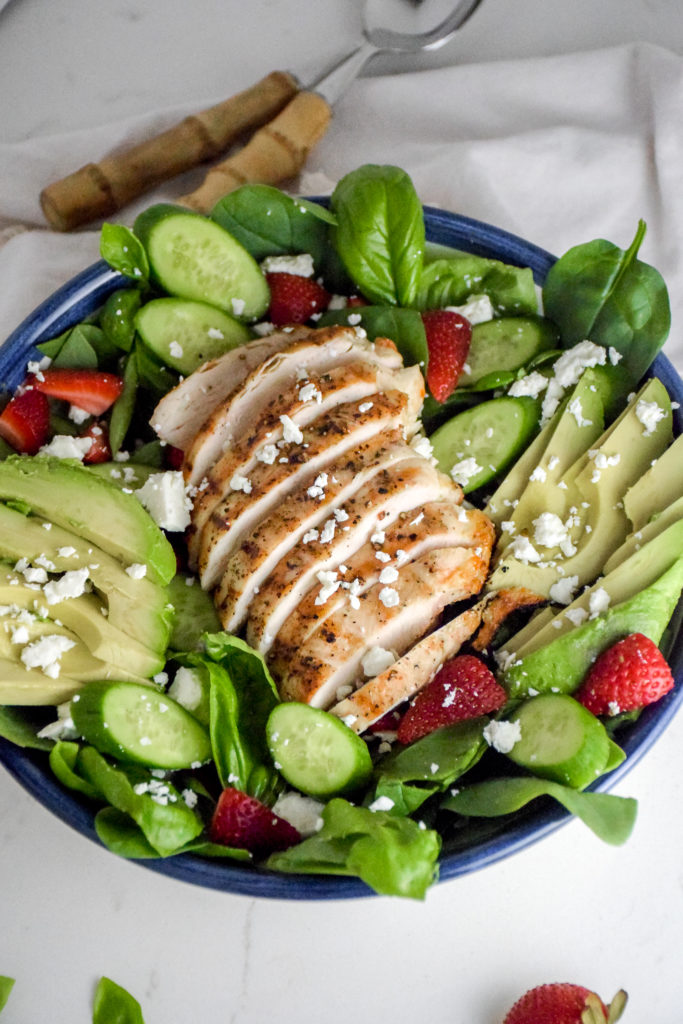 Grilled Chicken Salad
For this salad, I particularly like grilled chicken. I have made it with chicken I baked in the oven and it's still great but something about that slight char from the grilling is really nice in this salad. If you don't have a grill, I like to use this grill pan
. It's also great for other meats, veggies and even toasting sandwiches!
Get the pan nice and and drizzle the chicken breast with a little olive oil and season with salt and pepper. Then sear for 4-5 minutes on each side until chicken is cooked through. Try not to move the chicken while is cooks. This will help you get those sear marks and after it sears the chicken will more easily be removed from the pan.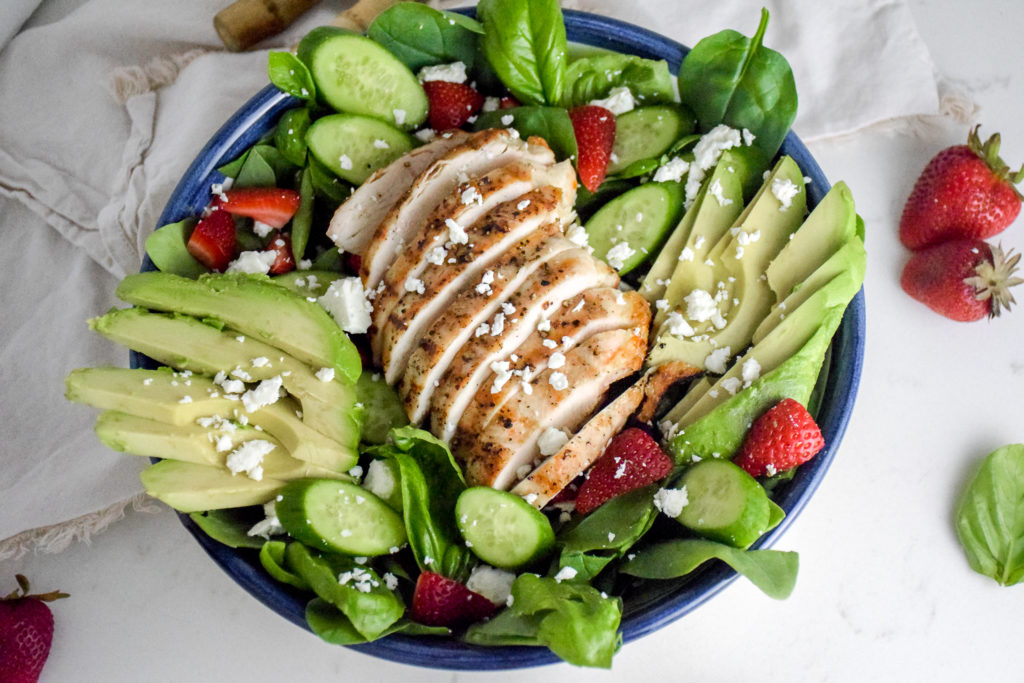 You Might Also Love 
Blackened Shrimp Salad with Corn and Avocado 
Chicken Caesar-ish Salad with Parmesan Crispies
Prosciutto and Melon Salad with Honey Dijon Vinaigrette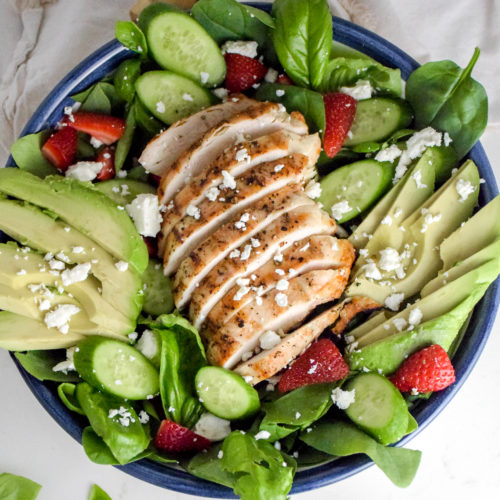 Strawberry Basil Spinach Salad with Balsamic Vinegar Dressing
This Strawberry Basil Spinach Salad with Balsamic Vinegar Dressing is a light but satisfying salad that is perfect for any meal!
Ingredients
8

oz

chicken breast

grilled and sliced

4

cups

baby spinach

1

cup

strawberries

stemmed and quartered

1/2

cup

english cucumbers

sliced

1/4

cup

basil leaves

gently torn or sliced

1/4

cup

feta

crumbled

1

small

avocado

sliced
Balsamic Vinegar Dressing
4

tbsp

olive oil

2

tsp

Balsamic Vinegar

1/2

tsp

kosher salt

reduce by half if using table salt

1/2

tsp

black pepper
Instructions
Grill chicken breast until cooked through. Let sit 5 minutes then thinly slice.

In a small bowl, whisk together olive oil, balsamic vinegar, salt and black pepper. Set aside.

In a large bowl, assemble salad with spinach, strawberries, basil, cucumbers and avocado. Add sliced chicken breast on top and sprinkle with feta. Then drizzle with dressing and serve.
Notes
Nutritional information is only and estimate and may vary. 
Nutrition
Calories:
634
kcal
Carbohydrates:
19
g
Protein:
31
g
Fat:
50
g
Saturated Fat:
10
g
Trans Fat:
1
g
Cholesterol:
89
mg
Sodium:
980
mg
Potassium:
1423
mg
Fiber:
10
g
Sugar:
6
g
Vitamin A:
6083
IU
Vitamin C:
72
mg
Calcium:
195
mg
Iron:
3
mg