BMW and I have become big into overnight oat bowls! We often make them with kefir or yogurt and almost always use rolled oats. Sometimes I throw in some chia seeds but BMW isn't a huge fan of those so I just put mine on top! One thing I love about the overnight oat bowls is that you can prep a big batch for the week and then you have breakfast taken care of! I like to steer away from super processed food (like bars or boxed cereals) first thing in the morning. As much as I can, I like to eat fresh fruit or veggies so I can give my body a jump start on the day! And I mean who doesn't love strawberries and bananas!?
Strawberry Banana Overnight Oat Bowl
This bowl recipe, along with this Tex-Mex Veggie Bowl and Spicy Cilantro Pesto Farro Bowl, first appeared in the April 2018 edition of Austin Woman Magazine.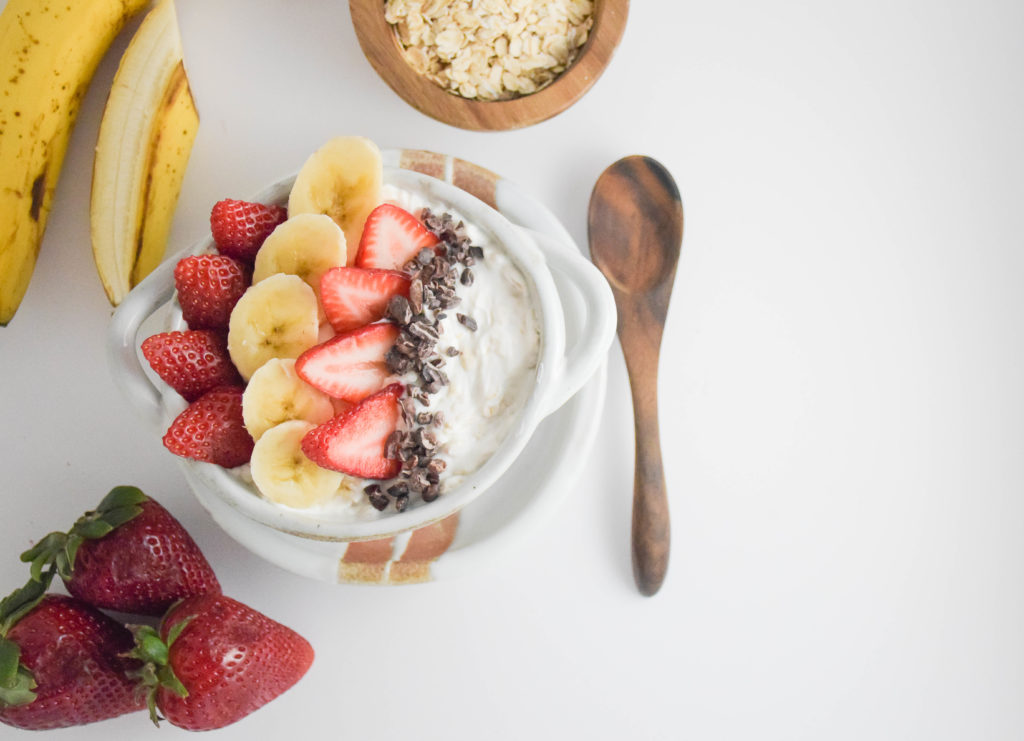 You can easily switch up the topping for whatever is in season or in your fridge! I actually love to add frozen blueberries to mine. They sorta melt and get sweet and I think they taste great this way. If you're really into breakfast bowls, check out my Peanut Butter and Jelly Breakfast Bowls!
Other great topping choices are:
Frozen berries
Chia seeds
Goji berries
Hemp seeds
Nuts
Peanut or nut butter drizzle
Tell me what your favorite breakfast bowl toppings are in the comments!

Strawberry Banana Overnight Oat Bowl
Makes One Bowl
Ingredients:
1 cup full fat yogurt
½ cup rolled oats
1 tablespoon honey
1 teaspoon cinnamon
1/8 teaspoon salt
½ cup fresh strawberries
½ cup sliced bananas
1 tablespoon cacao nibs
The night before, mix yogurt, oats, honey, cinnamon and salt. Cover and put in fridge.
Slice up the strawberries and bananas and put them on top of the oats with the cacao nibs.