Cilantro pesto has long been one of my fav condiments! It came out of my love for a pasta sauce with a kick. I always like basil pestos but wanted a little more punch. I suppose this isn't actually a traditional pesto since it doesn't have any nuts or cheese, which might actually make it more of a chimichurri but for the purposes of this recipes it is functioning like a pesto, so let's call it that, mmmkay? Trust me, unless you're one those for whom cilantro tastes like soap, then you're going to love this Spice Cilantro Pesto Farro bowl!
Spicy Cilantro Pesto Farro
This bowl recipe, along with this Tex-Mex Veggie Bowl and Strawberry Banana Overnight Oat Bowl, first appeared in the April 2018 edition of Austin Woman Magazine.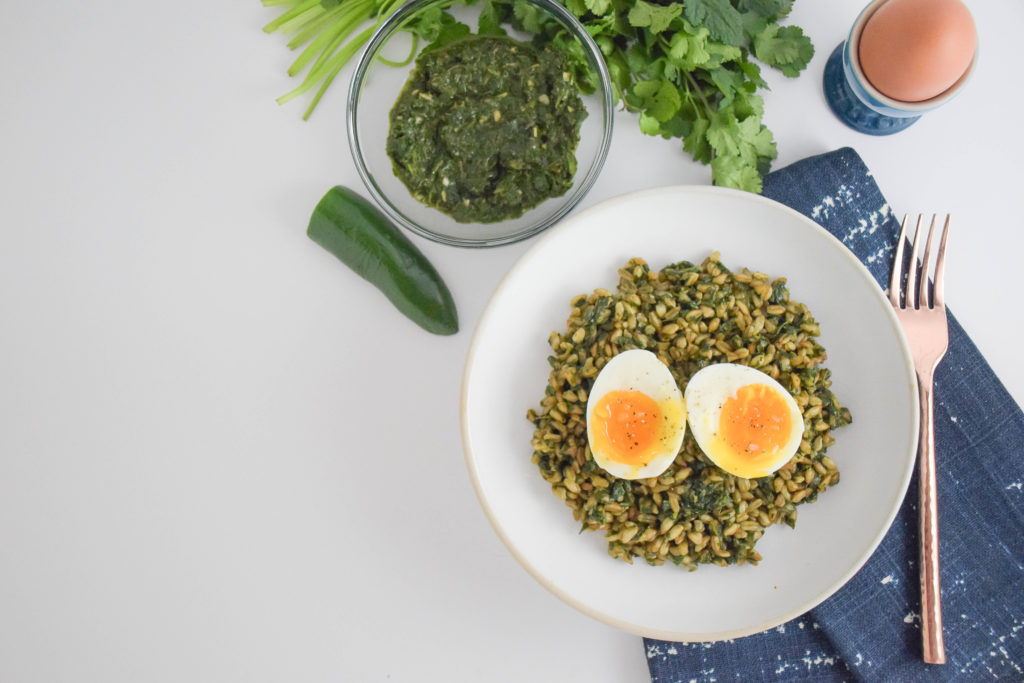 A variation of this dish has been something I've been eating for well, like the life of this blog! I love the bold flavors from the cilantro pesto and you can pair with just about anything from blood orange salad to potatoes and shrimp! I love adding an egg for extra protein. A soft boiled egg, like the one in this recipe, adds a creaminess and it takes less time– heyo! Win, win all around! You could add almost any protein to this dish though.
Spicy Cilantro Pesto Farro
Makes one bowl
Ingredients:  
½ cup farro
1 cup water or vegetable or chicken broth (for cooking farro)
½ cup cilantro, packed
1 clove of garlic
¼ of a jalapeno
1 tablespoon fresh lemon juice
1 tablespoon olive oil
½ teaspoon salt
1 egg
Salt + pepper to taste
Directions: 
Cook farro according to package.
Soft boil egg for 6 minutes and peel.
In a food processor, combine cilantro, olive oil, garlic, lemon juice and jalapeno. Pulse until paste forms and is slightly chunky but not runny or smooth.
Toss pesto with farro and top with egg and salt and pepper.