These Sirloin Steak Skewers with Cilantro Chimichurri are an easy and delicious recipe for the grill and take about 15 minutes to make!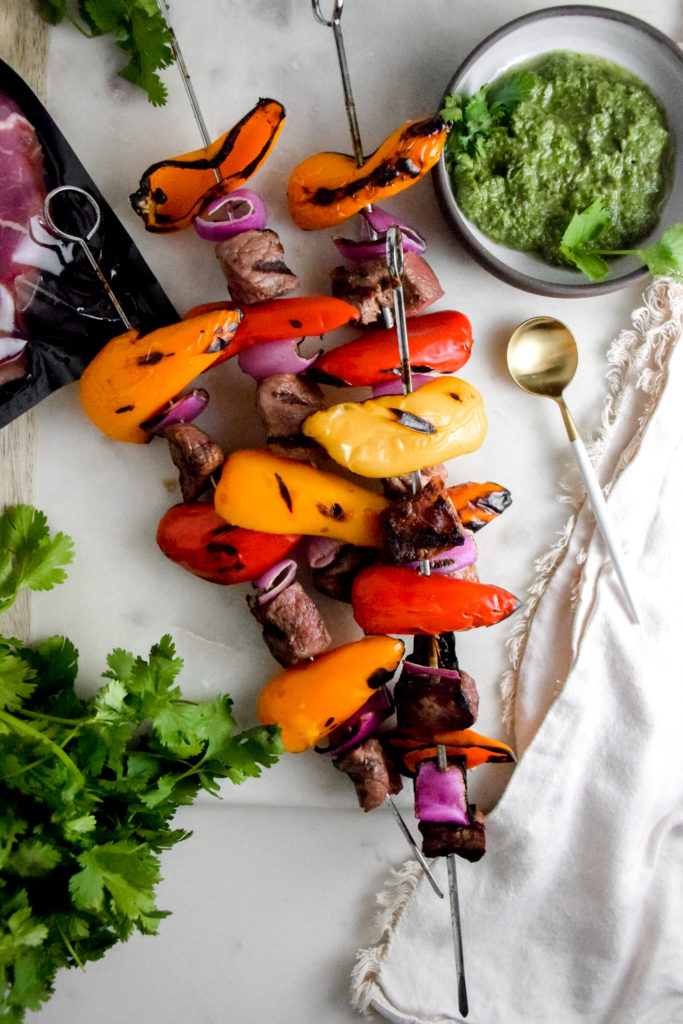 I am pumped for this recipe, y'all! It's super, super easy, tastes delicious and best of all it takes like 15 minutes to make! Can't get much better than that, am I right? Summer is on the horizon and I am here for ya with this quick grilling recipe. I love grilling as much as the next gal but once those temperatures start heating up, I don't want to spend all afternoon over a blazing grill. Enter this these Sirloin Steak Skewers that only take about 2-5 minutes on the grill! Plus, they are made with Wholesome Meats Regenerative Beef (not sure what all the means? just scroll down!) which is beef you can feel good about. Oh and I paired them with a simple to make zesty chimichurri sauce for extra flavor! 
This post is sponsored by Wholesome Meats. Thanks for supporting the companies that keep this free blog going!

Sirloin Steak Skewers with Cilantro Chimichurri
I love these skewers
because I mean food on a stick is always more fun, right? Lots of people might think that sirloin is too good of a cut of meat for a skewer but I disagree. I think it's the perfect cut because it's got a lot of flavor without being too fatty and it's tender so it makes great little steak bites! Which I think are very fitting for lounging around the pool or backyard. Maybe with a drink in hand. 
These Sirloin Steak Skewers are easy to eat and quick to make. That is why they are a good recipe to add to all your grilling occasions this season. And don't skip out on that chimichurri sauce! It packs a punch and is really nice for drizzling all over grilled meats and veggies.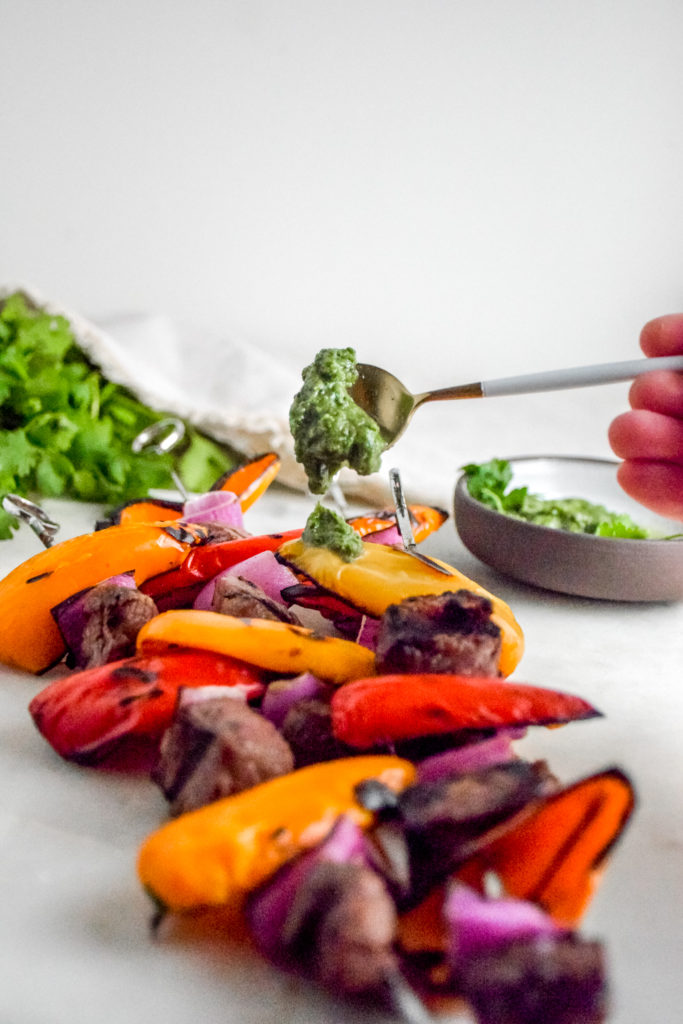 Regenerative Beef with Wholesome Meats
Have you heard about Regenerative Beef? Well, there is a lot that goes into it but basically it's the old way of farming and ranching, where cattle herds are raised on pastures, eat grasses and basically live happy cow lives. This process of moving the cows around to different pastures allows lots of nutrients to be restored to the ground through the cows' excrement (sorry if TMI but that is nature, y'all!)
Also, beef raised this way is actually way more nutritious than factory farmed beef. I became hyper aware of this after I was diagnosed with pretty severe anemia during pregnancy. Anemia is an iron deficiency and beef is one of the best sources of iron. So I began eating beef at least once a week to help heal my anemia and within two months of doing this, plus a few other things, I was able to maintain a normal iron level! I love that you can help heal yourself with food! 
During that process I began looking into different types of beef since the way the cattle are raised greatly affects how nutritious their meat is. I knew that grass-fed, pasture-raised and regenerative beef was the type I wanted since it would be the most nutritious but also I would be supporting small local ranchers without contributing to my carbon footprint. 
Serendipitously, a few months later, Wholesome Meats reached out to me! I immediately googled them and liked what I saw so I attended a local event they were hosting and was able to meet some of their team members and try out some of their products. It's important to me that not only the products I support are great but that I like the people behind them too! After that, they sent me more of their products try and BMW and I loved the taste and the quality. All the cuts were well packaged, arrived super cold and where the deep red color I associate with high quality beef. 
Wholesome Meats Discount Code: Natalie10
After we tried out what Wholesome Meats had to offer, I knew it was a company I wanted to partner with! So here we are! Over the summer, I will be sharing lots of easy, delicious recipes with y'all! You can support me, and Wholesome Meats mission to make better beef, by checking them out through this link. 
You can use my code Natalie10 for a 10% discount on any purchase! If there is a better sale going on at the time, then just click through this link and Wholesome Meats will know that I sent ya 😉 
Quick & Easy Steak Skewers for the Grill 
For this quick and easy recipe, you only need a few ingredients! I like to use sweet baby bell peppers and onions for my skewers but any veggie will work! Mushrooms and pineapple are usually big hits. I love this version of chimichurri sauce because all you have to do is throw all the ingredients in a food processor
, and bam, you're done! You can even make the skewers and chimichurri the night before and just store covered in the fridge. So simple!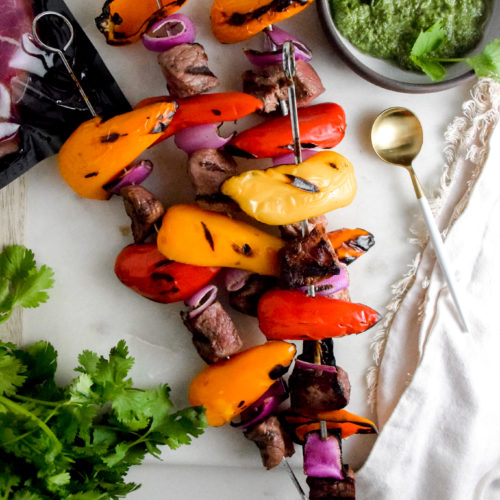 Sirloin Steak Skewers with Cilantro Chimichurri
These Sirloin Steak Skewers with Cilantro Chimichurri are an easy and delicious recipe for the grill and take about 15 minutes to make!
Ingredients
8

baby bell peppers

slice lengthwise in half

1/4

cup

red onion

cut into 2 inch chunks

1

tsp

kosher salt

reduce by half if using table salt
Cilantro Chimichurri
1

bunch

cilantro

1/4

cup

flat leaf parsley

leaves and tender top stems only

3

cloves

garlic

6

tbsp

olive oil

2

tbsp

white wine vinegar or fresh lime juice

1

tsp

kosher salt

reduce by half if using table salt

1

small

Fresno chili (optional)
Instructions
Begin by slicing the sirloin into 1 inch bite-sized cubes. Season with salt and set aside.

Make the chimichurri by combining all ingredients in a food processor or blender. Pulse together until chunky paste forms. Transfer to serving bowl and let sit so that flavors can blend. Can be made up to one day ahead and stored in an air-tight container in the fridge.

Heat grill to medium high. Assemble skewers with steak cubes, slice baby bell peppers and red onion. Grill for 1-2 minutes on each side until cubes reach desired doneness. They cook quick!

Remove from grill and serve with chimichurri sauce!
Notes
Nutritional values are approximate and can vary. 
Nutrition
Calories:
219
kcal
Carbohydrates:
7
g
Protein:
1
g
Fat:
21
g
Saturated Fat:
3
g
Cholesterol:
1
mg
Sodium:
1171
mg
Potassium:
219
mg
Fiber:
2
g
Sugar:
4
g
Vitamin A:
2315
IU
Vitamin C:
97
mg
Calcium:
20
mg
Iron:
1
mg