Salted Brown Sugar Pecan Banana Bread is an easy to make dense treat that is perfect with coffee or as an afternoon treat!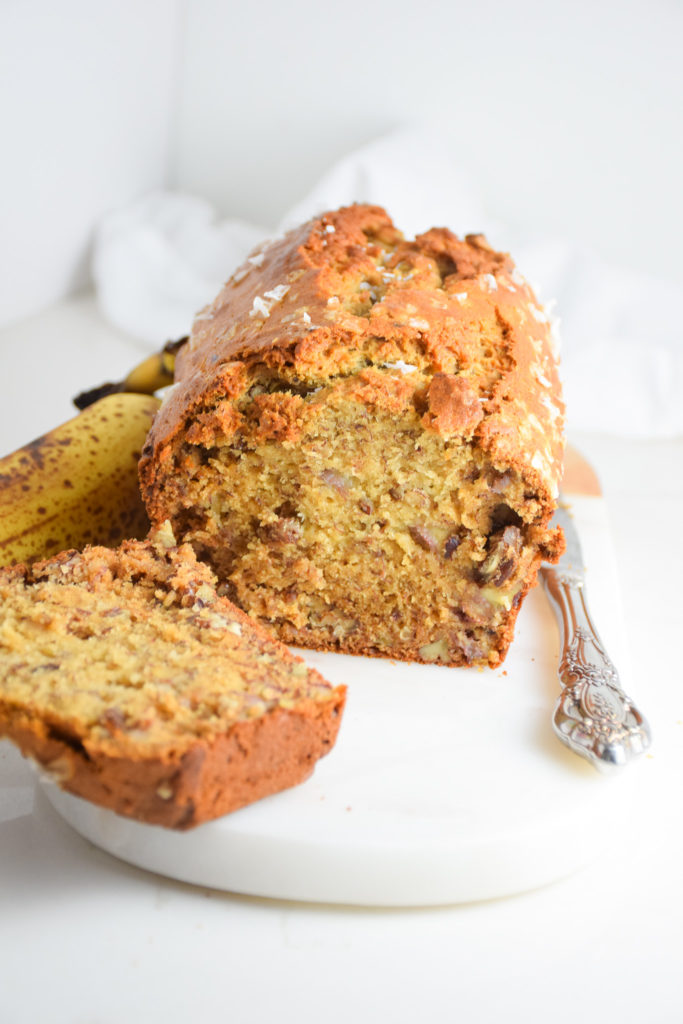 The world should have more banana bread! There I said it. Why you ask? Because banana bread turns an almost useless, wasted ingredient (old mushy bananas) into a craveable dense, tender, and yes, even moist, sweet bread. Using mostly pantry staples plus a few eggs to bind everything together, banana bread is such a simple pleasure. And undoubtably one pleasure we all could use a little more of these days.
This post contains affiliate links. If you purchase a product through these links I may earn a few pennies. Thanks for keeping this free blog going!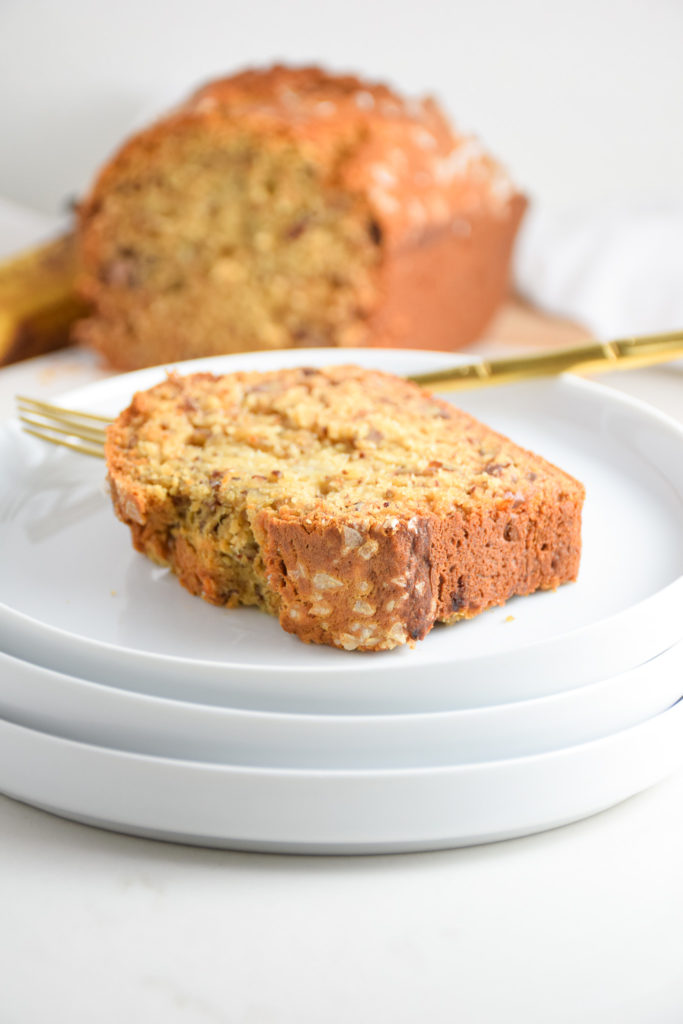 Banana Breads and Coffee Cakes
Banana Breads and Coffee Cakes how I love thee. They aren't the most fashionable of treats. They can hardly be described as visually appealing and it's often difficult to categorize them. Can you eat them for breakfast? Sure, but they aren't really a breakfast per se. Are they an afternoon snack? Kinda but not really. Should you eat a slice with coffee? I think so but tea, milk and water will do too.
If you need a refresher on how much I love these types of treats, see here and here. I call them treats because as you can see, they are hard to put into one category or the other. These types of breads or cakes, are undeniably forgiving as far as substitutions go. So if you don't have something on hand, you can probably swap it out for something else and somehow magically the recipe still comes together and tastes good. Can't say that about many baking recipes!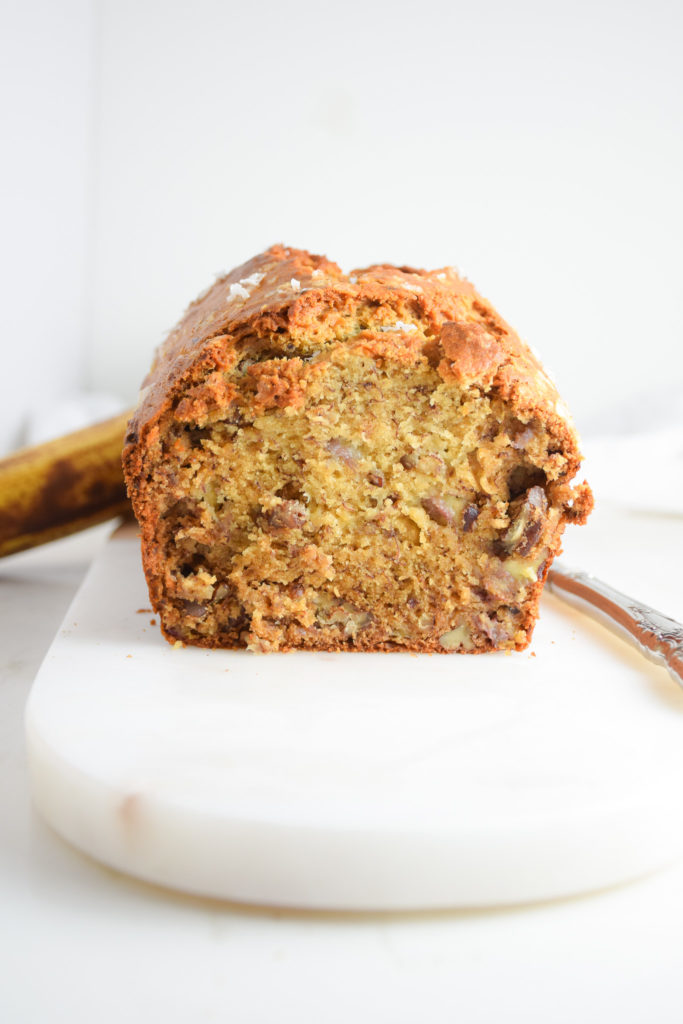 Salted Banana Bread
Probably not the first thing comes to mind when you think of banana bread. But I've been baking some more traditional recipes and I just wanted something a little more. Not sweet though. That's when I got the idea to add some flaky salt and butter to smear on my banana bread. It was delicious.
So, as I was playing around the banana bread recipes of my own, I figured why not give this one a few pretty salt flakes on top? I love the way it turned out. Each tiny pyramid of Maldon salt
gives a punch of salinity to the otherwise sweet bread. Sweet & salty. Such a classic combo yet not something I had tried before with one of the breads…or is it cakes? Anyways, I loved it and now I'm hooked. I hope you will be too!
Salted Brown Sugar Pecan Banana Bread
Makes one 9x5in loaf
Ingredients: 
4 overripe bananas, smashed
1 3/4 cups all purpose flour
1/2 cup brown sugar
2 eggs, lightly beaten
1/4 cup vegetable oil
1/4 teaspoon kosher salt
3/4 teaspoon baking soda
1 teaspoon vanilla extract
6 tablespoons unsalted butter, melted
1 teaspoon flaky salt, like Maldon
1 cup pecans, chopped
Directions: 
Preheat oven to 350 degrees. Whisk together flour, salt and baking soda in a medium sized bowl and set aside.
Melt butter and combine with sugar in a large bowl.
Mash bananas into sugar and butter. Stir in oil, eggs and vanilla and stir until just combined.
Gently fold dry ingredients into wet and stir until there are no flour pockets. Stir in pecans.
Pour batter into a prepared pan and top with flaky salt.
Bake for 55 to 65 minutes until bread is cooked through.
Serve warm or room temperature with an extra pat of butter and flaky salt if you wish!