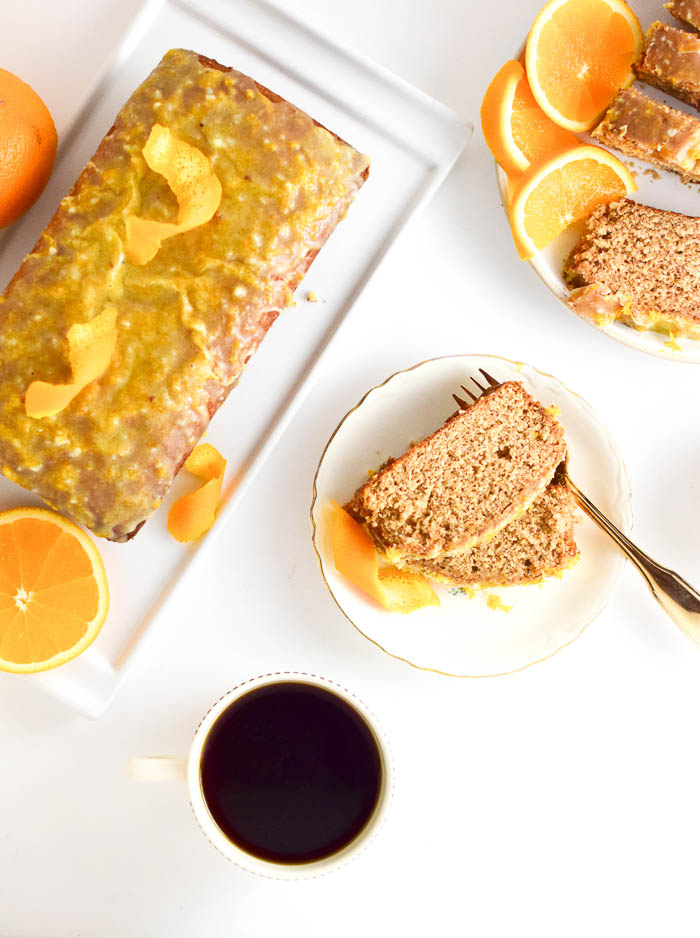 I've been so into chai flavors this fall! The spices are incredibly cozy and the smell, just so delicious. BMW's mom is a long time chai-lover and I made her this great chai spice mix that you can mix with hot water and have chai anytime! Anyways, the idea for this Chai Spice Coffee Cake came to me and it was perfect for my recipes in Austin Woman Magazine this month! The orange glaze is a seasonal touch and just the right amount of citrus to compliment the sweetness! Last year on Christmas morning I made cinnamon rolls that were a huge hit! I am thinking of making them again this year but I also might whip up this Chai Spice Coffee Cake too! It's so hard to choose. These breads are so moist and would be perfect for making ahead and taking to a party or wrapping them up tight and shipping them to loved ones for a sweet holiday treat!
Do you have any special holiday traditions? Tell me in the comments!
Chai Spice Coffee Cake with Orange Glaze
Makes two 8.5in x 4.5in loaves
Ingredients:
2 ¼ cups all-purpose flour
2 teaspoons baking powder
¾ teaspoons salt
1 ½ teaspoons ground cinnamon
1 teaspoon ground cardamom
1 teaspoon ground ginger
½ teaspoon ground all spice
¼ teaspoon ground cloves
¾ cup unsalted butter, softened
1 cup sugar
½ cups light brown sugar
3 large eggs at room temperature
1 teaspoon vanilla extract
3 Chai tea bags
1 ½ cups whole milk
Orange Glaze:
1 cup powdered sugar
1 tablespoon cream cheese
1 ½ teaspoons milk
2 tablespoons orange zest
Instructions:
Pre-heat oven to 325 degrees and grease two loaf pans.
Bring milk to a boil in a small pot and steep with tea bags for 10 minutes. Strain, measure out one cup and set aside.
Whisk flour, baking powder, salt, cinnamon, cardamom, ginger, all spice and cloves in a medium bowl and set aside.
Use a stand mixer to cream butter and sugars together over medium high speed until creamy, about 3 minutes.
Reduce speed to slow and incorporate eggs one at a time until just mixed.
Add in flour mixture and milk until fully incorporated.
Divide batter and pour into pans. Bake for 45 to 55 minutes until the center is cooked through.
Meanwhile, make the glaze by whisking the powdered sugar and milk. Add in cream cheese and whisk until smooth. Stir in orange zest and set aside.
Let loaves cool completely then pour glaze on top. Serve immediately or wrap and serve within five days.