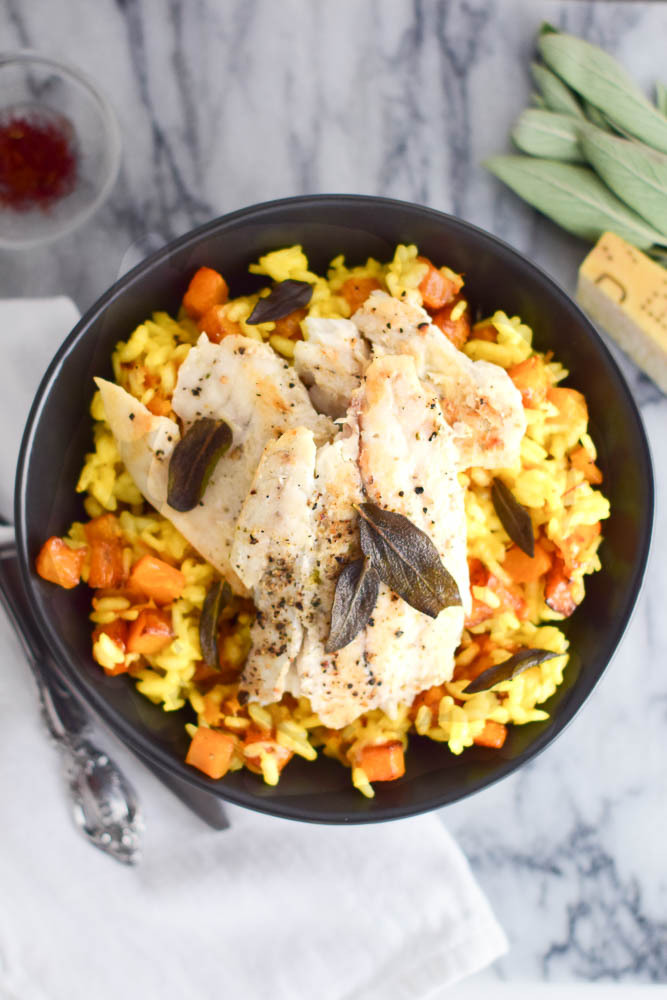 We went to Boston last week and had all the lobster rolls and oysters and chowder! It was delicious to say the least. I was so happy because we finally found some oysters, Mookie Blues to be exact, that BMW really loves. I am taking this as a hint to start adding more seafood into meals at home. Last month we tried this Coconut Lemongrass Barramundi dish inspired by our trip to Thailand and this month I decided to make something more savory and comforting for fall and to remind us of our weekend in Boston! Enter: Saffron Risotto and Roasted Butternut Squash with Seared Barramundi!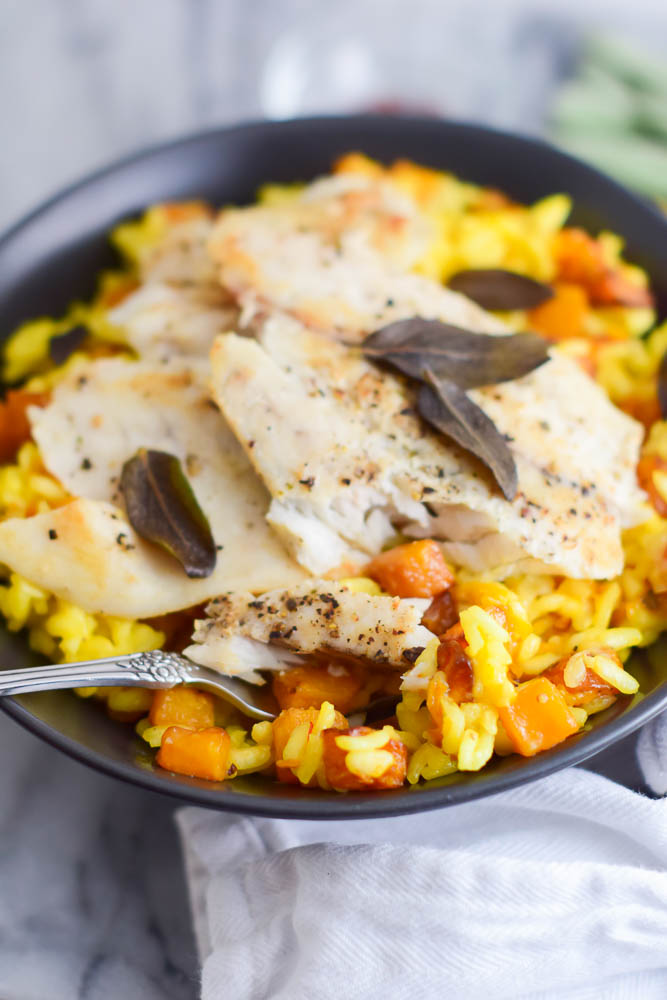 I love adding saffron to dishes because of the bold color and flavor that it adds! A little bit goes a long way with saffron which is good because it's a little pricey but you've gotta indulge a little bit every now and then! You can peel and cube your butternut squash or when I'm short on time I just buy the pre-cut bags in the produce section. This recipe is a little bit more hands on, perfect for those days when you want to get in the kitchen. But don't worry, it cooks quick so you won't be stuck in the kitchen too long.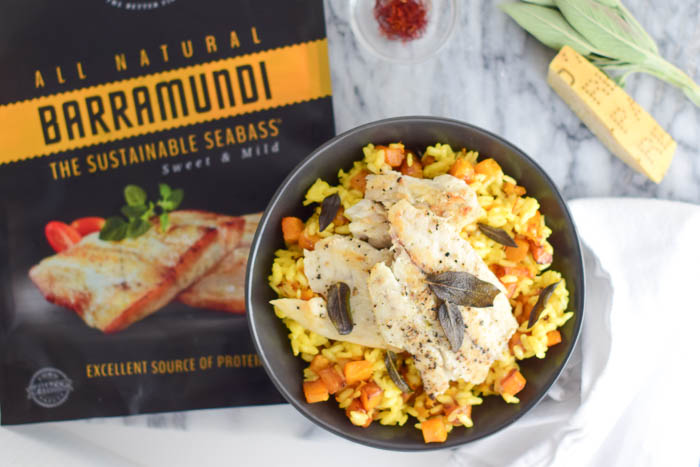 I partnered with Australis Barramundi to create this recipe! I don't always think of seafood as a comfort food or even a fall or winter food but actually lots of seafood is in season during the fall! Of course, Australis Barramundi is sustainably raised and caught and flash frozen so it's always "in season!" The filets are hearty portions and when you seared them, I think they eat more like a chicken or meat than fish. Plus, what doesn't taste great when paired with risotto?!
Saffron Risotto with Roasted Butternut Squash and Seared Barramundi
Ingredients:
2 Australis Barramundi Filets
1 cup Arborio Rice
2 cups of chicken broth
2 cups cubed butternut squash
2 tablespoons thinly sliced shallots
1 tablespoon of butter
1 teaspoon white wine vinegar
½ cup of parmesan
¼ teaspoon of saffron threads
6-8 fresh sage leaves
1 teaspoon each salt and black pepper + more to taste
6 tablespoons olive oil, divided
Directions:
Heat oven to 425 degrees. Toss butternut squash cubes with 1 teaspoon olive oil and 1 teaspoon each of black pepper and salt. Roast for 20 min on a baking sheet lined with parchment paper.
Meanwhile, melt butter in a pot with thinly sliced shallots for 2-3 minutes until fragrant.
Add Arborio rice and white wine vinegar and toast for 2-3 minutes more on high heat in the pot, stirring frequently.
Add saffron and one cup of chicken broth to pot. Bring to a boil and stir until all liquid is absorbed. Add remaining chicken broth, stirring until all liquid is absorbed. Stir in parmesan cheese until well combined. Season with salt and pepper to taste.
In a non-stick pan, melt remaining butter. Season Australis Barramundi filets with salt and pepper. Put into pan on high heat, searing each side for 3-4 minutes until cooked through.
Remove filets from pan and add remaining olive oil. Fry sage leaves for 2-3 minutes until crispy.
Plate risotto and put filets on top and top with sage leaves.