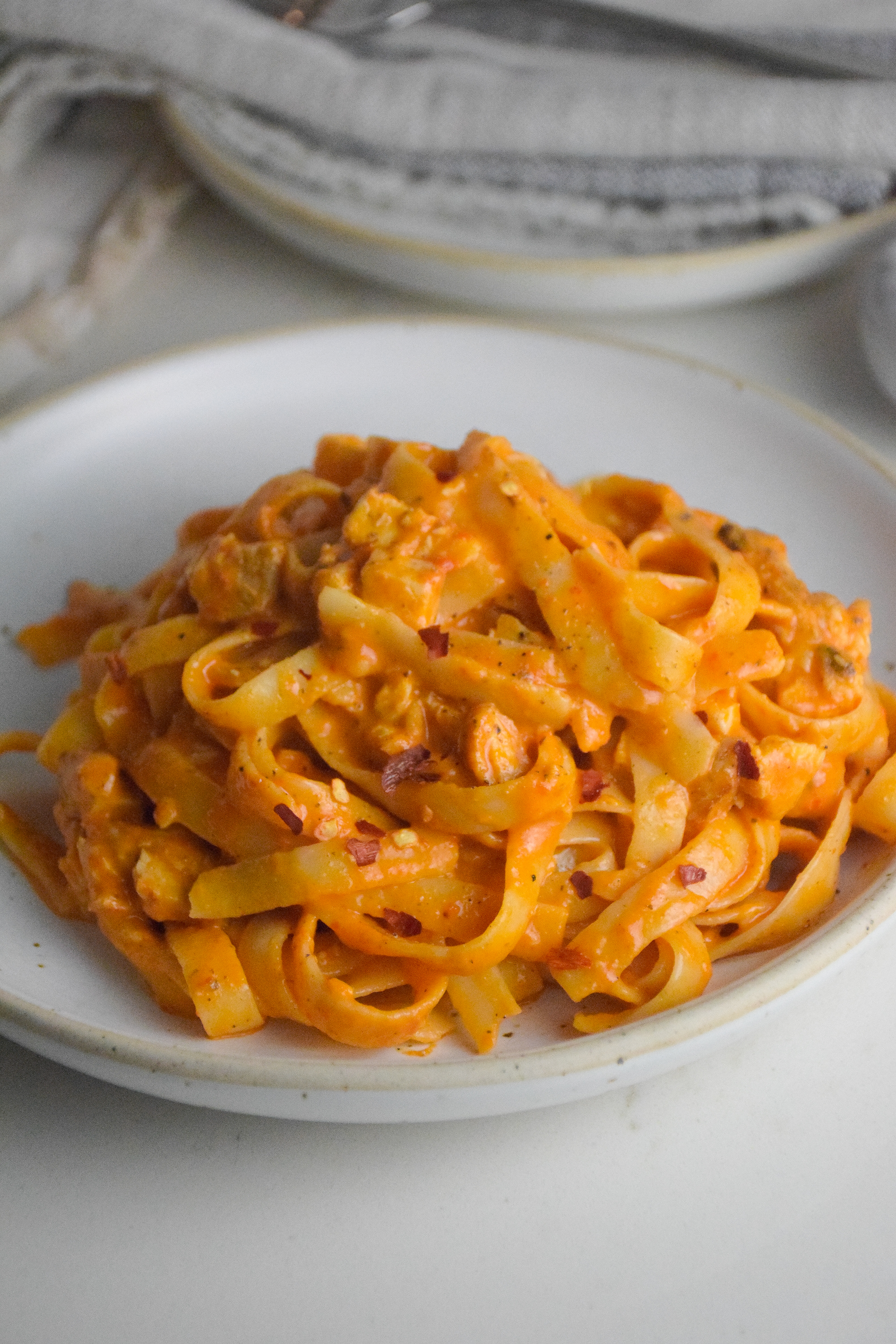 This Red Bell Pepper Pasta with Chicken is an easy recipe that is creamy, delicious and always a crowd pleaser!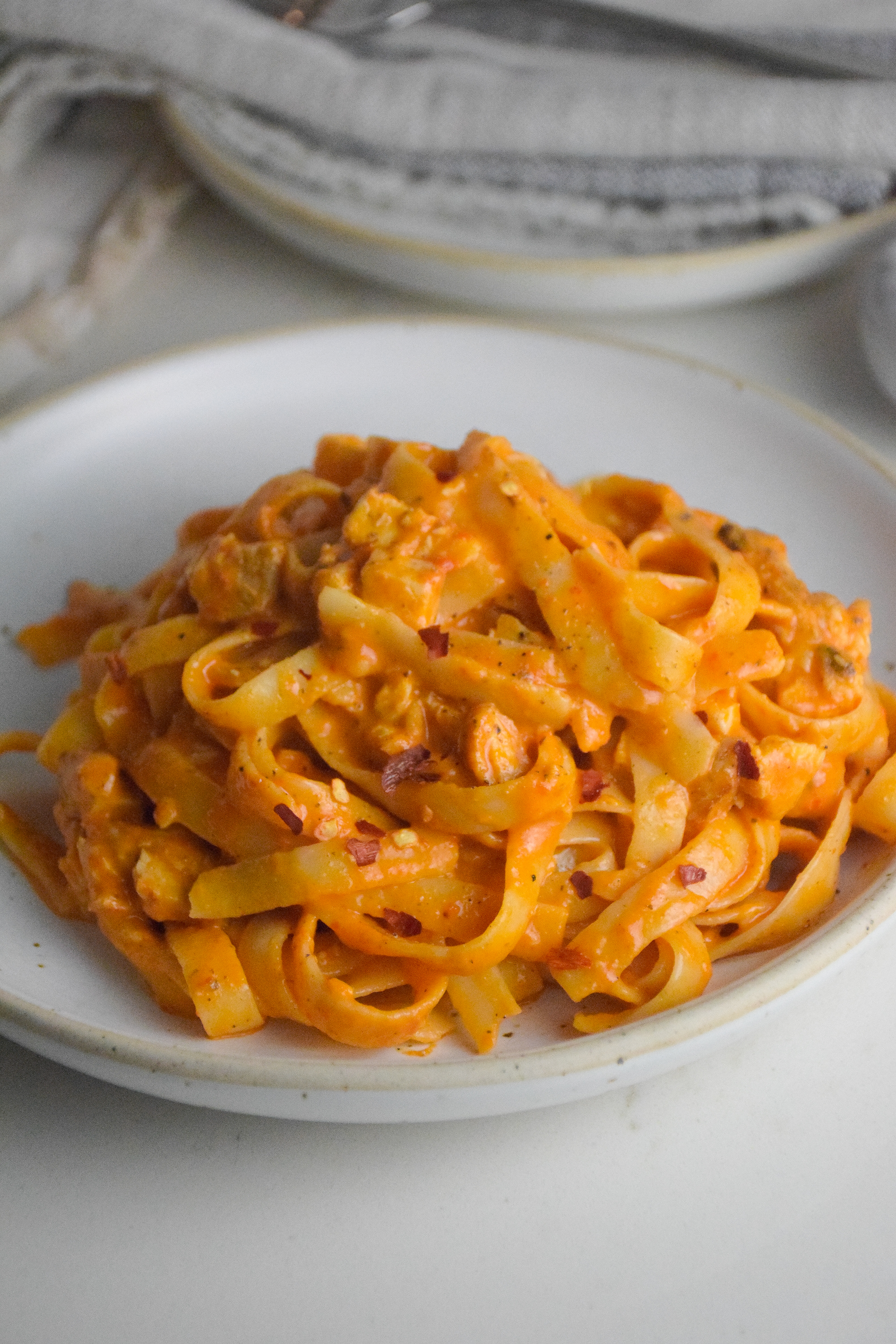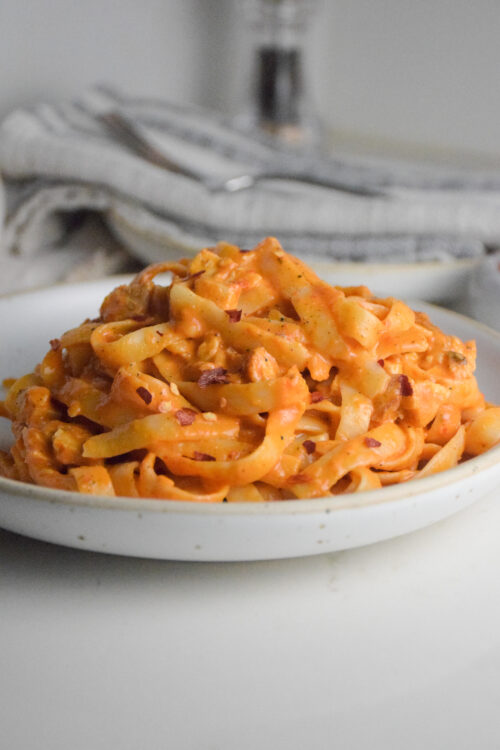 This recipe makes a creamy rich sauce that lusciously clings to the noodles. I'm always trying to find ways to put more nutrients into whatever I am eating. Red bell peppers are a great source of fiber, beta carotene and vitamins C and E. While cooking does release some of the vitamin C, it breaks down the cell walls making it easier to digest many of the other nutrients so all in all still a big win and provides much more nutrients than a tomato sauce. Of course when it comes to my recipes, taste comes first. Always.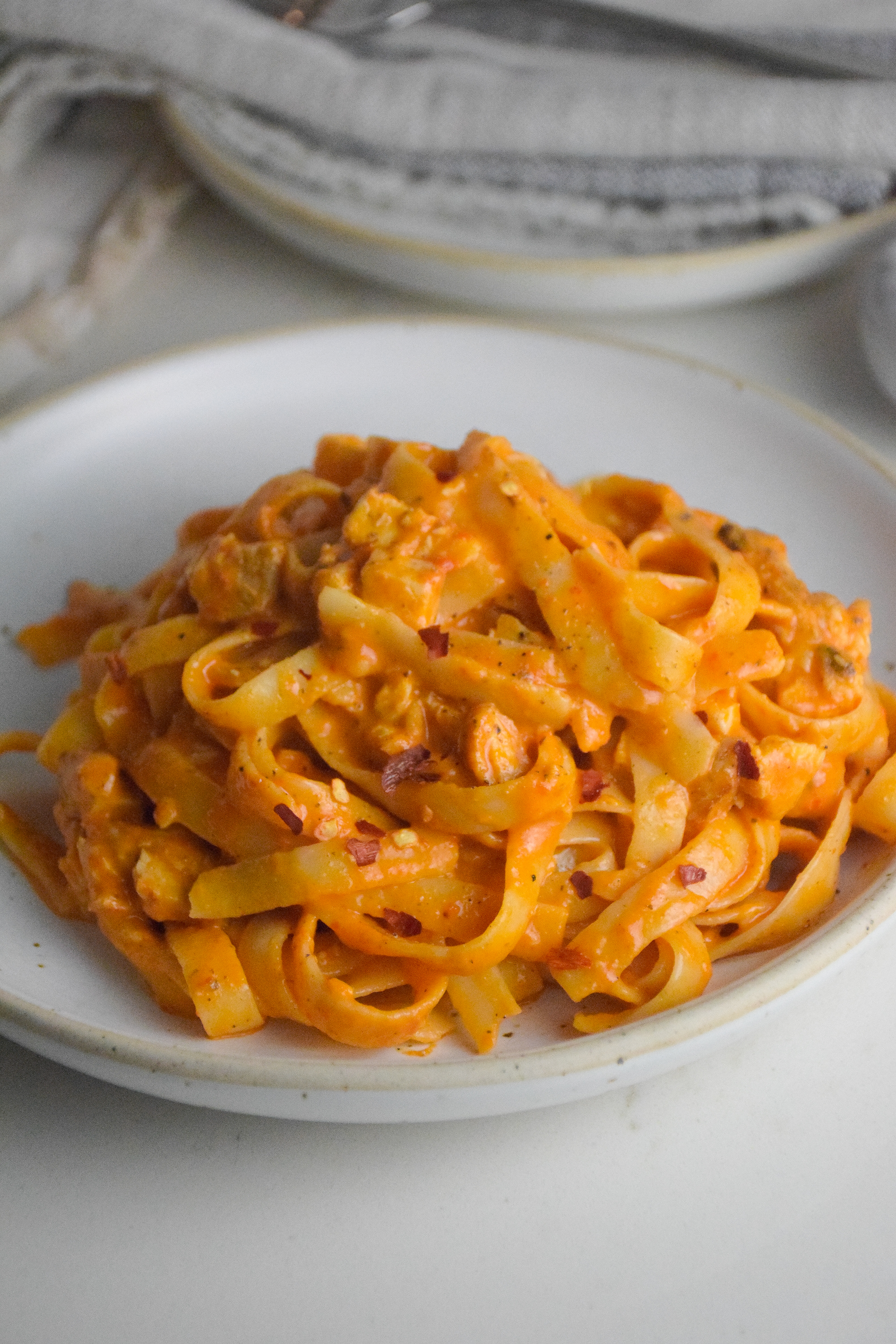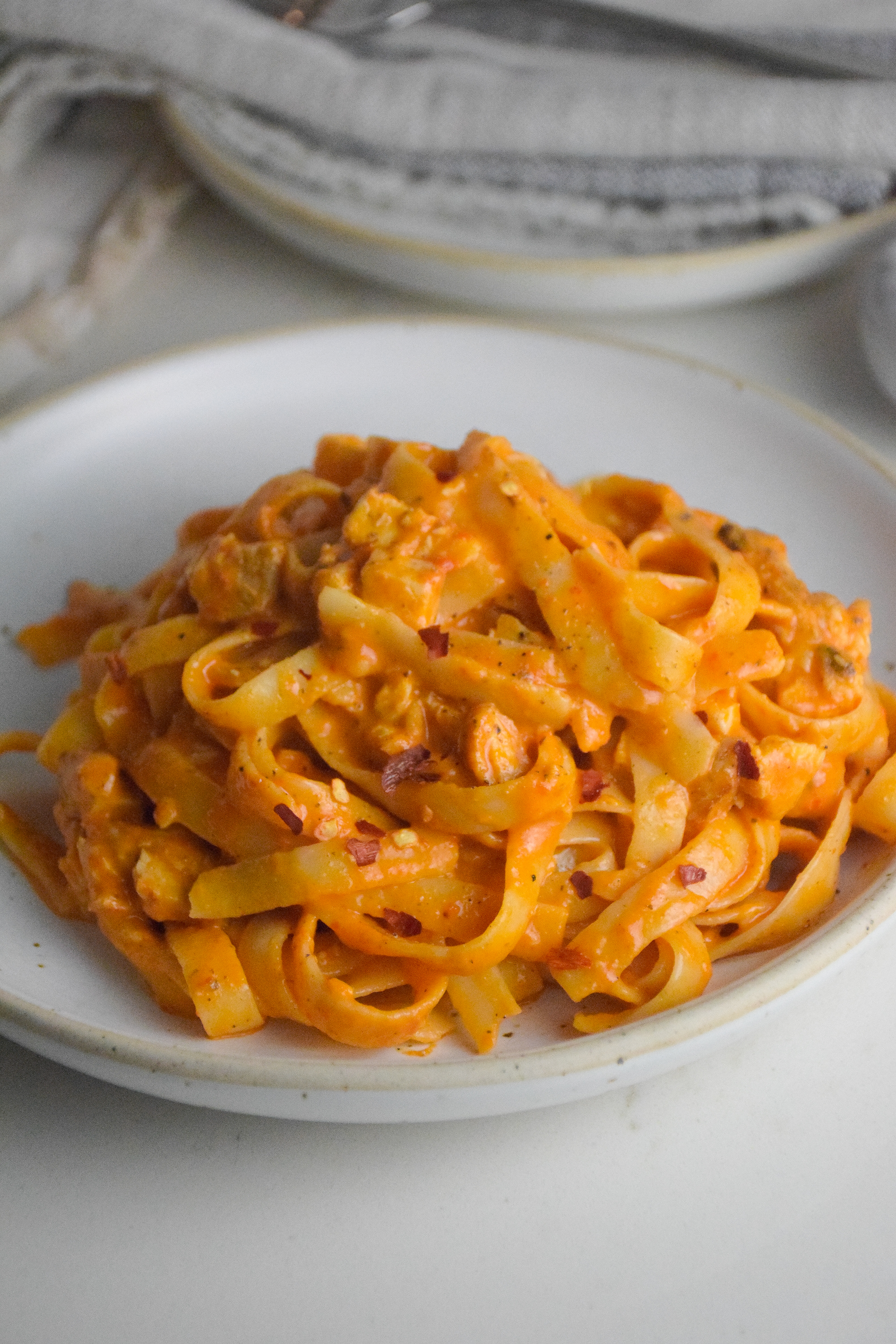 This post contains affiliate links. If you purchase a product through these links I may earn a few pennies. Thanks for keeping this free blog going.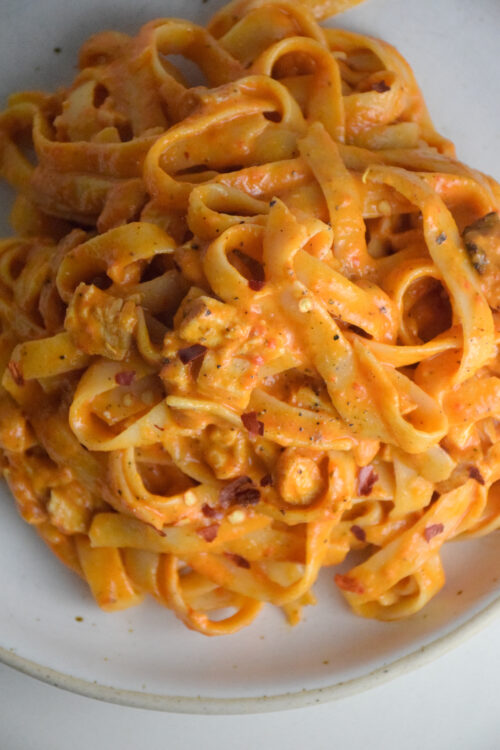 Red Bell Pepper Pasta with Chicken
Y'all are going to love this sauce! The red bell pepper provides a bright and just slightly sweet flavor. I like to use pasta water to make the sauce creamier and it will give the sauce that glossy quality.
For this recipe, you'll only need a few ingredients like red bell pepper, garlic, salt, pepper, dried basil and lemon juice. I also like to add a splash of cream to my sauces. It really brings out the flavor and adds even more creaminess.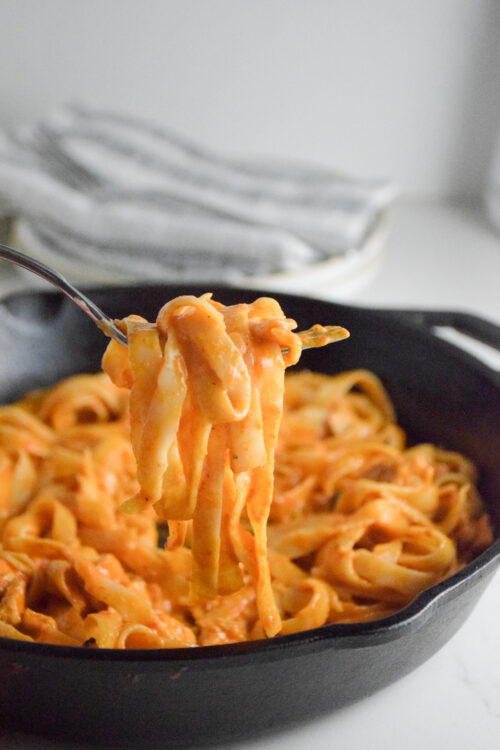 Red Bell Pepper Pasta Sauce
First, you'll start off by chopping the red bell pepper. Remove in the inner white parts and the seeds. It's ok if one or two seeds get in there but try to remove most of them. Place them into a skillet
or other cooking pan with olive oil. Cook them for a few minutes then you will add the garlic, salt, pepper and basil and stir until fragrant.
Meanwhile, bring a pot of water to a boil and cook the pasta. Drain and reserve one cup of pasta water.
Place the roasted bell pepper mixture and pasta water into a high powered blender
. Blend until smooth and then keep blending until it starts to look a bit creamy.
Put the cooked pasta back into the skillet or pot with the sauce. Stir in cream and add the chicken if using. It's that simple!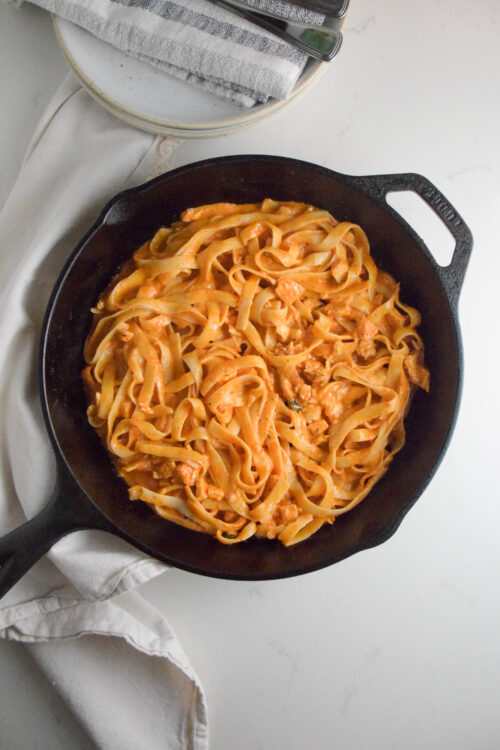 Roasted Red Bell Pepper Sauce
I like to use cream in my pasta sauce recipes because it makes the other flavors pop and of course adds so more creaminess. If you prefer to go dairy-free, I suggest using extra pasta water in place of the cream or your favorite non-diary cream. Butter would also be a good substitute.
Lately, I have been adding chicken to a lot of my recipes because I am trying to increase my protein intake. This recipe is great on it's own so you can leave the chicken out if you'd like to make this vegan or vegetarian. Or you can substitute a different protein, like shrimp, in this recipe. If you use a ground meat, like sausage, it will impart a different flavor and texture so just be aware of that.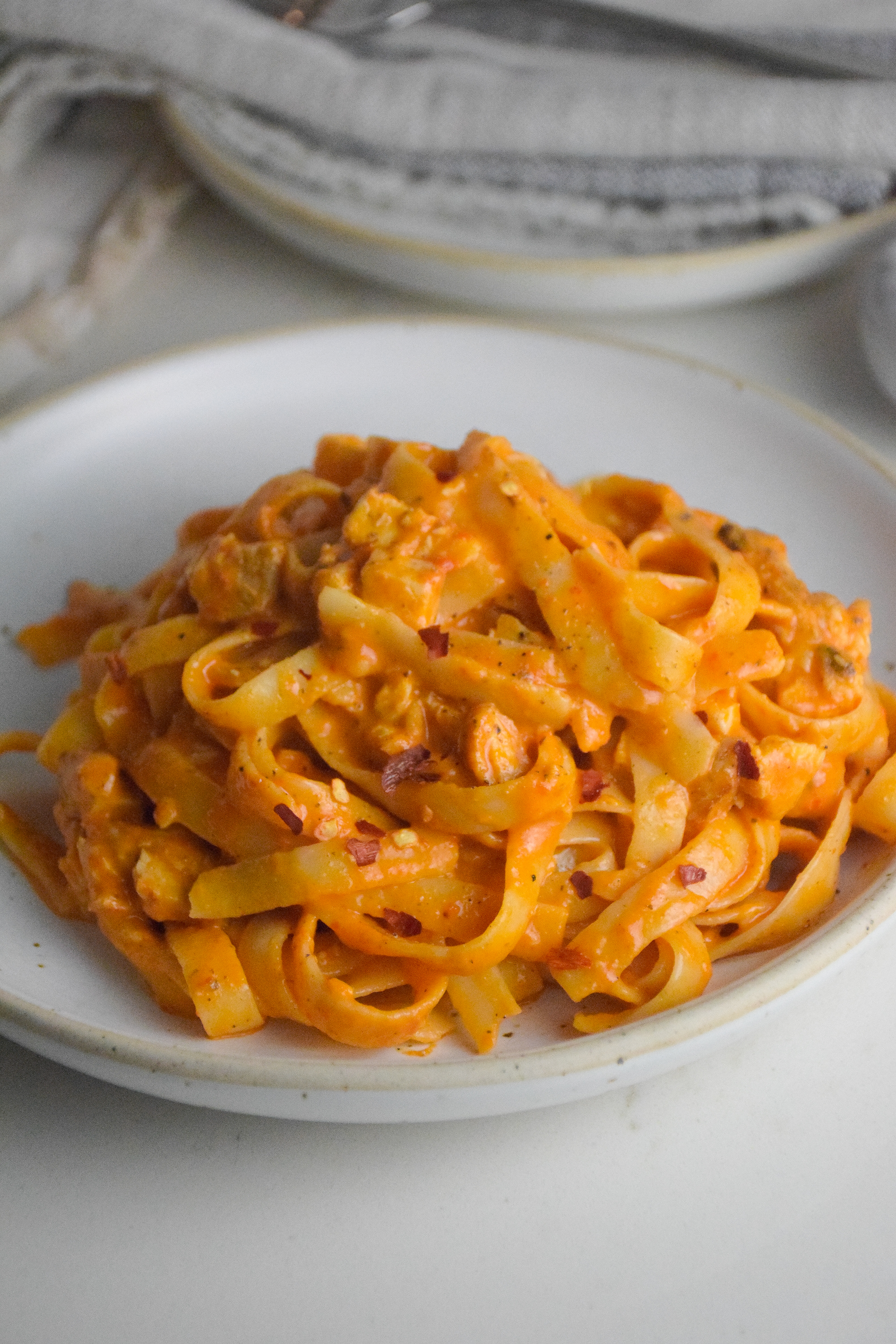 Red Bell Pepper Pasta Sauce
If you find your sauce is too thin, put the skillet with the noodles and sauce on medium-low heat and cook for 3-5 minutes as needed until the sauce reduces down and thickens.
If you find your sauce is too thick, add more pasta water or cream. You can also give it a splash of regular water too if needed.
Before serving, taste the sauce. Add salt and pepper as needed until it tastes good to you. That's what "salt to taste" means just in case you were wondering!
You Might Also Love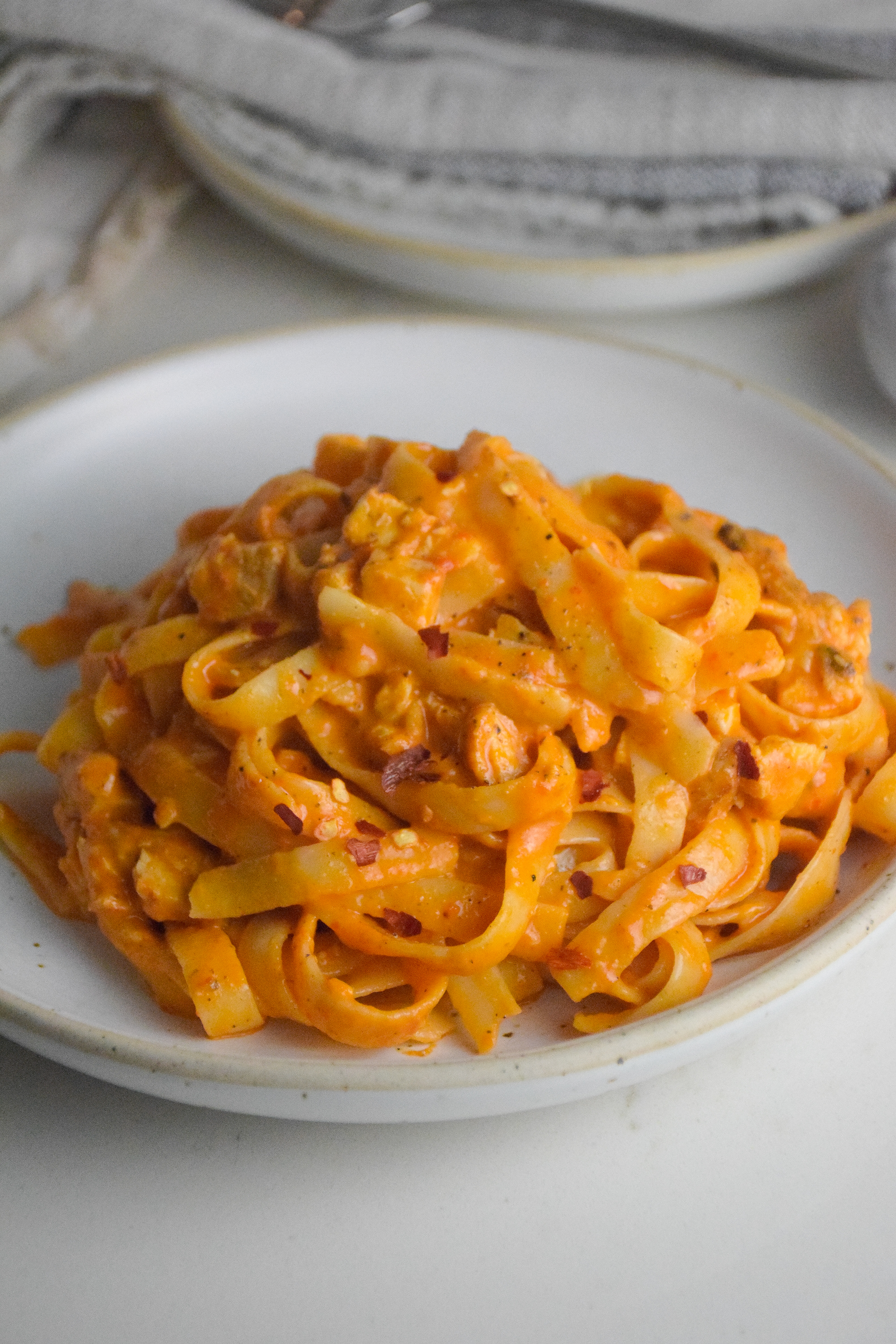 Red Bell Pepper Pasta with Chicken
This Red Bell Pepper Pasta with Chicken is an easy recipe that is creamy, delicious and always a crowd pleaser!
Ingredients
1/2

lb.

fettuccini or other long noodle

1 8

oz

approx chicken breast

2

red bell peppers

seeded and diced

4

cloves

garlic

minced or pressed

1/4

cup

heavy cream

optional

2

oz

fresh lemon juice

approx juice from 1 small lemon

2

tablespoon

olive oil

or other preferred cooking oil

1

teaspoon

dried basil

can bun Italian herb blend

1

teaspoon

kosher salt

reduce by half is using table salt

1/2

teaspoon

black pepper

1

cup

reserved pasta water

1

teaspoon

red pepper flakes

optional
Instructions
Begin by cooking the chicken breast. You can grill it or cook it in the oven or slow cooker. I diced up a grilled chicken breast into very small pieces. You can also shred it or serve a portion on top of the pasta. Your choice!

Cook the fettuccini according to package directions. Reserve one cup pasta water.

Dice red pepper and place into a skillet with olive oil over medium heat. Cook until slightly softened, stirring occasionally, about 3-4 minutes. Add garlic, basil, salt and pepper and stir all together until fragrant, about 30-60 seconds more. Transfer to a blender and add pasta water. Blend until smooth and creamy.

Strain fettuccini and place into same skillet you cooked the bell pepper in over low heat. Pour sauce over. Stir together until sauce has thicken about 3-5 minutes. Add diced chicken, lemon juice and heavy cream is using. Stir all together and bring to a simmer. Reduce sauce down until desired thickness is reached. Usually about 2-3 minutes more.

Serve hot topped with red pepper flakes if you want some spice and salt and pepper to taste!
Notes
This recipe is wonderful as a vegan dish. Simply don't use chicken or cream. I'm personally trying to eat more protein so I am adding chicken to many of recipes lately. The cream adds texture and layers to the sauce the bring out some of the flavors. If making vegan, substitute additional pasta water or favorite non-diary cream or yogurt.
Nutrition
Calories:
429
kcal
Carbohydrates:
47
g
Protein:
23
g
Fat:
17
g
Saturated Fat:
5
g
Polyunsaturated Fat:
2
g
Monounsaturated Fat:
8
g
Trans Fat:
0.04
g
Cholesterol:
105
mg
Sodium:
683
mg
Potassium:
561
mg
Fiber:
4
g
Sugar:
4
g
Vitamin A:
2288
IU
Vitamin C:
83
mg
Calcium:
52
mg
Iron:
2
mg