Chicken Pepperoni Pasta is the perfect weeknight pasta dish that is loaded with protein and flavor!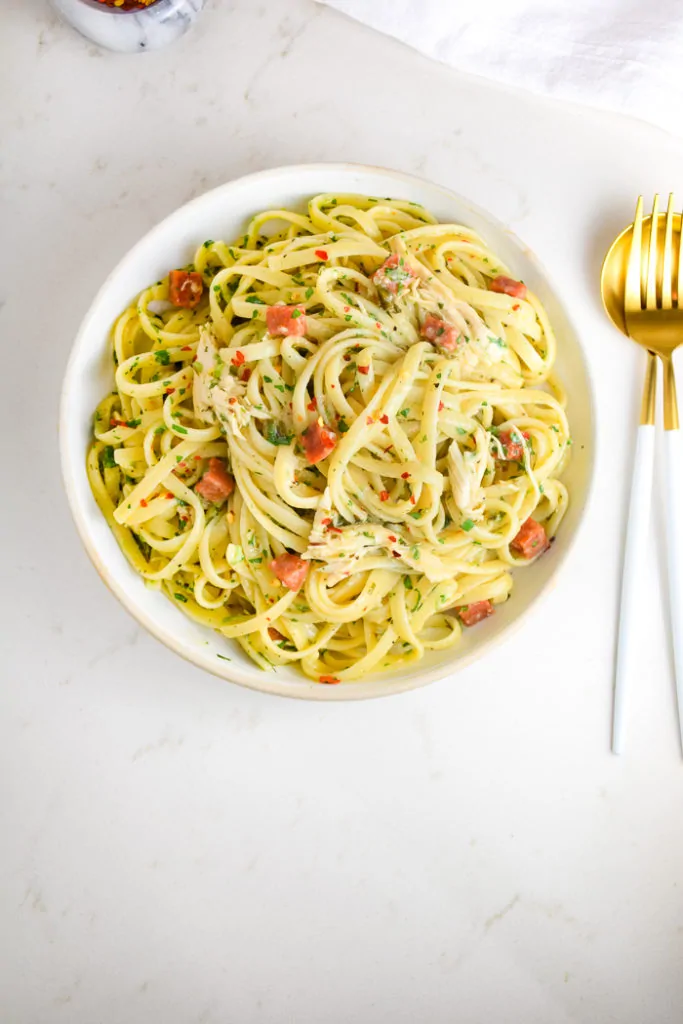 Chicken Pepperoni Pasta is currently on heavy rotation at our house! It's easy to make with just a few pantry staples, has a good serving of protein, and comes together in less than 20 minutes. I mean, what else can a gal ask for in a weeknight meal? Plus, it's insanely satisfying. I've been major craving this for a few weeks now and finally got around to measuring everything out and writing up the recipe for ya instead of just devouring this pasta right away!
This post contains affiliate links. If you purchase a product through these links I may earn a few pennies. Thanks for keeping this free blog going!

Chicken Pepperoni Pasta
If you've read this blog long enough, then you know I'm a huge pasta fan. If I could only eat pasta, cheese and vegetables, I'd be a happy gal! So this recipe really speaks to me. It's one of those pasta meals that just sorta came together one Friday night. BMW and I had been debating heading out to happy hour, so naturally while we discussed about 3 bajillion options of where we wanted to go, we opened a bottle of wine while discussing and then all the sudden it was 8pm and we had missed happy hour and now we were starving.
Instead of heading to our favorite local tex-mex spot or ordering food, I decided to see what I could come up with based on what we had in the fridge and pantry. Thus, Chicken Pepperoni Pasta was born! Mostly born out of wine-fueled craving for carbs and BMW gently reminding me that I need to eat protein, at least occasionally haha.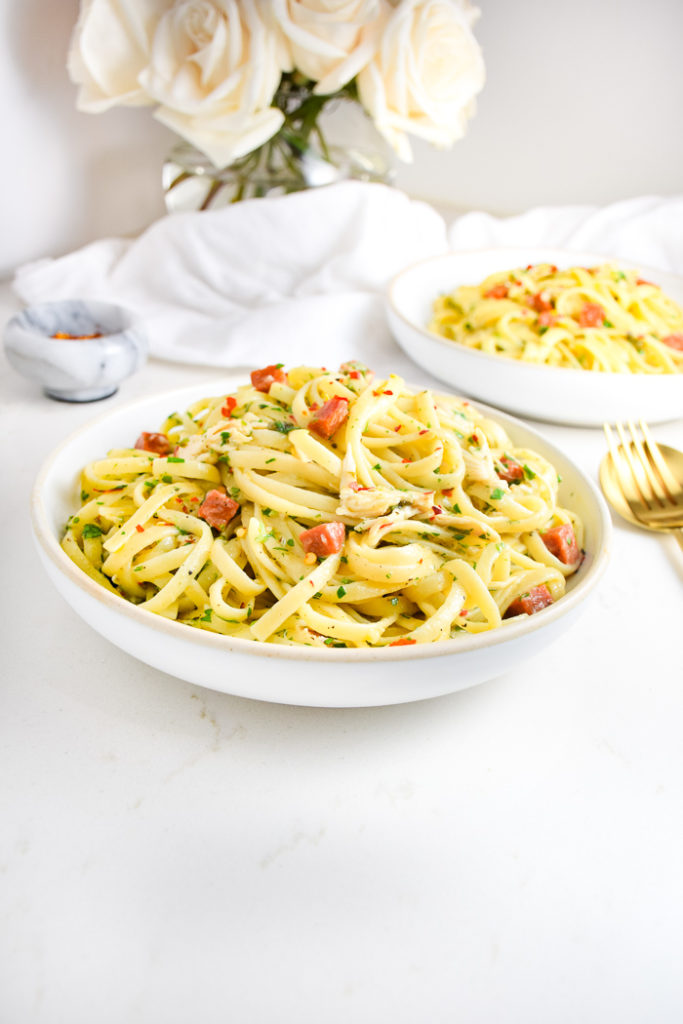 A Note On "Alla Chitarra"
You'll see below that the recipe calls for fettucini alla chitarra. And you're probably wondering what is that and why do I need it and where can I find it. You can find fettucini all chitarra and spaghetti alla chitarra
most often and both work well in this recipe. Chitarra is a type of pasta that is cut a little roughly. Leaving the edges a bit jagged instead of super smooth. You'll see this most often in fresh handmade pasta but they now often sell it dried as well. Chitarra is Italian for guitar and refers to the loom used to make this pasta that resembles the strings of a guitar.
The rough edges of chitarra pasta grip the sauce in this particular recipe exceptionally well. Since the sauce essentially consists of pasta water, olive oil and a bit of parmesan, it's not thick, but instead light. The rough edges act like little grippers and pick up all those bits of herbs, garlic and olive oil, making the perfect bite!
I made this recipe several times and substituted regular spaghetti and fettucini. The texture is still good but you will notice that the olive oil sauce collects at the bottom of your bowl, instead of sticking to the noodles. This isn't bad, but it's just not as pleasurable as when the sauce perfectly bonds to each strand of pasta. Alla Chitarra pastas run a few dollars more per pound at my local grocer but it is well worth the spend IMO. Here is a link to some on Amazon
!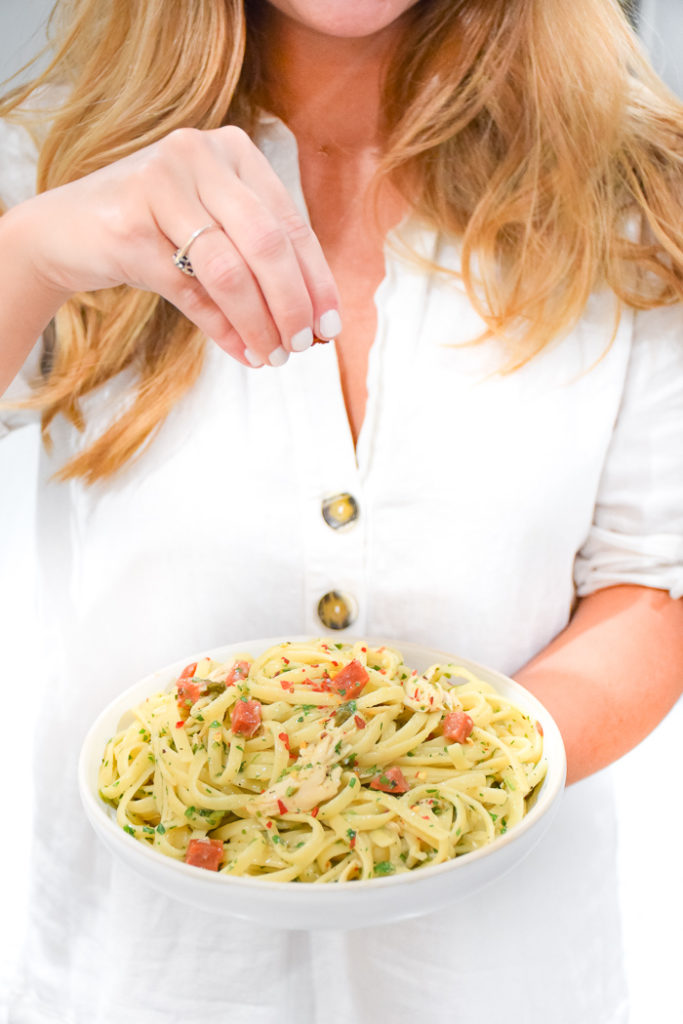 Tips For Weeknight Meals
This has quickly become one of our go-to meals around the house! It feels fancy enough to make on a Friday evening with a glass of wine but is quick enough to pull together on a weeknight after a long day. My biggest tip for making this recipe extra speedy is to have your shredded chicken prepped ahead of time. Sometimes I will make a big batch and throw it in salads, quinoa bowls or in pasta for a little extra protein!
I love the extra briney-ness and crispy texture that the fried capers add to this dish but you can leave those out if you don't have any on hand or want to save a few minutes. You might need an extra pinch of salt though to balance the flavors, so don't forget that!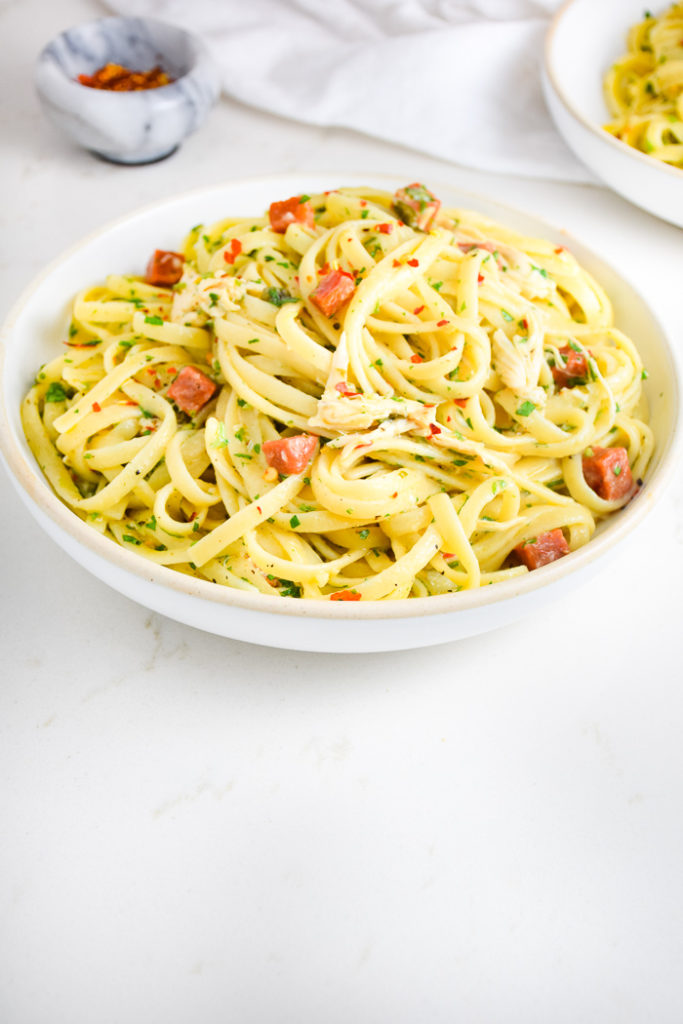 You Might Also Love BMW's Spicy Red Wine Spaghetti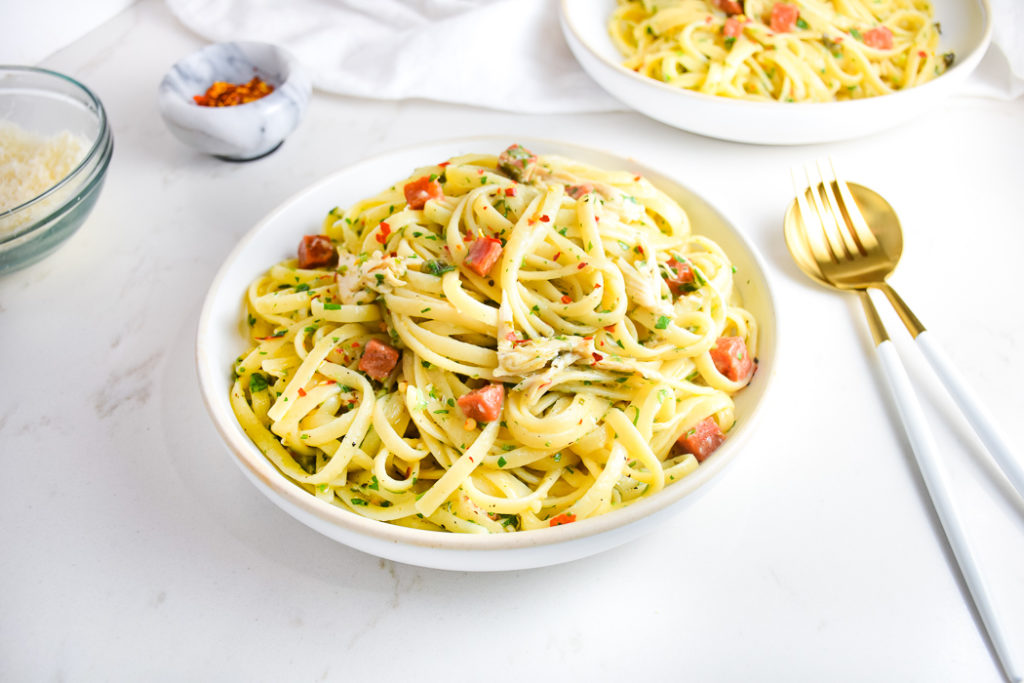 Chicken Pepperoni Pasta Recipe
Makes 4 servings
Ingredients: 
3/4 lb fettucini alla chitarra (can sub regular fettucini or spaghetti)
1 cup shaved parmesan, divided
1 lemon, juice and zest
1/4 cup capers, fried, see note*
1/2 cup finely minced parsley
8 cloves garlic, pressed or minced
3 tablespoons of olive oil
1 tablespoon kosher salt
1 chicken breast, shredded, see note**
1/2 cup diced pepperoni
1 teaspoon red pepper flakes
1 teaspoon black pepper
Directions: 
Begin by preparing your ingredients. Make sure the parsley and garlic are minced, pepperoni is cut, lemon is juiced and zested and chicken and capers are ready.
Bring a large pot of salted water to a boil, then cook pasta until slightly less than al dente. You will finish cooking the pasta in the steps below. Drain, and reserve 1 cup pasta water.
In a large skillet, heat olive oil over medium heat and cook garlic until just fragrant, about 30 seconds.
Add pasta to skillet and toss vigorously until well coated. Add 1/2 cup of reserved pasta water, chicken, pepperoni, capers and salt, continuing to toss, 1 minute more.
Add 1/2 cup of parmesan, remaining pasta water, red and black pepper and lemon juice and zest, tossing until well combined and almost all of the water is absorbed, about 2 minutes more.
Turn off heat and add minced parsley. Toss well, plate, and top with remaining parmesan. Add more salt and pepper to taste.
Notes:
Fried Capers* gently pat dry capers. Then fry in 3 tablespoons olive oil in a skillet over medium heat, shaking frequently. Should take 3-4 minutes. Drain capers, discard olive oil (it will be bitter.)
Shredded Chicken** Cover chicken breast with 1 teaspoon each dried garlic powder, dried oregano, dried parsley, and 2 tablespoons olive oil with 1/2 teaspoon each salt and pepper. Cook until reaches 165 degrees in the oven or crock pot. Shred and set aside.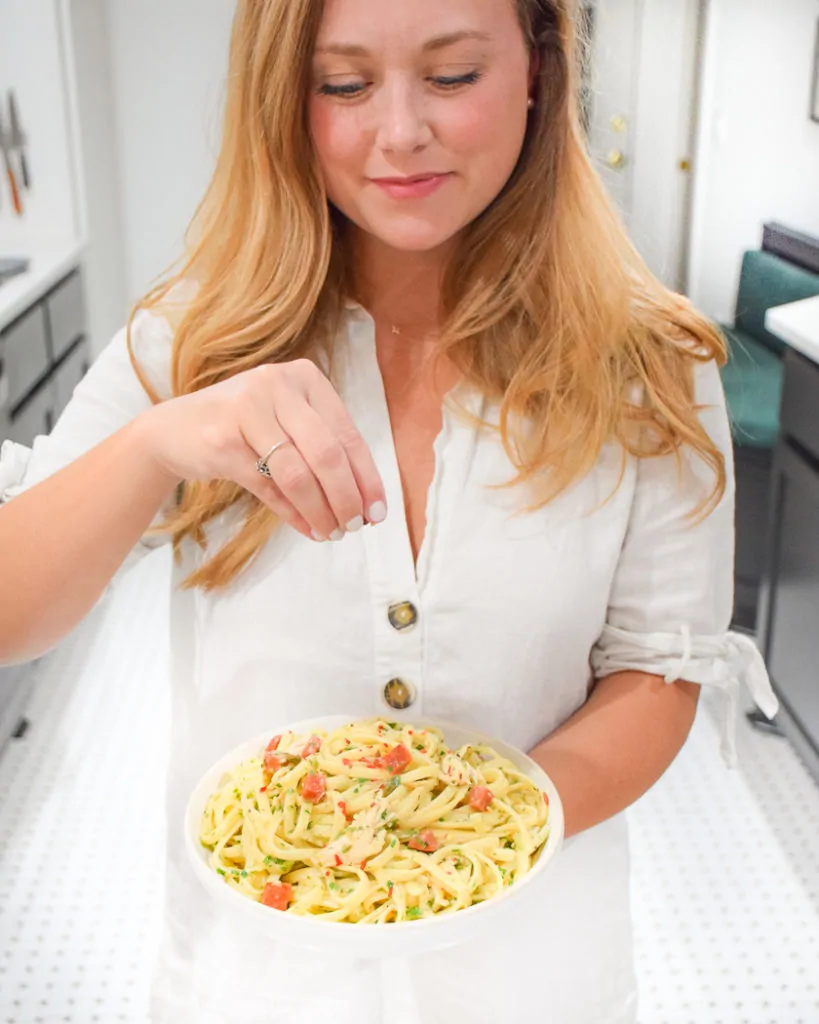 I hope you enjoy this recipe as much as BMW and I do! Leave a comment and let me know what you think!