Lemongrass Turmeric Slow Cooker Chicken is the perfect meal you can make anytime! It cooks in 2-3 hours so you can make it on a weeknight!
Y'all 2016 needs to slow down. Like for reals. It's all going by so fast and we are totally all losing our minds. Or is it just me? Ok glad we got that out of the way. I like easy recipes. Like stupid, easy, put it all in one pot and let the machine do it's thang easy. Enter this recipe for Lemongrass Turmeric Slow Cooker Chicken. Basically, I was wanting an easy recipe that had turmeric in it and was comforting but also super flavorful. This fragrant dish will fill your house with mouth-watering smells coming from the kitchen. Plus, it's a slow cooker
recipe that cooks in 2-3 hours and not 4-8. Yeah, so you can totally do this after work hours. You're welcome. My gift to you!
This post contains affiliate links. If you purchase a product through these links I may earn a few pennies. Thanks for keeping this free blog going! 
Easy Weeknight Meals
Slow cooker recipes often make me think of something I have to put together first thing in the morning if I want to make sure I have dinner that night. Sometimes, that is nice thing. But most mornings, I am just trying to get out the door. I love that chicken breasts cook so quickly in the slow cooker… sounds like an oxymoron haha. But that's all to say that once you get home in the evening, you can throw all these ingredients into the slow cooker on high then do whatever it is you need to do. Like walk the dog, run an errand, workout, whatever. Then 2-3 hours later, dinner is served!
Bonus points: this also makes great leftovers! Yup, so even if you are cooking for one, this crock pot recipe is for you. I also happen to like my dinner served up with a nice glass of wine. Sometimes (like this time) I even whip out the fancy gold forks to eat with. Just makes it feel a little more like an occasion, don't ya think? Even that just happens to be a Tuesday and celebrating the fact that the fall temps might dip below 90 degrees. Here's to hoping!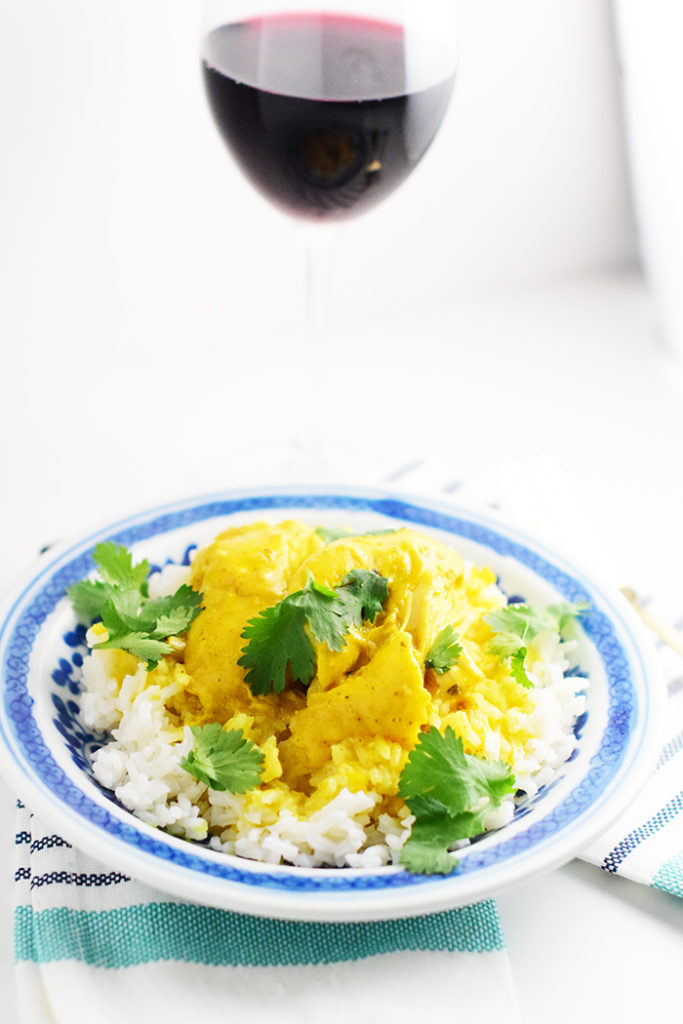 Lemongrass Turmeric Slow Cooker Chicken 
Serves 2-4, depending on how hungry you are!
Ingredients:
1 can lite coconut milk
1 pound of chicken breast
½ cup white rice
1 stalk of lemongrass
1 small shallot
3 cloves of garlic
1 small red chili (optional or sub 1 tablespoon of sriracha for heat)
2 tablespoons of fish sauce
1 tablespoon of butter
1 tablespoon of minced fresh ginger
1 tablespoon of turmeric powder
½ teaspoon brown sugar
Fresh cilantro for garnish
Directions:
Wash, pat dry and do a rough chop of the lemongrass, garlic, chili, shallot and ginger.
In a food processor or high-powered blender, combine the lemongrass, garlic, chili, shallot and ginger with coconut milk until mostly smooth.
In a slow cooker or pot on the stove, stir together herbed coconut milk with fish sauce, turmeric powder, sugar and butter.
Place chicken into the same pot and cover with sauce.
Let cook on high for 2-3 hours in the slow cooker or until chicken is cooked through.
Cook rice according to package about 30 minutes before chicken is done.
Using a fork, break chicken into smaller pieces, about 2 inches.
Serve chicken with sauce over hot rice with cilantro for garnish. Add salt & pepper to taste.