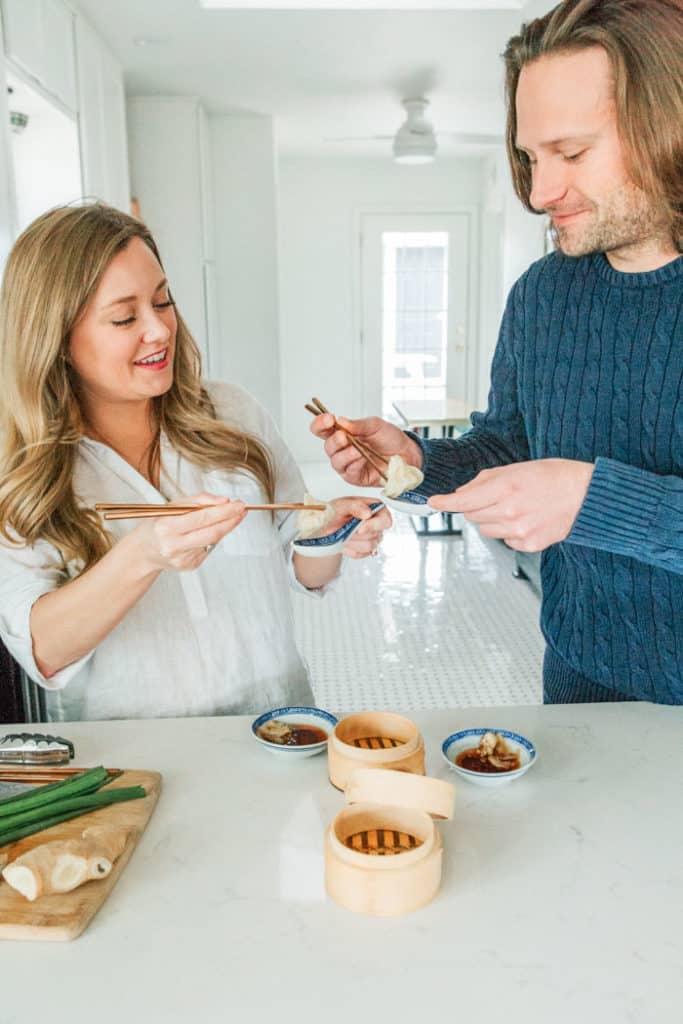 Soup dumplings at home!? I never thought I would be tackling this recipe at home! But once I tried it, I found it wasn't all that hard. You do need to prep, or more like plan, a little bit ahead but other than that, I found this a fun date night in! BMW and I love a good date night in, and making soup dumplings together was really fun!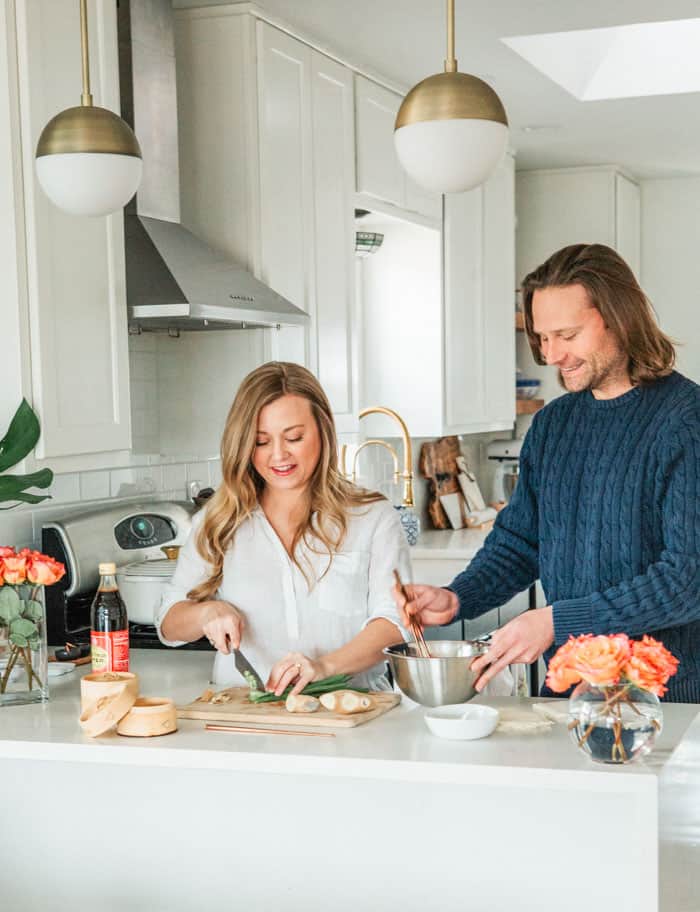 BMW and I both love cooking and we especially love cooking together. I tend to like to try lots of new recipes and flavors and BMW is more of the perfectionist. He loves baking and is getting really good at making bread at home, I am a lucky lady, I know.
We decided to tackle making the infamous xiao long bao, or better known as soup dumplings, at home. I tried a few different things to try and make this recipe a little easier to make at home and I learned a few lessons too.
For example, don't use too much water when making the aspic. What is an aspic you ask? It's basically meat jello. Yeah, not kidding. That is the key to the soup dumpling. Meat jello. If I've lost you and you're all hell naw girl, I am NOT making meat jello, then you can head over to this dumpling post, which is just as delicious and maybe a tiny bit easier to make on the fly.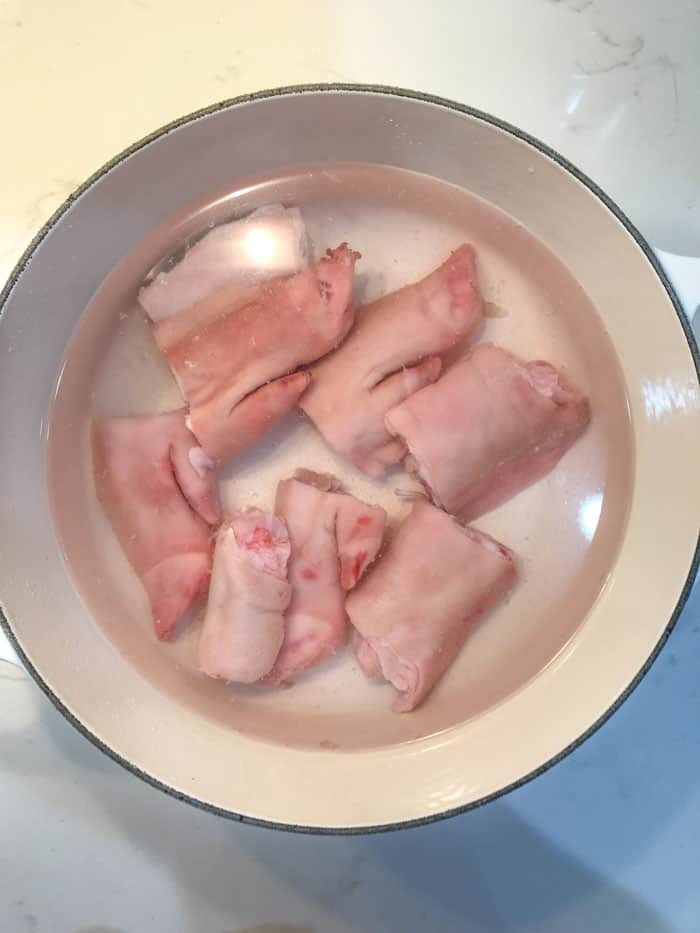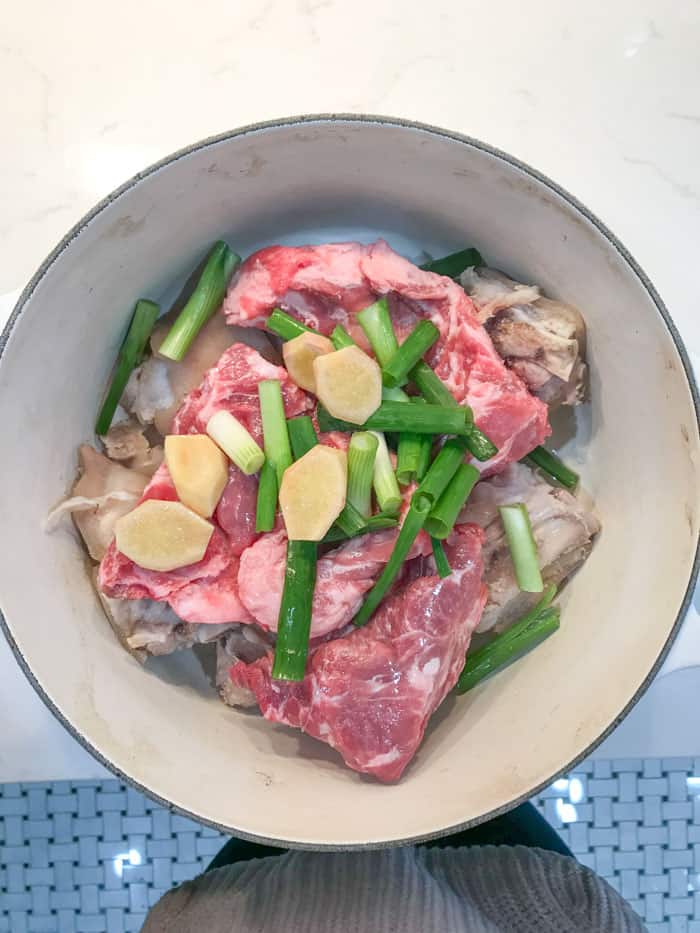 To make the meat jello or aspic at home, you'll need to find some pork feet and pork neck. I easily found these at my local grocery but you  might want to ask the butcher if you're not sure.
Julie Child made a lot of aspics, so don't be afraid. Basically what you are doing is getting all the collagen and fat out of the skin and bones. This makes for a rich, flavorful, fatty broth/jello situation. This is what makes soup dumplings so famous. So don't knock it 'til you try it!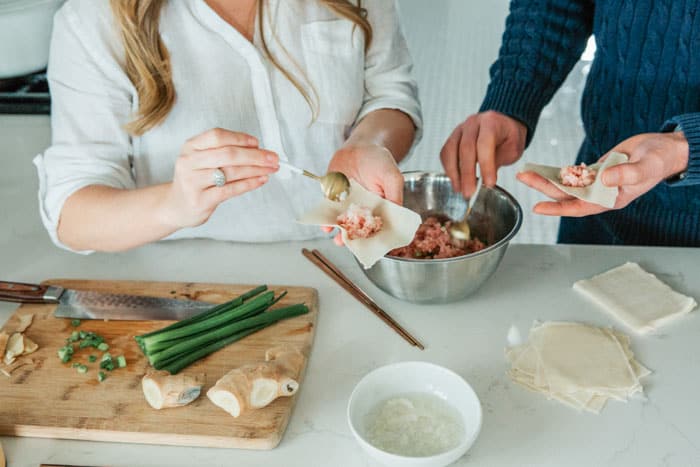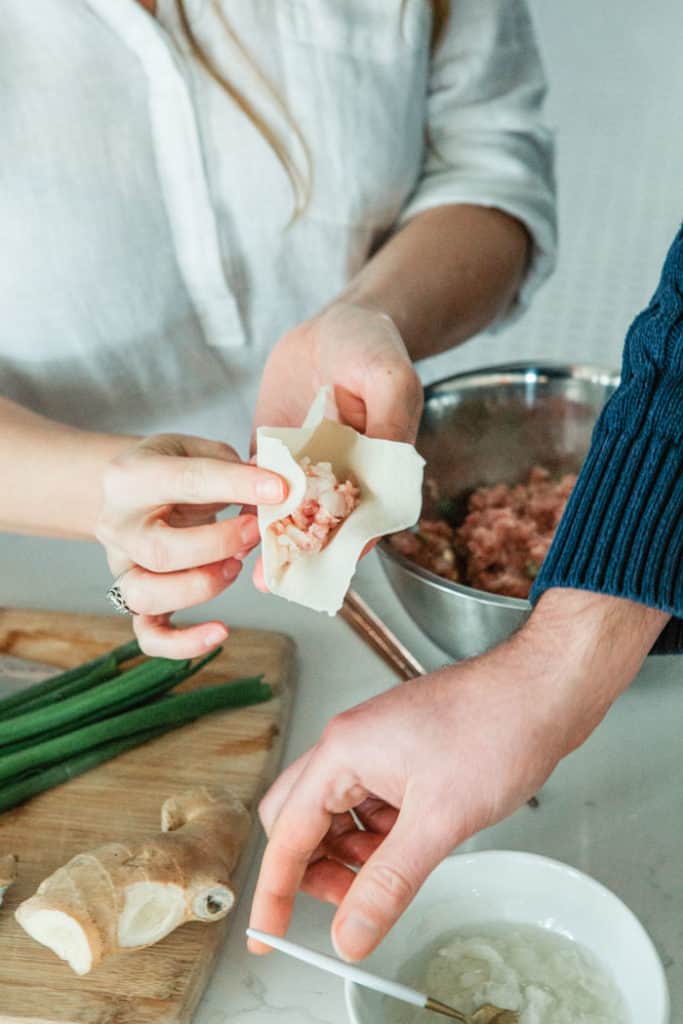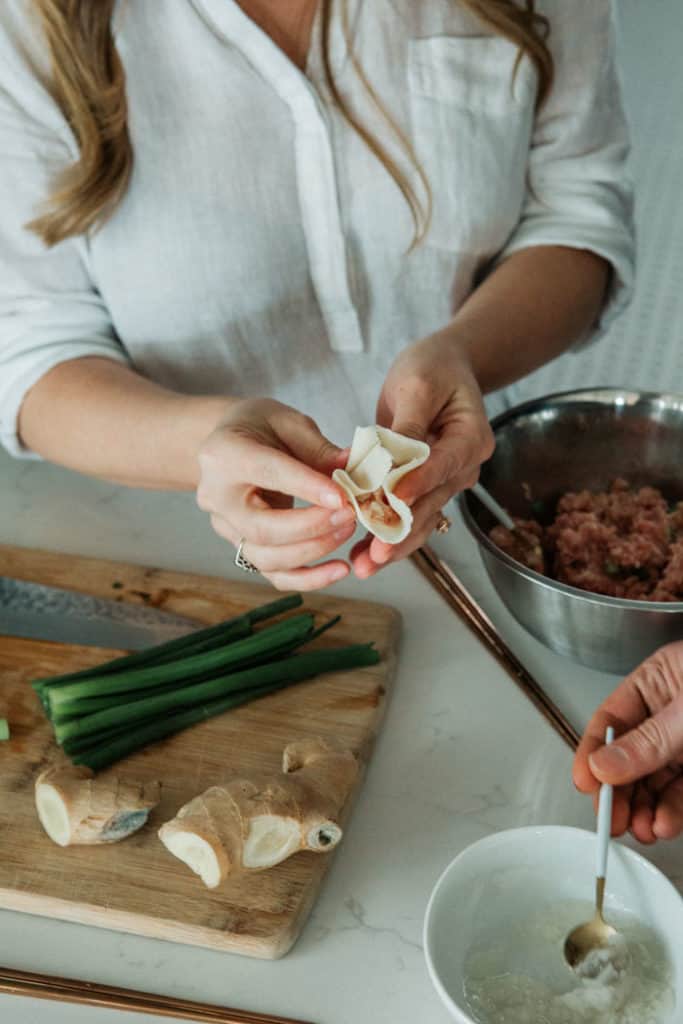 Next is the fun part, which is making the filling! It is fragrant and making the dumplings together is fun. If you wanted, you could make these ahead of time and freeze them. Then steam them once you are ready to eat them.
Some people say it is sacrilegious to not make the dough. However, I have found that while making the dough is important, it's difficult to get it that thin without breaking the dough if you're not a skilled dough maker. So in this instance, I think it is better to buy pre-made dumpling wrappers. It saves time and allows you to get a nice thin dumpling skin.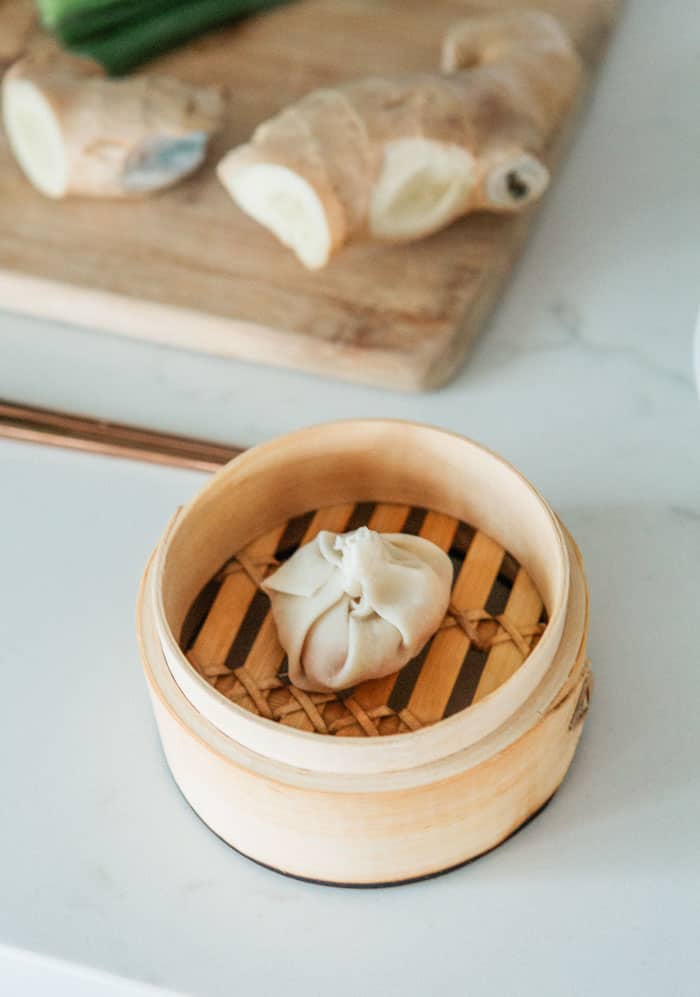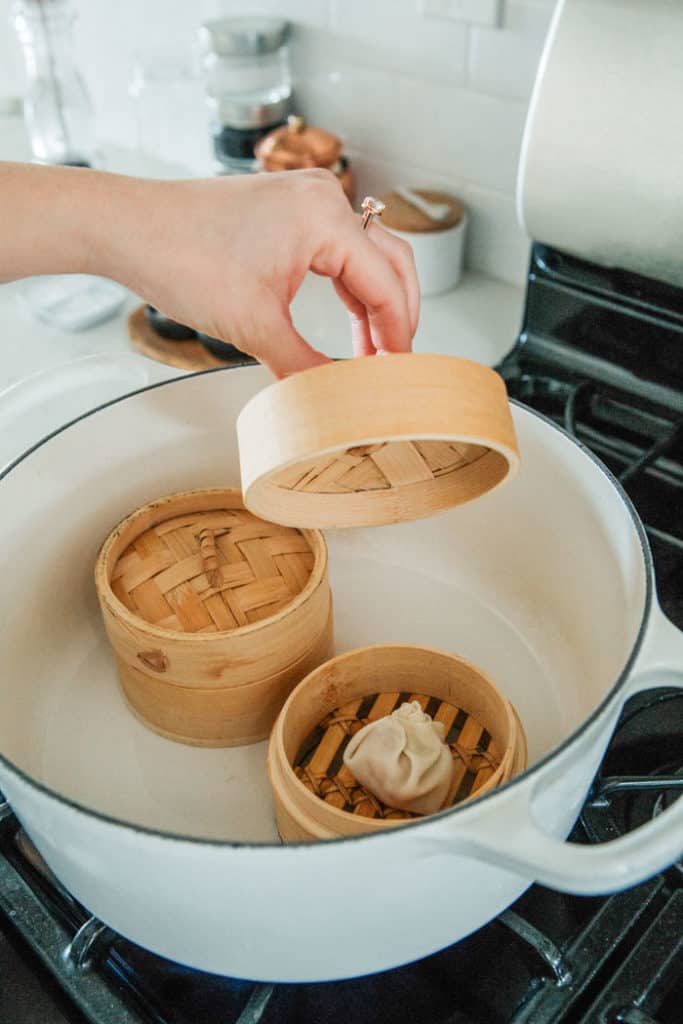 Be careful to watch your water levels. You'll want enough water to create steam but you definitely don't want to the water to touch the inside of the steamer, this will make an incredibly soggy, sad dumpling. You may need to add a few tablespoons of water to the pot while steaming, depending on how long you steam and how hot your pot gets.
After reading all that, now you're ready to make the famous xiao long bao soup dumplings at home! You'll need a big pot and something to steam the dumplings in, I suggest these bamboo steamer baskets. Here is the mini version! You can stack these on top of one another while steaming to get a bunch done at the same time.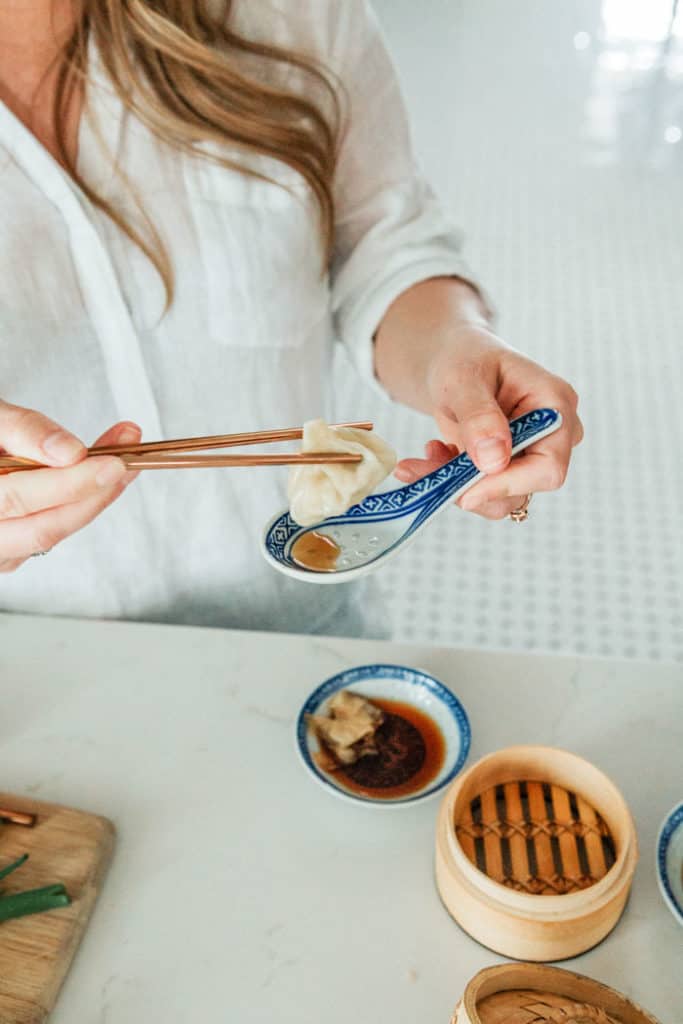 How To Make Soup Dumplings At Home
Soup Dumplings Xiao Long Bao Recipe 
Makes 18-20 dumplings
Ingredients: 
Store bought dumplings wrappers (I found them in the produce section after asking at the sushi counter)
Aspic: 
1/2lb pork feet
1lb pork neck with meat
2 large scallions
4 ginger slices
2 tablespoons cup white wine vinegar
Filling: 
1lb ground pork, preferably the highest fat you can find 70% lean, 30% fat
2 tablespoons white wine vinegar
1 teaspoon salt
1 teaspoon sesame oil
1/2 teaspoon sugar
3 teaspoons soy sauce
2 tablespoons minced or pressed garlic
1 tablespoon minced ginger
1 cup of aspic
Dipping Sauce:
Black vinegar + pickled ginger for serving
Directions: 
First, make the aspic. Cover the pork feet in a large pot with water, bring to a boil for a few seconds, then rinse. This helps to remove any impurities in the skin. Wipe the pot clean.
Add pork feet to clean pot with pork neck, ginger, scallions and vinegar with four cups of water. Be careful to not add too much water or your aspic will not reduce down enough. Bring to a boil, then reduce to a simmer, cover and simmer for 2 hours.
Let liquid cool slightly, then strain liquid into a shallow dish, like a casserole pan, removing solids. Let cool completely, then cover and let chill for 4 hours or overnight.
Once you are ready to make the dumplings, begin by making the filling. Combine all the ingredients, except aspic, and mix together. Chopsticks work really well for this.
Place the dumpling wrapper in your hand, put a small amount, about a teaspoon or so of the filling into the wrapper. Add a 1/2 teaspoon or so of the aspic to the wrapper. Gently folder with wrapper closed.
Dumplings can now be frozen or steamed. Once you are ready to steam, make sure the steam basket is lined with cabbage or non-stick spray. This will keep the dumpling wrapper from sticking and creating a hole in the delicate skin. Place the dumpling into the basket and place into a pot with water boiling underneath but not coming into the bottom of the basket.
Steam fresh dumplings for about 8 minutes, covered in the bamboo basket. Serve immediately with black vinegar dipping sauce!
Be careful, the dumplings will be steaming hot inside and can burn your mouth. Enjoy!
Photos by Taylor Prinsen Photography