Sharing all my tips for How To Make Smash Burgers! It's so easy and only takes a few simple ingredients to pull off this grilling classic!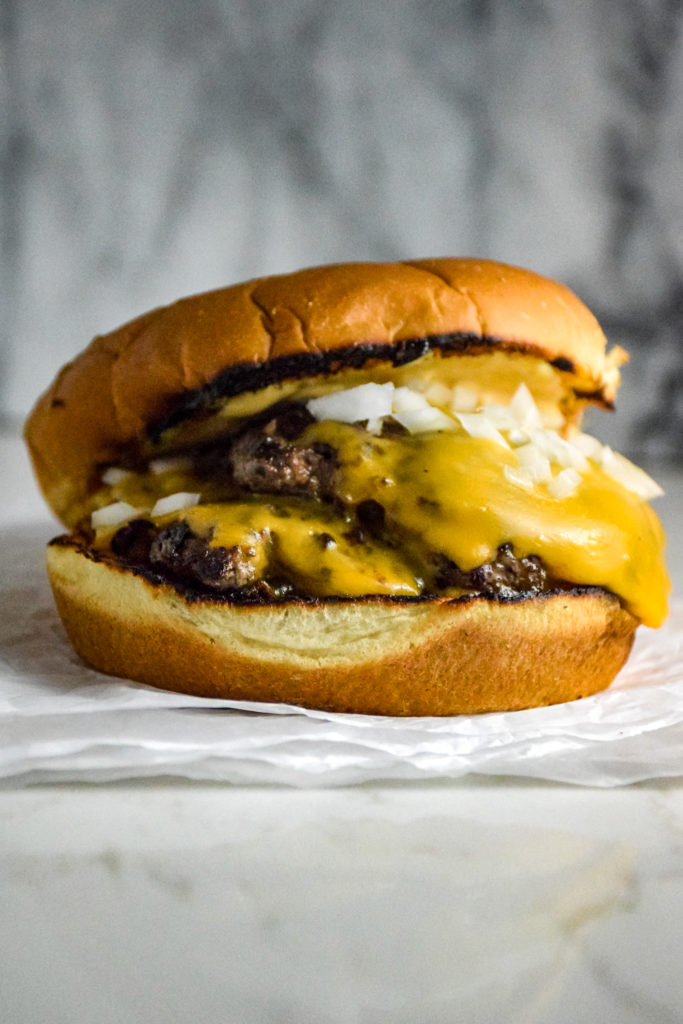 I want to tell you all the things I love about smash burgers! They are super simple, just a few ingredients. And they are quick! I love that about them. Especially if you are grilling out for a bunch of people, it's nice that these are quick to make but still so delicious and full of flavor thanks to ground beef from Wholesome Meats! Read on to find out all the details for making these smash burgers and why Wholesome Meats ground beef is better than the rest!
This post is sponsored by Wholesome Meats. Thanks for supporting the companies that keep this free blog going!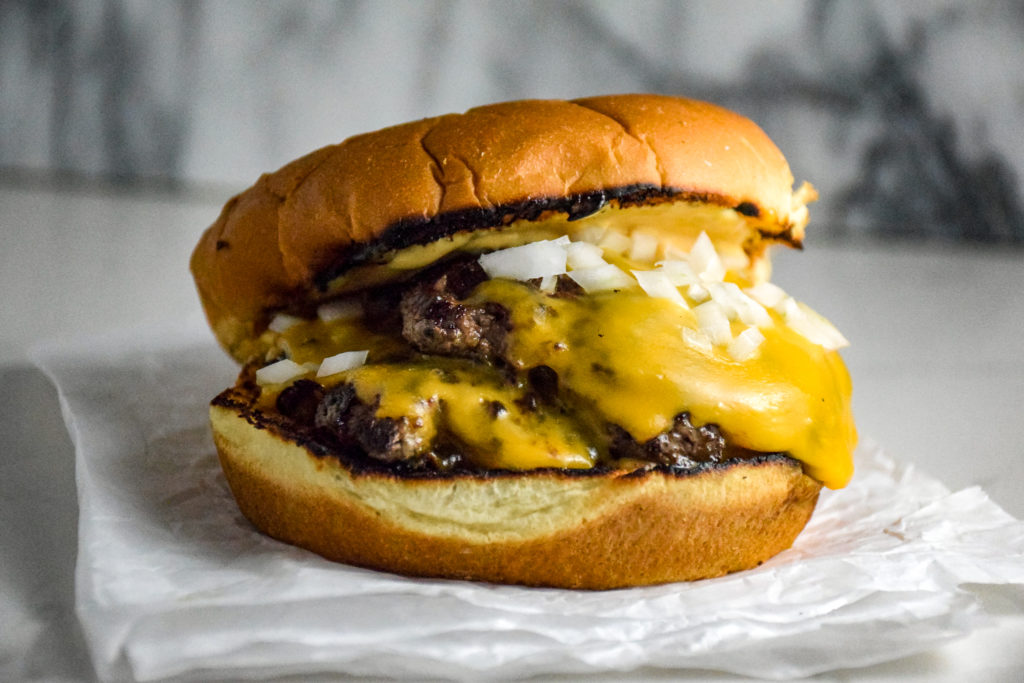 How To Make Smash Burgers
When it comes to smash burgers, the name really says it all! Basically, you smash the patties onto a searing hot griddle, season with a big of salt & pepper, melt some cheese and you're done! That easy. Of course, I had to be a little extra and add some Special Sauce and onions.
Like I said before, making these burgers couldn't be easier. I was accustom to making big, fat burgers on the grill, which for the record, I still absolutely love, but these smash burgers are just so dang quick and easy! One of things I like about them is that you don't really need to worry about the temperature of the meat because the patties are so thin that these cook in just 2-3 minutes. Plus, even if you over cook them a tad, the searing hot griddle makes for crispy edges which only increase the deliciousness factor.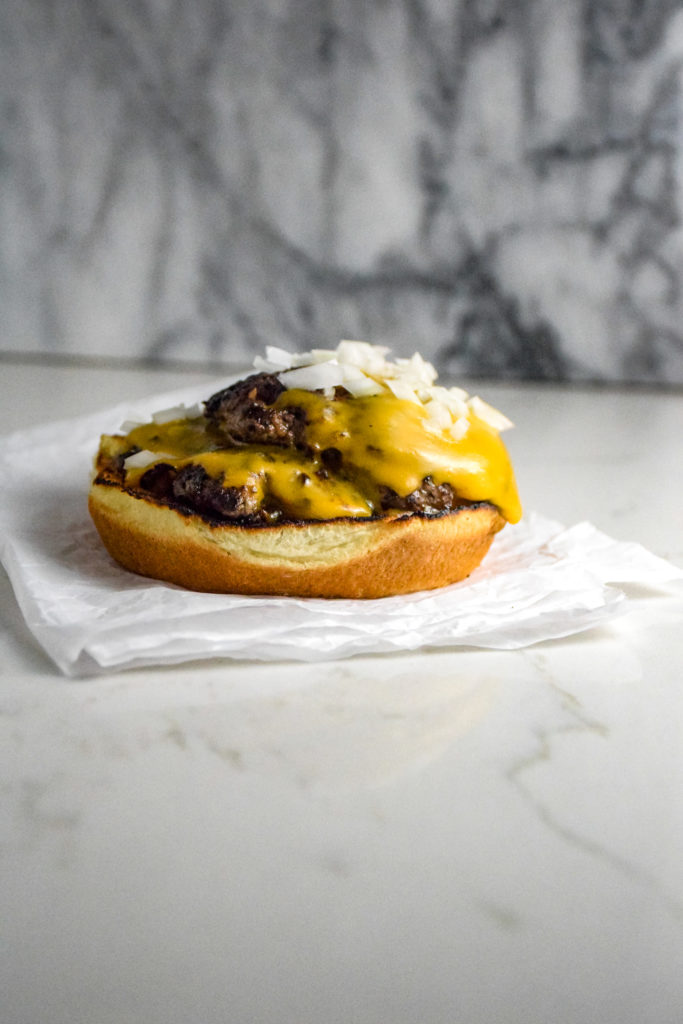 Tips For Making Smash Burgers Like A Pro
These are my tips for turning out smash burgers like a busy diner! Quick, always delicious and best of all easy!
Be sure to get your griddle searing hot. Like hot, hot, hot. We let our griddle heat up for at least 10 minutes before cooking. The quickest way to do this is to bring your grill or stove top to the highest heat setting and let the griddle sit there for a few minutes. If you are using a grill, close it and that will help speed up the process.
Brush the griddle with vegetable oil, or another high heat oil, right before adding the patties. This will help them get those crispy bits on the edges. You can test to see if the griddle is hot enough by dropping a few drops of water onto it. They should immediately sizzle and evaporate. That's when you know it's ready!
Use Wholesome Meats ground beef. It's available online or at H-E-B! Their meat is grass-fed and regenerative, so it's packed with more flavor and nutrition than conventional ground beef. If you use high-quality ingredients, you don't need much else to make something delicious! I love to keep things simple and delicious.
Two really thin patties are better than one bigger patty. We tested this and two super thin (about 0.20 lbs each) patties smashed really thin are better than one medium sized patty. Smash the patties to 1/2inch thick or less.
Make sure you melt that cheese! Then stack the patties onto a bun dressed with Special Sauce and onions. Or however you please but we like to keep it super simple.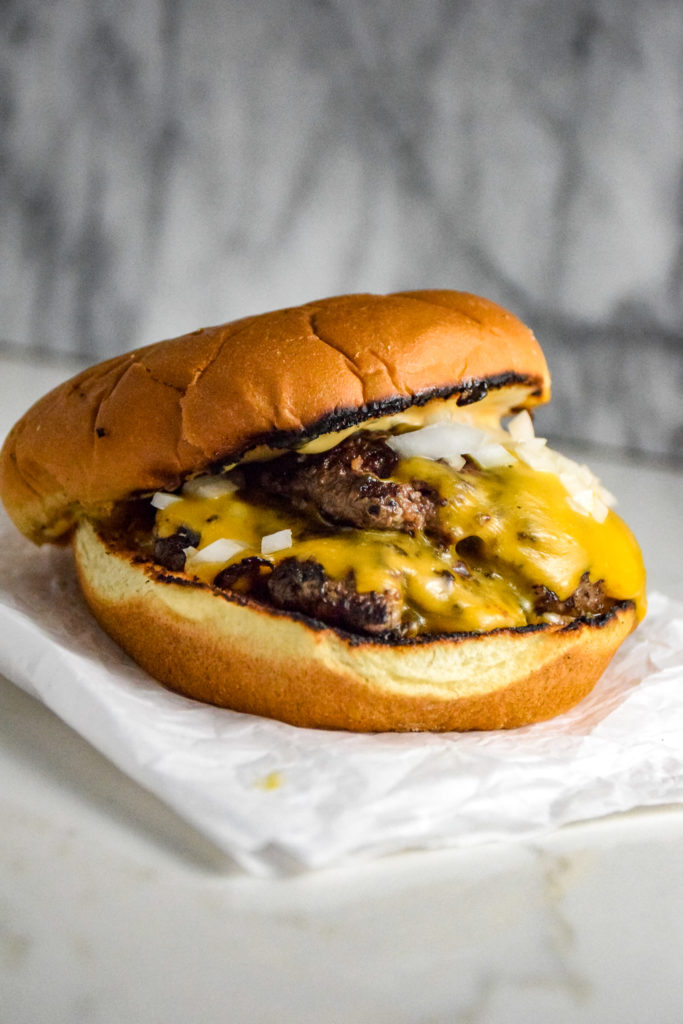 Regenerative Beef with Wholesome Meats
Have you heard about Regenerative Beef? Well, there is a lot that goes into it but basically it's the old way of farming and ranching, where cattle herds are raised on pastures, eat grasses and basically live happy cow lives. This process of moving the cows around to different pastures allows lots of nutrients to be restored to the ground through the cows' excrement (sorry if TMI but that is nature, y'all!)
Also, beef raised this way is actually way more nutritious than factory farmed beef. I became hyper aware of this after I was diagnosed with pretty severe anemia during pregnancy. Anemia is an iron deficiency and beef is one of the best sources of iron. So I began eating beef at least once a week to help heal my anemia and within two months of doing this, plus a few other things, I was able to maintain a normal iron level! I love that you can help heal yourself with food!
During that process I began looking into different types of beef since the way the cattle are raised greatly affects how nutritious their meat is. I knew that grass-fed, pasture-raised and regenerative beef was the type I wanted since it would be the most nutritious but also I would be supporting small local ranchers without contributing to my carbon footprint.
Serendipitously, a few months later, Wholesome Meats reached out to me! I immediately googled them and liked what I saw so I attended a local event they were hosting and was able to meet some of their team members and try out some of their products. It's important to me that not only the products I support are great but that I like the people behind them too! After that, they sent me more of their products try and BMW and I loved the taste and the quality. All the cuts were well packaged, arrived super cold and were the deep red color I associate with high quality beef.
Wholesome Meats Discount Code: Natalie10
After we tried out what Wholesome Meats had to offer, I knew it was a company I wanted to partner with! So here we are! Over the summer, I will be sharing lots of easy, delicious recipes with y'all! You can support me, and Wholesome Meats mission to make better beef, by checking them out through this link.
You can use my code Natalie10 for a 10% discount on any purchase! If there is a better sale going on at the time, then just click through this link and Wholesome Meats will know that I sent ya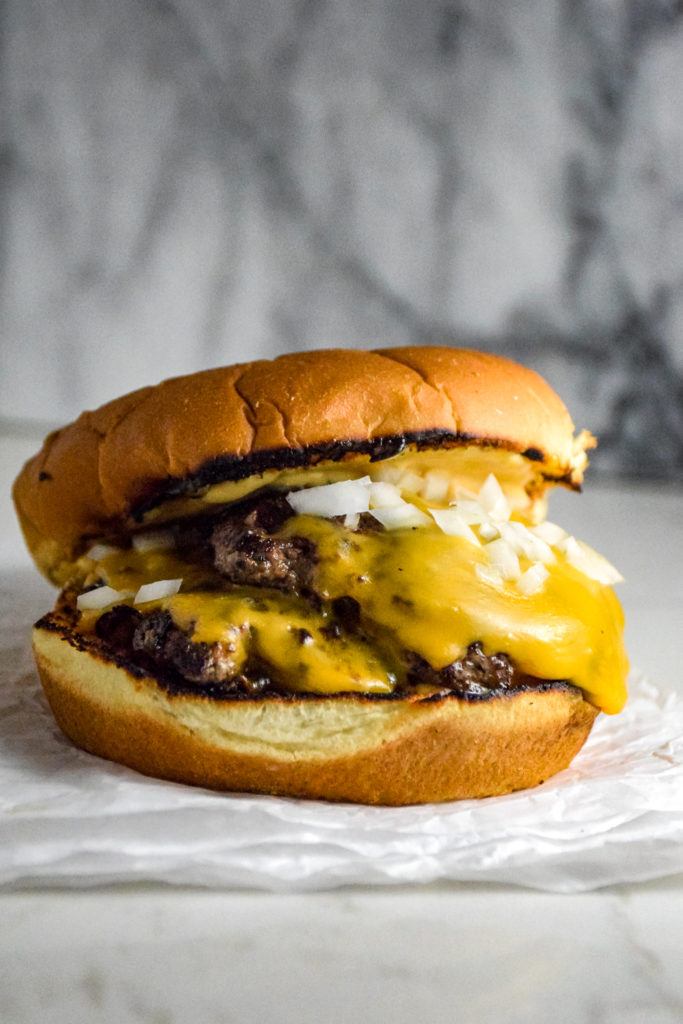 You Might Also Love 
How To Get Perfect Grill Marks On Steaks Every Time
Sirloin Steak Skewers with Cilantro Chimichurri 
Better Than Take Out Broccoli Beef
Use code NATALIE10 for a 10% discount on your Wholesome Meats order!
How To Make Smash Burgers
Sharing all my tips for How To Make Smash Burgers! It's so easy and only takes a few simple ingredients to pull off this grilling classic!
Ingredients
5

burger buns

10

American Cheese Singles

1/4

cup

white onion

finely diced

1/2

tsp

kosher salt

1/2

tsp

black pepper

3

tbsp

vegetable oil

or other high heat oil for cooking
Special Sauce
1/3

cup

mayonnaise

1/3

cup

yellow mustard

1/3

cup

ketchup

1/4

tsp

kosher salt

plus more to taste

1/4

tsp

black pepper
Instructions
Divide ground Wholesome Meats beef into 10 equal pieces, about 1/5lb per piece. Keep chilled until ready to grill.

Heat cast iron griddle to 450° or as hot as you can get it. Meanwhile, make the Special Sauce by whisking together the mayo, mustard, ketchup, salt and pepper until well combined. Set aside.

Brush the hot griddle with the cooking oil. Working in batches, place two patties at a time (or more if your griddle is large) on the griddle and use a spatula to firmly press them down until very flat. Sprinkle with a mix of salt and pepper. Cook for 1-2 minutes then flip to the other side. Cook 1-2 minutes more. Place a slice of cheese on each patty and close grill lid or cover and let melt. Continue until all patties are cooked.

Toast buns and schmear with Special Sauce. Add two patties to each bun then top with diced onions and top bun. Enjoy immediately!
Notes
Nutritional values are approximate and may vary. 
Nutrition
Calories:
658
kcal
|
Carbohydrates:
29
g
|
Protein:
52
g
|
Fat:
36
g
|
Saturated Fat:
14
g
|
Trans Fat:
1
g
|
Cholesterol:
161
mg
|
Sodium:
1814
mg
|
Potassium:
830
mg
|
Fiber:
2
g
|
Sugar:
8
g
|
Vitamin A:
503
IU
|
Vitamin C:
2
mg
|
Calcium:
546
mg
|
Iron:
6
mg