Gingerbread Cinnamon Rolls are the perfect holiday morning breakfast! They are easy to make ahead of time and just pop in the oven!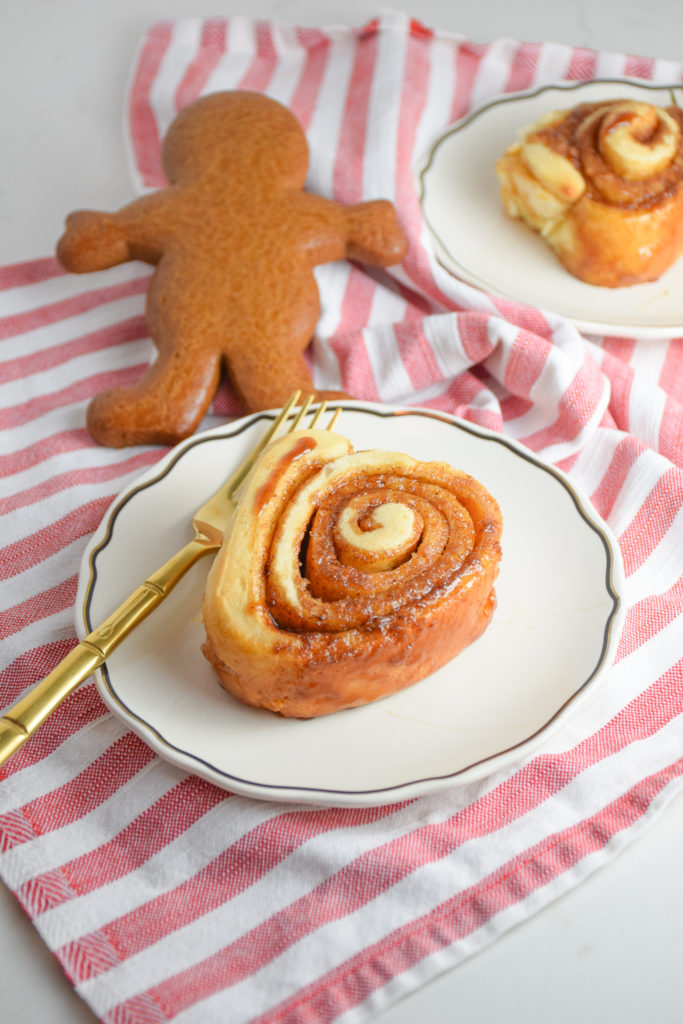 If there was ever a recipe that screamed Christmas morning, then these Gingerbread Cinnamon Rolls are it! I love making cinnamon rolls on Christmas morning, or really any morning, but especially on Christmas. Of all the variations of cinnamon rolls I've made, these might be my most favorite. They are definitely the easiest to make, the filling is so simple, and you can make the ahead of time and freeze them or leave them to rise in the fridge, so in the morning all you have to do is pop them in the oven!
This post contains affiliate links. If you purchase a product through one of these links, I may earn a few pennies. Thanks for keeping this free blog going! 

Cinnamon Rolls on Christmas Morning
I love a good holiday tradition and baking seems to be a popular one! BMW is actually the baker in our house. He loves to make bread and over the past few years has perfected his craft using the steps in this book
. He's gotten so good at it and I love it when he makes bread. Most of the time, I leave the baking up to him.
Example, this fall, I was trying to perfect a yeasty, soft, buttery roll recipe and after days of wasted time, energy and ingredients, I finally gave up. Maybe next year I will have mastered rolls!
One thing I have mastered is the cinnamon roll. I mean, ya can't go wrong with butter and sugar! So this is all to say, that even if you're not a very talented baker (like me!) you can definitely make this recipe.
Watch Gingerbread Cinnamon Rolls Video!

I give all my tips and tricks for making Gingerbread Cinnamon Rolls in this video! If you like to have a little more guidance in your recipes, definitely watch the video! If you're feeling confident, skip to the recipe below!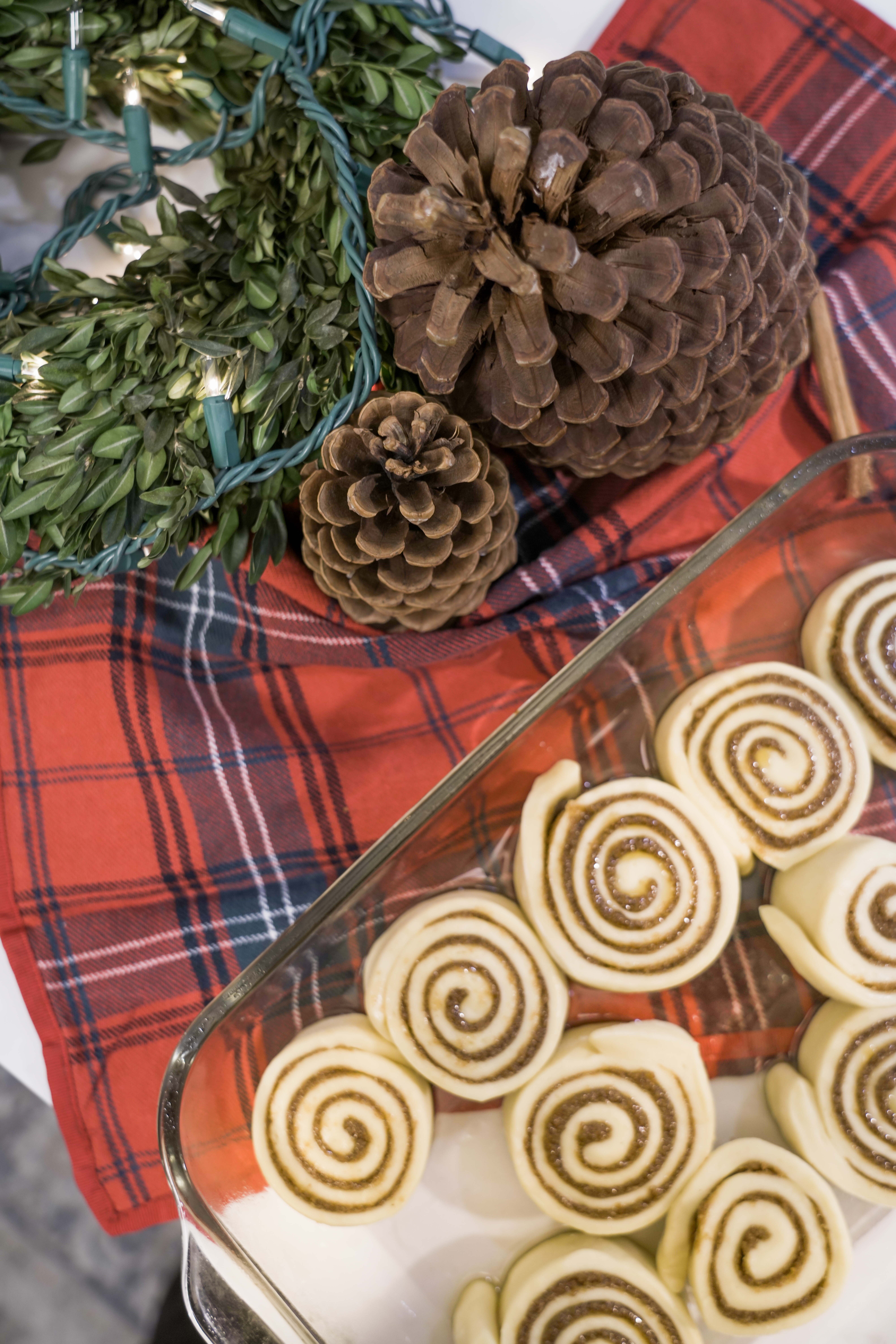 Gingerbread Cinnamon Rolls
Makes about 12 cinnamon rolls
Ingredients: 
Dough:
2 1/2 cups all-purpose flour + more for dusting
4 tablespoons butter, divided
1 packet of rapid-rise yeast, 0.75 ounces of yeast
1/4 cup granulated sugar
1/2 teaspoon salt
1 egg
1 cup whole milk
Filling:
4 tablespoons butter
1 cup brown sugar
1 teaspoon ground cinnamon
1/4 teaspoon ground cloves
1/4 teaspoon ground nutmeg
1/8 teaspoon ground ginger
1/8 teaspoon salt
Frosting:
4 ounces cream cheese, softened
1 cup powdered sugar
1 1/2 tablespoons whole milk
Directions: 
Pre-heat oven to 350 degrees and prepare 13 x9 pan with butter or non-stick spray. If making night before, skip oven.
In a large mixing bowl, whisk together flour, sugar, yeast and salt.
Using a small pot, melt butter and warm milk together.
With the paddle attachment and low speed, slowly incorporate milk and butter mixture into dry ingredients on stand mixer. If doing by hand, use a spatula to mix together.
While still mixing, add egg and incorporate.
Once egg is incorporated, switch to dough hook attachment. Mix over medium speed for about 5 minutes or until dough ball has formed and begins to pull away from sides of bowl. If mixing by hand, knead dough until dough ball has formed and is slightly sticky, about 5-7 minutes.
Knead dough on floured surface 10-12 times, then cover and let sit for 10 minutes.
Meanwhile, make the filling. Begin by melting the butter in a small pot over medium heat, do not let butter burn. Add brown sugar and spices and stir together until melted, set aside.
Return dough to floured surface and roll out into large rectangle, about 12×24. Spread filling over dough, then tightly roll into log form. Cut into 12 rolls.
Place rolls into prepared pan. Let rise, covered, for 20-30 minutes or overnight in the fridge.
Bake cinnamon rolls for 15-20 minutes until slightly golden brown. If stored in fridge overnight, let rolls come to room temperature before baking.
While cinnamon rolls are baking, make the frosting by whisking together powdered sugar, cream cheese and milk until smooth.
Let rolls cool slightly, but while still very warm, spread frosting on top. Serve immediately.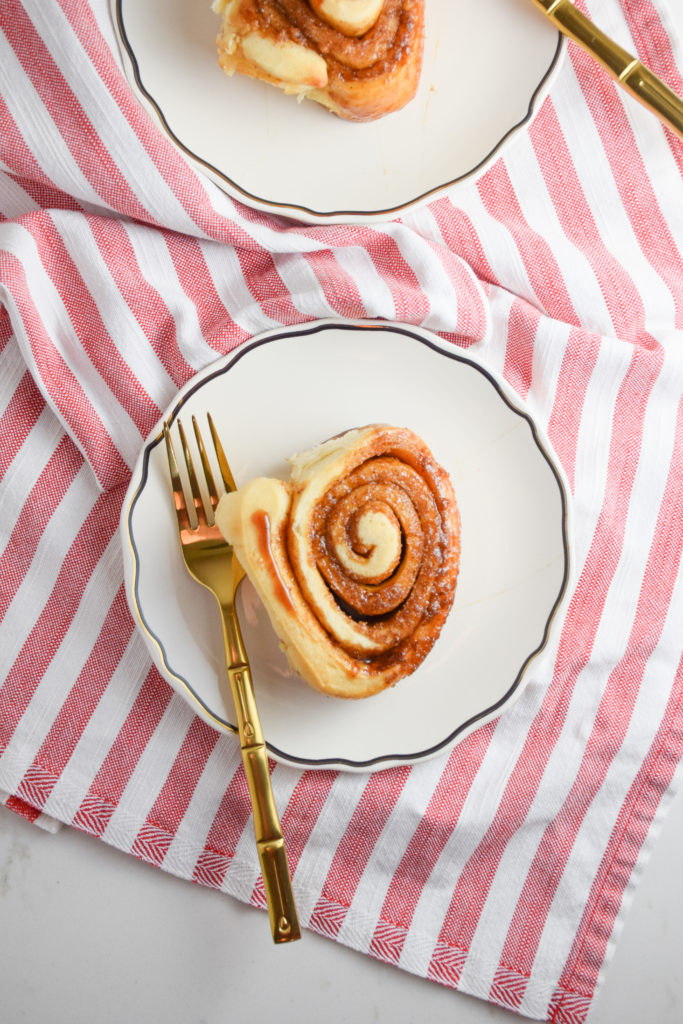 What are you favorite holiday traditions? Tell me in the comments!